Getting started with Lightspeed eCom store (E-Series)
This article is for Lightspeed Retail POS (X-Series) merchants who have Lightspeed eCom (E-Series) included in their subscription plan. To learn more about Retail POS (X-Series), check out the
X-Series Help Center
.
Lightspeed eCom, or Ecwid as it was called before joining the Lightspeed family, is a powerful tool to expand your business and brand online. It provides your business with a free website and online tools to showcase and sell your products online.
To start with eCom, go to the Online tab in your Lightspeed POS backoffice and activate eCom with the help of a simple wizard. After that, set up the store to your needs, and you are good to go.
With this guide, you will set up your store step-by-step and learn how to enable your products to sell online, create payment and shipping methods, tailor your site design to reflect your brand, improve your SEO, and all the basics that you need to make your first online sale.
Step 1. Activate your Lightspeed eCom
Begin with activating eCommerce for your business. Once you enable Lightspeed eCom, you can manage basic online store settings on the Online tab in your POS backoffice. For deeper store management, open the full-fledged eCom admin by navigating to Setup → Apps → Lightspeed eCom and clicking the Open in new tab icon.
To learn more, visit Activating Lightspeed eCom or watch this quick video:
Step 2. Move your catalog online
You can create your online catalog from the products that are already in your inventory. That can be done in a few clicks: on the Products page, tick products you want to sell online, then click Choose an action → Activate products to channels, tick Online store, and click Activate on channels.
Learn more about creating an online catalog for Lightspeed eCom →
Step 3. Add new products to online catalog
Apart from building the online catalog from existing products, you can add new products and make them available for online shopping. To do so, you create a new product as usual and tick the Sell online checkbox under Product categories.
Learn more about adding new products (X-Series Help Center) →
Step 4. Connect payment processors
There are several payment methods integrated with Lightspeed Retail, including Lightspeed Payments, PayPal, Worldpay, Klarna, and more. If you have one of those methods connected to your POS, you can accept payments with those methods. All you have to do is connect your existing payment account with your Lightspeed eCom. When you connect your existing account, most of the fields will be pre-filled since you have already filled that form to get your account.
Alternatively, you can connect any other payment method, even if it's not integrated with your Lightspeed Retail.
Learn more about connecting payment methods →
Step 5. Add shipping or pickup methods
To deliver goods to customers, you need to provide them with shipping options. It can be regular shipping with a carrier, local delivery, or self-pickup. The easiest option is to offer in-store pickup so that customers can buy your goods online and then pick up in one of your stores. 
On the Online tab → Settings → Shipping & Pickup page, you can manage your shipping methods. That includes getting live-time rates from the most popular carriers, setting up local delivery, customizing shipping zones and their rates.
Watch this quick video to get an overview of setting up a shipping method:
These articles will help you wrap your head around shipping:
Step 6. Configure taxes
You need to set up taxes for your online sales. Since you already have taxes set up for your business, all you have to do is duplicate those rates for your online store. To do so, you need to open the full-fledged admin for eCom, go to Settings → Taxes and create tax rules. 
For a deeper country-specific tax setup overview, visit the Country-specific tax setup section →
Step 7. Personalize checkout experience
To make a purchase, your customers need to enter their email, name, and shipping address at checkout. You can customize your checkout flow to match your needs. For example, ask shoppers how they learned about your business or offer gift wrapping.
Learn more about creating custom checkout fields →
Step 8. Design your site
In E-Series, the site with an embedded online store is called Instant Site, and here's an example of how it may look: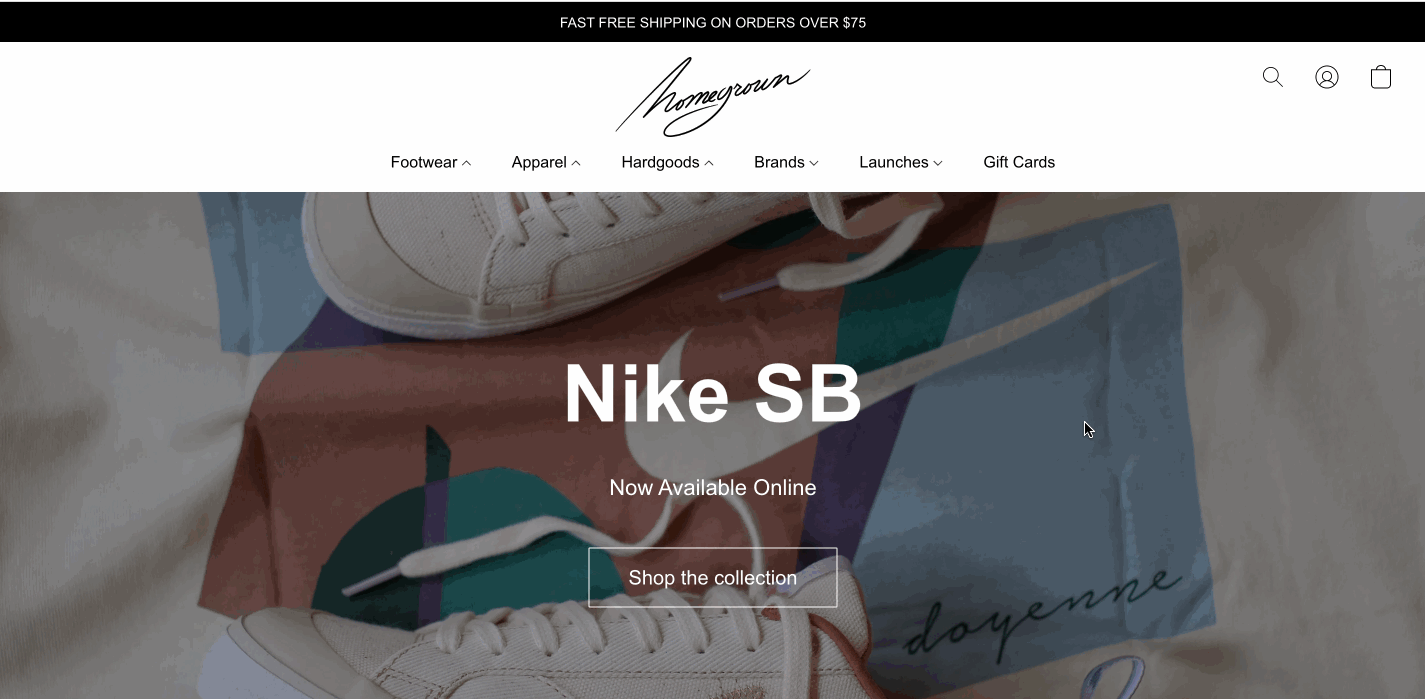 Your Instant Site is basically a sitebuilder, and it's pretty flexible to customize. Here's what you can do:
Building your site or adjusting its design is pretty much straightforward:
From your Lightspeed backoffice, go to the Online tab → Webstore and click Edit Site. 
In the sitebuilder editor, choose a template for your site.
Add sections like customer review, promo, announcement bar, or others.
Replace pre-made content with your own texts and images and arrange sections to your liking.
Publish the changes.
That's it. Your site is ready.
Watch the quick video to get a quick overview of the Instant Site Editor, or read the detailed guide on configuring the design of your Instant Site →
Step 9. Connect domain to your website
When you connect eCom, you get a new Instant Site located on a free editable domain that ends with ".company.site". For example, flowers-in-oregon.company.site. We recommend that you buy a custom domain and use it instead. For example, flowers-in-oregon.com.
A custom domain reflects your brand, and it's more likely to be ranked higher in Google. Domains ending with .com or .org are also more familiar to customers and, therefore, more trustworthy.
Learn how to connect a domain to your Instant Site →
Step 10. Set up notifications
Your eCom sends email notifications to your customers about their order. You can adjust what notifications to send and also turn off the option to receive a copy of those notifications (just to avoid visual clutter in your inbox). 
You can go an extra mile and customize your template design by adding your brand logo and changing senders' name in the emails.
Learn more about notifying your customers →
Next steps
10