Xero is a cloud-based accounting software for small and medium-sized business. It is a simple, smart and secure accounting solution that allows you to generate and view interactive reports in real-time, and have access to your accounts from anywhere in the world on a PC, Mac or mobile devices.
It is possible to connect your store to Xero, so your orders will be transferred to Xero from Ecwid. Your main accounting will be processed on the Xero side.
How do I start using Xero?
If you want to use Xero, you need to have an active Xero account. If you haven't got one yet, you can sign up for a free 30-day trial of Xero service in your Ecwid Control Panel during the app installation (or click here). After your trial of Xero service expires, you can sign up to one of Xero paid plans to continue using their service.
If you need help setting up your Xero account, please refer to the Getting Started page on Xero website.
How to connect Xero to Ecwid
In order to connect Xero to Ecwid, please do the following:
When you have installed the app in your Ecwid Control Panel, you need to connect it to Xero. If you have an account already, click "Connect your Xero account". If you haven't got one, you can sign up for a month of free trial.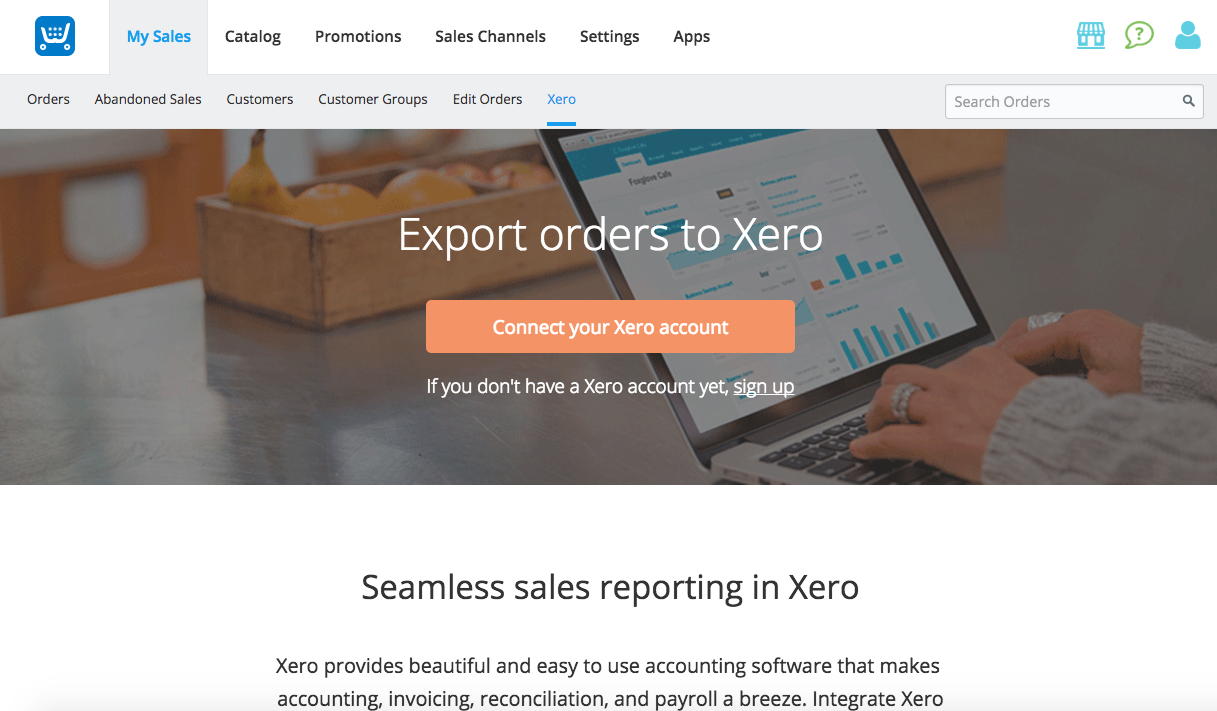 As soon as you click "Connect your Xero account", you will see the "Welcome to Xero" page where you need to enter your Xero login details: email and password.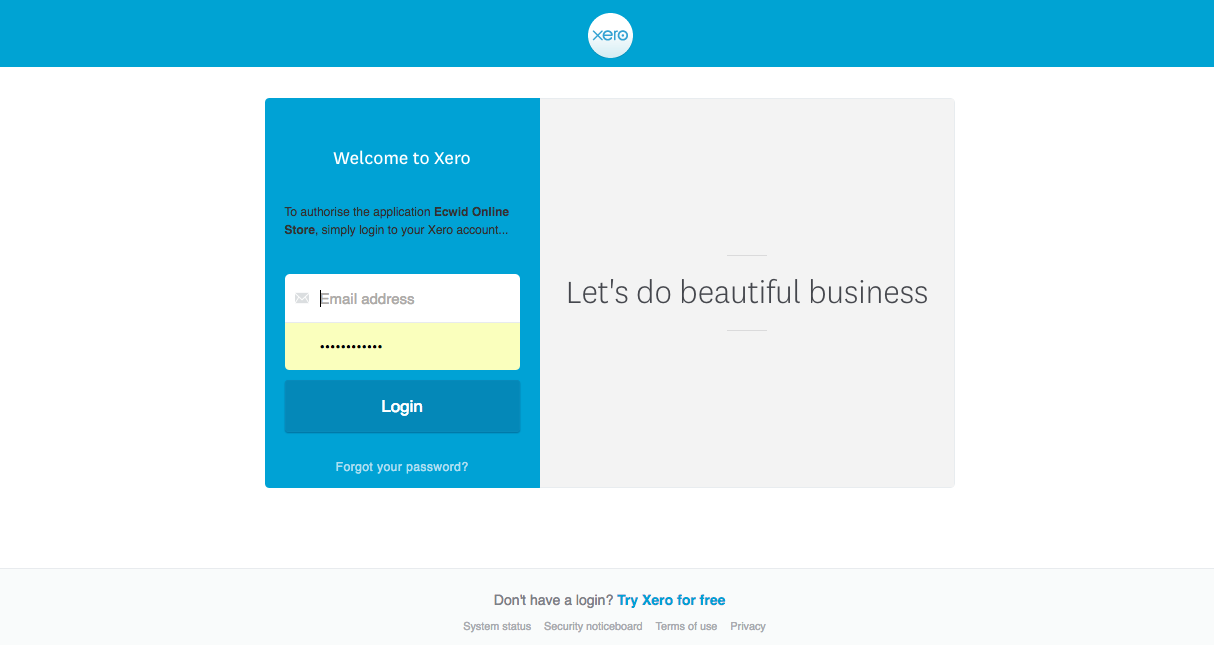 On the next page, choose your organization from the drop-down menu and click "Allow access".
The integration will work with the chosen organization only.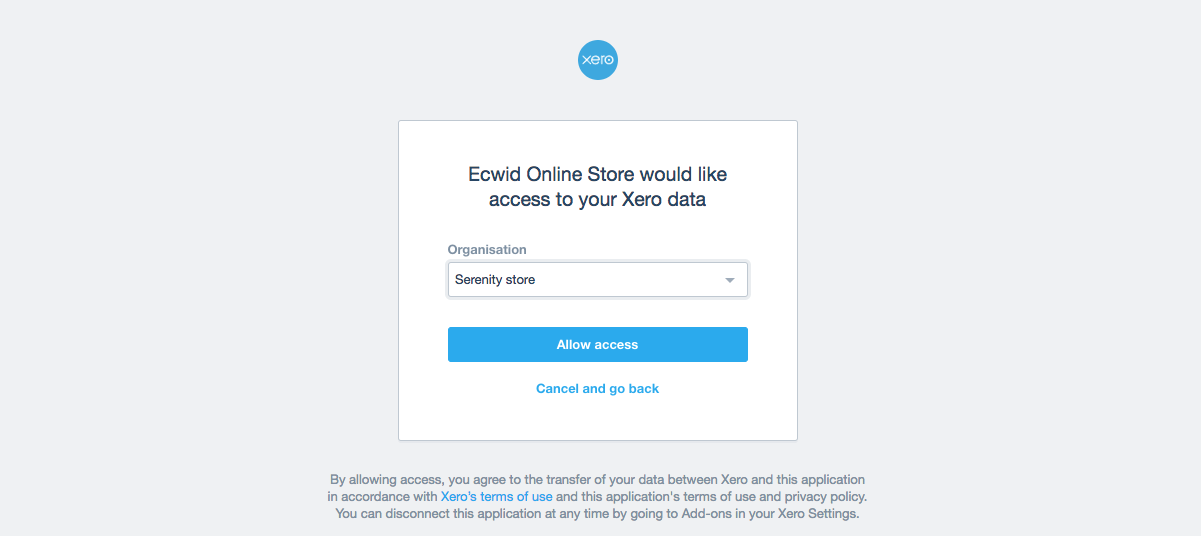 After you have connected Xero to Ecwid, configure its settings on the Ecwid side.
Xero Integration Settings
Payment and Revenue Accounts
In your Ecwid Control Panel you need to select payment and revenue accounts: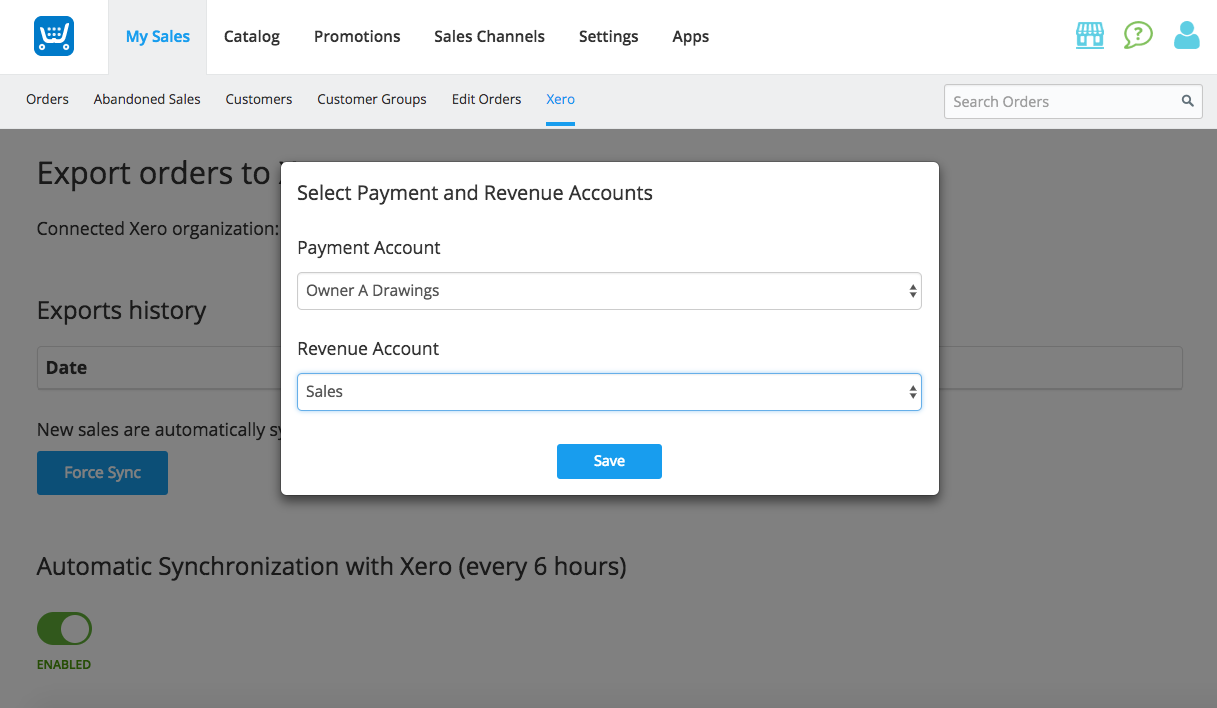 These accounts can be changed later on the Xero page in your Ecwid Control Panel.
The synchronization process between Ecwid and Xero
There are two ways to synchronize your orders info: you can do it manually by clicking the "Force Sync" button, or you can enable the automatic synchronization, so your sales will be synced with Xero every 6 hours. The automatic synchronization is enabled by default and we highly recommend you to use it.
The app will not synchronize your previous orders, it will synchronize the ones that appear later, after the installation.
Tax Settings
If you don't have your own tax rates set up in your Xero organization, but have taxes enabled in your Ecwid store, corresponding tax rates will be created automatically based on the orders from your Ecwid store. Names of such tax rates will begin with the "EC" letters.
You can find these tax rates in your Xero dashboard → Settings → General Settings → Organization → Tax Rates. Click on the Tax Rates to see the full list of tax rates created after the synchronization with Ecwid.
It is also possible to map your tax rates to the default ones in Xero (for example if you need it for the invoices):
Open the "Default Tax Rates" page in Xero in your Ecwid Control Panel.
From the drop-down list select the necessary tax rates.