If you want to set up Facebook Dynamic Product Remarketing ads for your Ecwid store, you will need to upload your store's products to Facebook. Below is a guide on how to generate your Facebook product feed and upload it to Facebook Product Catalog.
What is Facebook Product Catalog
A product catalog in Facebook Business Manager holds a file that contains a list of all the products you want to advertise on Facebook. This file is called a product feed. Each line of the product catalog contains a description of each product, including an ID, name, category, availability, product URL, image URL and other product attributes.
How to generate a product feed
You can generate a product feed that will be ready for the Facebook Product Catalog with the help of the Facebook Product Feed Generator application for Ecwid.
The application is available on the 
Ecwid Venture plan
and higher. If you are on a different plan, please consider upgrading your account.
Upgrade
Before you begin make sure your products have descriptions, images and UPC or Brand product attribute defined.
1. Start with installing the application in your Control Panel. Then open the app and select the product category for your goods.

2. Next, click "Generate Feed". When the feed is complete, you can download it.
3. Click "Download" to save the feed file to your computer. Now you can upload it to Facebook Product Catalog.
The feeds are regenerated manually, so whenever you want to renew it, you need to go through the same steps again.
How to add the feed to Facebook Product Catalog
Before you can upload the product feed, you need to have a Product Catalog in your Facebook Business Manager. If you haven't created one yet, here is how to do it.
After you create the catalog, you can add your product feed. Here is how to add your product feed to the catalog in Business Manager:
1. Select your new product catalog and choose "Add Product Feed".
2. Choose your "Feed Name" and "Currency".
3. Choose the upload type for your feed.
Single Upload: When you choose this option, you can upload your feed manually for a one-time upload. If you choose this option, you'll need to upload your feed manually whenever you change the file.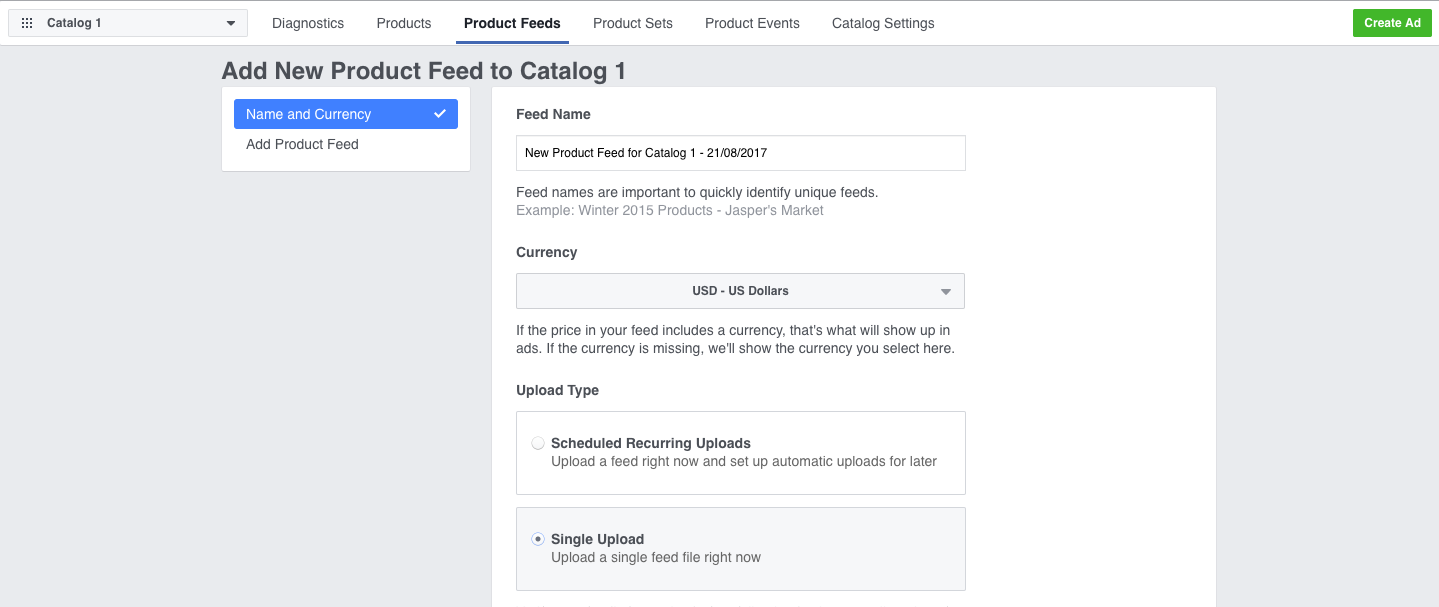 4. Click "Next" to select your feed file.
5. If your feed is missing columns (e.g. Brand, Description), Facebook will ask you to add them upon reviewing your file.
6. If no issues occurred during the feed review, you will be able to click "Create Feed" and finish creating your catalog.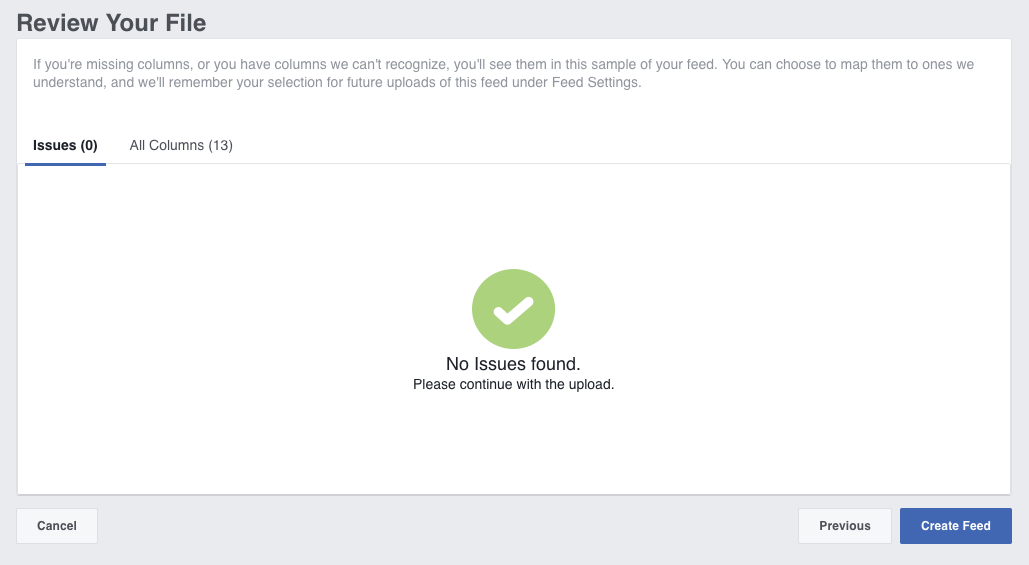 You might also wish to set up Facebook pixel for tracking the success of your ad campaigns. Please see the detailed instruction on how to set it up here: Add Facebook pixel to your store
Back to top