Running your Ecwid store as a team together with fulfilment operators, marketing managers, developers, designers, etc., requires your staff members to naturally have access to the store backend to do their job. Sharing one login and password pair is not the best choice in this case, as your store's security may be put at risk, for instance, when an employee quits.

We have made it possible for you to create several accounts for your employees so that they could access the store's Control Panel with their emails and manage the store and you can keep your login and password safe.
Adding staff to store team
Here's how you can add new people to your Ecwid store team.
1. Go to your Ecwid Control Panel → My Profile → Staff Accounts and click "Add new team member". Enter the person's email and click "Send invite".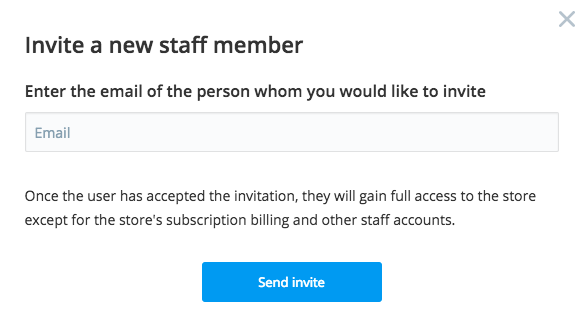 2. Once the invitation has been sent, you'll see a pending account invitation on your "Staff Accounts" page and your team member will get an email in their inbox saying: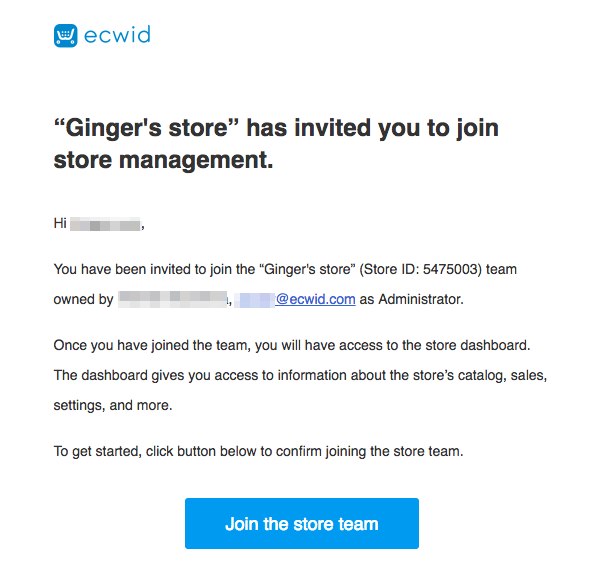 3. If your employee doesn't have an Ecwid account, after clicking the "Join the store team" button they'll get one with the administrator access to your store only.
4. If your team member has already signed up for Ecwid, first they'll need to log in and then choose the store they want to manage.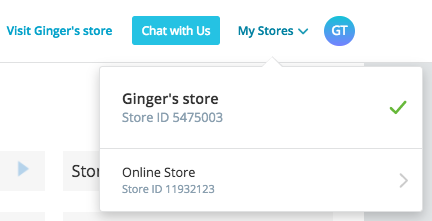 Even though your staff get administrator access to your store, they can't access:
Your billing info. They can't upgrade or downgrade your Ecwid subscription, or see your payment details and how many paid apps are connected to your store. It also means they can't delete your store, as that requires downgrading it to the Free plan.
Your Store Team page. Only you can invite new members, manage your team, and recall staff access anytime.
Managing store team
Only the store owner can manage the team settings for their store in Ecwid Control Panel → My Profile → Staff Accounts. Your team mates will only see their profile settings in the "My profile" section.
If you want to delete those who don't work for you anymore, simply navigate to the person's card and click Actions → Remove. Your former staff will get an email notification, that their access to the store has been cancelled.

Giving roles with different levels of access
 At the moment, you can only give the Administrator access. It means staff can access your store backend, except for the "Billing and Plans" and the "Staff Accounts" pages. We will add more staff roles in the future. You are welcome to share your suggestions on the staff roles you need at https://support.ecwid.com/hc/en-us/requests/new.
Bundling several Ecwid stores
If you do not have staff members to invite, but own several Ecwid stores, you can bundle them within one Control Panel so that you can switch among them without signing out and in each time.
Let's say you have two stores, "Store A" and "Store B", and you want to bundle them in the "Store A" Control Panel. You need to do the following:
Login to the "Store B" Control Panel and navigate to My Profile → Staff Accounts. Click "Add staff member" and add the login email of the "Store A" as an admin account for the "Store B".
Open the inbox that belongs to the "Store A" account and accept the invitation to join the "Store B" team.
Now when you login to the "Store A" Control Panel, in the top right corner you will see the "My Stores" link. Click the link to expand the list of the stores that you can switch to.
Back to top