Improving SEO for Ecwid store
Search engines are the most common tool to find something on the internet. Google, Bing, and Yahoo have algorithms to rank pages based off the search criteria. And they're always changing…
It goes without saying a front page rating is crucial to generating traffic to your website. You can improve your page ranking and bring more eyes to your online store with Search Engine Optimization (SEO). In this article, you will find essential SEO practices for exposure in search engines.
See our videos
Introduction to SEO
See also our video about improving your SEO:
Using clean SEO-friendly store URLs
Simple, descriptive, and clean URLs are a basic SEO technique. People and algorithms can easily read these URLs, a factor in page rank. Your Ecwid store automatically generates SEO-friendly URLs for products and categories (from their titles) as well as cart and checkout pages. Here is an example of a product page with a clean URL: https://surfparadise.ecwid.com/Blue-Flannel-p69981208. Your store's URLs are short, meaningful and clean from hashes ("#") and other parameters like "?", "&" and "=".
If you sell with Ecwid on WordPress, Wix or Ecwid Instant Site, we provide SEO-friendly URLs automatically.
In case your online store is installed on other platforms (e.g. Joomla, Adobe Muse) or a custom-made website, you can manually enable clean URLs in your store.
Adding custom meta tags to product pages
When analyzing a webpage, search engines get information about its content from the so-called "meta tags". This includes page title and meta description. Search engines use meta tags to describe pages as they appear in the search results and rank them by relevance:

Ecwid automatically creates meta tags for the Store Front Page using your store name (as specified in general store settings) and your Store Front Page description.
If you are using Ecwid Instant Site, the meta title and meta description for it are automatically taken from the headline and description that you added to the Instant Site's cover. When you add text to the first tile of your Instant Site, make sure to provide valuable information to your prospects, including relevant keywords. If you do not add any text for your Instant Site headline, the metadata will be taken from your Store Front Page description.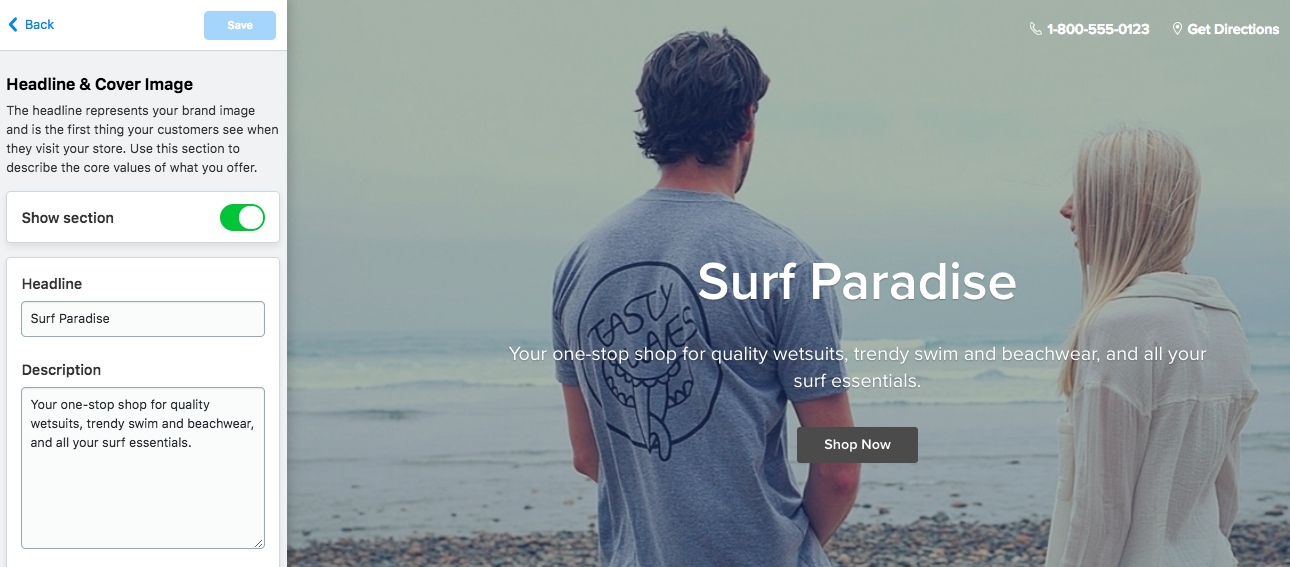 For individual product (and category) pages, Ecwid automatically creates meta title and meta description using their names and their actual description.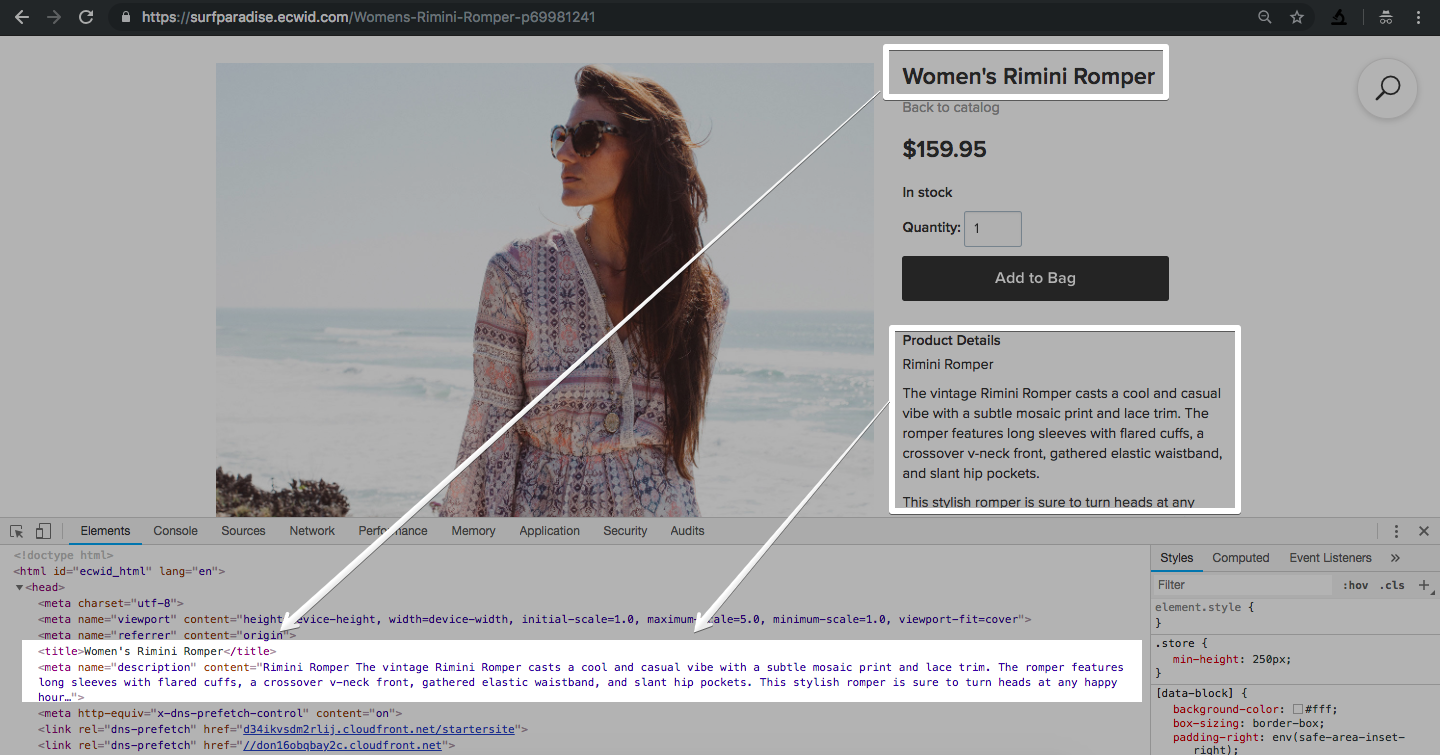 While efficient, this may be a sub-par option. Some search engines display a limited number of characters in their search results. Consider rewriting the auto-generated tags to make sure they contain accurate product information and relevant keywords within their character limit for better SEO.
You can edit SEO fields (page title and meta description) for your products on all
premium Ecwid plans
.
To add custom meta tags for your products:
From your Ecwid admin, go to

Catalog → Products.
Click Edit Product to view its details.
Switch to the SEO tab:

Write text for Page Title and Meta Description tags in the corresponding fields: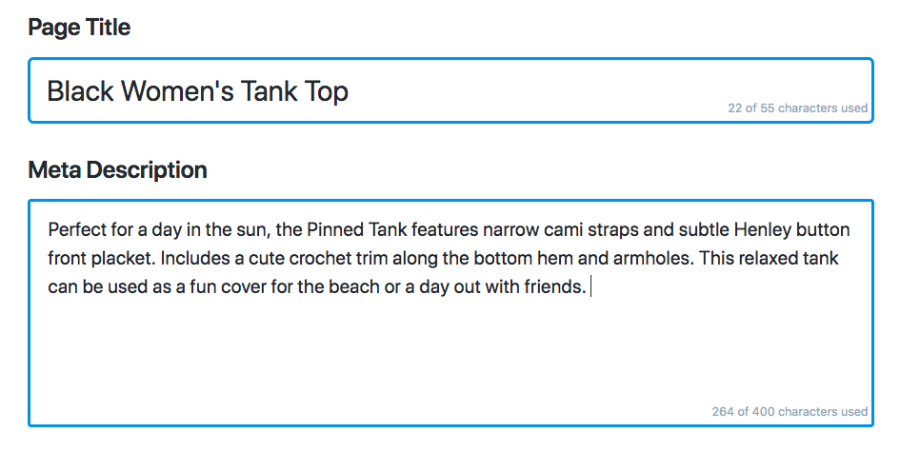 When creating your meta tags, pay attention to the recommended character limit for each meta tag. Google tends to display the first 55 characters for a page title and 160 characters for a meta description.
Check how the product will look on Google when indexed: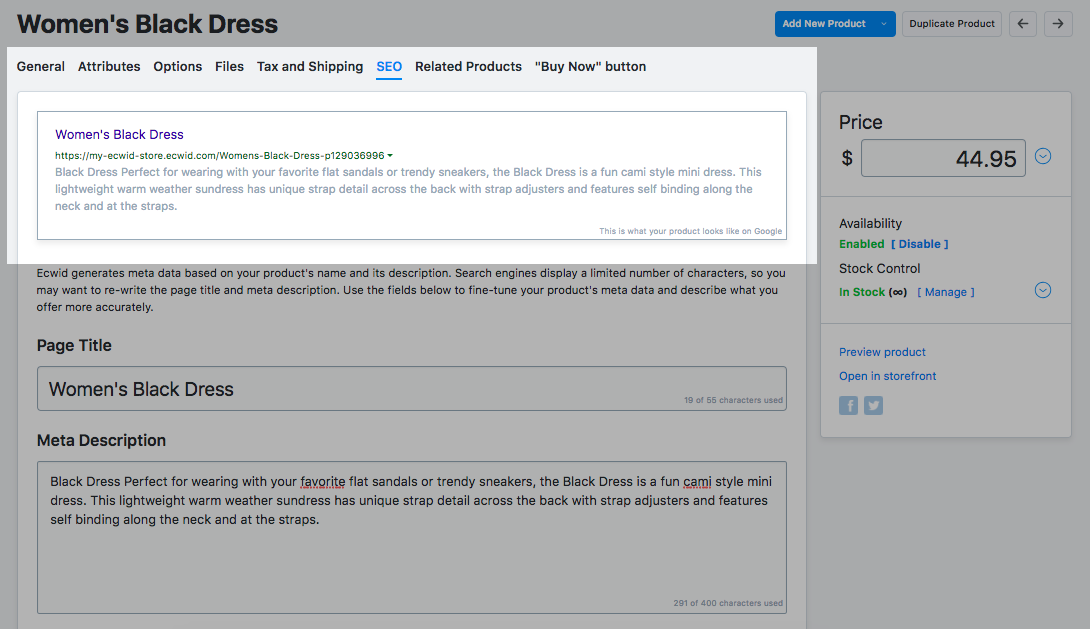 Click Save.
If you have a lot of products in your store and would like to update meta tags in bulk, follow these steps for importing custom meta tags.
Adding keywords to product names and descriptions
Your online store can rank above competitors in search results and attract more customers if you describe your products and services in a way that addresses people's searches. It means that your product names and descriptions should contain relevant keywords – words and phrases that match searches.
You can find the right keywords to include in your text with keyword research. Here are a few points for you to get started:
brainstorm words and phrases potential customers may search that match your products;
check related terms that appear at the bottom of Google search result pages: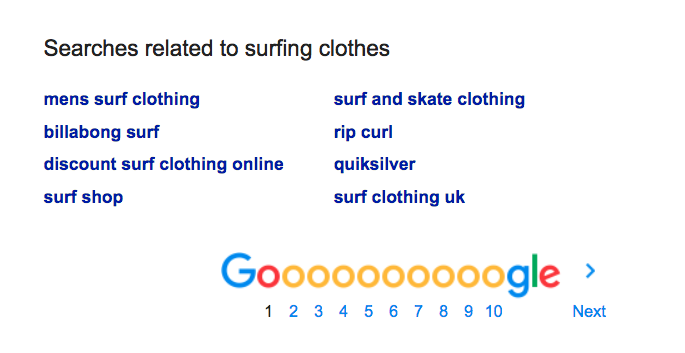 discover social media hashtags used when sharing your products or similar goods;
check search queries in Google Search Console to collect keywords that people used to find your website.
If you wish to analyze customer search behavior, the
CloudSearch app
app can help gather search statistics.
With a list of relevant keywords at hand, you can start adding them to your product names and descriptions. You can also update the page title and meta description tags to make your store more SEO-friendly.
Taking all the above into consideration, please remember you should be writing for humans and not search bots. Make sure to avoid keyword stuffing and using the same keyword in every sentence: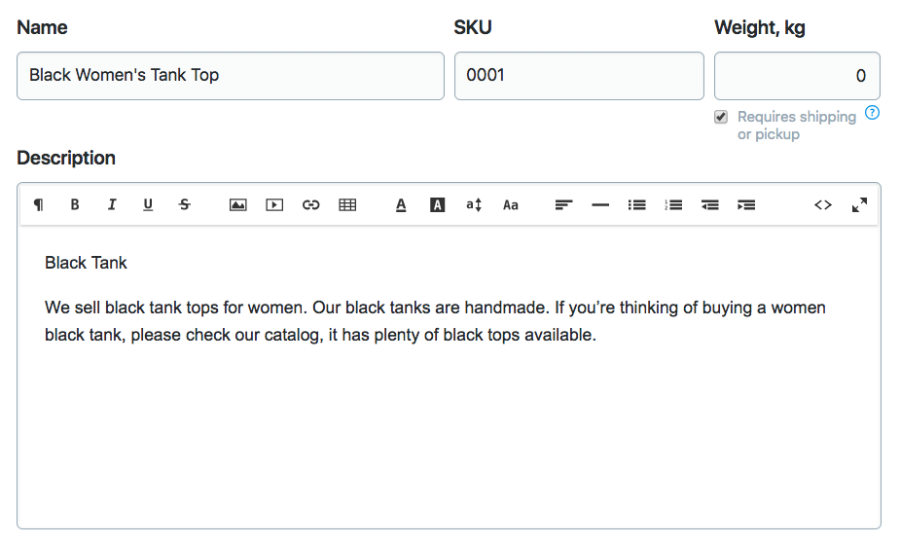 Include your main keywords in product names and early in the description while using keyword variations throughout: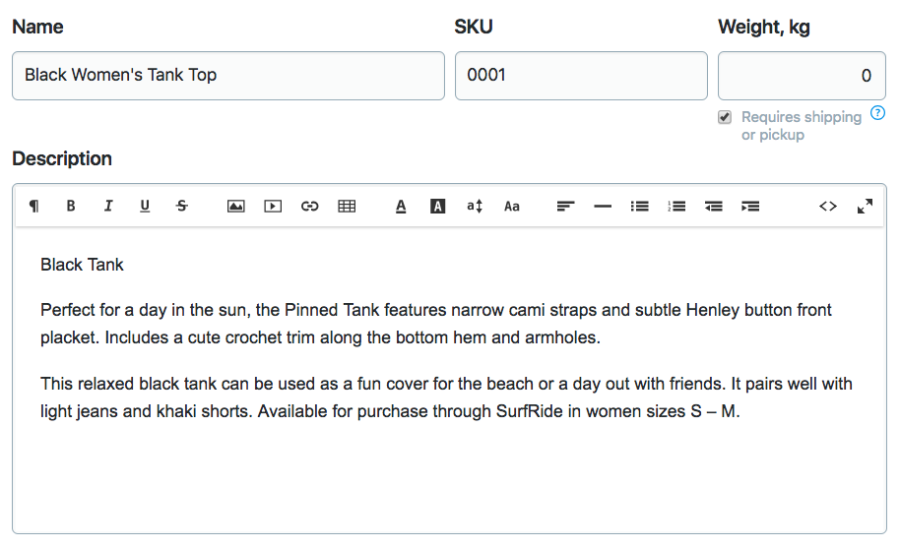 Original content spiced with keywords can also come in the form of a blog. Generating such content can help build a brand and
bring traffic to your site
.
Collecting product reviews from customers
When ranking websites in search results, search engines consider self-published content as well as what others say about your site – and your products. Make it a priority to create space for customer feedback: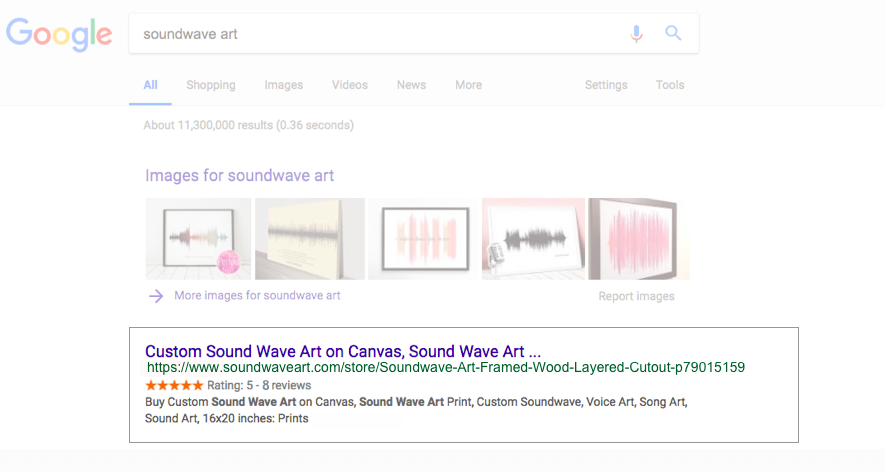 Through customer reviews, ratings and comments you can increase your store's rankings by providing search engines with fresh content about your products and services. Customer generated content also provides relevant keywords and lots of backlinks to your online store.
In addition, customer reviews and ratings build a sense of trust, help people make purchase decisions, and increase conversion rates in your store.
HelpfulCrowd: Reviews, Ratings and Q&A and Trustami: One Seal for All Reviews are two apps from the Ecwid App Market that help collect customer feedback. Both apps will help organic traffic rates by showing ratings for your products in Google search results.
Read more: Collecting customer reviews and ratings
Submitting sitemap to Google
A sitemap tells Google and other search engines about the structure of your site using an .xml file that contains a list of important site pages. A multi-level menu (Home → Category → Subcategory1 → Subcategory2 → Product) takes longer to index because their pages are deep in the site structure. A sitemap will help search robots crawl and index your products faster.
To submit a sitemap to Google via Google Search Console, you must first verify your site ownership in Google Search Console. After verification, create a sitemap for your store pages (Ecwid Instant Site comes with a ready sitemap). Last, submit the sitemap to Google.
Search engines check sitemaps every day. With a sitemap, you can have new pages – and new products – indexed and discoverable in about a day.
Sharing products in social media
By sharing your products in social media, you can improve your store's visibility to search engines and increase your reach. Due to the strong web authority of social sites, Google and other search engines consider your product shares on Facebook or Instagram as higher-quality links. This helps to rank your online store higher in the search results.
You can use several tools for sharing your products across social media:
Share buttons in your Ecwid Admin
You can share your products to Facebook and Twitter as you create them or edit their details in your Ecwid admin, Catalog → Products: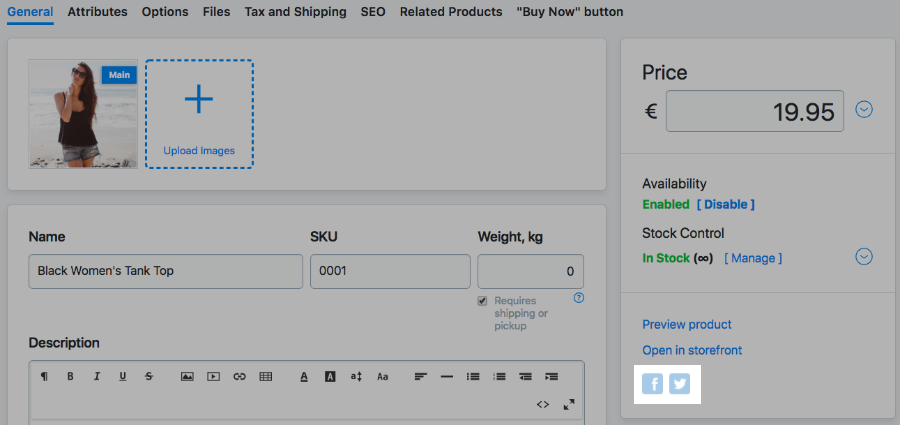 Share buttons in your online storefront
You can engage customers with sharing your products on Facebook, Twitter and Pinterest by enabling share buttons on product pages:
From your Ecwid admin, go to

Design.
In the Sidebar section, enable the option Share buttons.
The buttons will appear on all product pages: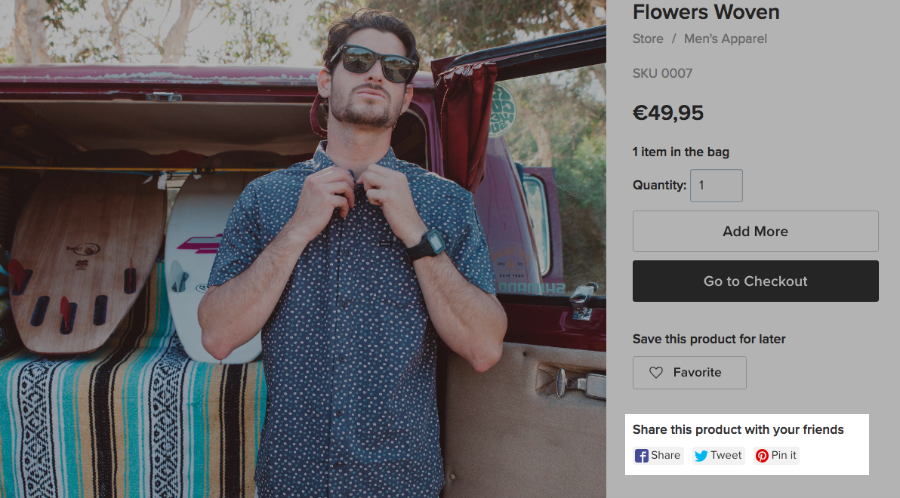 You can add plenty of other share buttons (
Instagram
,
Linkedin
,
Tumblr
,
Blogger
,
Reddit
and more) to your store with
Social Sharing Buttons
app by Zotabox. To encourage people to share your products, you can use the
Social Boost
and
Gratisfaction
apps.
Building backlinks
Besides sharing products on social media, it is important for SEO to have external links to your store from relevant, high-quality sites. Consider the following to naturally build backlinks to your store:
Create awesome content and add it to your site. Everyone loves to share inspirational text and funny video clips.
Reach out to bloggers in your niche, and offer to share some of your best selling products in exchange for a review.
Write a guest blog post on popular blogs. You are welcome to write a guest post for Ecwid :).
Consider your own blog – write about what your store is about and provide links to your products.
If you sell products for another company, ask the manufacturer to link your store in their list of retailers.
Find more tips on getting backlinks for your online store.
Related articles
Checking indexation of your store
Instant Site SEO settings
Marketing checklist
Adding a search box to your Ecwid store
Submitting sitemap
10