Can I easily switch to another paid plan?
You can change your paid plan at any time. In order to do it, log in to your Ecwid control panel, click on your name in the right upper corner → Billing and Plans (direct link) and click the Switch link next to the plan you want to switch to. All functionality of new paid plan will be available immediately.
What happens when I switch between paid plans?
When you switch between plans, your charge date remains the same. For example, if you create a paid monthly subscription on May 15, your next charge will be on June 15, then July 15, August 15, etc. If you created an annual subscription on May 15, 2017, your next charge will be on May 15, 2018, etc.

If you upgrade to a higher plan, you will be charged for a prorated charge to keep the billing cycle unchanged. For example, if you upgrade from one paid plan to another paid plan 7 days before your next billing day, you will be charged for the 7 days of the new plan prorated.

During the plan switches, Ecwid also takes into account the prepaid amount that you haven't yet spent and it is used during the plan switch. In the example above, that would be a prorated sum for 7 days of the old plan. This unspent amount is taken as a credit which covers (partly or fully) the prorated charge for the plan switch.

When you change your current paid plan to another paid plan before the end of the billing cycle, you will be charged only for the period till the next charge date, i.e., the actual amount of days during which you will use the new plan till the charge date.
For example, if your next charge date is June 15th and you switch to the monthly Business plan ($35) from the Venture plan ($15) on June 1st, you will be charged ~$10. Next time you will be charged on June 15th for $35, the full month as usual. 
What happens when I downgrade to the Free plan?
On the Free plan you can have only 10 products, see the list of Ecwid plans and features in our comparison table. If you have more than 10 products in your store and decide to downgrade to the Free plan, you will have to delete some products so that there were only 10 of them left. Please, note that you lose all the paid features (discount coupons, E-goods, unfinished orders, etc.) right after downgrading.  
Can I change the billing information/email address/credit card for paying for my Ecwid subscription?
Yes, it is possible. In order to change any details of your subscription you should log in to the Ecwid Control Panel → Your name in the upper right corner  → Billing and Plans page and click the pencil icon: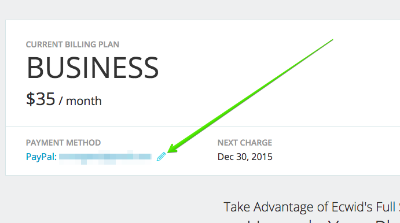 After that you will be prompted to fill in the secure payment form: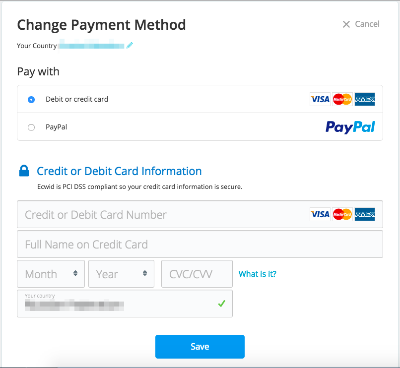 I'm on the Silver plan and want to change to Business. What will happen to the product limit?
"Silver" is a legacy plan that was offered prior to the introduction of the current plans in November 2012. Although now one can subscribe to only three paid plans (Venture, Business and Unlimited), all of our merchants who registered with Ecwid before Nov 2012 (early adopters) can use the Silver plan.
This plan has a larger product limit of 20000, however it's no longer supported meaning most of the major features are not included. A list of options available on our current plans can be found in the Ecwid plans and prices breakdown article.

If you're an early adopter using Silver subscription and decide to switch to the Business plan, the product limit of Silver will be intact: being subscribed to the Business and getting all the new features you will still have 20000 limit. A good deal to obtain more for your business!