Adding welcome texts and banners to your store
You can easily show any text (e.g., welcome text, announcement, special offers info), banners, pictures (e.g., icons of accepted credit cards), or videos on the top of your store front page or in your category's description. Use banners to give your store a consistent and unique look or to inform your customers about special offers and news.
If you sell wine, beer, or any other type of alcohol, add an image banner to inform visitors about age restrictions in your store.
Here's how a banner might look like on the store homepage: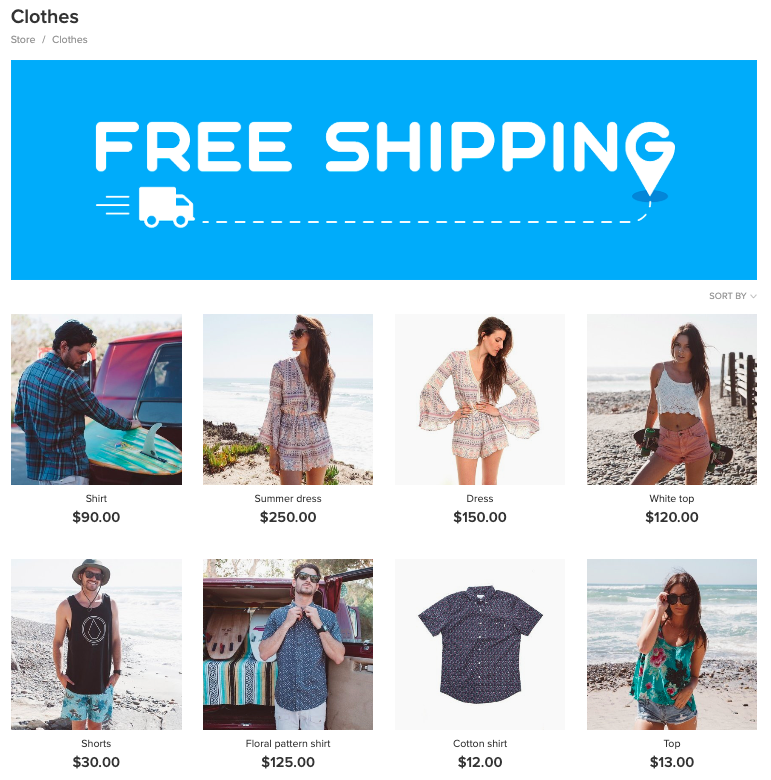 Adding text, pictures, and videos
You can easily add any of the above-mentioned content to the storefront page or any category pages.
To add a text, picture, or video to a category:
From your Ecwid admin, go to

Catalog → Categories.
Choose the category you want to add content to on the list on the left. To display the content on the store home page, choose Store front page category.
Find the Description field on the right side.
Type your text or click an appropriate button to add a video, image, table, or a link to the category description: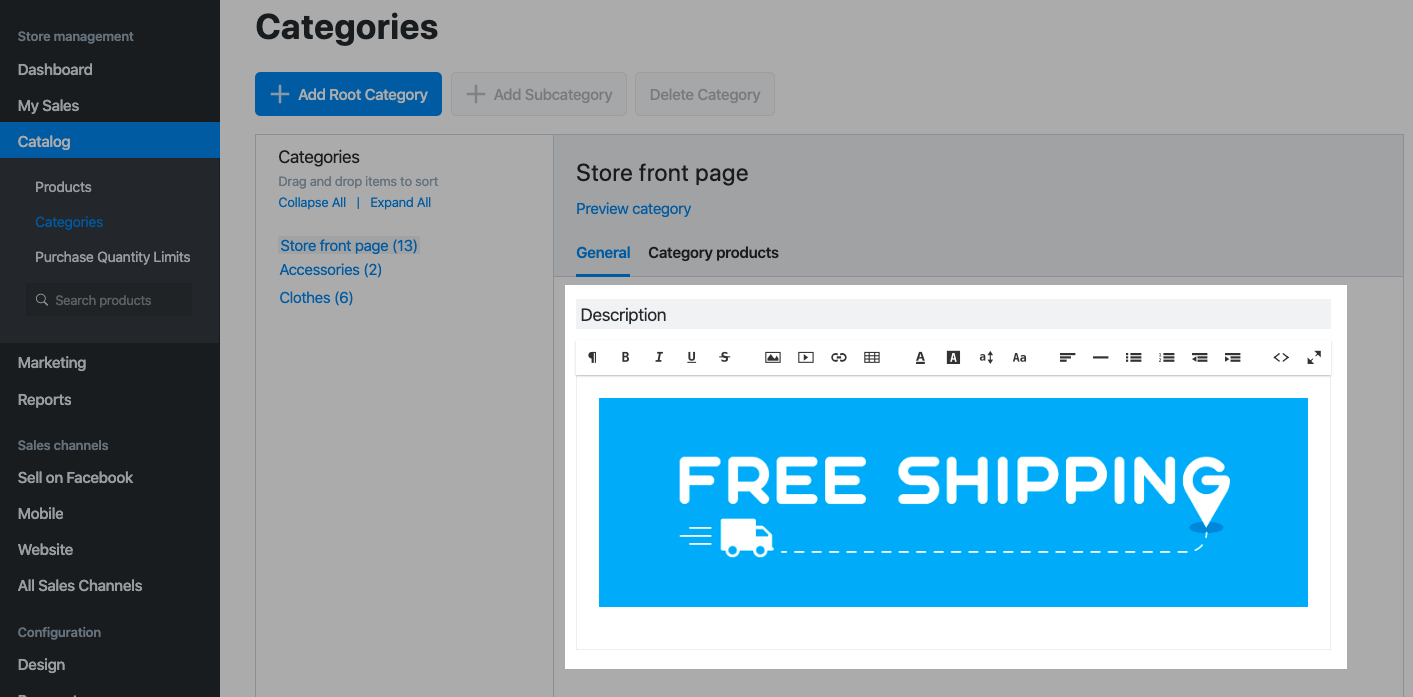 Adding banners
Banners are good for attracting customers' attention. Use them to tell about special offers, hot deals, and other info that you want your store visitors to know.
You can simply add a banner as an image to the category description and make the image clickable.
Or you can attract more attention by adding a popup banner or a promo bar on top of your store. That can be achieved with apps from our App Market.
The following apps allow adding eye-catching banners:
Promo Bar. Type your message, customize the design of the bar, and choose where to display it in your store. Choose a fixed position if you want customers to see the bar even as they scroll a page.
Easy Popup. Use one of the ready design templates for your popup, add a custom message, and choose how soon you want to show it after a customer comes to your store.
Best practice: Adding content to the store home page
You can add banners, images, texts, and videos to your store landing page or root category description. Here you'll find some ideas on how you can use this content in your store.
Text (including tables and links)
to welcome your store visitors
to notify customers about deals, offers, and sales
to list products' benefits, usage, and storage tips
to share important information about orders and products, for example, tell customers about shipping terms, pre-ordering or customizing: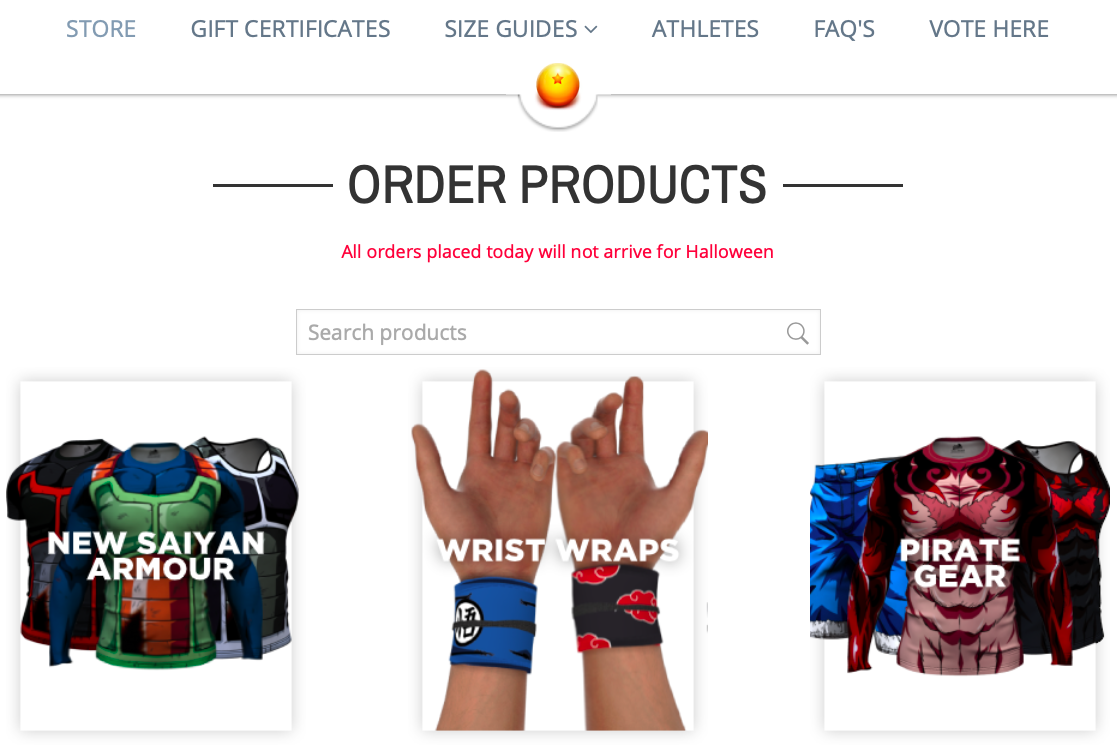 Pictures
to give your store a consistent look
to bring customers' attention to sales and deals
to notify customers about your certificates, awards, or quality labels.
Videos
to share live-videos from your events
to share the "About Us" video
to demonstrate your product benefits in action
to show how to use your products: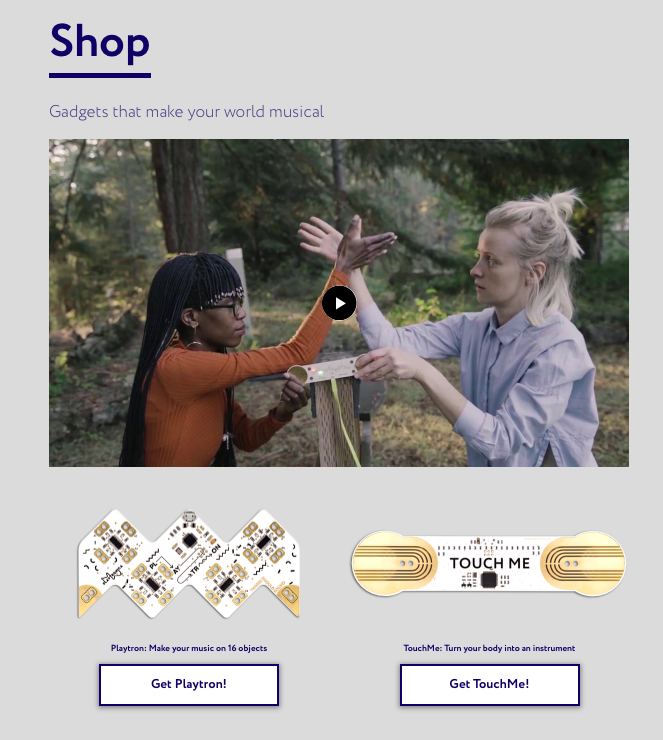 10