Referral programs are very effective for boosting website traffic and sales. Ecwid has basic built-in affiliate features that can help you to integrate your store with an affiliate management software and build a powerful affiliate marketing tool. Particularly, we often recommend using Post Affiliate Pro as an affiliate software - it is quite powerful and easy-to-use. Ecwid supports two alternative scenarios of integration with Post Affiliate Pro. With the first one, you provide your affiliates with special links/banners to your store and track clicks/sales coming from them on your site. With the second one, you allow your partners to place your whole Ecwid store on their sites and track sales there. The basics of these two approaches and the difference between them are described in this article (the paragraphs #1 and #2): Affiliate Features.
Plan availability: Venture, Business, Unlimited.
Upgrade
General information about Post Affiliate Pro
You can find the detailed information about Post Affiliate Pro and how to use it here:https://www.postaffiliatepro.com/
How to set it up
1. Sign up for Post Affiliate Pro.
You can choose the license that meets your requirements best on this page:
https://www.postaffiliatepro.c om/in-house-affiliate-program- hosting/
2. Review your settings in the merchant panel.
In your merchant panel in Post Affiliate Pro, configure your affiliate program and profile settings such as email notifications, commissions, banners/links, affiliates list etc. Follow the built-in user's guide. Should you have any questions regarding account configuration, please refer to the Post Affiliate Pro knowledge base: http://support.qualityunit.com/690072-Post-Affiliate-Pro
3. Add clicks tracking code to your site
Clicks (referral) tracking recognizes which affiliate referred the visitor that came from some URL or clicked on banner link. You should add the click tracking code into EVERY page that will be the target of affiliate links. If you published your Ecwid store on different pages (e.g. using single product widgets), you should add the code into each of those pages. The best practice is to put it somewhere into the footer of your site so it will work on every page where the footer is displayed. On the other hand, if your store appears on one page only, you can simply put the clicks tracking code below the Ecwid integration code. You can get your clicks tracking code in your merchant control panel in Post Affiliate Pro: Tools → Integration → Clicks tracking.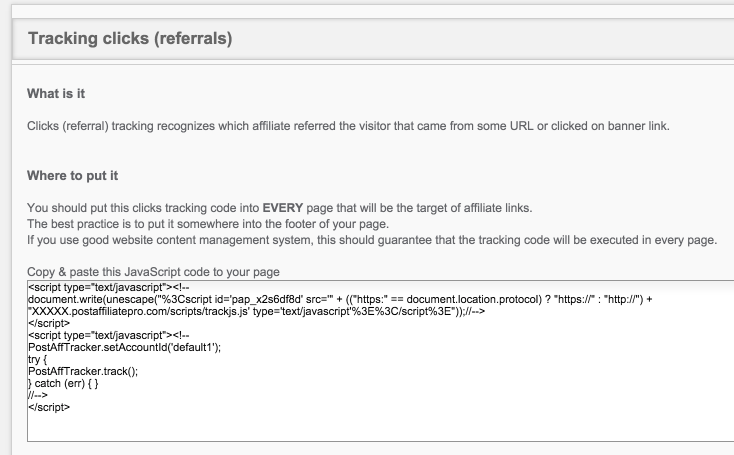 Copy and paste the given JavaScript code to the target pages.
4. Place your whole store on the affiliate's site (optional).
As I previously said, in addition to simple referring customers to your site, it is also possible to place your whole store on affiliate sites. In this case, apparently, the affiliate's page itself is a target page, so no links/banners are needed. Customers will browse your store and purchase your products directly on the affiliate's site. Sales will be tracked there as well.
In order to use this approach, you will need to provide your partner with your Ecwid integration code (from Ecwid control panel → Dashboard) and the clicks tracking code. For such use, the clicks tracking code should be modified a bit though - the affiliate's ID need to be placed in the code so that the system will recognize where an order came from.
You can obtain the code for sharing with an affiliate in this way:
1) Find an affiliate ID in the affiliates list in your merchant panel (see the 'Affiliate manager' window):

2) Specify it in the clicks tracking code. The code will look like this (the changed part is in bold):
<

script 

type

=

"

text/javascript

"

>

<!--
document.write(unescape("%3Cscript id='pap_x2s6df8d' src='" + (("https:" == document.location.protocol) ? "https://" : "http://") + 
"XXXX.postaffiliatepro.com/scripts/trackjs.js' type='text/javascript'%3E%3C/script%3E"));//-->




</

script

>




<

script 

type

=

"

text/javascript

"

>

<!--
PostAffTracker.setAccountId('default1');
var AffiliateID = 'here goes the ID';
try {
PostAffTracker.track();
} catch (err) { }
//-->




</

script

>

 
3) Grab Ecwid integration code from your Ecwid control panel and add the modified clicks tracking code, combine them together. The code is ready, you can give it to your affiliate.
More about tracking codes in Post Affiliate Pro: 5. Add sales tracking code into your Ecwid store.
Regardless of where the clicks tracking code is placed, you'll need to integrate the sales tracking code into the order confirmation page in Ecwid. After being placed in your control panel, this code will track sales for all of your affiliates. You can find the sales tracking code in your Post Affiliate Pro merchant panel as well: Tools → Integration → Sales/Leads Tracking, select 'Ecwid' in the "Integration method" drop-down and the code will be generated.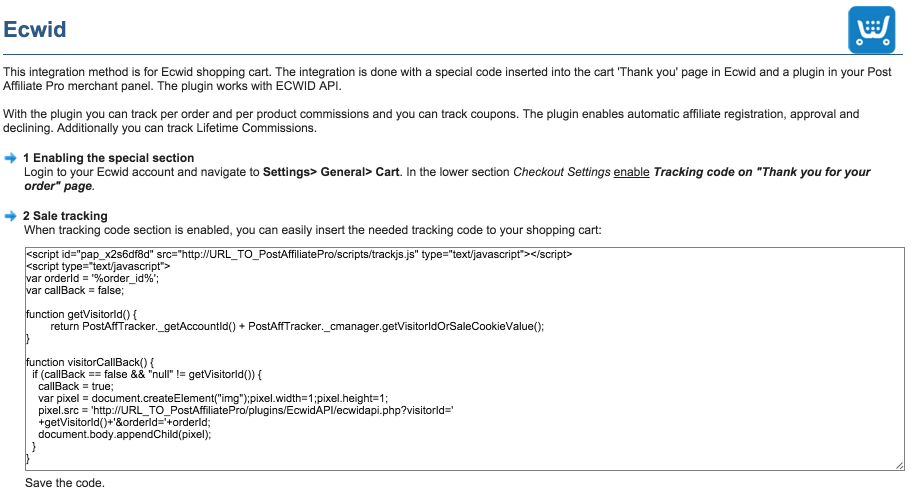 Ecwid has a built-in tool for placing such codes on the order confirmation page. Just put the code in your Ecwid control panel: Settings → General → Cart&Checkout → Custom tracking code on Order Confirmation page. It will automatically execute when an order is placed.
You can consider paying only sales commissions (not paying for clicks). But, even so, you have to integrate click tracking code - it gets affiliate IDs from URLs when visitors come using affiliate links or from the code when the whole store is placed on affiliate sites. Thus without it, the sale won't be properly registered.