Translating your store to multiple languages is a great way to expand your customer reach and improve the shopping experience of foreign buyers. Ecwid provides a set of tools that can help you make your store multilingual and grow your business globally.
In this article:
Multilingual storefront
Ecwid online storefront is translated to 50+ languages. You can control the language settings in your Ecwid Control Panel → Settings → General → Regional settings.
Find the Storefront Languages section and click Manage Languages. Here you can enable and disable the languages for translation: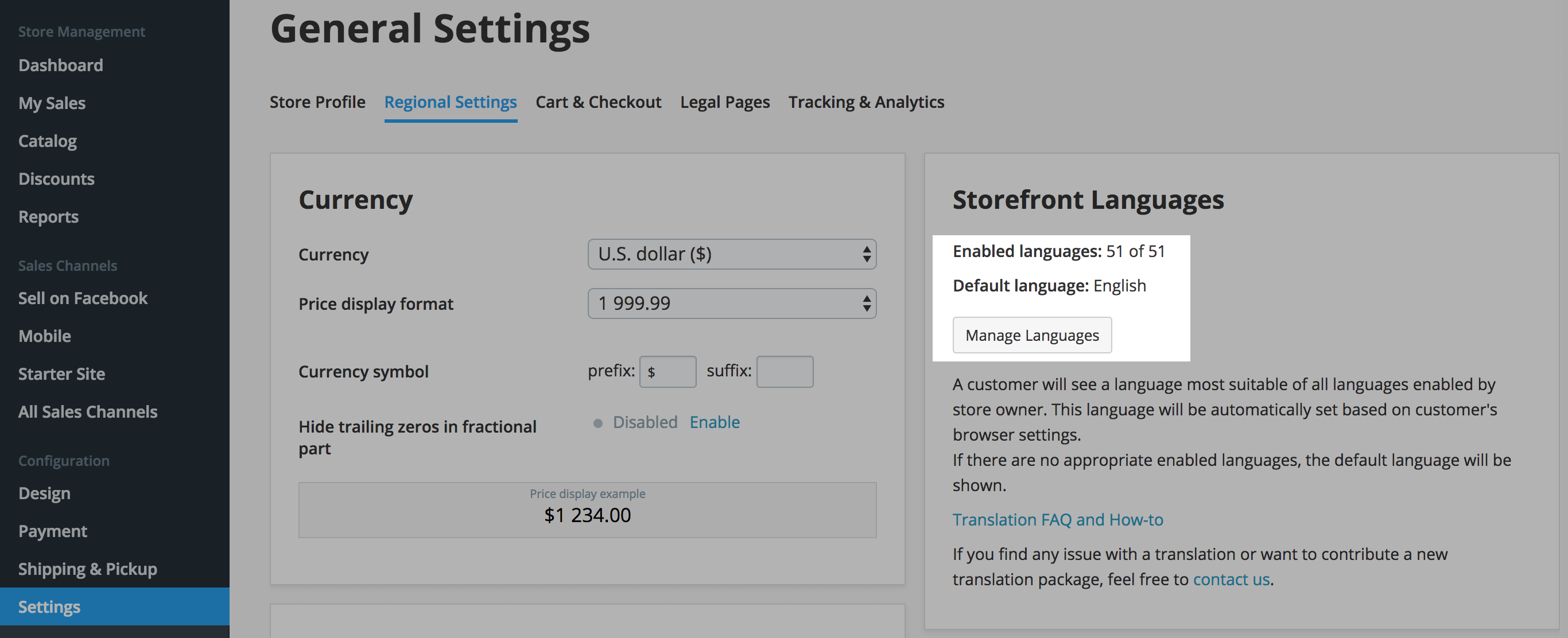 When a customer opens your online store, Ecwid detects their browser language and automatically translates the storefront to accommodate that user. If there is no appropriate language enabled, the default language is used.
Multilingual email notifications
When a customer places an order in your store, Ecwid detects their browser language and makes record of it for all future correspondence. In doing so, Ecwid will automatically translate messages (order notifications, shipment confirmations, etc) to: English, Russian, German, French, Italian, Spanish, Portuguese, Dutch, Danish, Finnish, Japanese, Norwegian, Polish, Czech, Swedish.
The notifications will be sent in your default language if the customer browser language is not included in one of the above mentioned languages. However, if your default language is also not in our repertoire, notifications will be sent in English.
Browser language detection will be ignored for manually altered templates. See our email notifications translation guide for information on changing default texts in the notification templates. 
Please mind that the browser language detection will be ignored for the templates altered manually. They will be written in the language used in the template.
Multilingual product descriptions
To enhance your customer reach, you can display the information about your products in different languages. We put together a guide for translating product and category descriptions with the help of the Translatable Product and Category Descriptions. All you need to do is provide the translated description, mark what language it's written in, and the app takes care of the rest.
Video guide
Here is a quick video guide on how to translate your store:
Related articles
Changing texts in your Ecwid store
Translating product and category descriptions
Storefront translations
Back to top