Basic reports and sales stats
To manage your online store effectively, you need to know what's going on. Where your customers come from, how much money they spend, what products they buy, and how your special offers perform. To get these data insights, Ecwid provides several reports.
Reports and sales stats in your Ecwid Admin
You can get the most important metrics for your store including the number of visitors, orders, revenue and conversion rates in your Ecwid admin, go to Reports page.
To see the reports, click Install Now:

After you install the app, the Reports and Analytics page will show basic metrics. You can find this page anytime at your Ecwid admin, go to Reports → Stats.
Select a period to research and mark which information you wish to include in your stats such as top selling products, revenue per order, and source of traffic: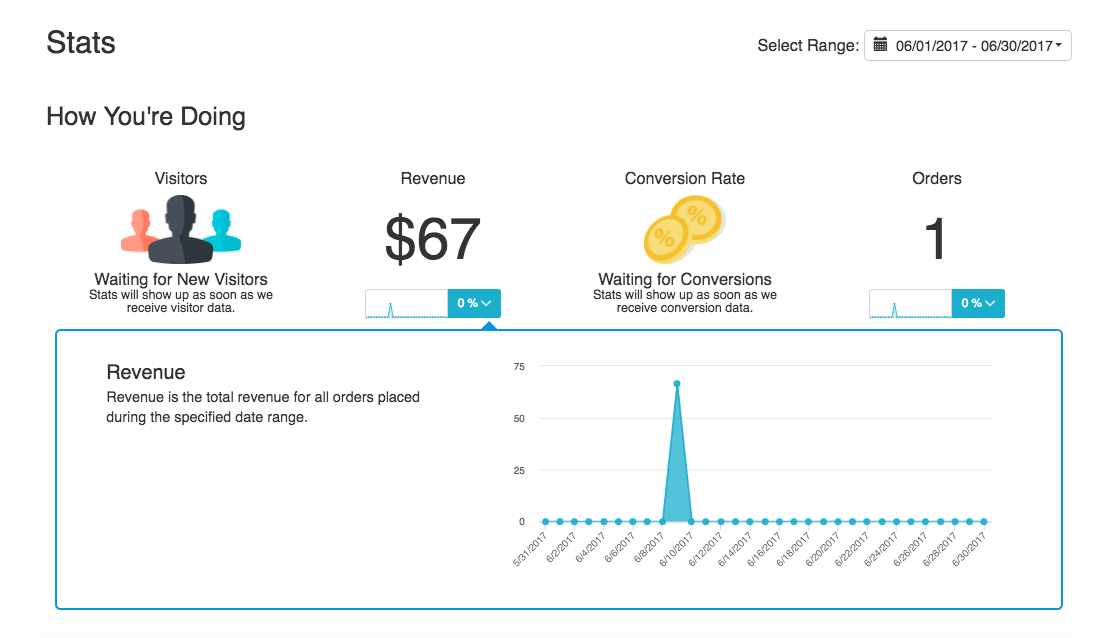 Real-time sales tracking
Track sales the moment an order is placed with the Ecwid mobile app . We will send push notifications to your iPhone, iPad, or Android device when an order is placed or a payment has been accepted.
To install the app, from your Ecwid admin, go to Mobile, click Get the App and follow the setup steps. You may also download Ecwid E-commerce on the App Store or Ecwid Sell Online Google Play.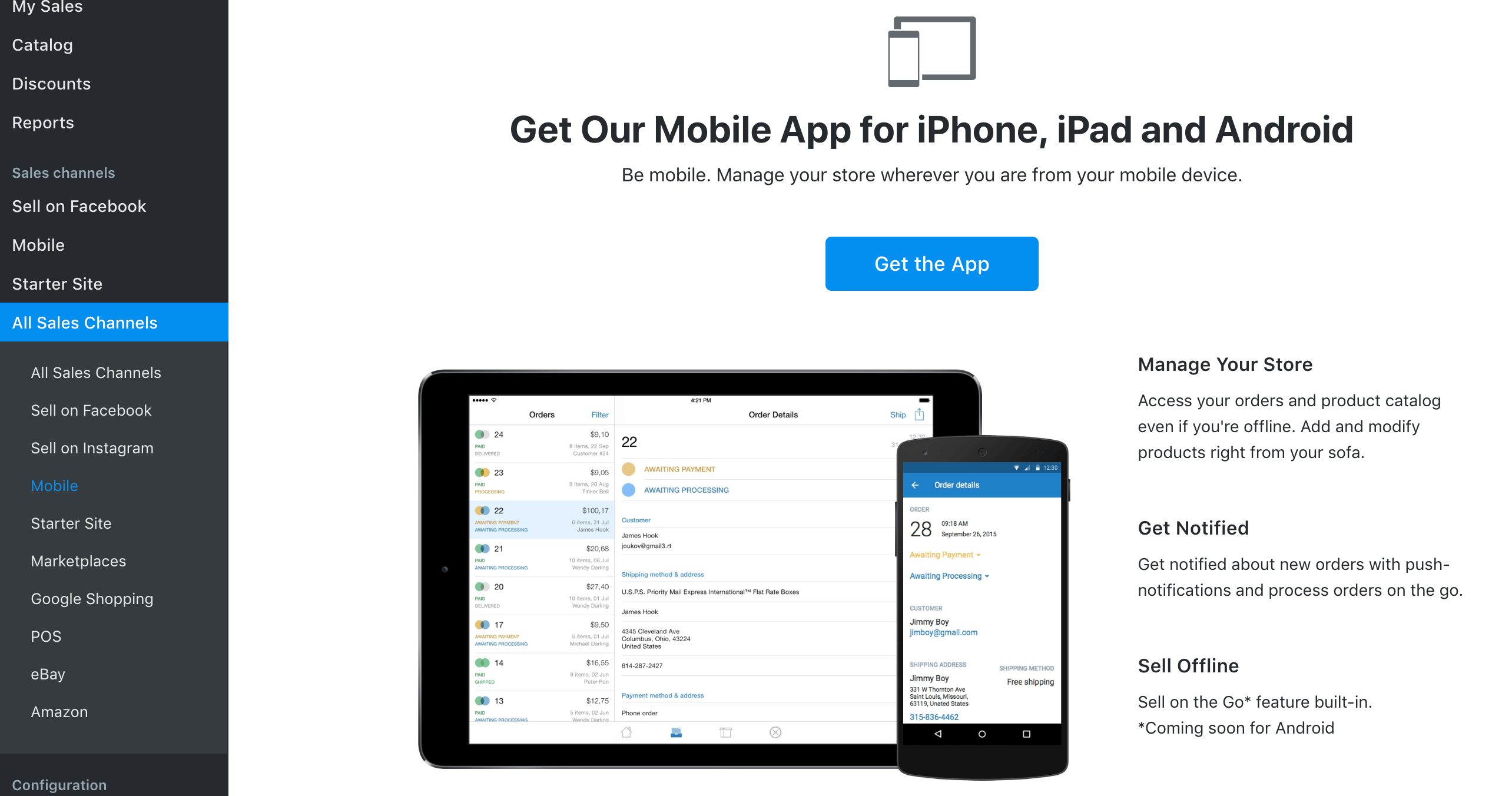 Besides tracking sales, you can manage orders, add new products and modify existing inventory using Ecwid's mobile app. You can check the statistics of your sales right from your Ecwid mobile app for iOS. Just open your app and go to Store → Reports. Currently, you can check reports only on iOS devices.
Google Analytics reports
For more advanced statistics, we recommend Google Analytics. This tool can help you to better understand consumer behavior by analyzing traffic sources and optimizing store promotions.
With the help of Google Analytics you will be able to track:
Sales Funnels— find what steps your customers take before they buy something or leave your store. This is also great to review your store's checkout process.
Visitor Engagement — see how much time a visitor spends in your store and what pages they visit.
Historical Benchmarking — check how your acquisition channels performed this year versus last year.
Start by creating a Google Analytics account. Once registered, connect this account to your Ecwid store:
Click Set Up Google Analytics in

your Ecwid admin, go to

Reports.
Enter your Google Analytics Web Property ID (How to get your ID).

If you are going to run paid search ads with Google Adwords, we suggest enabling Google Remarketing to catch those who left without a purchase.

Google Remarketing statistics will be available in your Google Analytics dashboard within 24 hours.
Sales reports in spreadsheets
If you prefer to use spreadsheet editors like Microsoft Excel, Google Sheets or OpenOffice Calc for sales reports, you can export order data in CSV format to arrange the data as you prefer.
To export your orders from Ecwid:
From your Ecwid admin, go to

My Sales → Orders.
Use the Filter tool to sort out the orders you want to analyze: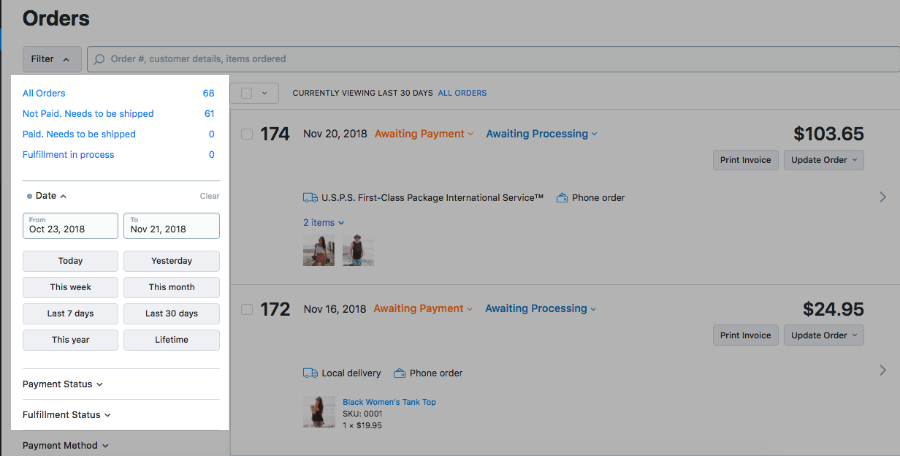 Select the filtered orders and click Mass Update → Export selected: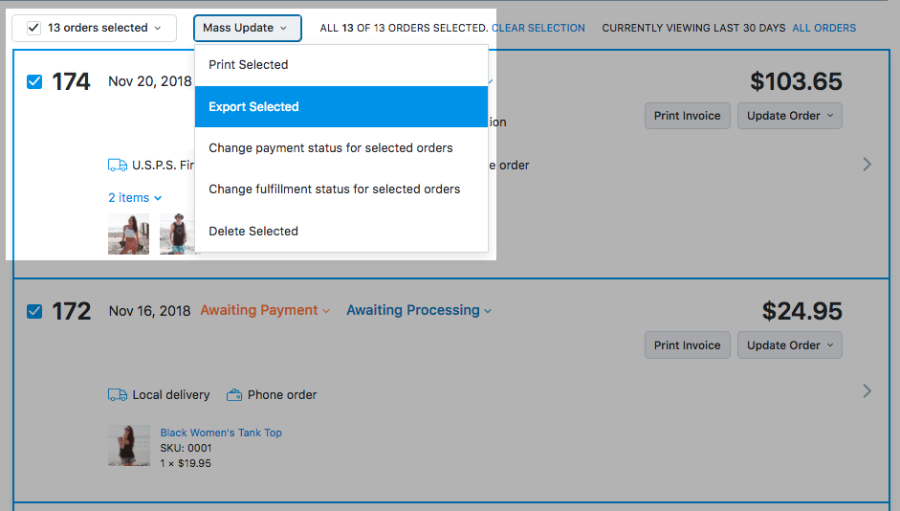 Select the values delimiter (What is it?) and columns to include in the exported CSV file: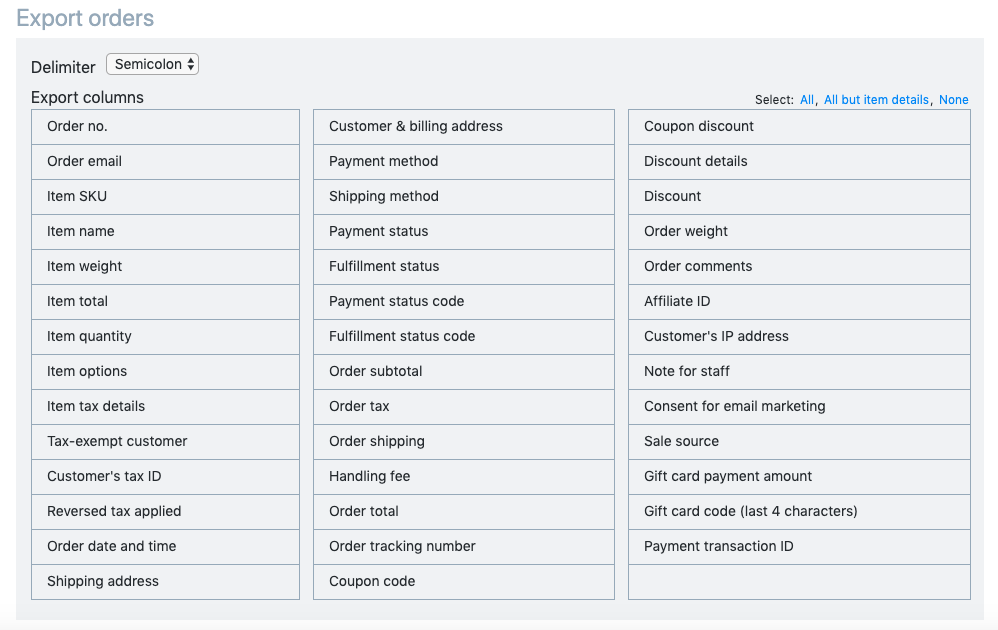 Before choosing the delimiter, check what delimiters your spreadsheet editor supports for CSV files to ensure your file opens correctly.
Click Download CSV file.
Open the file in your spreadsheet editor and compose your report.
Related articles
Analytics and reporting apps from Ecwid App Market
Custom sales reports via API