To manage your online store effectively, you need to know what's going on there. You need to see where your customers come from, how much money they spend, what products are selling best, how well your special offers perform and more. This is where the reports and statistics come into play and Ecwid provides several ways to get this data.
Basic reports and sales stats
You can get the most important metrics for your store like the number of visitors and orders, revenue and conversion rates in your Ecwid Control Panel → Reports page.
To see the reports, click Install Now:

After you've installed the app, you will see a page with the basic metrics. You can also find it in your Ecwid Control Panel → Reports → Stats.
Select the period for the stats you want to get and check the detailed information for each metric: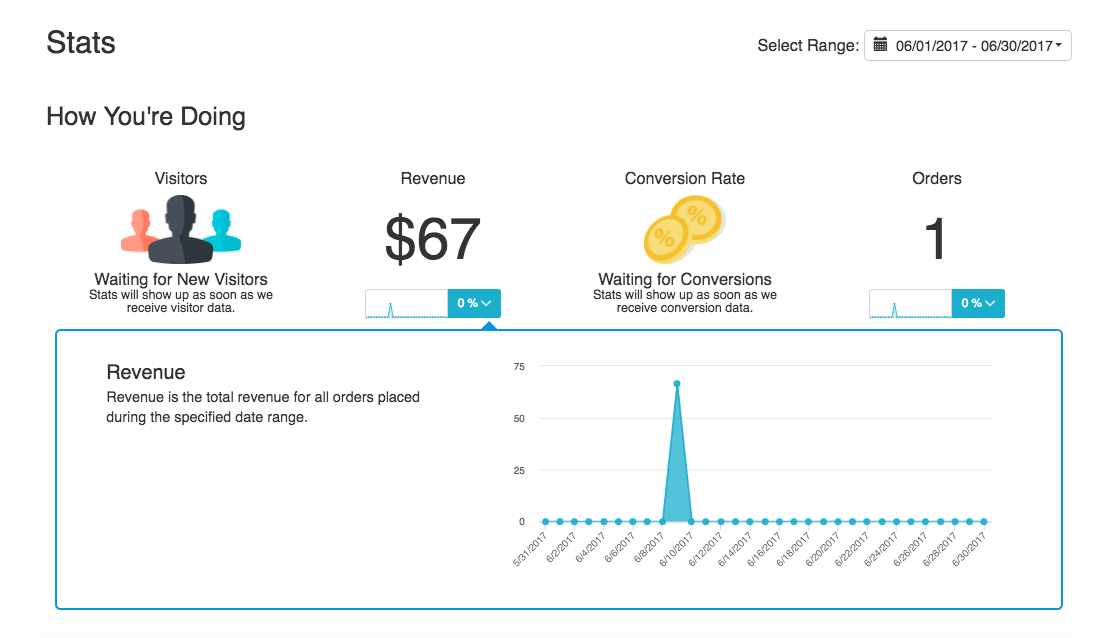 You can also check the items and revenue per order, the number of visits until purchase and the time spent to purchase, the top selling products and categories, the sources of traffic and more.
Real-time sales tracking
If you want to know about each order that is placed in your online store, you can track the sales with the Ecwid mobile app and receive push notifications on your iPhone, iPad, or Android device when an order is placed or a payment has been accepted.
To install the app, go to your Ecwid Control Panel→ Mobile, click Get the App and follow the setup steps or download it on the App Store or Google Play.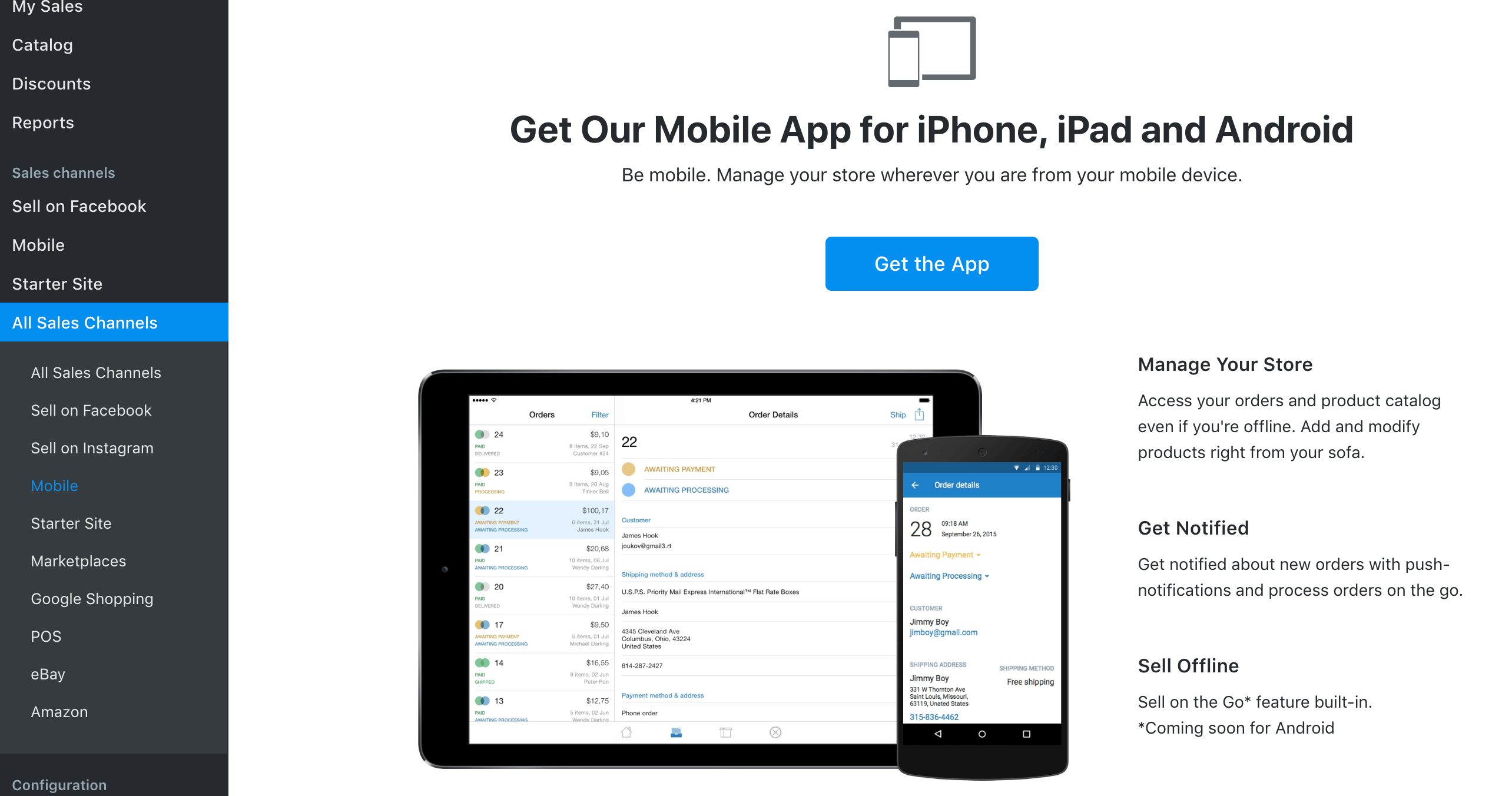 Besides the sales tracking, the Ecwid mobile app allows you to manage orders, add new products and modify existing inventory and even accept payments (coming soon for Android).
It's basically all you need to manage your business when you are constantly on the move.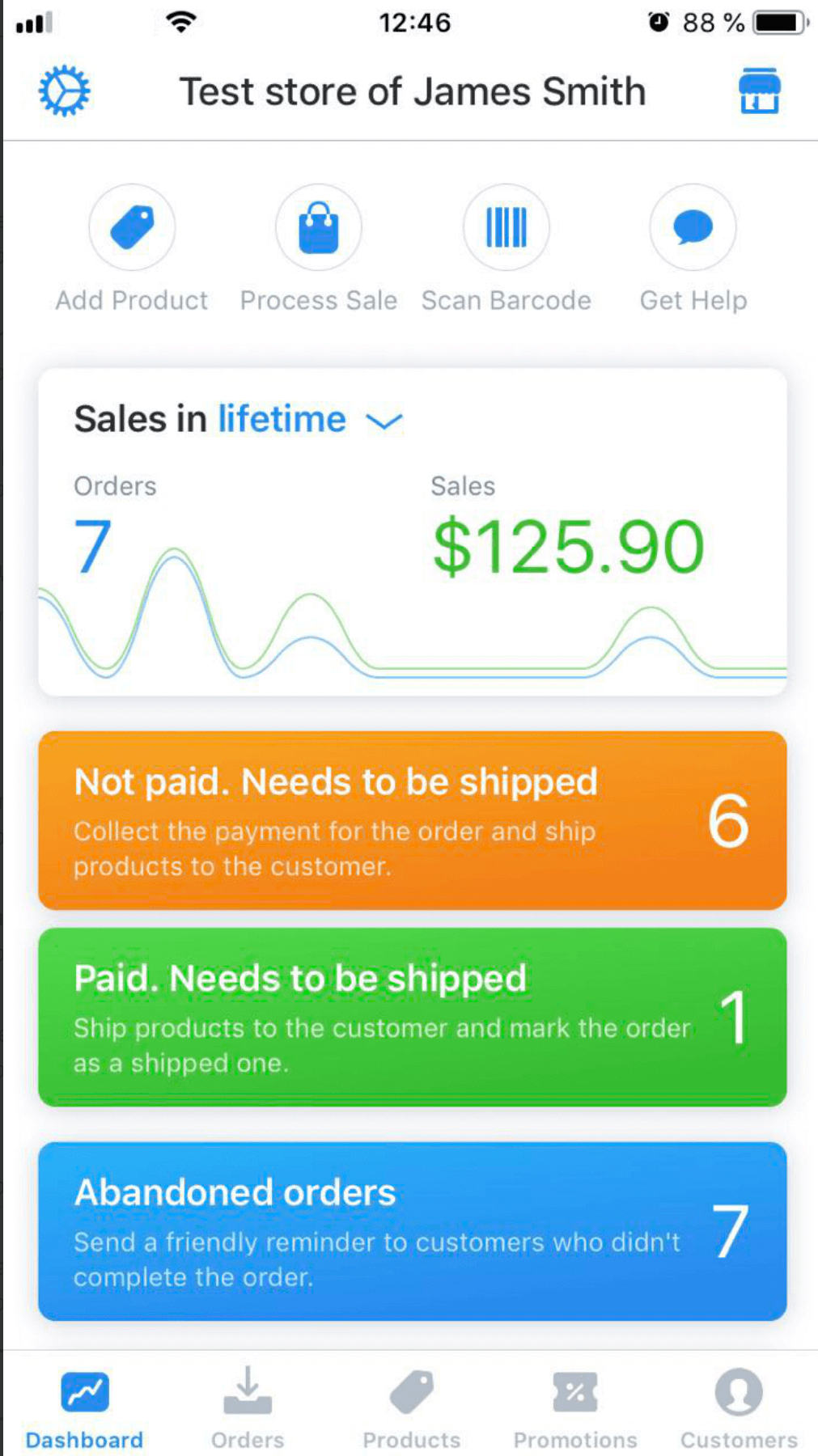 Google Analytics reports
If you want to get more advanced statistics, better understand the visitor behaviour, analyze traffic sources and optimize your store for sales, you can connect your online store with Google Analytics.
With the help of Google Analytics you will be able to track:
Sales Funnels — find out what steps your customers go through before they buy or don't buy and understand whether the checkout process in your store is effective.
Visitor Engagement — see how much time a visitor spends in your store and what pages they open.
Historical Benchmarking — check how your acquisition channels performed this year versus last year.
To get started you need a Google Analytics account. Connect it to your Ecwid store:
Click Set Up Google Analytics in your Ecwid Control Panel → Reports.
Enter your Google Analytics Web Property ID (How to get your ID).

If you are going to run paid search ads with Google Adwords, enable the Google Remarketing to show ads to your store visitors% you can return those who left without a purchase or remind your existing customers about your store.

The stats will show up during the next 24 hours. You can check them in your Google Analytics dashboard.
Sales reports in spreadsheets
If you prefer to use spreadsheet editors like Microsoft Excel, Google Sheets or OpenOffice Calc for sales reports, you can export your orders data from Ecwid in CSV format and arrange it in a way that works for you with spreadsheet tools.
To export your orders from Ecwid:
Go to your Control Panel → My Sales → Orders.
Use the Filter tool to sort out the orders you want to analyze: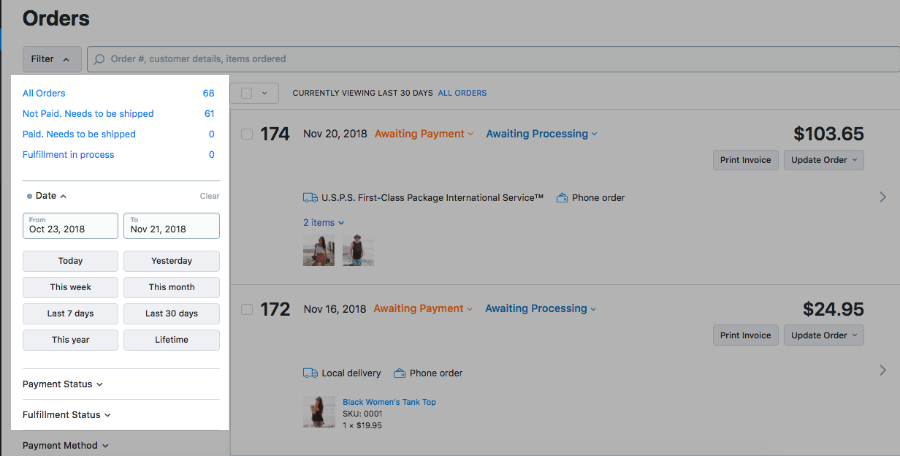 Select the filtered orders and click Mass Update → Export selected: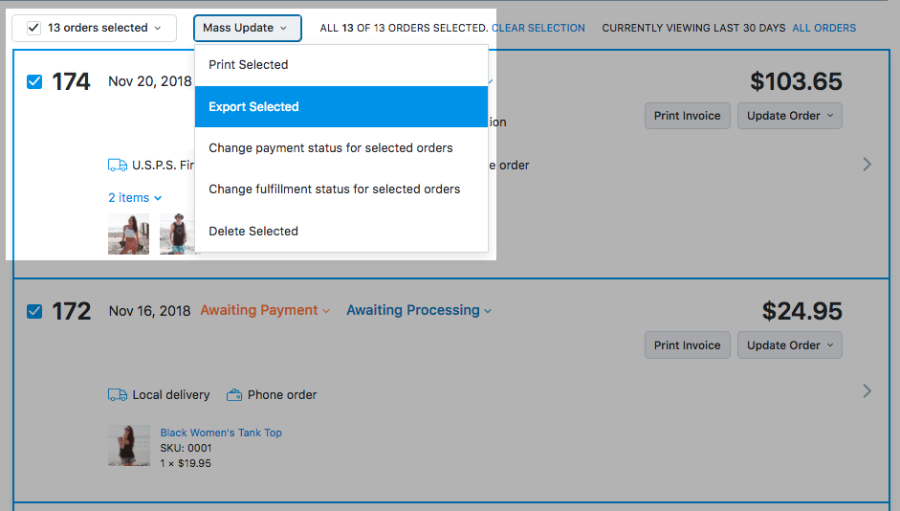 Select the values delimiter (What is it?) and the columns that you want to have in the exported CSV file: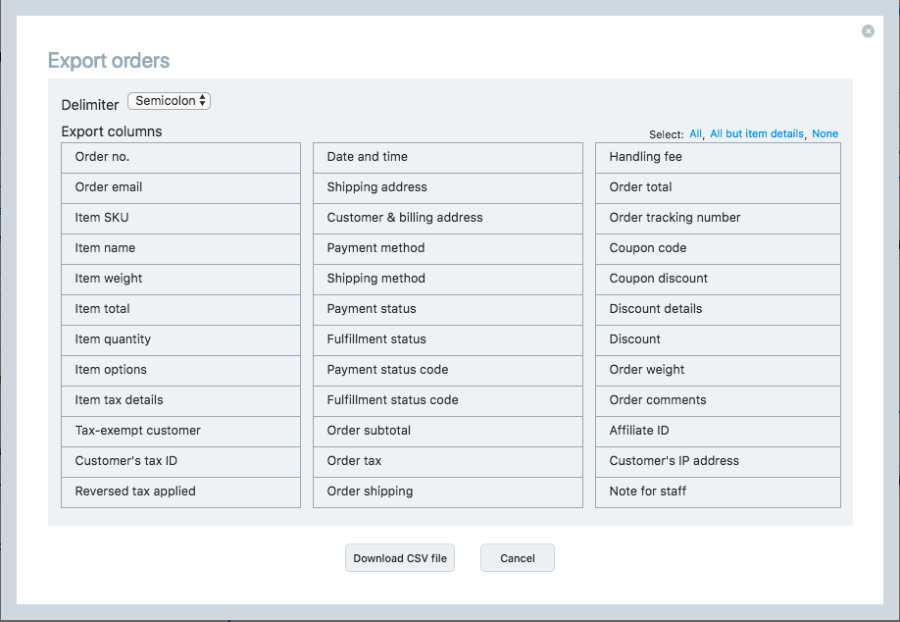 Before choosing the delimiter, check what delimiters your spreadsheet editor supports for CSV files to ensure your file opens correctly.
Click Download CSV file.
Open the file in your spreadsheet editor and compose your report.
Analytics and reporting apps from Ecwid App Market
There are plenty of helpful apps in the Ecwid App Market that you can use to build sales reports and control other stats in your online store.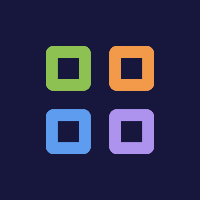 If you have multiple sales and marketing sources in addition to your online store, like Google Analytics, Google Adwords, social media and email, the All-In-One Dashboard app for Ecwid will help you track all your important stats and KPIs in one place for best business performance.

The app provides access to the advanced store analytics: namely, products, orders, customers, shipping and payments. It also has a free iOS and Android app that always keeps your stats at hand.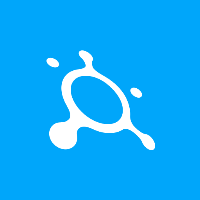 The Convead app will be useful to merchants looking for ways to improve customer shopping experience. It is focused on analyzing customer behavior, revealing sales bottlenecks, and providing powerful tools and recommendations to increase conversions and revenue.

With Convead app you can visualize sales funnels, segment customers and make personalized product recommendations. The app also includes tools for running automated email campaigns and a built-in live chat to always stay in touch with your customers.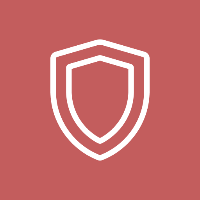 The Secure Traffic app allows you to monitor your website's traffic, control access to your site and minimize the risk of fraudulent transactions in your online store.

Malicious customers may want to place an order in your store just to open a chargeback dispute later on. Secure Traffic tracks visitors' IP address, location and referrer and enables you to block the unwanted visitors based on any of these attributes from accessing your website.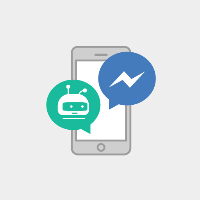 Another convenient tool for tracking store sales is to use Facebook Messenger Chatbot by Statiny. It will keep you posted on the new orders, let you compare sales periods, track fulfilment rate, check order gross total and other stats on the go.

The app allows to schedule daily reports and receive the statistics to your smartphone at a convenient time. The chatbot will also provide smart recommendations on increasing your sales.
Custom sales reports with Ecwid API
If you are looking for an advanced reporting tool based on your sales stats, you can build one with the help of Ecwid API that provides incredible power and flexibility in creating custom extensions for Ecwid stores.
With Ecwid API you can obtain additional information about purchased goods for further analysis that is not collectible by means of CSV export, for example, product types and attributes.
So, if you use product attributes for keeping some internal information about items, e.g. cost price, manufacturer's codes, etc., and want to have it in reports, consider developing a custom app for collecting the attribute values.
Visitor actions recordings and heat maps
The Lucky Orange app for Ecwid can track anonymous sessions of your actual customers so that you see how they browse, what they click on, and where they leave.
You can also examine your store on the heat maps, which collects customer actions (clicks) and shows you where they click the most.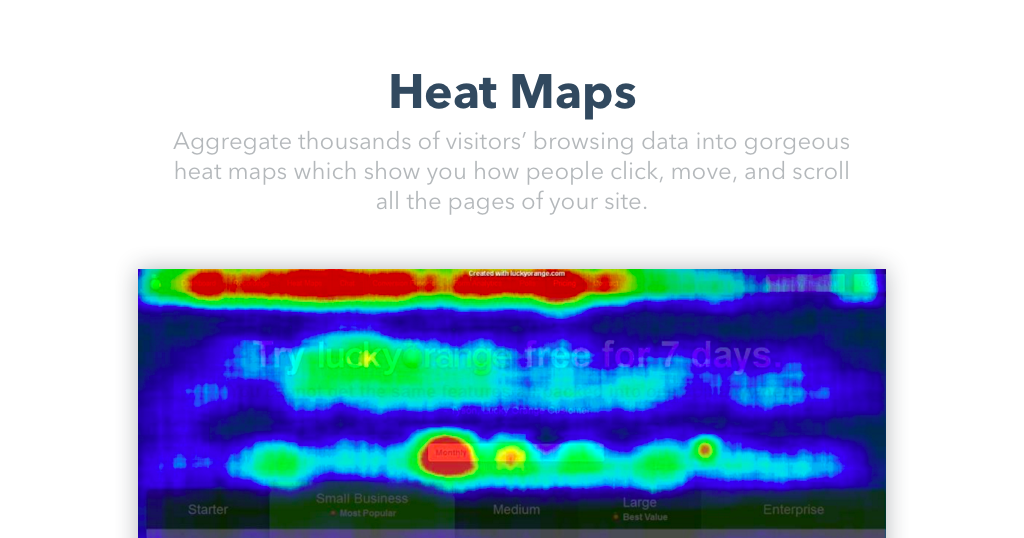 Heat maps allow you to understand if your website design is convenient and attractive and to adjust some things based on the customer behavior.
Back to top