Sales stats and reports
To manage your online store effectively, you need to know what's going on. Where your customers come from, how much money they spend, what products they buy, and how your special offers perform. To get these data insights, visit your Ecwid admin or install apps to help you make data-driven decisions and improve your store.
Reports and sales stats in your Ecwid Admin
Ecwid provides basic reports of your store, including:
The number of visitors compared to the previous period. That helps you track your store's traffic and adjust your marketing strategy if the number of buyers lowers.
Orders received and your revenue. That way you can predict what months are most profitable for your business and fine-tune your ad campaign for the next year.
Started checkouts and placed orders. You can compare these two numbers, and if not all visitors end up purchasing your items, you can send the abandoned cart recovery emails. Ecwid will also show you the recovered revenue — how much money you get from the customers who returned to your store to complete the purchase.
Reports appear on your Dashboard in your Ecwid admin. From your Ecwid mobile app, reports are available on the home screen. So every time you open your admin on PC or app on the phone, you can check the reports: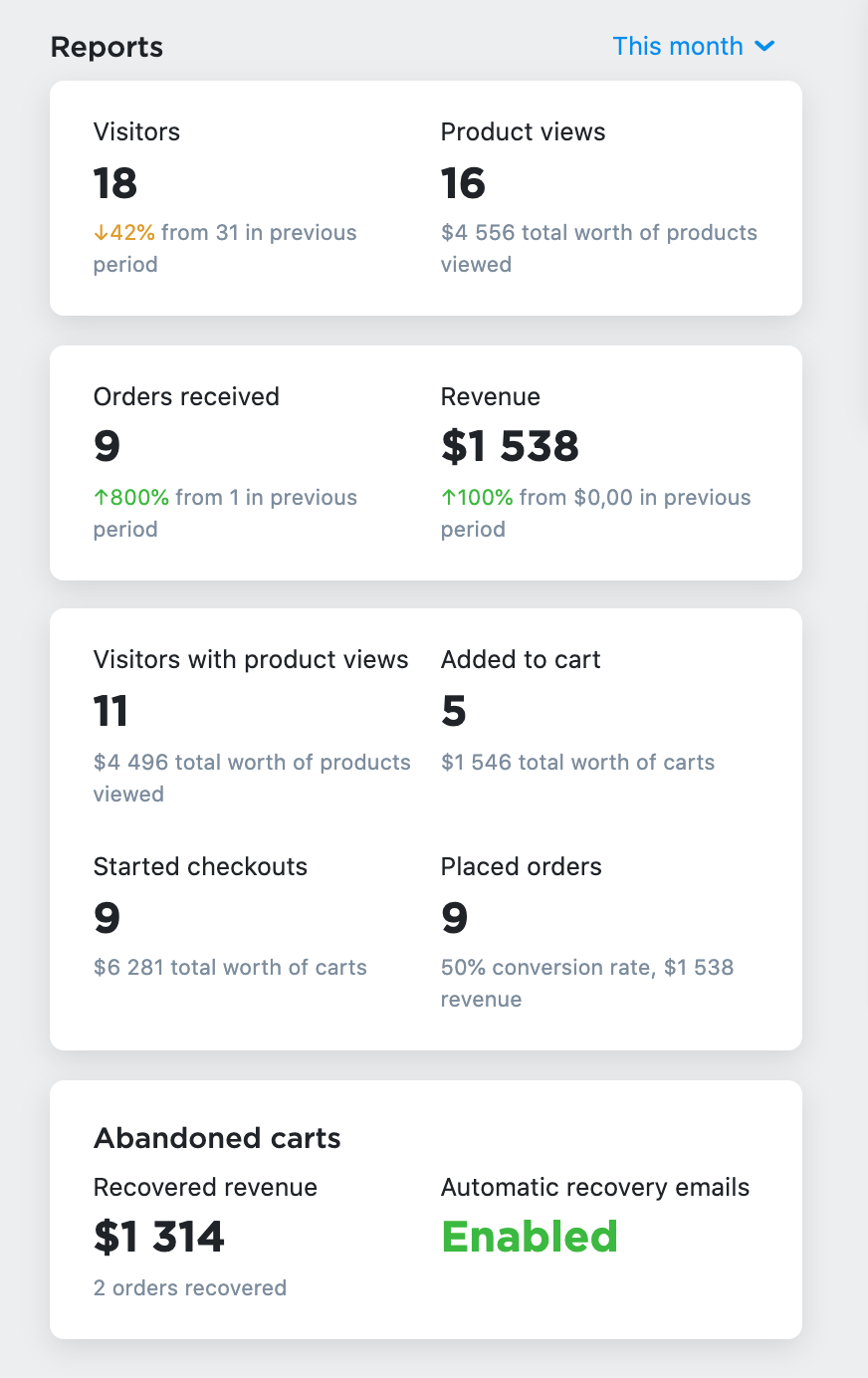 You can select the period for reports by clicking on the dropdown and choosing the time interval you want.
What you see in your statistics is an "open funnel". It means that customers can enter from any step. That's why numbers on the next step may be larger than those on the previous step (e.g., a customer added products to cart, left, and then continued with checkout after their session expired).
If you subscribed to one of Ecwid paid plans, you will get push notifications in your app when an order is placed or a payment has been accepted. Besides tracking sales, you can manage orders, add new products and modify existing inventory using Ecwid's mobile app.
Learn more:
Ecwid mobile app for iOS →
Ecwid mobile app for Android →
Sell on the Go app →
Apps for more detailed reports and stats
In Ecwid, you can install different apps to get a more detailed overview of your sales. You can check the best analytic apps on your Reports and Analytics page and install the one that fits you the best.
Kliken Stats app
Kliken Stats app helps you better understand your audience by providing information on traffic sources, conversion rates by channels, the customer acquisition cost for ads, and more. The more you know about where people are coming from to your site, the better you can plan your ad campaigns. That means you can cut off ineffective ad channels.
Kliken also calculates revenue and shows top-selling items. Based on that, you can stop selling items that are not worth it.
Price: Free.
To install Kliken Stats app:
From your Ecwid admin, go to Apps → App Market.
Find Kliken Stats and click Install.
Once the app is installed, you will be redirected to the Stats page in your Ecwid admin, where you can check the analytics:

You can change the period for analytics by clicking on the Select Range in the top right and choosing the dates. To learn more about any metrics, click on the Show details button. You can find this page anytime — from your Ecwid admin, go to Reports → Stats.
You can find more tools to analyze your business in the Ecwid App Market. Just type 'analytics' in the search field and explore the apps to choose the one that is right for you.
Google Analytics
One of the best ways to really dig into analytics to understand the strengths and weaknesses of your business is to use Google Analytics. Google Analytics is a more powerful tool, so it's more suitable for medium-sized stores or stores that put a lot of effort into marketing campaigns and want to improve the results.
With Google, you can get detailed stats about:
The site traffic, so you can stop wasting money on ad channels that don't bring people to your store.
Measure conversions and sales. This metric helps you understand the quality of leads. If the conversion metrics are low, maybe it's time to rethink your marketing strategy or site design to make it more user-friendly.
Search keywords that your customers use during shopping. With this knowledge, you can change the name or description of some items to make them more searchable.
Customers, so you can use remarketing to reconnect with people that visited your store.
In Ecwid, you can connect your store to Google Analytics for free. Read our step-by-step guide with a detailed explanation of how to create a Google Analytics account and connect it to your store.
Once you finish the setup, you can log in to your Google Analytics account to get an overview of your store visitors' location, language, engagement, and more. You can segment visitors by different criteria and see the reports for each segment. What is more, you can track the biggest traffic sources for your store. Meaning, you can better plan your ad campaign.
Sales reports in spreadsheets
For those who prefer to use spreadsheet editors like Microsoft Excel, Google Sheets, or OpenOffice Calc for sales reports, you can export order data in CSV format to arrange the data as you prefer. This way you can pull up a report about total sales made last year, check what taxes you have collected, or see what sale source has brought more customers to you (your Ecwid store, Amazon, or eBay if they are connected to your store). Sales reports in a spreadsheet can also be helpful if you need to draw a list of the sold items to prepare billing to your suppliers.
To export your orders from Ecwid:
From your Ecwid admin, go to My Sales → Orders.
Use the Filter tool to sort out the orders you want to analyze:


Select the filtered orders and click Mass Update → Export selected:


Select the values delimiter and columns to include in the exported CSV file:


Before choosing the delimiter, check what delimiters your spreadsheet editor supports for CSV files to ensure your file opens correctly.

Click Download CSV file.
Open the file in your spreadsheet editor and compose your report.
Custom sales reports via API
Ecwid API provides incredible power and flexibility in creating custom extensions for Ecwid stores. Using Ecwid's API, you can build an advanced reporting tool and collect additional information for further analysis.
For example, if you use product attributes for keeping some internal information about items, e.g., manufacturer's codes, and want to have it in reports, consider developing a custom app for collecting the attribute values.
Related articles
Analytics and reporting apps from Ecwid App Market
Getting reports using Google Analytics 4


10