ShopApp®
ShopApp® is your store mobile app that your customers can install on their smartphones and always have access to your store right from the phone screen. With Ecwid it is possible to have an automated retail app solution that allows you to sell your products via native smartphone apps. And your customers can shop in your store more easily than ever before.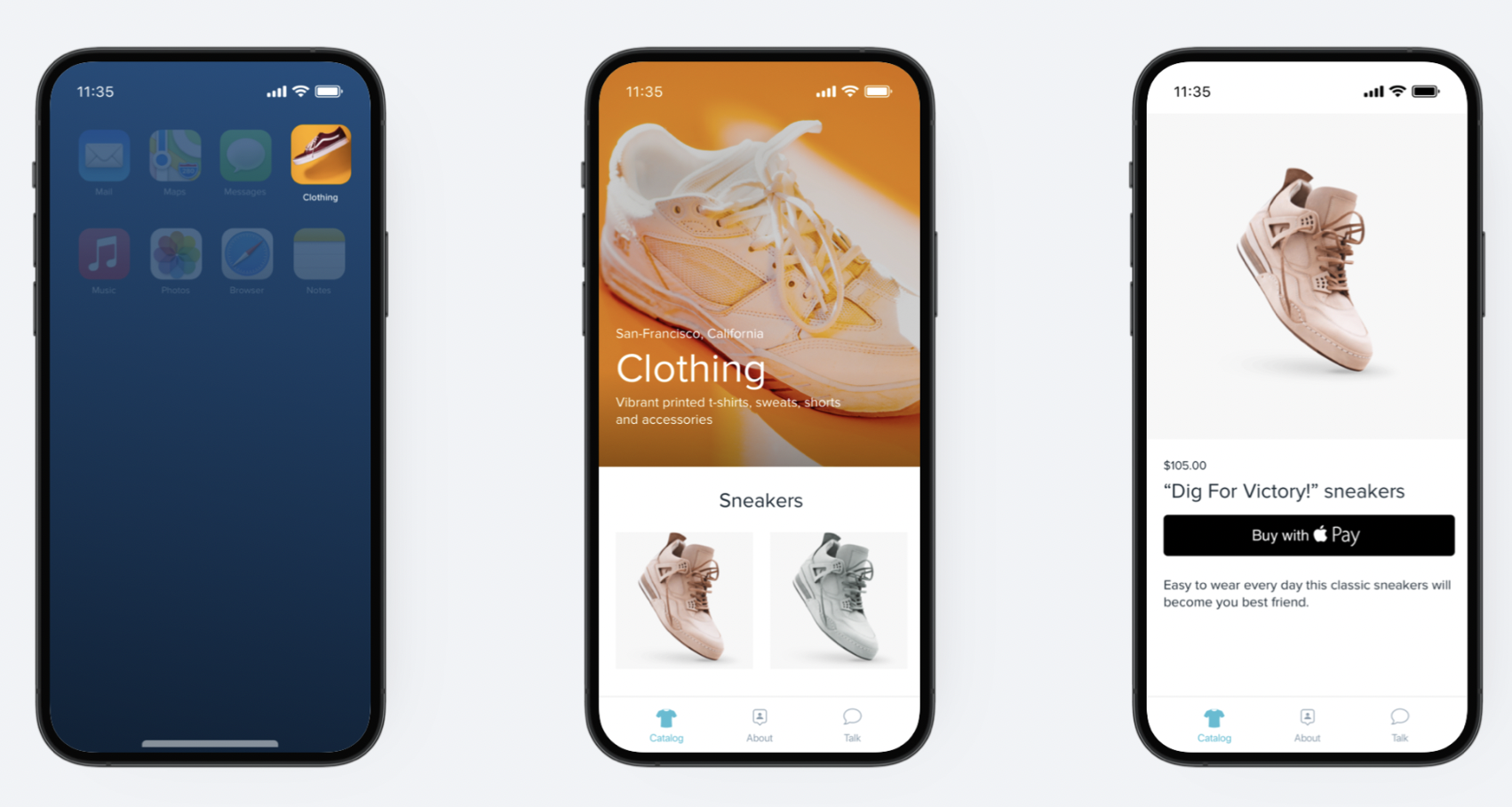 In this article:
Why get ShopApp®
If you have a customer base with a lot of loyal and repeated customers, ShopApp® is a solution for you. Your customers can download your store app from iTunes or Google Play and always have fast access to your store right on their phone home screen.
Offering a native mobile app for customers is good business for a variety of reasons:
It is yet another sales channel.
You will be closer to your customers, literally in their pockets.
A native mobile app works perfectly on your customers' mobile devices.
We do all the complicated technical work for you.
Here are examples of apps we have already created for our clients:
ShopApp® features
The apps have all the features necessary for a successful e-commerce operation.
A full product catalog that synchronises with your Ecwid store.
Information about the business, including location, a photo of the store owner, and links to your website and social media accounts.
Merchant contact information: phone or email address.
There are many more features under development right now that will be available in updates to come.
Get ShopApp®
ShopApp® is available for free for all Annual Unlimited users.

To get the app:
Upgrade to the Annual Unlimited plan.
Fill out this form: ShopApp® — specify your email and Ecwid Store ID.
Then we will begin working on your app. This process usually takes 3-4 weeks. After that, we will submit the app to the App Store and Google Play. At this point, the app is live and ready for your customers to download. We will let you know once it's published.
If you're an Annual Unlimited user, we develop ShopApp® for you for free. However, submitting the app to the App Store and Google Play
requires a paid developer account
.
Publish your ShopApp®
According to the policy of Google Play and App store, every application must be published on behalf of an individual developer account. You will just need to register developer accounts in these services and share the credentials with us. We will do the rest and will upload the ShopApp® for you.
Google Play
To create an account, follow the instructions from here: https://support.google.com/googleplay/android-developer/answer/6112435?hl=en There is a $25 USD one-time registration fee.
App Store
To create an account, follow this link: Enroll in Apple Developer Program.
You should enroll as an Organization. This type of account costs 99$ per year.
Get paid
Once a customer clicks the "Buy" button, they will be redirected to your Ecwid store. There they will be able to pay for the order using the payment options available in your store.
Here you can check all the payment options available in Ecwid: Payment Options
10