Selling on Linkup
Linkup is a landing page showcasing all your links in one place through clickable buttons or icons. You can add social media and other external links along with shoppable links to products from your Ecwid store. You get a free Linkup page with your Ecwid account.
After you create a Linkup landing page, you can paste a link to it anywhere, for example, in your Instagram profile or in marketing emails. You can also print a QR code to share the link offline.
Here's how a Linkup landing page can look on mobile: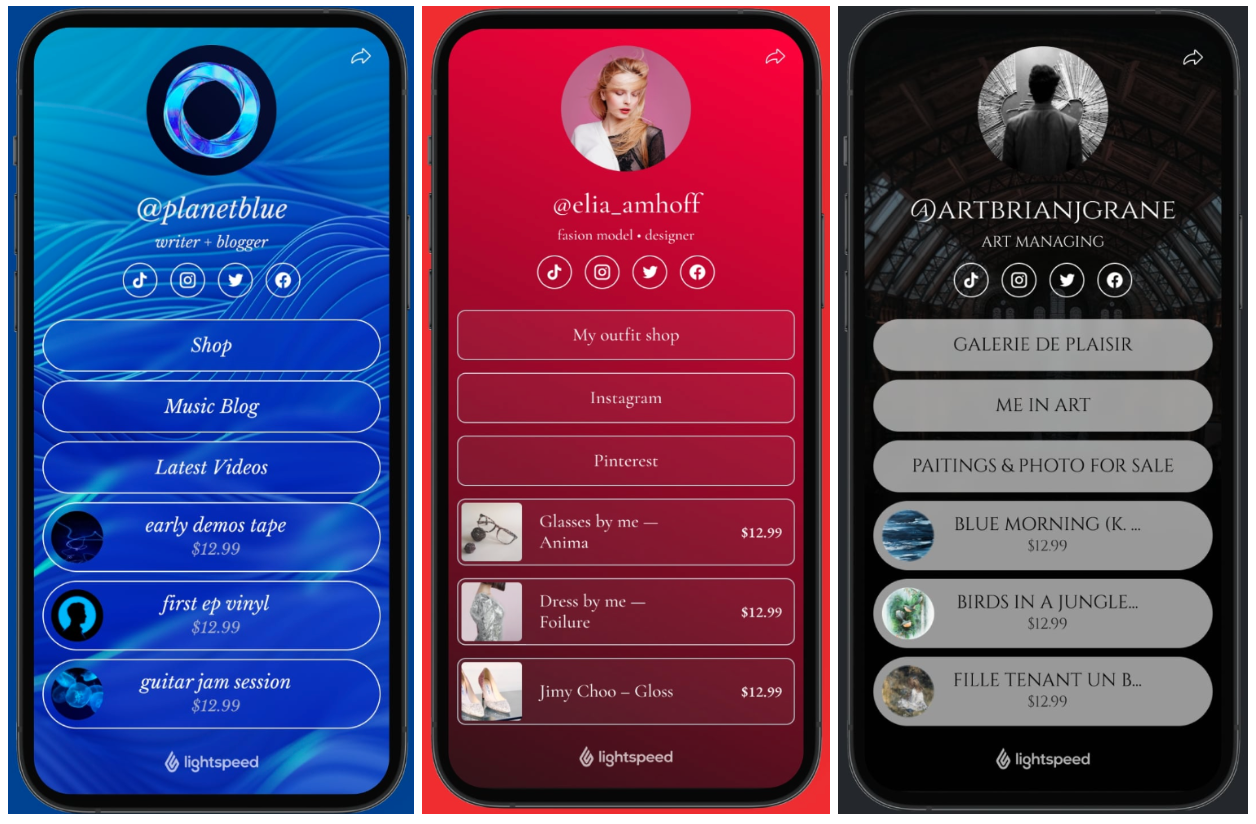 Why Linkup?
Linkup is a perfect solution for bloggers and influencers, musicians, photographers, handmade artists, and literally anyone who needs a good-looking digital business card.
You can use Linkup to:
List your most important links without going through creating a full-scale website.
Share a mini storefront with shoppable links in your social media bio/emails/messengers so customers can purchase directly from it.
This way, you can sell physical & digital products, services, subscriptions, print-on-demand merch, and even collect donations. On top of that, you can collect tips.
Enhance your followers' experience and get conversions and traffic by regularly adding the most important updates to Linkup.
…And literally, any other use you come up with.
You can use Linkup with your Ecwid store to sell products online, or you can simply set it up as a place to house all of your links.
If you want to sell products on Linkup, make sure you set up your online store beforehand, especially payment and shipping methods. Learn how to
get started with Ecwid
and how to
add products
→
Creating a Linkup landing page
Creating a Linkup landing page is really easy, you can do that in minutes. Simply add your text and links and customize the page design as you do in any website builder. Customers can then click a link listed on your Linkup website and go right to it. Videos from YouTube, Vimeo, Facebook, Instagram, or TikTok will open right on the landing page.
To create a Linkup page:
Sign up for Ecwid.
From your Ecwid admin, go to Overview.
Scroll down to the Link in Bio block and click Manage Link in Bio.
Enter a username to create your Linkup page address on the web. For example, linkup.top/swag-store.

Changing the username later is unavailable, so make sure you choose the one that suits you best.

Click Next to select the category for your business, or simply proceed to see the gallery of templates and choose the one you like most.
Click Choose This Theme to enter the Linkup editor.
On the Content tab, fill out the fields as you like. You can enter texts that appear on top of the page, like your name and short bio, and add social media links and links to your website, videos, or blog. On top of that, you can add shoppable links to specific products in your Ecwid store, including digital products, services, subscriptions, and donations. 
Click Add Button if you need more products or links or if you want to create section headers to group your links. For any of the external links, you can add custom thumbnails.
Drag-n-drop items to change their order.
(optional) If you want to use your Linkup page to simply showcase links without adding products, click the three dots next to a product and choose Hide or Delete. You can add them back in the editor later.

Deleting a product in the editor does not delete it in your store admin.

On the Design tab, choose another theme or personalize the current one to your liking. You can change colors or add gradients, add icons, set up fonts, and more.
Click Save to publish your Linkup page.
Copy the Linkup page address to share it with your customers in the emails, add a link to in bio, and more. For that, click the Share button on top of the editor and choose your option:

Generate the QR code with the link and save it to your device to print or add to your page elsewhere
Copy the Linkup URL
Share the Linkup URL right to your social media, email, or SMS
That's it! You've created a Linkup landing page that works great on mobile and desktop. You can always edit your Linkup landing page later.
Customer experience: Buying a product via Linkup
When creating a Linkup landing page, you can feature certain products you have added to your Ecwid store as shoppable links. These links have a short summary with the name, price, and main image of the product in your store.
As customers click the link, a popup opens where they can add an item to cart and proceed to Ecwid checkout to place an order without even leaving your Linkup microsite: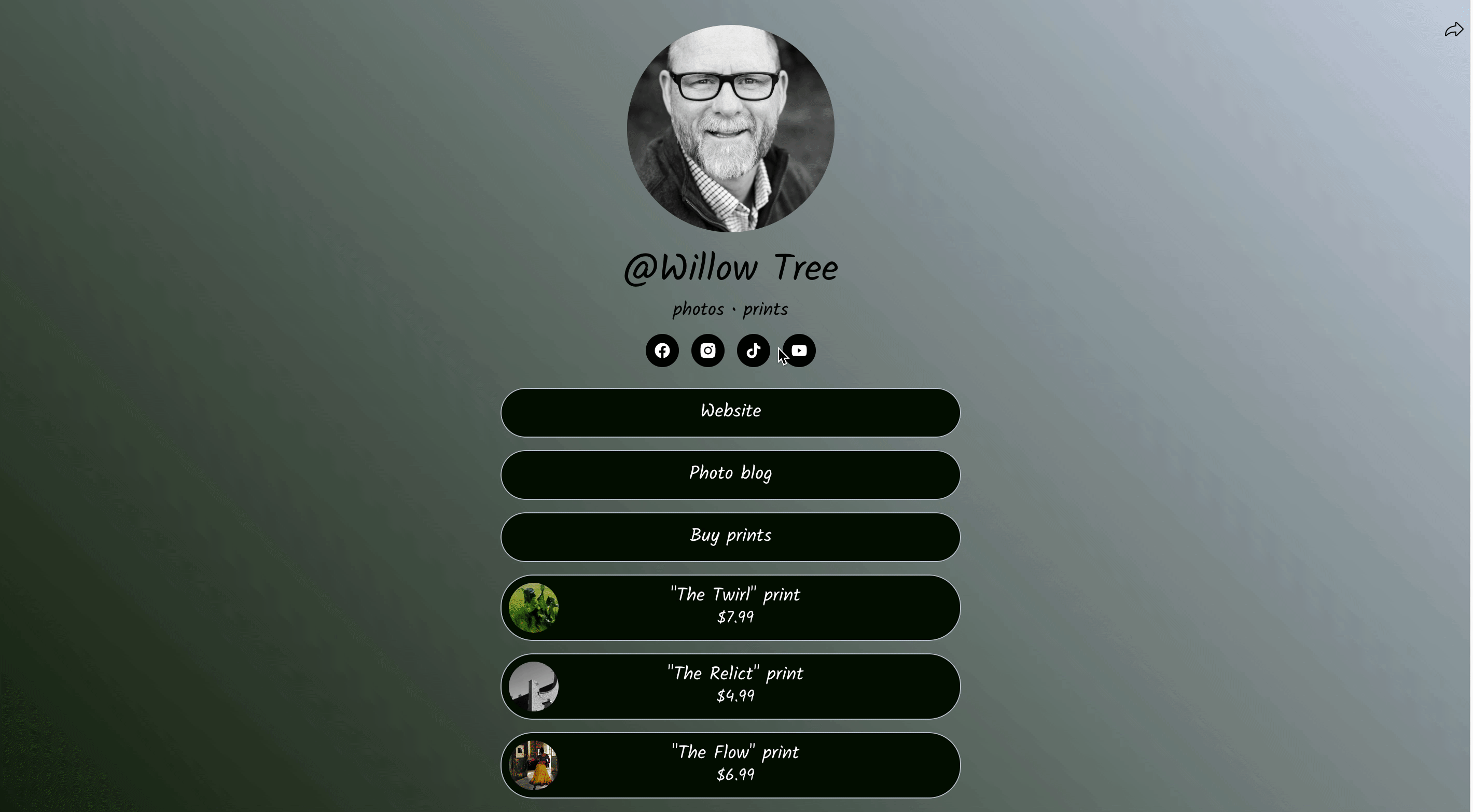 You can then see these orders on the My Sales → Orders page in your Ecwid admin or on the Store tab in the Linkup editor.
Learn more about processing orders →
Editing your Linkup landing page
After you set up a Linkup landing page, you can change its content and design. For example, if later you want to replace the featured links or products, or you decide to use a template that suits your business better. You can adjust any part of the Linkup page except for its URL.
To edit a Linkup page:
From your Ecwid admin, go to Overview.
Scroll down to the Link in Bio block and click Manage Link in Bio.
Make changes to the Content and Design tabs. You can use arrows in the right lower corner of the editor to undo or reapply unsaved edits.
Click Save to publish the changes.
From the Store tab in the Linkup editor, you can go right to your Ecwid admin to add products, set up shipping or delivery methods, view orders, etc.
Viewing Linkup analytics
After you create your Linkup landing page and share a link to it with your audience, you can get insights into the visitor's behavior. Viewing analytics is available in the Linkup editor. You can see site visits, top referrers, product and link performance, and more there.
To view your Linkup analytics:
From your Ecwid admin, go to Overview.
Scroll down to the Link in Bio block and click Manage Link in Bio.
In the Linkup editor, go to the Analytics tab.
Explore all the sections you are interested in.
You can also connect tools like Google Analytics and Facebook pixel to track the events related to your Ecwid store on Linkup, Instant Site, and any other website where you sell.
Related articles
Instant Site
Buy Button
Selling music and merchandise online
Selling event tickets online with Ecwid
10