Guide to using Ecwid App Market
Apps can be used to customize your Ecwid store with additional functionality. In the Ecwid App Market you will find a variety of apps to help you run your store efficiently and the exact way you want to. There are apps that may require payment to use, although many apps are free.
In this article:
See our videos
About Ecwid App Market:
About how to install and use apps:
Getting started with the Ecwid App Market
The Ecwid App Market is a place to find new applications that enhance your store's functionality, add new features, or connect backend systems. The apps may help you add search functionality, edit products in bulk, connect shipping or accounting systems and much more.
All apps can be viewed in your Ecwid admin, go to Apps → App Market: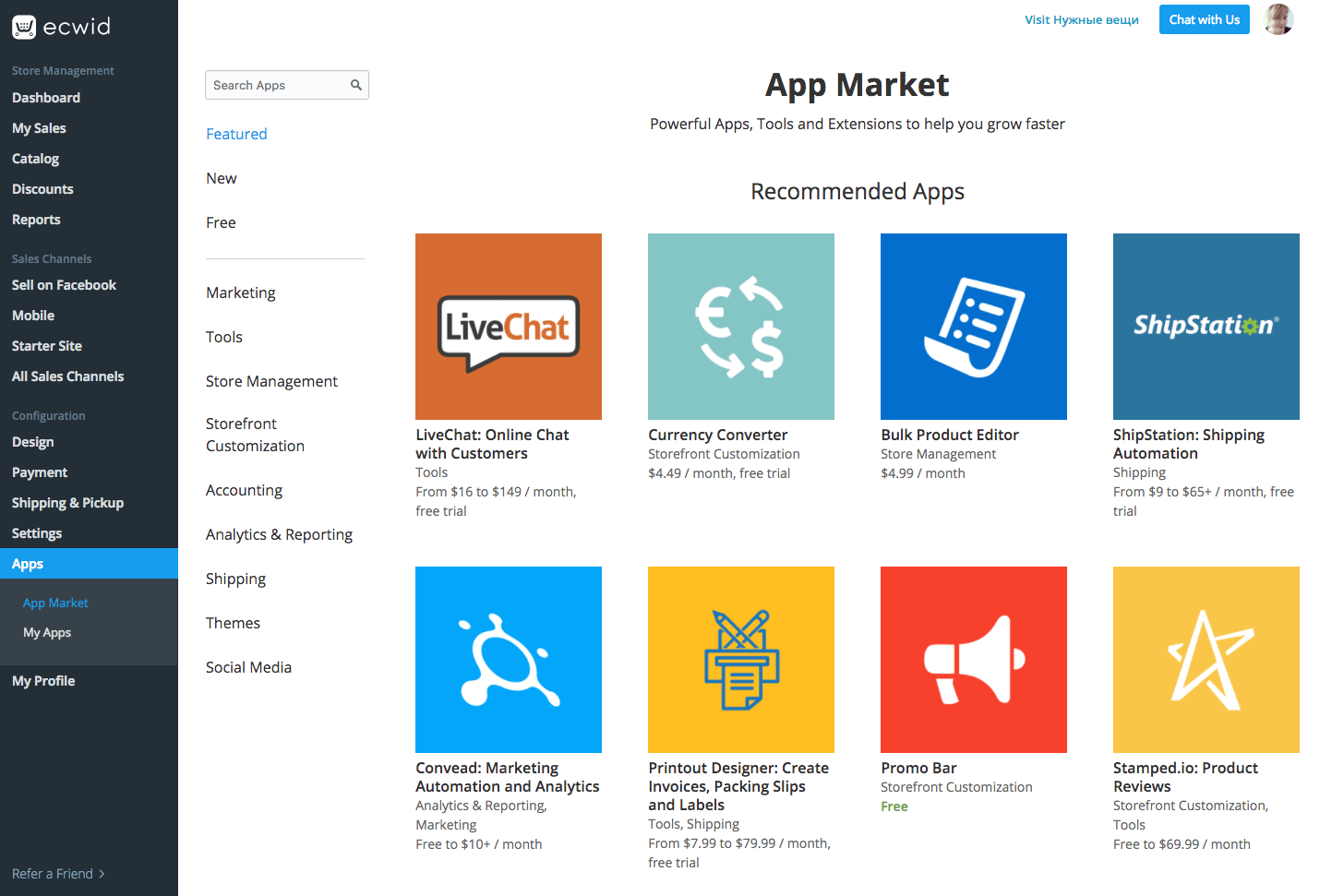 All applications are using the Ecwid API Platform, giving your store the ability to "communicate" with other systems and tools. For example, they can create products in your catalog, update order details, change the look and feel of the storefront, or send customer information on your behalf.
Browsing and searching apps
The Ecwid App Market provides you with several ways to browse applications:
App categories
App collections
App search
App categories separate apps by basic functions like: Analytics, Themes, Accounting and so on. The list of apps is sorted by popularity.
You can also choose to view Free apps only by going to the corresponding app category. It's quick and easy!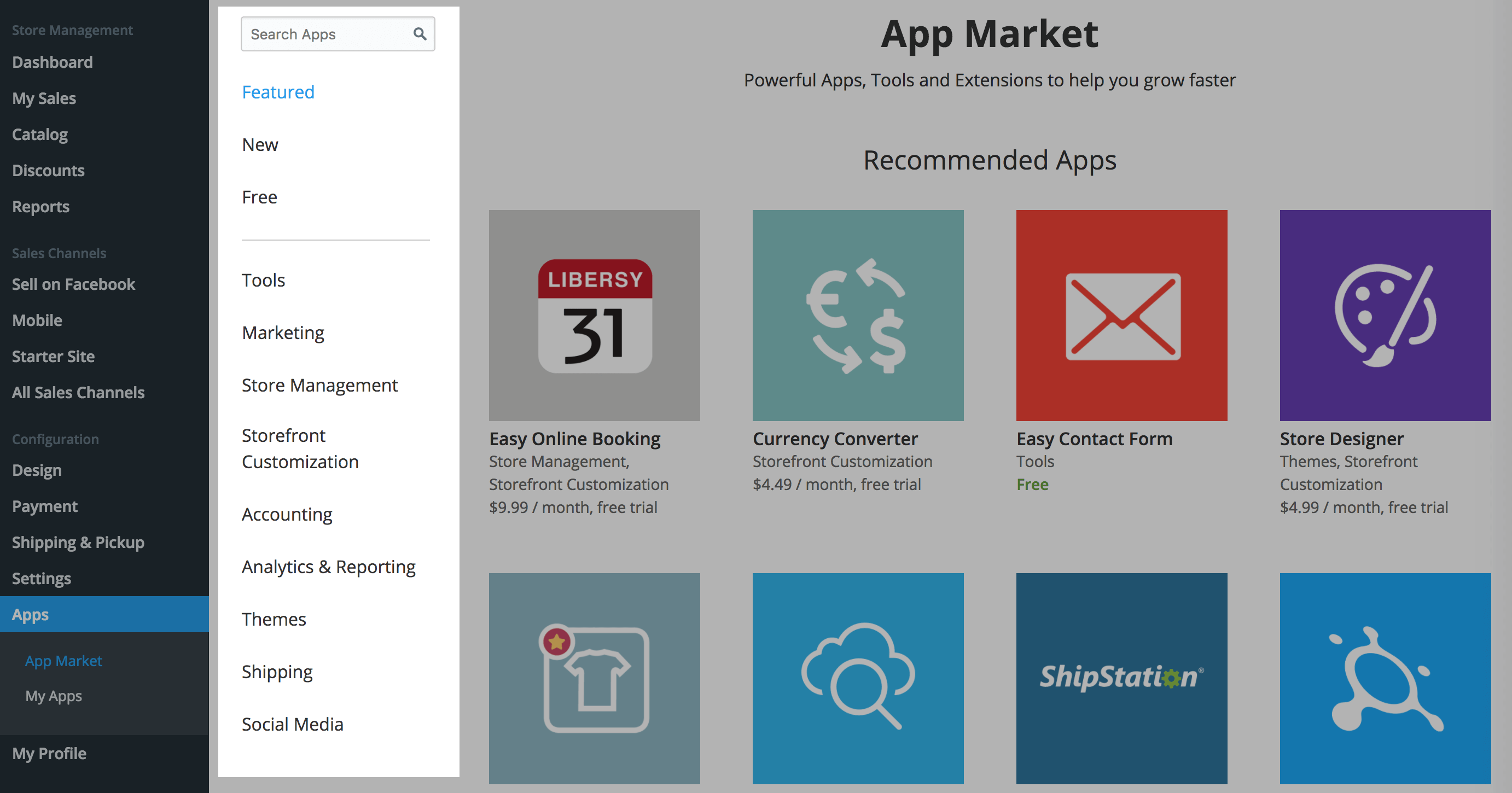 App collection is a bundle of apps and helpful suggestions handpicked by the Ecwid team. Each collection is meant to help online stores depending on where they are in the life cycle of their business: getting started, changing the design, advertising products elsewhere and getting repeat business.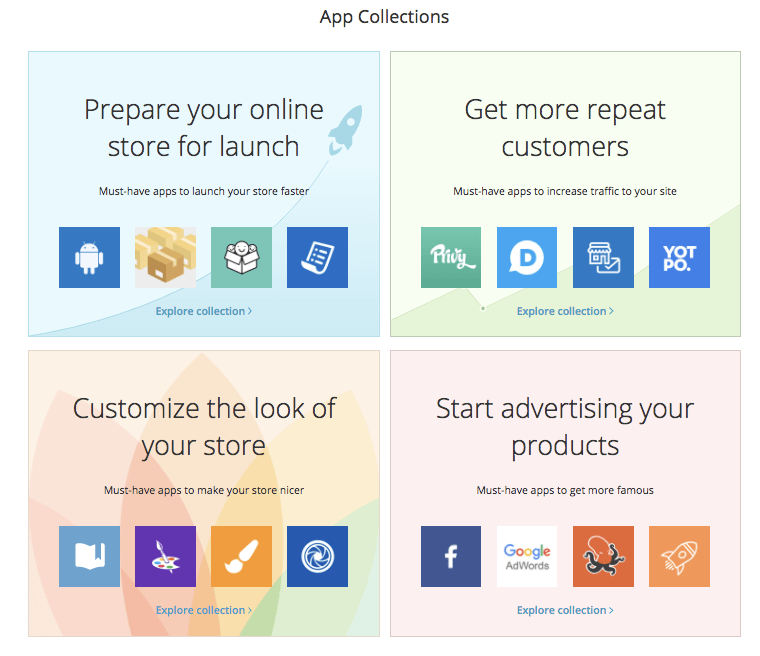 App search lets you find a specific app quickly by name or its function, for example: try searching for "product reviews":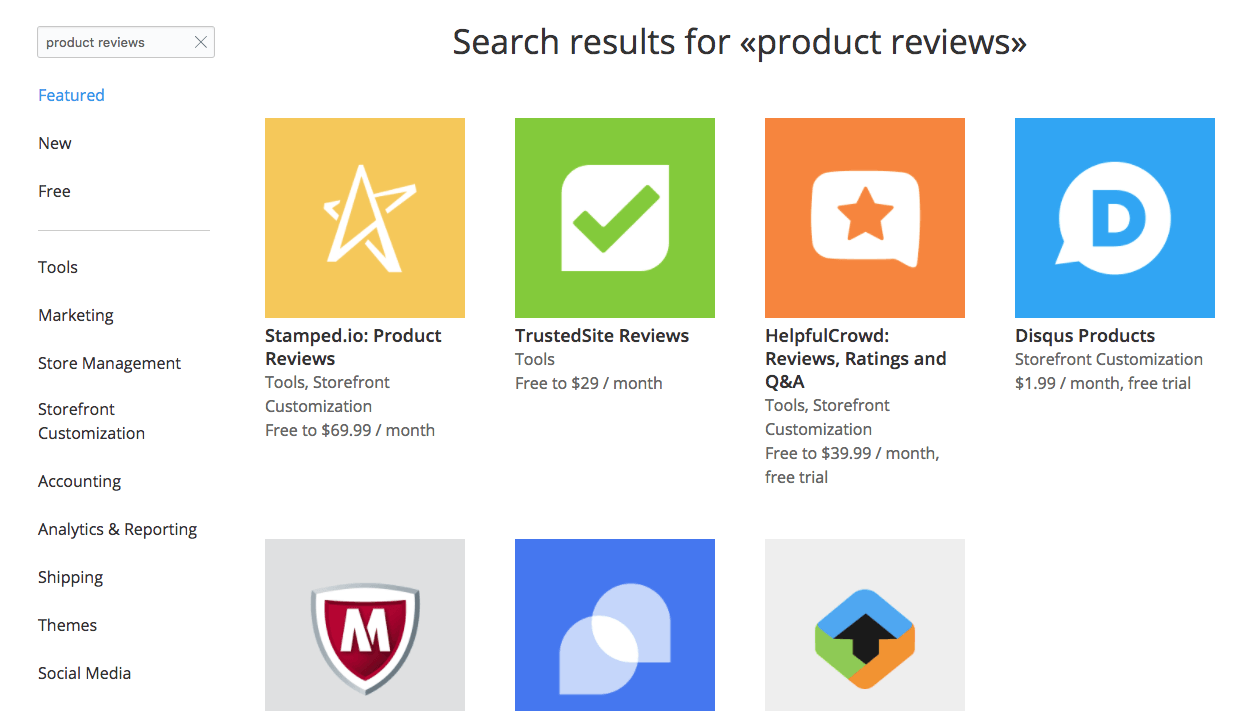 Installing an app
To install an app, follow these steps:
From your Ecwid admin, go to

Apps → App Market.
Find the app you want to install. Check how to browse for apps to install.
Click Install under the app name and pricing: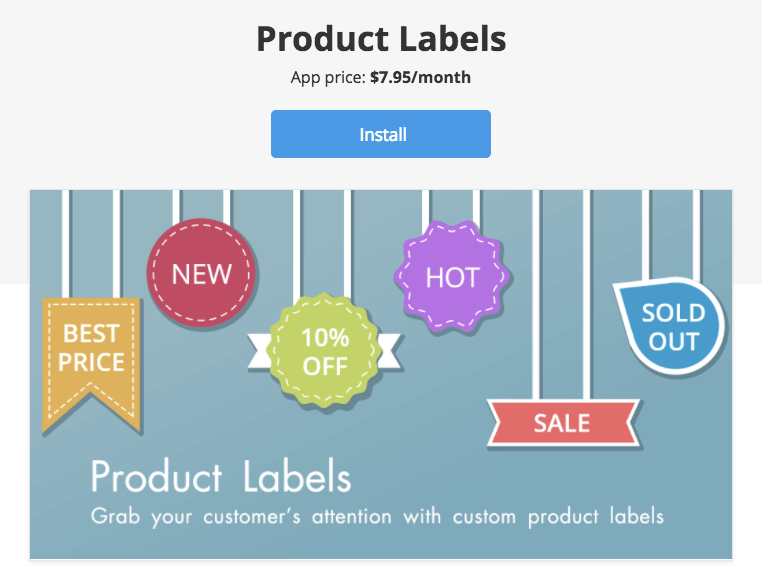 Confirm the permissions requested from your store: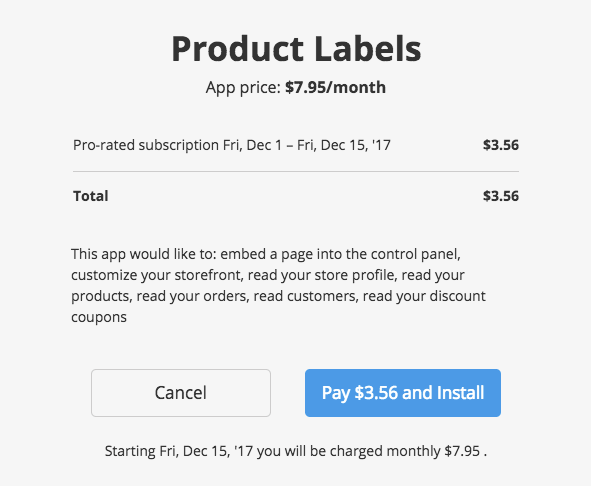 Depending on the app, you may need to create or connect an existing account with the third party service.
After successful installation, your app will appear in

your Ecwid admin, go to

Apps → My Apps.
Uninstalling an app
To uninstall an app from your store, follow these steps:
From your Ecwid admin, go to

Apps → My Apps.
Find the app you want to uninstall, click on it to reveal the details: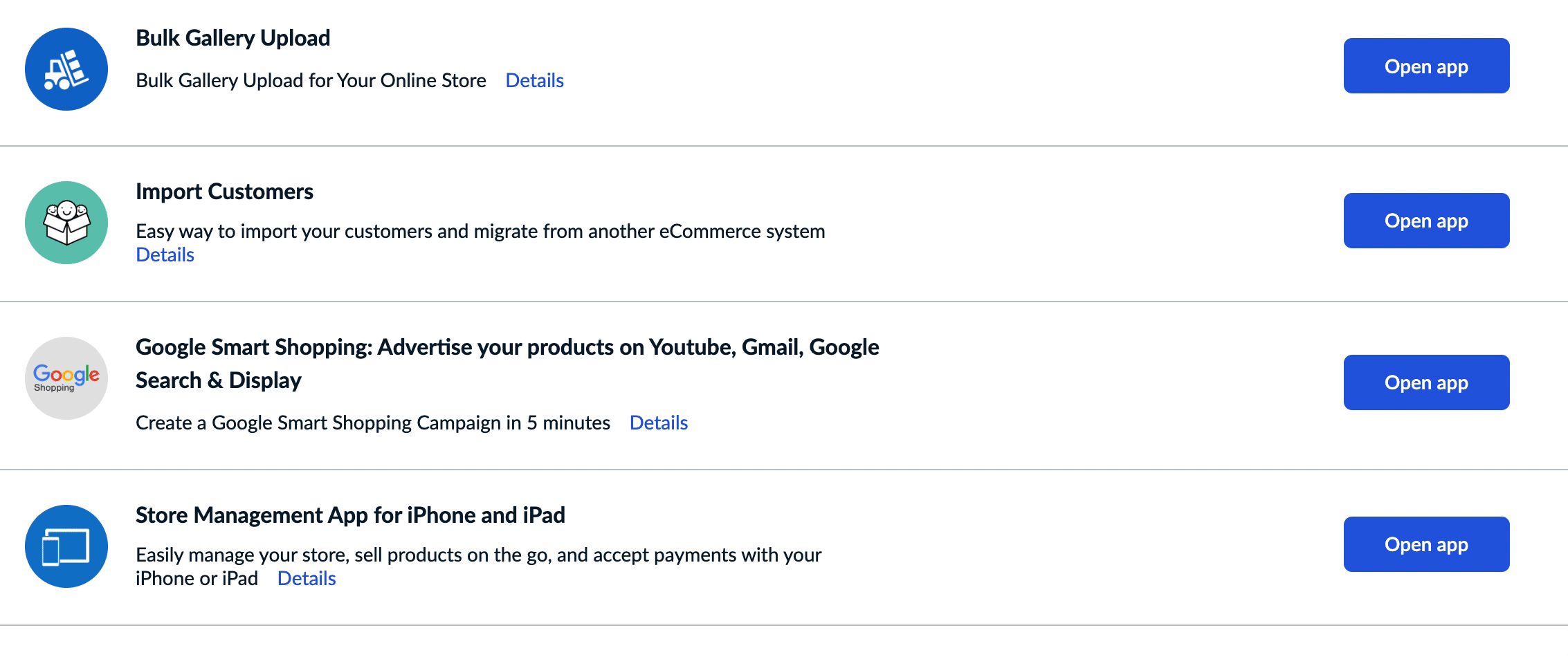 Click Uninstall: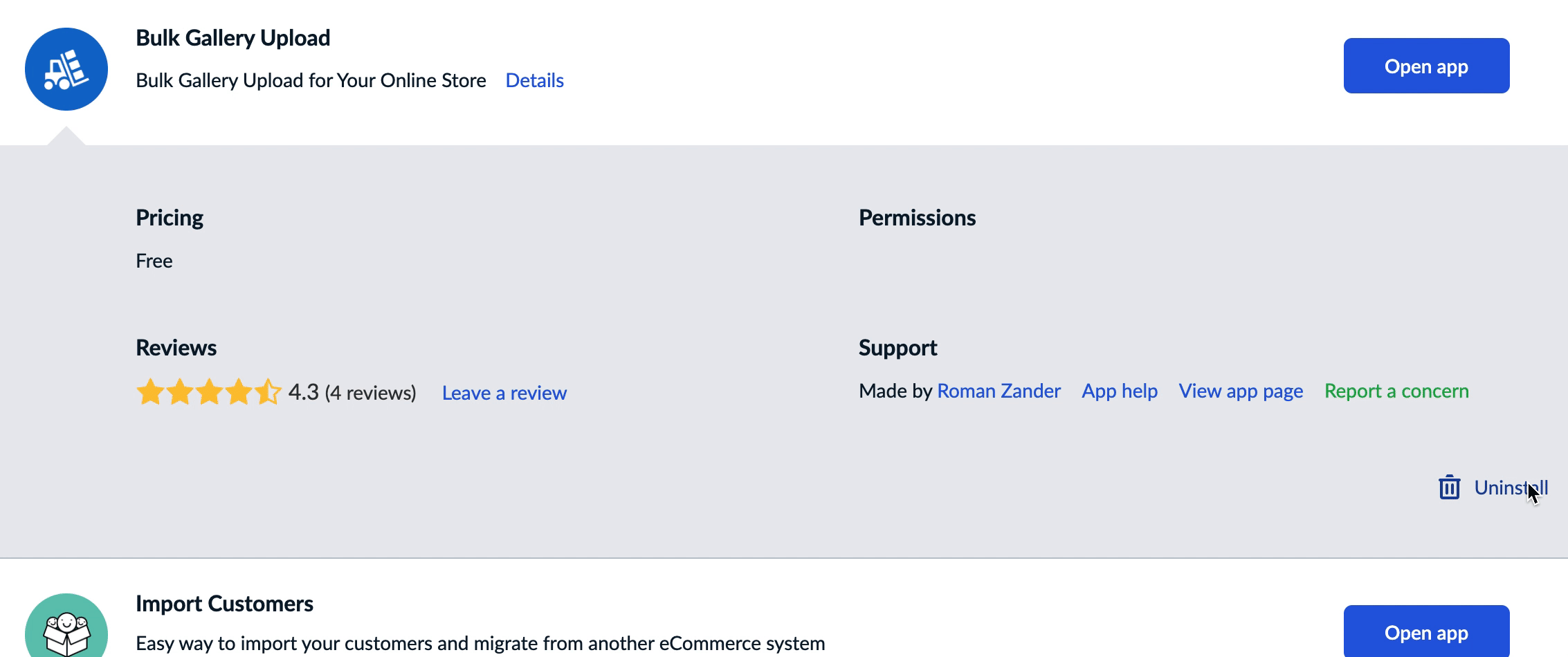 Confirm you want to uninstall the app and that you've read the warning about billing.
The app is deleted from your Ecwid store.
Integrated apps
Ecwid API Platform provides 3rd party services to integrate with Ecwid stores easily. So any developer can come in and create an app for the Ecwid App Market.
But what if you need to create a custom solution just for your client or your own online store? This is possible as well, thanks to the different app types available.
An app is just a way for a custom feature to be added to Ecwid, so make sure to register an app regardless of your end goal: create a public app or just one for your online store.
You can learn more about apps and Ecwid API platform on our portal for developers.
Rating and reviewing apps
Ratings and reviews are a great way to let the app developer know your opinion and share it with other Ecwid merchants.
You can submit your feedback about an application in two different ways:
Contact the app developer
Contact Ecwid support team
Most helpful app reviews are added to the app details pages. It helps you find the best apps that Ecwid merchants use every day.
Here's an example of such a testimonial: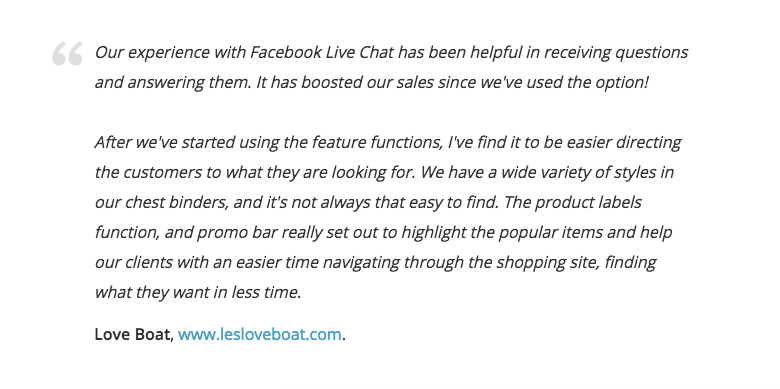 To submit a review of an app you love contact Ecwid support.
Getting help with apps
Most of the apps in the Ecwid App Market are made by 3rd party companies. They are in full control of how the app works and they manage your billing for this app.
The best way to resolve any issues with an application is to contact its developer directly. You can find the app developer at the bottom of the app details page in the Support section: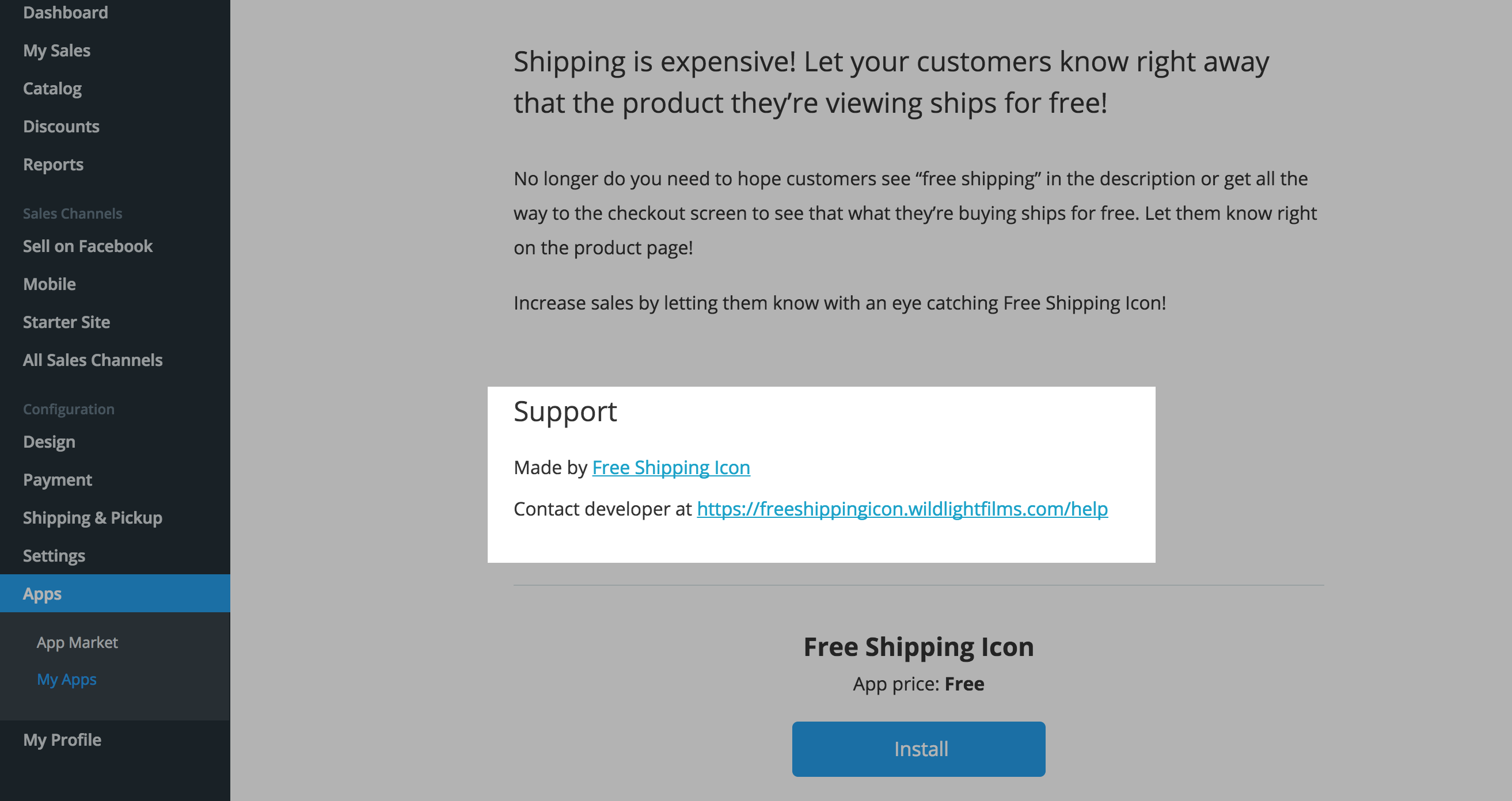 Alternatively, you can report any concerns you have about the app to the Ecwid App Market team:
From your Ecwid admin, go to

Apps → My Apps.
Find the app you need.
Click on it to see the details.
Click Report a Concern: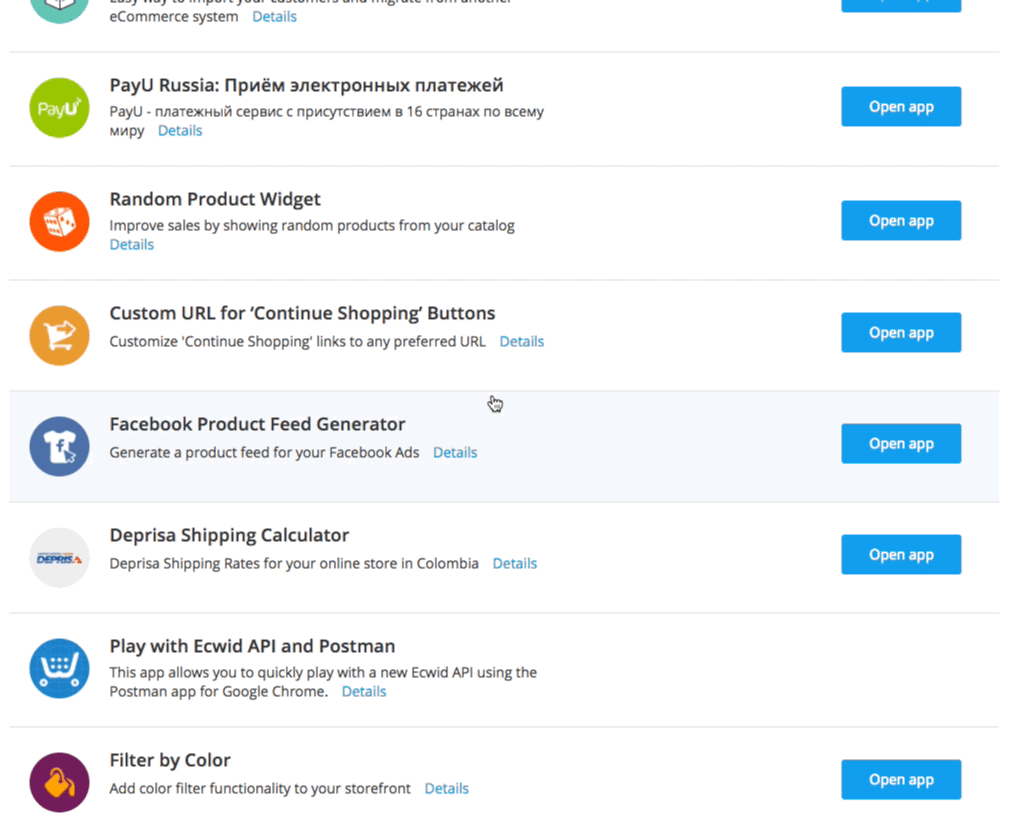 If you have any concerns about an app, please report them to the Ecwid team and optionally delete the application from your Ecwid Control Panel: Uninstalling an app.
App Market FAQ
How are the apps billed for?
Many apps are built by 3rd party companies, and they handle billing for these applications as well.
If you have a billing question, make sure to contact the app developer, which can be a 3rd party service or the Ecwid team. See: Get help with apps
Who develops apps?
The Ecwid API platform allows any developer to create an app for Ecwid quickly and easily. Most of the applications you see in the Ecwid App Market were created by 3rd party services and are hosted on their servers.
Other applications are created by members of the Ecwid team in their free time to provide cool and useful features for Ecwid store owners.
Are the apps safe?
Yes. All applications pass a set of requirements and guidelines to provide you with the safest experience.
Can I develop an app for Ecwid?
Yes. Check our website for developers: https://developers.ecwid.com/
10