Returns 101: how to make the most of it
You may run a popular shop with high-quality products, but still, one day, you will face a return. Customer returns are a fact of every SMB's life. So it's better to be prepared for such situations in advance. Create solid customer-focused returns policy to anticipate customers' questions, optimize your shipping strategy and increase customer loyalty even when they ask for a refund.
In this guide, you'll learn how to:
Write clear return policy
A well-written return policy is a keystone when it comes to returns. According to Digital Commerce 360 research, 89% of consumers read the return policy before buying. Creating a clear and detailed return policy can lower the frequency of returns and influence whether or not shoppers decide to buy from you. Here are the main things to consider while creating (or improving) your return policy.
Decide on free returns
According to the return service's survey, more than two-thirds of shoppers say they're deterred by having to pay for return shipping. Making return shipping free will make customers happy for sure, but it can also burn a hole in your pocket. How to find a middle ground here?
We recommend offering free shipping but on your terms. That means don't offer free returns for all items, just for particular ones. Reasons for free return may be the size and price of the item, customer value, etc. For instance, offer free return for the most expensive products in your store, for broken items, or to a high-value customer.
International returns can be way more expensive, so be careful to offer them for free. Depending on the customer's country and product price, a simple refund or exchange can be more budget-saving than a return.
Make your return policy easy to read
Keep language simple and to the point as hard-to-read legal terms will only confuse a shopper and create uncertainty for their intent to buy from you.
Every customer who reaches out to the return policy wants to find out answers to the following questions:
How much time do they have to request a return? (Longer return period makes it more likely for customers to buy and less likely to return due to the endowment effect)
How quickly can they expect the refund or exchange? (Check the destination time on the carrier website)
What item's condition is acceptable for return?
Are there any return fees?
Do you offer a full refund or store credit?
Basically, that's it. You can use these questions as a base for your return policy, but don't ever copy your return policies from other businesses. Your return policy is heavily dependent upon the industry you're in.
You can include any other relevant details to give customers the confidence to buy. For instance, write down how to initiate a return or exchange, mention whether a product is eligible to be returned or exchanged, or both.
📖 Learn more about how to write a good return policy for E-сommerce stores from our blog
Make your return policy easy to find
After creating a transparent return policy, make it easy to find in your Ecwid store. You can set up all legal information in Settings → Legal Pages. Links to your legal pages will be shown in your Instant Site footer and at the bottom of email notifications sent to your customers:

You can also add your Terms and conditions (including the Return policy) to the checkout, so your customers have to agree with it before placing an order. To do so, go to Settings → Legal Pages and in the Customers' consent section turn on the Require consent to terms and conditions at checkout toggle.
Promote the most common questions about returns on your Instant site to make them more visible. Use the Smartarget-FAQ app from Ecwid App Market to add a pop-up window where your questions and answers will be displayed. Here's how it may look like: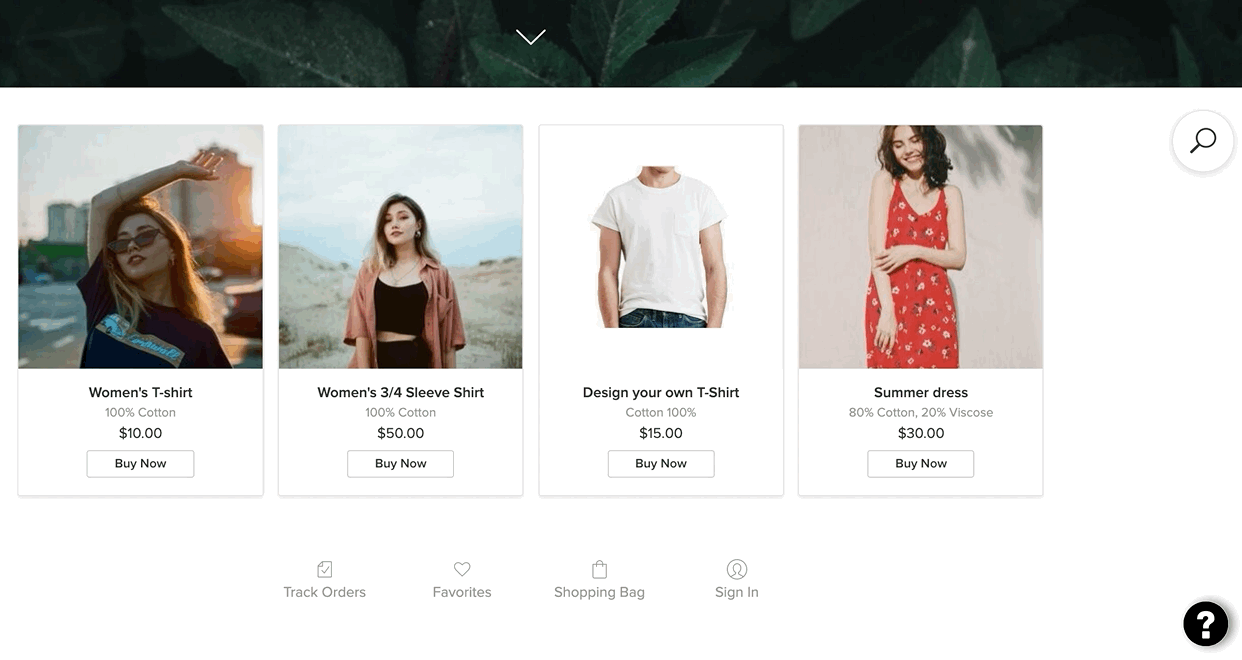 In our step-by-step guide, you can learn more about how to install the app to your store.
Add
testimonials
to your site from customers who've successfully returned products to show visitors that it is safe to buy from you.
Communicate with customers
Now, when you have a solid customer-centric return policy, it will be much easier for shoppers to decide about buying from you and less likely to make a return. What else can you do to lower the chances for return? Just ask customers!
Ask for feedback
Before diving into the return process, ask a customer what was the problem with the product and offer possible solutions to resolve the issue. By doing so, you can uncover the roots of buyer's irritation and improve your store.
The most popular reasons for returns are:
wrong size
product is different than it appeared online or didn't match the description
order arrived damaged
Once you figured out the reason for a return, think of it as a suggestion to enhance your online business. Here's what you can do to achieve customer delight. Use special wrapping for fragile items, or try different carriers to improve shipping service. Add a size chart, so your customers can quickly select the correct size. You can use the Size chart app from the Ecwid App Market on any paid plan. Make the product description clear to avoid misunderstanding. Shoot many photos of your products from different angles to help your customers better understand how your product looks.
📖 Learn more about how to take great e-commerce product photos with your phone from our blog.
Sincere and direct communication with a buyer will also help you clarify the customer's intention. Maybe they want to receive their money back, or maybe they are fine with an exchange or even a gift card for the next purchase (meaning you don't have to create a refund).
Make it easier to reach out for you
The sooner a buyer can contact you about the return, the less irritated they will be. That means it's better to provide both your phone and email in the contact information.
You may want to go the extra mile and add a form to your store so that customers could fill it in and make a return. You can use Google Forms and attach the link to the return policy page in your store.
Currently, there is no built-in one-size-fits-all form for returns requests in Ecwid. The reason is that the return policy may vary depending on the country and business, so your customers should contact you directly via email or phone and discuss the return process.
As a workaround, you can add a return function to your store with the help of the Ecwid customization team. For instance, it's possible to add a Return request button near orders in customers' accounts. You can submit a request for custom development at any time. You can have 6 hours of custom development on the annual Unlimited plan and 2 hours on the annual Business plan.
After you and your customer reach a resolution, it's time to decide how to proceed with the return or exchange.
Handle return and refund
Once you have a clear return policy and are aware of the reason for returning, it's time to make one.
Enable easy-to-print return labels
Make a return process hassle-free for your customers by taking care of labels. You can print a return label in advance and include one with the original shipment. Or you can email the label to the customer.
Courier companies provide more options to boost your customer's experience, including returns with no box or label, printing labels by demand, using QR-codes, and more. Check out solutions for your business from the most popular shipping companies:
You can buy shipping labels directly on your shipping carrier's website or use apps from Ecwid App Market to buy and print shipping labels:
You can also include the instruction for returning in the original shipment and use reusable packaging.
Once the item is back in your possession, check its condition. Maybe you can restock the product or put it back on the storefront at half-price.
Offer prompt refund
When you refund an order, you send payment back to the customer. Remember that prompt refunding shows your commitment to professional customer service, helps you build loyalty and avoid chargebacks. It also increases chances for new orders in the future.
You can give a customer a full or partial refund for an order. It can be done in two steps.
The first step is to refund the payment with the payment gateway used to pay for an order. You can find the transaction ID or a direct link to the payment in the order details on the My Sales → Orders page. Click on the required order and look for the transaction details in the bottom right corner. Then log in to your account of the payment processor, find that transaction and issue a refund on the transaction from there.
The second step is to mark the order as Refunded. On the Orders page, find the refunded order, click on the payment status and select Refunded or Partially Refunded: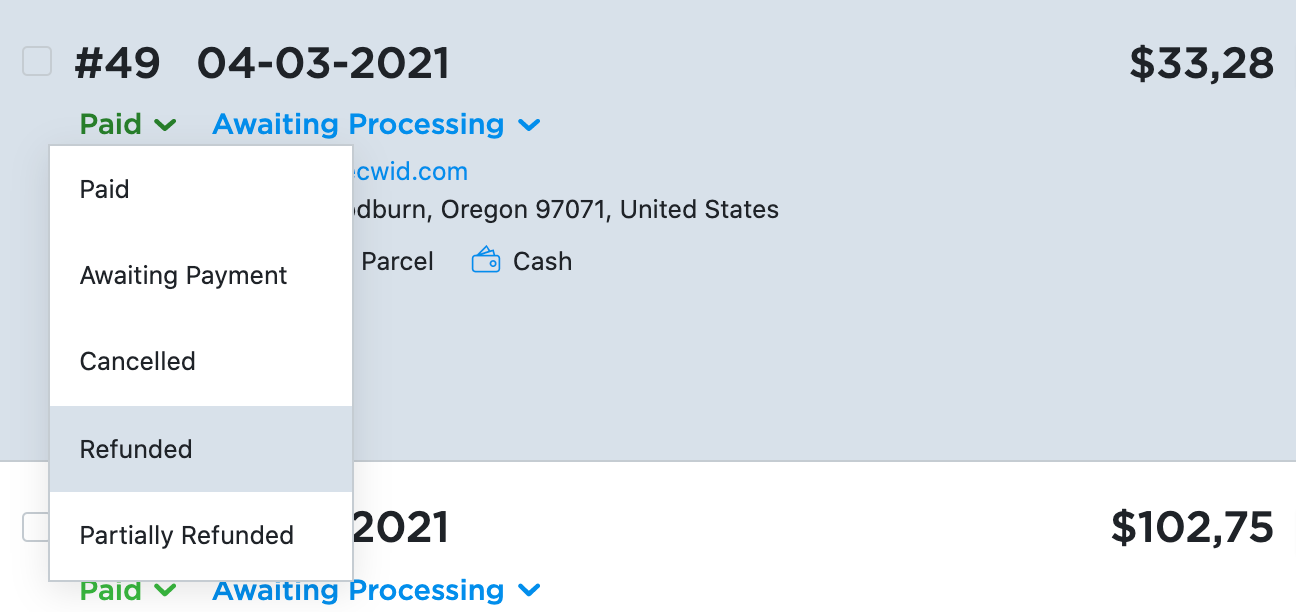 If you issue a refund in Lightspeed Payments, PayPal, or Stripe, your store will automatically know about it. It will set the Refunded status for the respective order in your Ecwid admin.
After you change the payment status, the customer will receive an email notification about the changed order status. The approximate time for money to return to your customer is about 3-10 days, depending on your payment system.
Keep in mind that if you marked an order as Refunded, Ecwid automatically restocks purchased items. When you mark an order as Partially Refunded, Ecwid does not change the stock of the purchased products.
Offer exchange and gift cards instead of refund
Sometimes it's not about the money but about getting the product a customer wants. Maybe a dress a person ordered from you appeared to be the wrong size. So a shopper will prefer an exchange for a different dress over a refund. Even better! When a buyer decides to choose an exchange over a refund, it means less money loss for your business.
You can offer the same dress (or other apparel) but a different size, a replacement product of equal value, or a gift card for the next purchase.
You can encourage shoppers to request exchange over refunds by offering free returns only for exchanges instead of refunds.
Offering a gift card can be a good idea to say you're sorry for the customer's bad experience. Try to provide it both with the exchange and refund. That way, you can boost your customer satisfaction and avoid possible churn.
In Ecwid, you can select the amount for the gift card and email it to your customer. You can also offer a discount coupon for the next order. Both options are good solutions to prevent a customer from posting a bad review about your store.
Use apps for automated shipping refunds
Most shipping carriers have a money-back guarantee on late deliveries. You can monitor your shipments for late delivery and claim for a full refund.
If you ship with FedEx, UPS and DHL, you can use the Share a refund app from Ecwid App Market to automatically claim refunds, when you have overpaid for shipping your parcels, and get a share in the delivered savings. With real-time reports and weekly emails, you will be able to track all shipping, auditing and refunding activities on your shipping accounts.
Over to you
Returns and refunds are not the end of the world. Unlikely that you can avoid them at all (especially after the Holiday season), but you can make them less impactful by creating a clear return policy, communicating with customers, and making them happy, even if they returned their order. And happy customers always return to buy more.
10