How to create an ultimate FAQ page
Creating a FAQ page is a great way to provide your customers with detailed information about your product. Answering the most popular questions not only helps your shoppers overcome obstacles on the path to purchase but also helps you build trust with the buyers. It also reduces burden on customer support if you have one.
It's a general buyers' habit to learn more about the product before making a decision. Especially if it's a new or complex product. So give them the opportunity to get to know your product in details through the FAQ page, so they can make up their mind and click the 'Add to Cart' button.
What is a FAQ page and does my shop need it
FAQ stands for Frequently Asked Questions. Create it with care and deep understanding of your customers' concerns and it becomes a powerful tool to turn your readers into buyers. Information provided with FAQs in e-commerce is valuable for customers along with reviews, product description and photos because it allows them to closely study the product as they would do in an offline shop. So the more detailed your FAQ is, the more satisfied your customers are.
Of course, not each shop needs a detailed FAQ page. Let's say, you sell clothes. It's very low probability that customers need a 'how-to-use' article on T-shirts and jeans. But it's the other way round if you sell, for instance, cosmetics or bakery. People can be allergic to some ingredients or don't know how to choose skincare products for their skin type. In that case you can specify the composition of products, explain how to use it, describe dos and don'ts. Here is an example of The cookie dough cafe FAQ page: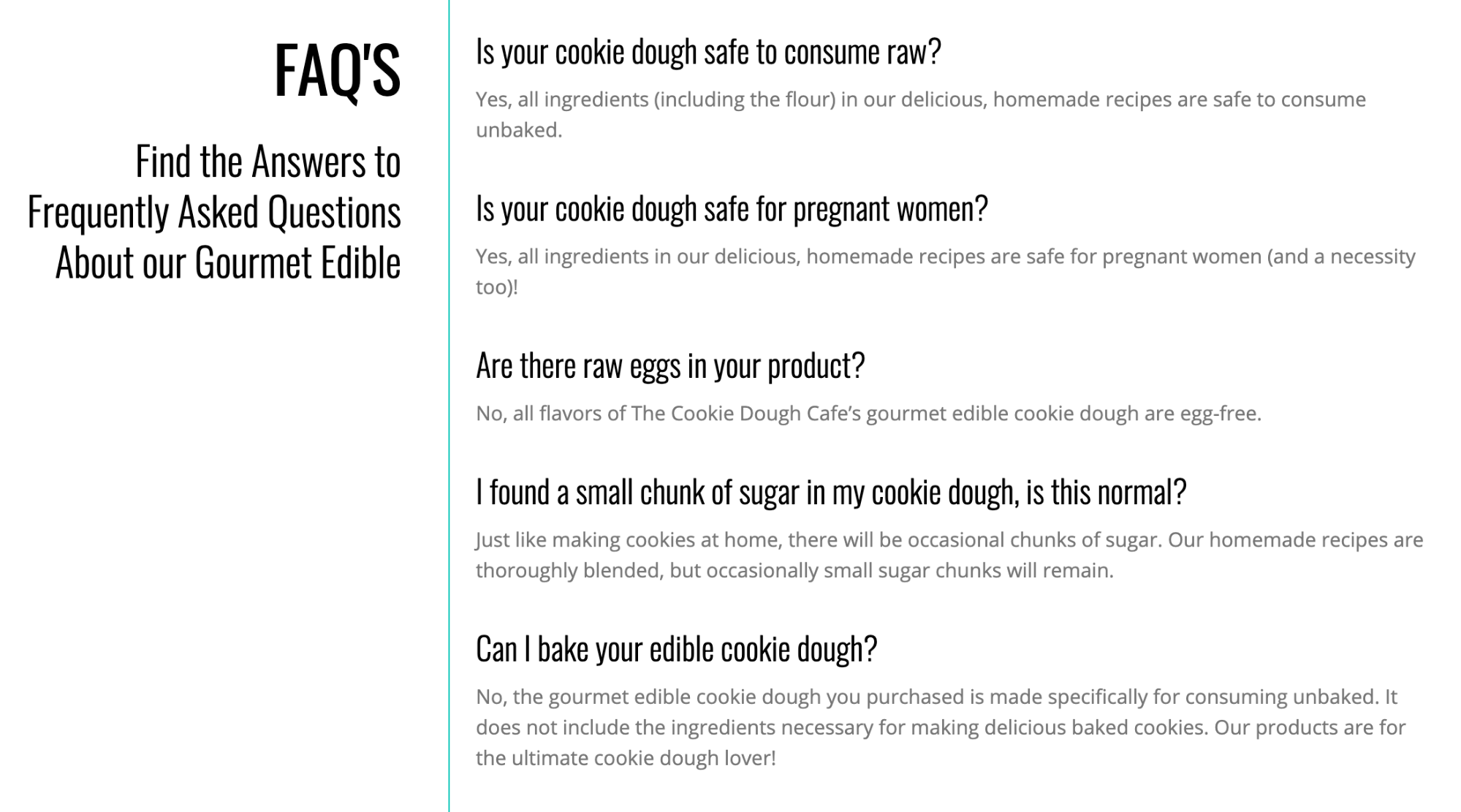 Detailed FAQ pages are very helpful if you sell foods, cosmetics, complex products or services like tattooing or wooden constructor toys. It's also a chance to show your product in a favorable light even if you write about potential disadvantages. For example, if a customer ordered a pair of clay cups but they're not exactly identical, you can say that's because they're hand-made and therefore unique. So you not only deal with customers' concerns but also create a positive perception of your brand.
Selling shoes, clothes, accessories or other everyday products doesn't necessarily mean you don't need a FAQ page at all. Consider creating a FAQ page as a tool to boost your online store and shopping journey for your customers.
For instance, SEO-friendly FAQ page increases ranking of your website in search results. You can get search engines to value your page more by including relevant keywords to your questions and answers. You may also link keywords to other site sections and encourage visitors to spend more time on your website.
Another great way to use FAQ is to show your expertise in the niche. Providing helpful and meaningful content reveals to your readers that you are reliable source of information, meaning they can trust you and the quality of your product. If you really are an expert willing to share knowledge and experience with an audience you may consider going beyond a FAQ page and starting a blog. For example, you sell flowers and plants. Flora lovers have a lot of questions about specific kinds of plants, so you can post about care rules and gardening tips on a regular basis, showing that you and your business are trustworthy.
Nowadays there is a variety of blogging platforms to choose from. Starting with WordPress and Tumblr and ending with Blogger and Twitter.
Don't hesitate to actually show your product. Photos and screenshots visualize "how-to" process and help your customers better understand nuances of interaction with product. Here's an example of CakeSafe FAQ using photos to illustrate assembly directions: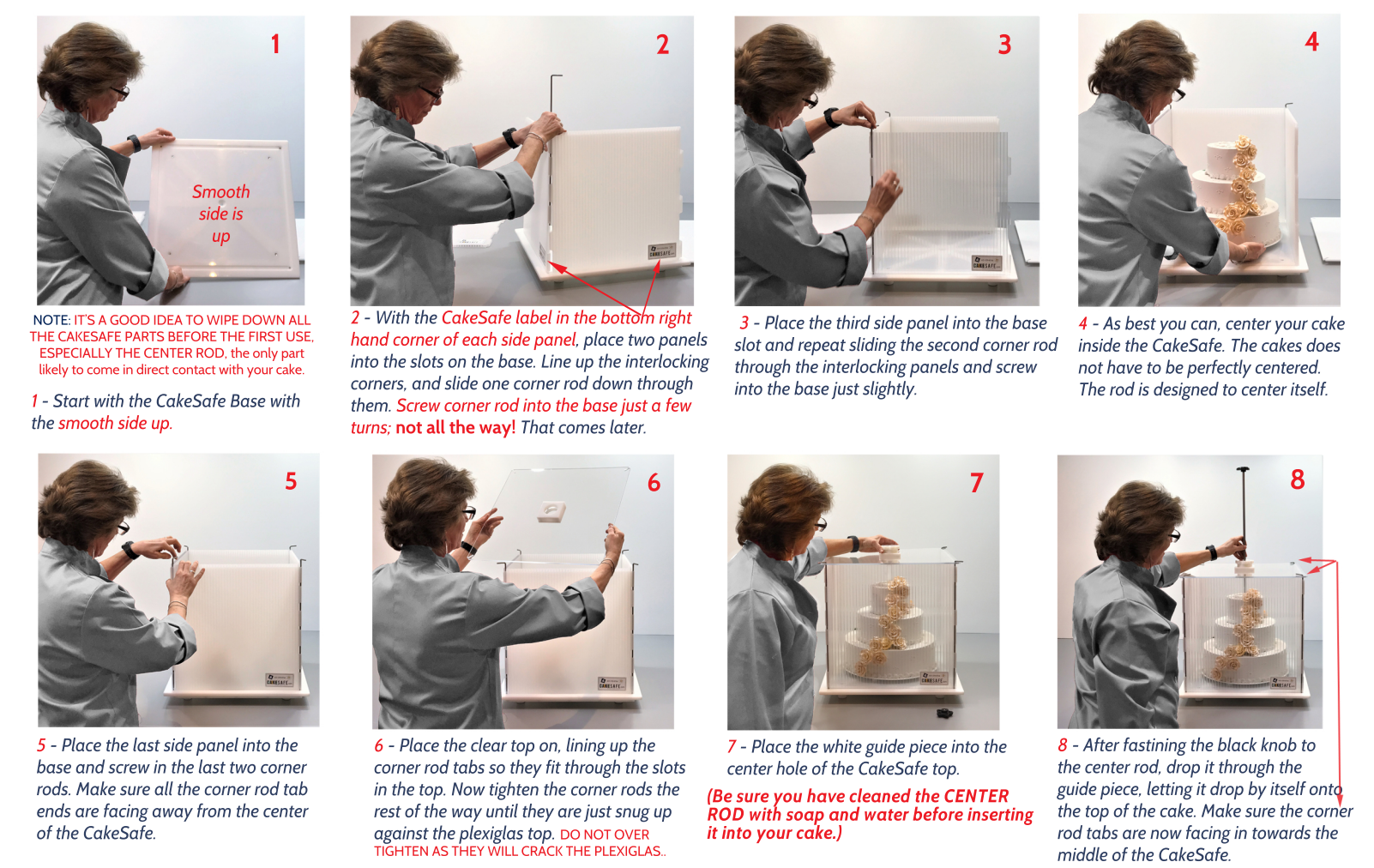 Understanding customer needs
"Ok, that's great, but how do I decide which information to include in the FAQ?" Excellent question!
The main principle here is to understand your shoppers' needs. Think about your business from the customers' perspective. What can be the obstacles in a way to place an order? Is it clear enough how to use a product for someone who has never experienced it before? Does your website provide enough information about return policy, sizing, quality, or delivery times? Use a FAQ page to provide as much details about your brand as possible, but make sure it's relevant to your customer needs.
For example, here is a FAQ page of the Matchaletic shop. As not everyone knows what matcha is, seller answers most common questions about the product and how to prepare it: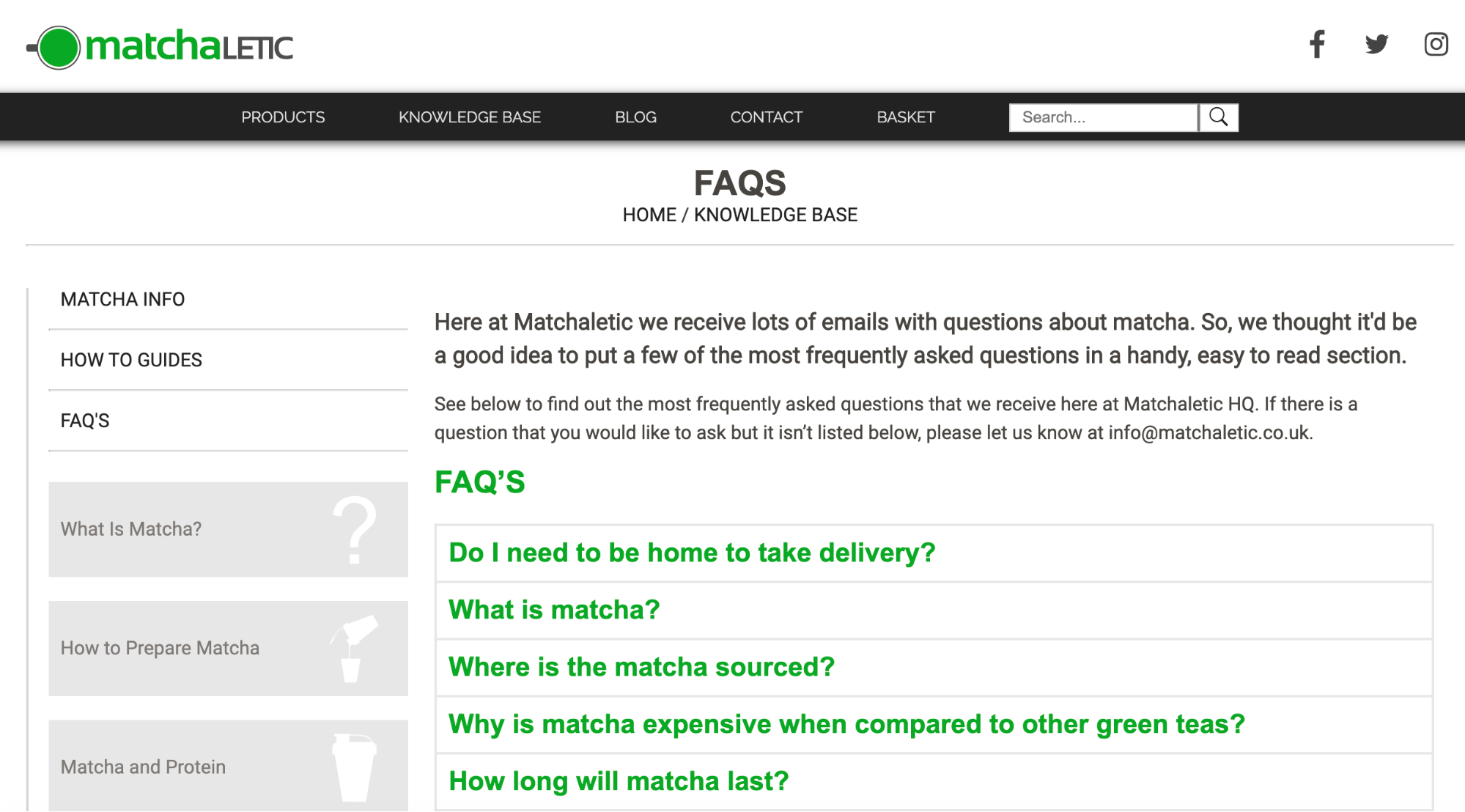 Creating a FAQ page becomes much easier if you have a customer care team. Since they're working with your shoppers on a regular basis, they'll be an excellent source of information for the page.
If you run your business for a long time, you can review received emails and messages with questions from buyers. Make a list of common questions and prioritize them by frequency. Draw up FAQs based on this list.
If you've just opened the store and haven't received much feedback yet, ask your friends and family to browse your website and write down any questions about products they didn't find answers to.
After you create a list of questions and answers it's time to add it to your online store. If your store is located on a third-party sitebuilder, use that platform editor to create a FAQ page and then add it to the site navigation. In Ecwid, there are several ways you can add FAQs to your online store. Let's move on right into it.
Adding a FAQ section to your Instant site
Ecwid Instant Site is a free one-page website for a quick launch for your business. It has a built-in e-commerce that is included in every Ecwid account. You can use Instant site as a free website with an online store, landing page or online catalog. Either way, you can add frequently asked questions on it.
Ecwid Instant Site consists of sections such as Store, Company Mission, About, etc. Just edit any of the sections to change the order of their appearance and content displayed to customers. For example, you may want to devote the About section on your Instant Site to Frequently Asked Questions.
To change a default section to a FAQ section:
On your Ecwid admin, head over to Sales channels → Overview and click on Instant Site to manage your Ecwid site.
Hit the Edit Site button to open your Instant Site configurator.
Pick the section you'd like to edit from the Site Sections menu on the left. For example, About, and click on it to edit the section.
Add your FAQ text to the Section description field. Make sure to toggle on the Show section option and change the section name to 'FAQ' by clicking Change section title.
Save the changes.
Now the FAQ page will appear on your Ecwid Instant Site instead of the About section: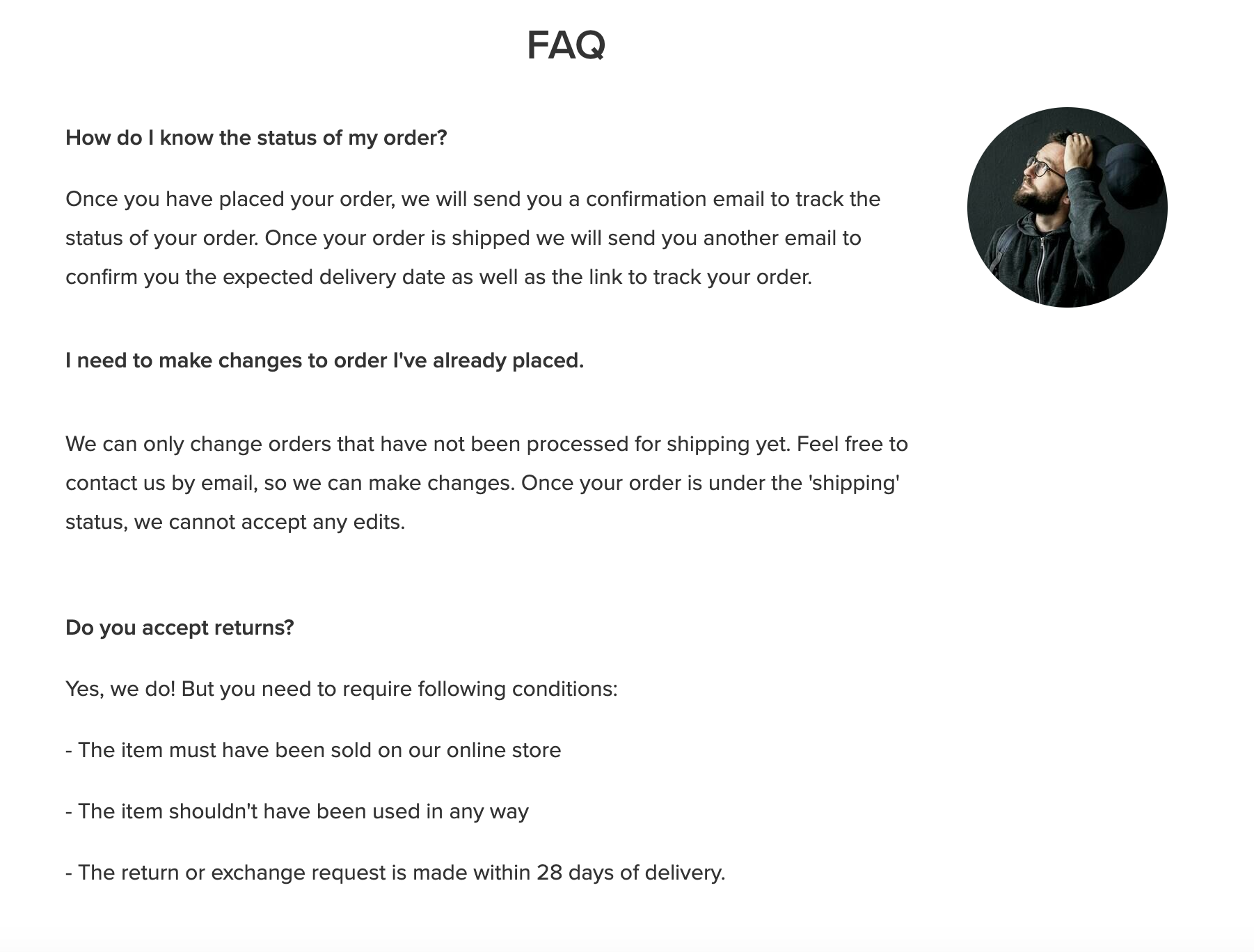 You can devote the whole section to FAQs or simply include frequently asked questions with answers as part of a section — just insert your FAQ text to the Section description field. A few FAQs in the right place makes it easy for customers to navigate and make a decision. For example, on the Location page you can add hints of how to get to your offline store if you have one.
So now you know how easy it is to adjust any section on your Instant site to your needs! If you feel creative, adapt any section the way your online store benefits the most. You can add any information you sense is the best for your business or for customers' needs and rename the section accordingly.
Legal pages are legal information on your terms of services, privacy policy and shipping terms which is essential for your website if you run an online business. You can also use legal pages to add FAQs to your website. In that case you can simply rename one of the legal pages to "FAQ" title and add frequently asked questions to its text field.
To create FAQ page with Legal pages:
From your Ecwid admin, go to Settings → Legal.
Scroll down to the Legal pages and policies section and click Add Page button next to one of the documents (it's better to use About Us page).
Change the page title to the "FAQ", paste your frequently asked questions to the text field and save the changes.
As you do this, the link to FAQ page will appear at the bottom of your Instant site:

Clicking on it will open a page with legal information, including the FAQ section: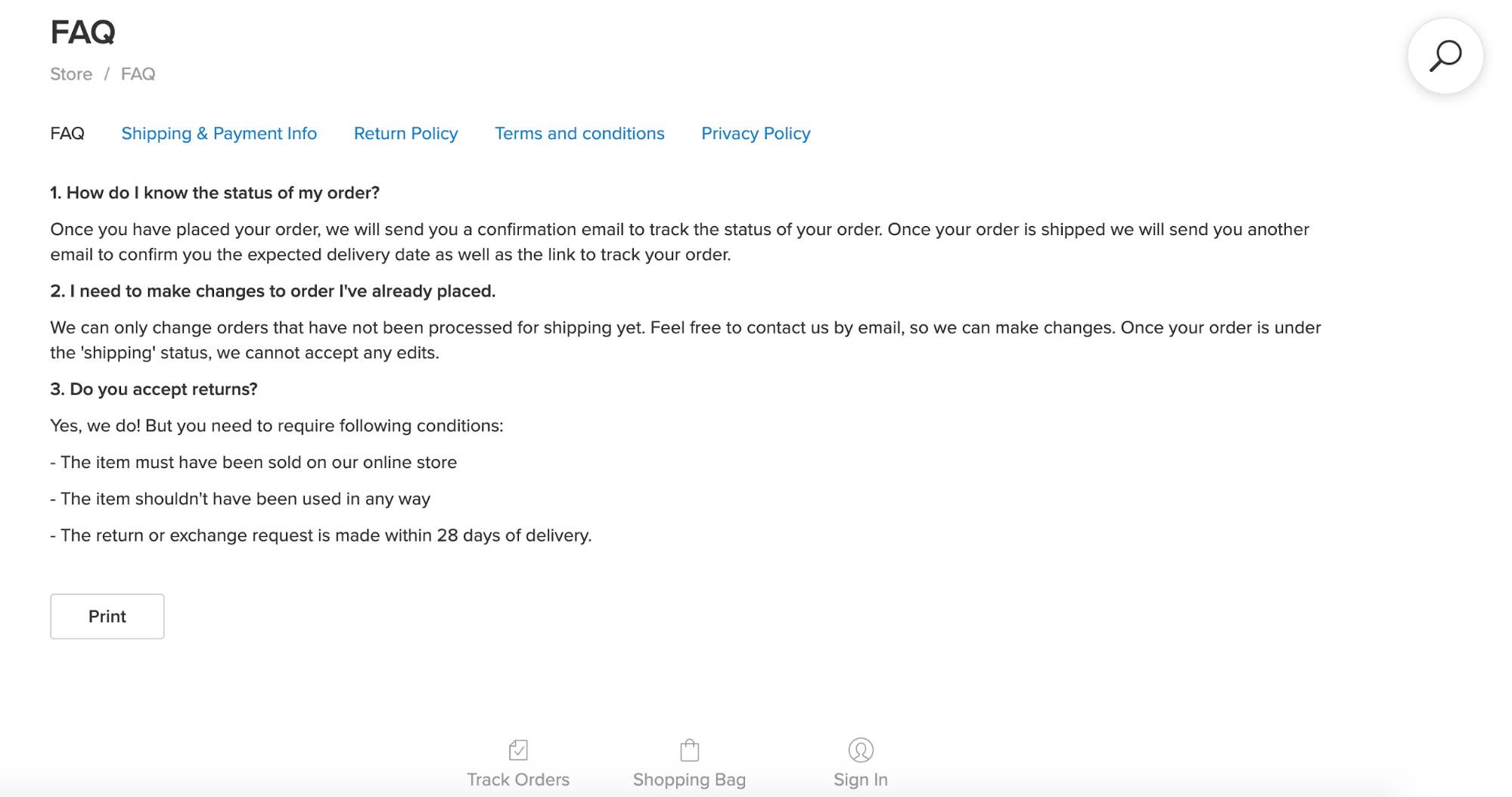 Last but not least way to add a FAQ page to your Instant site is by using categories. Create a new category but don't assign products to it — instead use it to let customers know the most important things about your business.
To add a FAQ section as a category:
Head over to Catalog → Categories.
Click + Add Root Category.
In the Name field type 'FAQ' and choose the image that represents this category or leave it as is.
Instead of description, enter your FAQ list and click Save.
Voila, now you have a special place on your Instant site for your FAQs where everyone will definitely see it: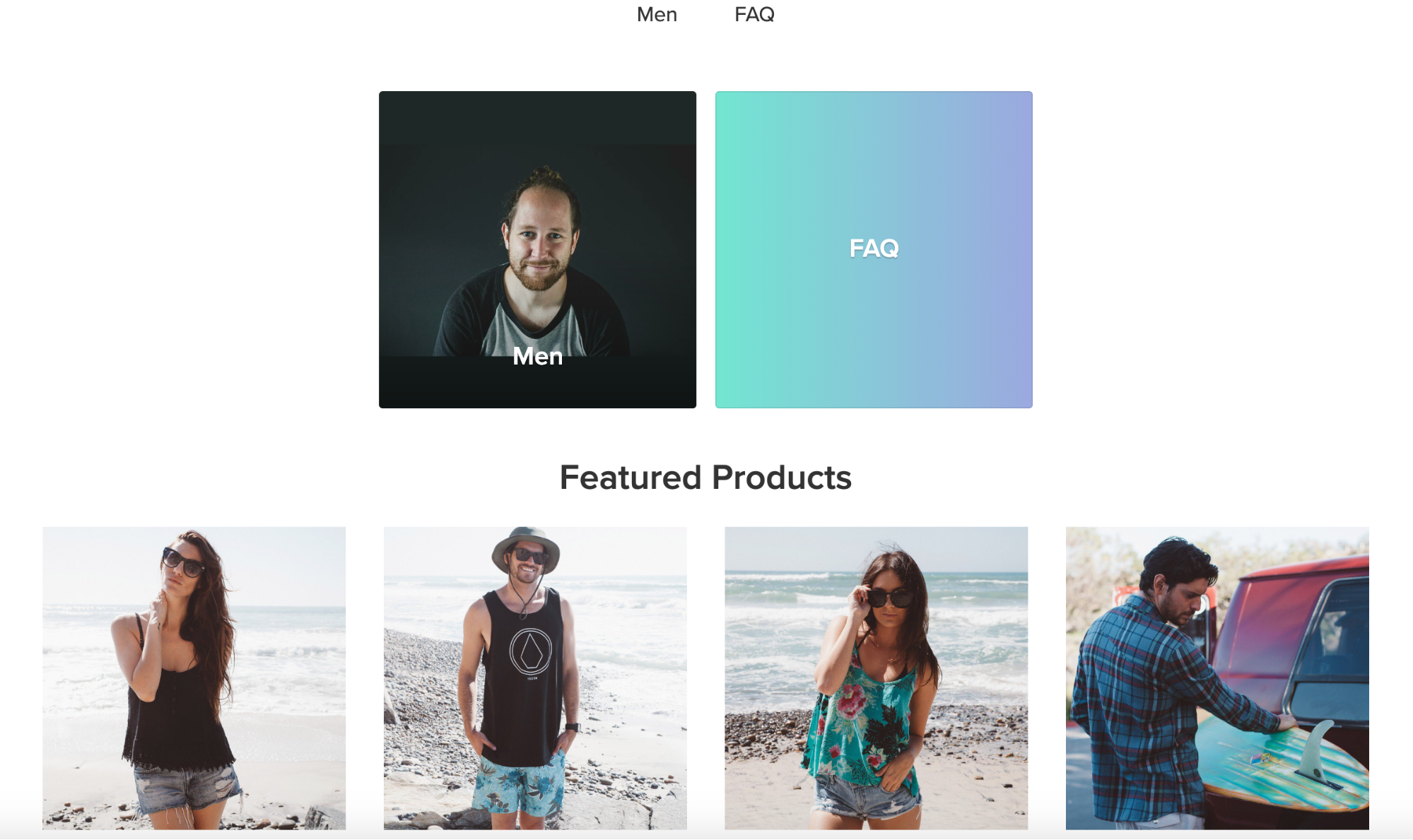 You can use a popup window where your questions and answers will be displayed. To do so, you need to install the Smartarget-FAQ app from Ecwid App Market. Here's how a popup will look like in your Ecwid store: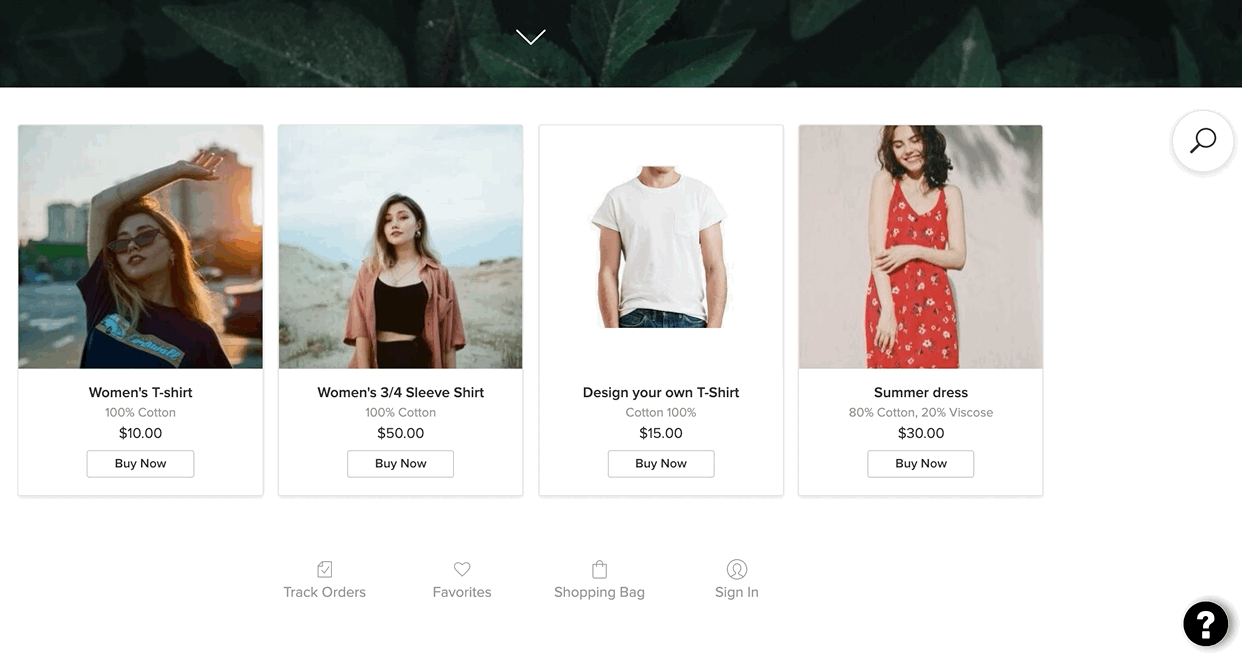 The app is free, but there are additional paid features on a Free Plus variant. On the Free variant, you can only add 3 questions and can't change the color of fonts and the FAQ button position. On a Free Plus version, you can customize font color, popup window position and add more then 3 questions.
To install the Smartarget app:
In the Ecwid App Market, find the Smartarget-FAQ.
Click Install.
The app will open in the Ecwid admin, so that you can complete the setup.
Depending on whether you want to use the app for free, or add paid features, you will need to choose the Free or Free Plus option.
To set up a Free variant:
In the Integration variant section, select Free:


In the Question field of the Main settings section, enter a frequently asked question. For example, 'Which cities do you deliver to?' or 'Shipping Policy'.
In the Answer field, enter the answer to the question. For example, 'We deliver all across the USA and Canada'.
In the Link field, add a link if you need one. For example, if you have a complex product, you can insert a link to a video with a detailed explanation of how to use the product. Or if you sell apparel, you can create a page on your website with a detailed size table and give a link to it.
If you need to add another question, click + Add question and fill in the Question, Answer, Link fields again. Then click + Add question.
When you're done adding questions, click Save App Settings:

To set up a Free Plus variant:
In the Integration variant field, select Free Plus.
In the Complete integration field, click the link to the Smartarget website to log in to your account or register a new one.
Once you sign up, add your site to Smartarget. To do this, click Add website:


In the window that opens, paste the link to your online store and click Add.
The added website will appear in the Websites section. Click Configure Apps and select the FAQ app from the list of apps.
In the opened window you can customize the appearance of the pop-up window. Once you are done editing, click Save settings.
The last step is to add your user ID to integrate Smartarget and Ecwid. To do so, go to the Integration tab on the Smartarget, copy the ID and paste it into the Smartarget User ID field in the Ecwid admin:


Click Save App Settings in the upper-right corner.
That's it. Now an icon with a question mark has appeared in your online store. Once you click on it, a popup window with a FAQ appears.
A FAQ page example
If you have doubts about which questions to include on your FAQ page, here is a template with typical questions frequently asked by customers in e-commerce. You can start with this and add some more questions that reflect the specifics of your business:
What delivery options do you have?
Where do you deliver?
Can I get free shipping?
How to make sure I choose the right size?
How do I change information about the order I have already placed?
How do I return and get a refund?
What if I never received my order?
What if my order is broken or defected?
Is manufacturing your products eco-friendly?
Do you deliver to other countries?
Can you wrap my order as a gift?
A well-written FAQ shows you care about customer needs and that is exactly what wins people over. Let your shoppers know that your business is transparent and you are ready to answer any question even before it comes to their mind. Make it a habit to review questions once or twice a year, adding new links to your products or site pages and changing questions if needed. That kind of approach allows buyers to find what they need right away and makes their shopping journey easy and pleasant.
In other words, a stunning FAQ page helps you achieve customer delight and turn a visitor of your online store into a loyal client.
10