Dojo
Dojo is a payment solution service based in the UK. With Dojo, you can get paid with GBP. The company also rents out card machines and sets up integrated payments for small and medium-sized businesses.
Setting up Dojo in your store
Before adding Dojo online gateway to your Ecwid store, you need to create Dojo account. To do so, install the Dojo app for iOS or Android and fill in basic contact details. After that, the Dojo team will contact you to submit additional details about your business.
Once your Dojo account has been approved, open up the app or web browser login page and hit 'Forgot your password?' Enter the email address you signed up with, and you'll get a link on your email to create a password for your account which you can use to log in.
Creating Dojo payment method in your store
From your Ecwid admin, go to Payment.
Scroll down to More options to accept online payments in the United Kingdom. From the Choose Payment Method dropdown, select Dojo.
If your business is located outside of the UK, scroll down to Other ways to get paid and select Dojo from the dropdown.
Enter your Dojo account credentials — gateway username and API password (JWT). You can request this information from the Dojo support team. Enter your data to the Gateway Username and API Password (JWT) fields.
By default, the Dojo method will appear at the checkout by the name Credit or debit card. If you are going to use only Dojo to provide online payments, you may leave its name as is in the Payment method name at checkout field.
In case you are going to add more payment systems that accept credit cards, you can specify the name to avoid having similar names at the checkout.
Turn on the Enable this payment method at checkout toggle.
Leave the Set payment instructions at checkout field empty. We recommend it empty because the paying process with the Dojo is simple and well-known by most of the customers. It only requires entering the credit card information directly at your store page:


(optional) Click Limit availability by shipping method to limit the Dojo payment option to a specific shipping or delivery method.
Click Save.
Accepting payments with Dojo
After you enable Dojo in your Ecwid store, your customers from all over the world will be able to choose this payment option at the checkout. As soon as they choose Dojo as the payment option, they will have to fill in their credit or debit card information without leaving your store: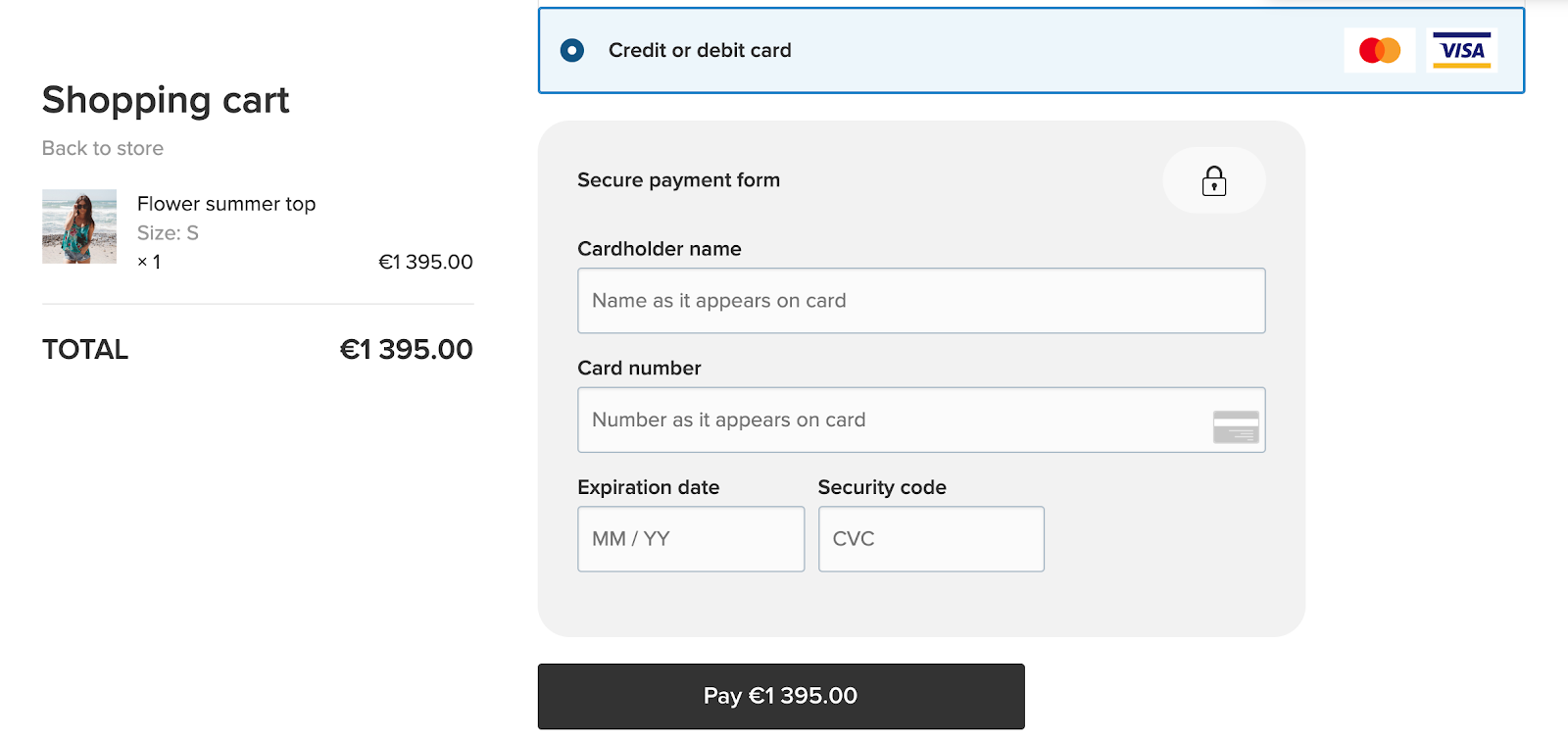 You can always check what payment method has been used for an order by viewing an order's details in your Ecwid admin, My Sales → Orders.
FAQ
What are the transaction fees?
Your card processing fees are the money that you pay for each debit or credit card transaction. Your fees will be tailored to your business. Contact the Dojo support team for your personal quote. You can learn more about different fees on Dojo site.
When do I get the money?
After a customer pays for an order, the sum will appear in your Dojo account. Dojo checks that there's enough money in the customer's account and that the funds are legitimate. After all the checking, the money is paid into your merchant account and can be transferred to your business bank account (minus their transaction fees). The transfer takes one working day.
Can I sell CBD with Dojo?
No, you can't. Still, you can sell CBD products with Ecwid using other payment methods.
10