If you decided to start your printing business with a drop-shipping service without storing any inventory, dealing with any manufacturers, or worrying about shipping you might be looking for reputable and trustworthy suppliers.
The Ecwid App Market features an application that allows getting drop-shipping on the go.
Introduction
Printful is a service that helps you easily sell custom print products online with very minimal effort. All it takes is uploading a design and syncing your store catalog with Printful. No inventory, no shipping, no upfront costs. All orders are automatically printed and shipped and covered in your store's branding.
You decide your profit. You buy the ready-made Printful products at a wholesale price, but sell to your customers at whichever price you want. The higher the price, the bigger your profit margin becomes.
In case if you wish to test the look of your products, you can order samples of your products at 20% off and free shipping worldwide. Printful also offers design and photography services to get your store up and running.
List of products to sell
Clothing / Apparel
All-over shirts
Wall Art
Mugs
Pillows
Totes
Hats (Embroidery)
Leggings
Phone cases
Sublimated Socks
Dresses
Skirts
How Printful works
Getting started with Ecwid and Printful
To get started, install the Printful application.
Printful will embed a page into your online store control panel where you can control the app. Printful can also optionally calculate shipping of your products to anywhere in the world.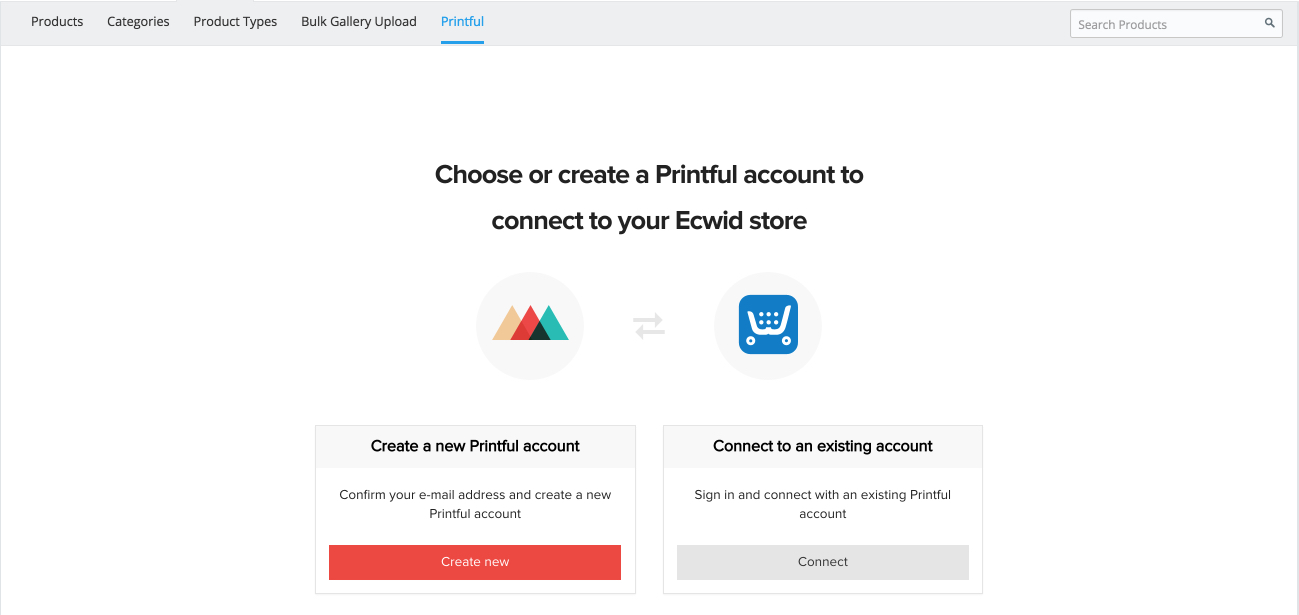 After you sign in to this app, it will import products from your store. You can sync existing products in order for them to be tracked by Printful to fulfil new orders in your store. If there are products you don't wish to fulfill through Printful, you can mark them as 'ignored'.
NOTE: Printful won't ship your own created products along with the products from their catalog.  
In order to start your printing business, you need to add products from the Printful catalog:

 1. Choose a product category and a product (e.g.Unisex/Men T-Shirt)
2. Configure its design: upload your graphics, select colors and sizes. On the left side of this pop-up window you can resize and drag and drop your image so it take a right place on the T-shirt.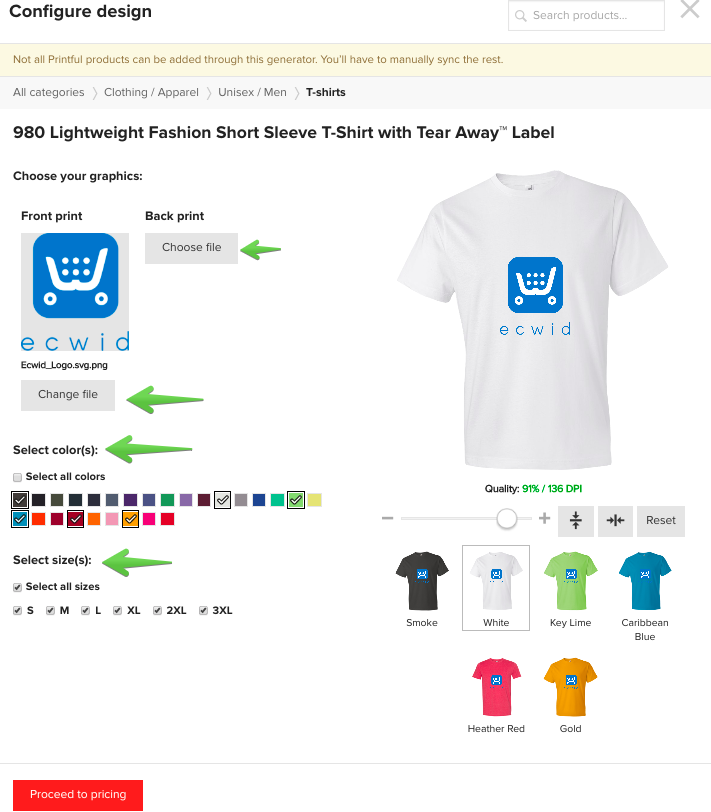 3. Edit description: choose main mockup picture, create a product title and edit the description field if necessary.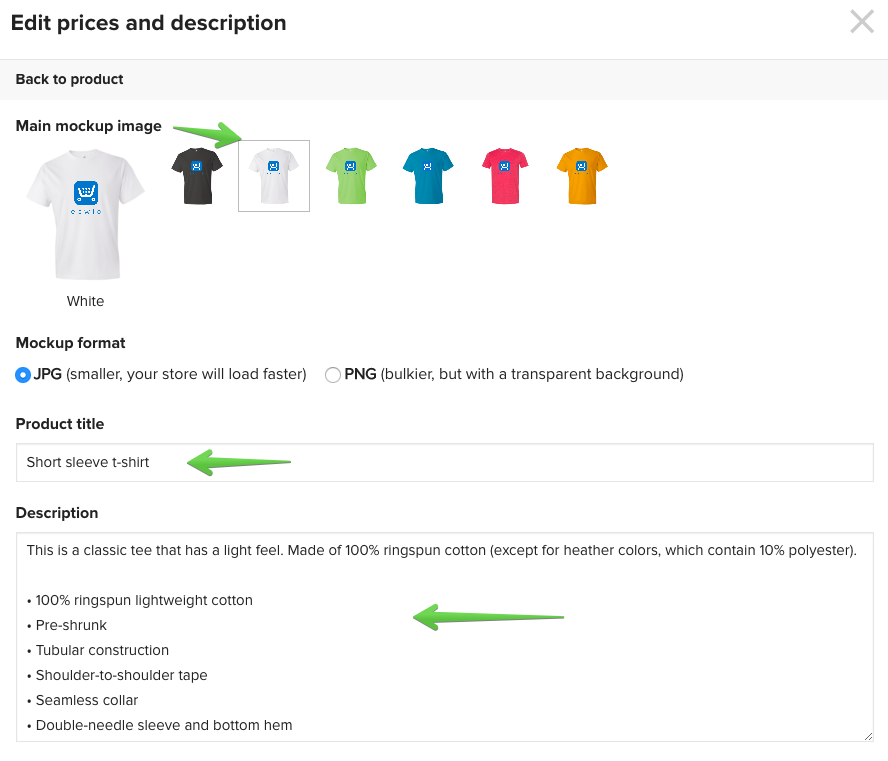 4. Choose the mark up price and Printful will auto configure your product prices.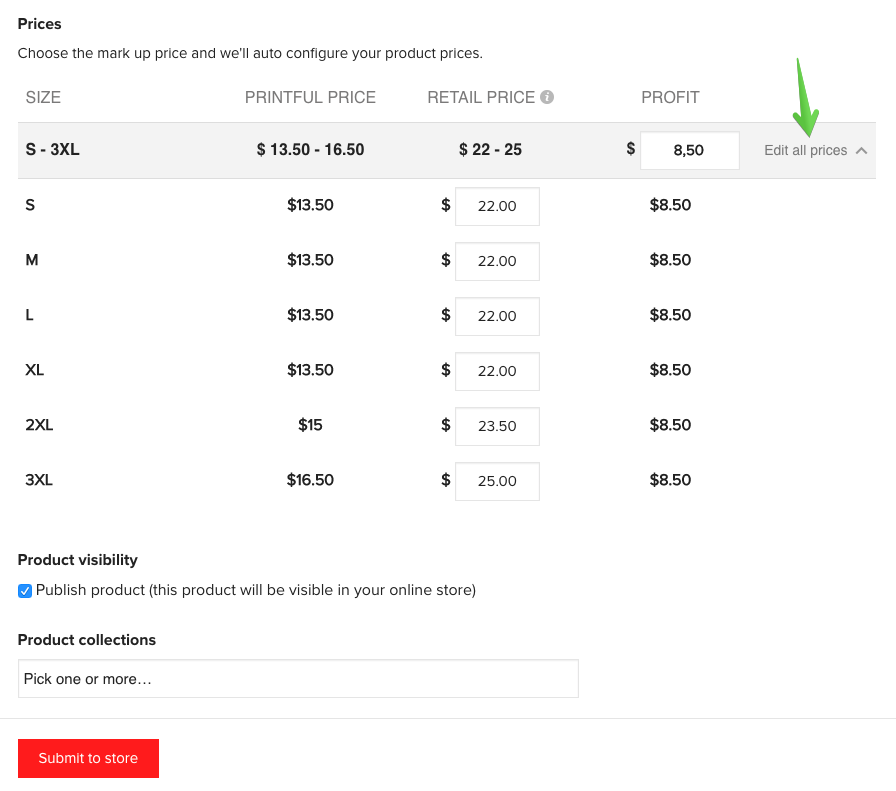 5. Submit this product to your store to list it in your storefront as a regular store catalog product.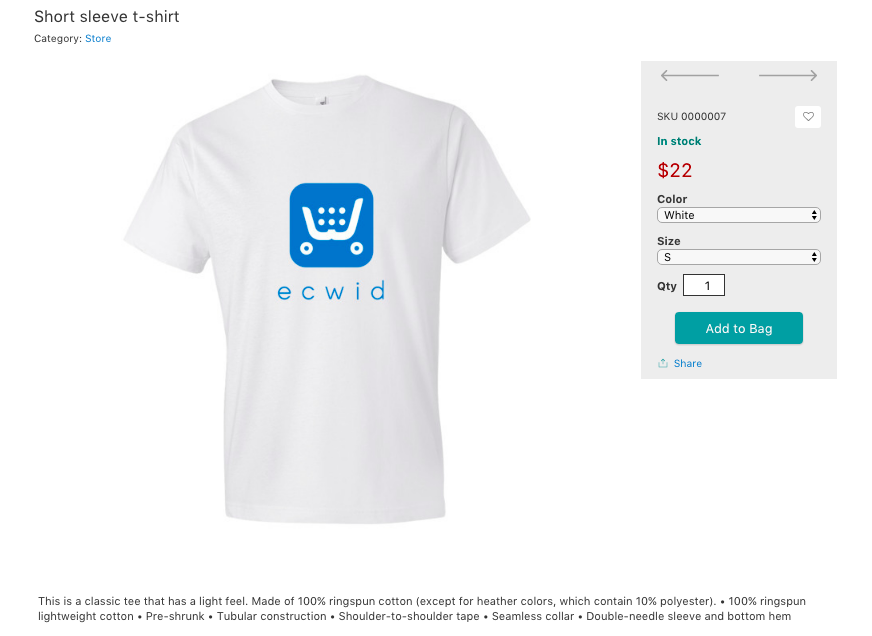 Printful Settings
You can manage how orders are processed in your store settings in Printful app interface. Go to Settings section of the Printful App → Orders tab:

If automatic fulfillment is turned on and all of the products in an order are synced, the order will be fulfilled automatically. If some products aren't synced, the order will be saved as a draft so you can sync products on the fly.
Managing shipping and taxes
Shipping
There are two ways Printful calculates the shipping rates: Flat rates and Live rates
Flat Rates
On the Shipping speeds and pricing page you can find Printful Flat rate shipping prices for all product types. Flat rates are the default pricing for the shipping and the shipping method used depends on the availability and price offered by a carrier. Printful ships using a variety of carriers and methods that you can also find in the Shipping methods section.  
Live Rates
Printful also has Live shipping rates. They are calculated by the exact weight and the destination of the order and the shipping method/rate is selected by your customer on the checkout page of your store.
You can enable Pritnful's live shipping rates by checking this box:

Shipping methods
In your Printful App Settings under the Carriers & Services tab you can specify which shipping methods you want to use for your store. By default they are all enabled. Unchecking the box disables that carrier type for live rate orders but note that if you leave Flat Rate enabled, any order where Flat rate is selected as the shipping method can still ship with any of Printful carriers and methods. To totally disable a specific shipping method disable both Flat rate and the method itself.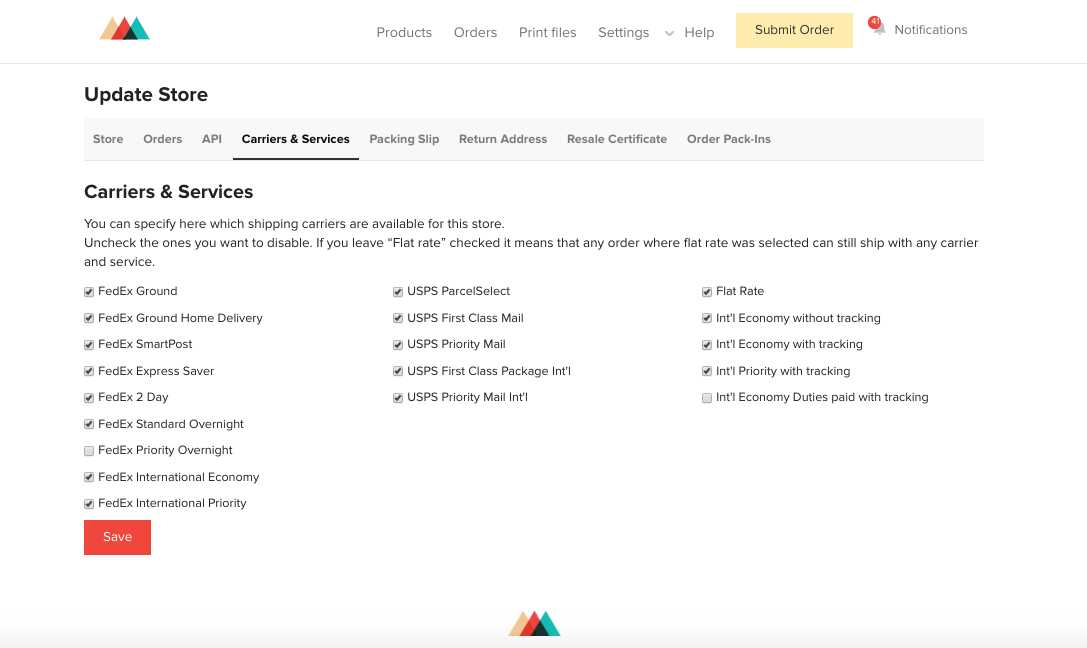 If you're selling items that are not fulfilled through Printful, we recommend disabling the live shipping rates. Since these live rates only show shipping costs for Printful products, you're likely to lose profit if items that are not fulfilled by Printful are added to the cart.
Example:
Your customer has added 2 items to the cart:
1. A product fulfilled by Printful
2. A product fulfilled by you or another service
Only live shipping rates for the Printful product will be calculated and displayed, while the other product won't be factored into the shipping costs. This essentially means that you're offering free shipping for the other product.
Taxes
When you've started selling, don't forget to calculate taxes (https://www.ecwid.com/blog/taxes-101-for-ecommerce-business-owners.html). If you use drop-shipping services, where your products are stored in a third-party warehouse and shipped out when people order, then you could have a nexus in more than one state — check with a tax professional or look on state government websites to find out. You can create tax rates (https://support.ecwid.com/hc/en-us/articles/207099899-Taxes) in your Ecwid Control panel → Settings → Taxes.
Additional features
Printful lets you customize the Packing Slip, set the Return Address, add Pack-in (flyer, sticker, business card or button.)
FAQ
Why can't I see my Ecwid products on Printful?
If you already have an Ecwid account with existing products, you can still connect it to Printful. However, your products will only show up in Printful if they have variations (product variants). The Product Variations feature is available on Business and higher tier plans.
All products that are created with Printful's product push generator will automatically have product variations (variants).
As for the Ecwid Venture plan — you'll need to define size and / or color in product options.
Which Ecwid plan do I need to integrate with Printful?
The app is available for paid Ecwid subscribers.
You can integrate Ecwid with Printful if you are a Venture, Business or Unlimited plan user. These plans allow you to use Printful's product push generator and enable live shipping rates. Automatic stock updates are only available for Business and Unlimited plan users.
Please, note: if you are running your store on a Venture plan, do not change product options and price modifiers in your Ecwid Control Panel to avoid the failure in sync with Printful.
Product push for Ecwid Venture plan
Some of the options for integration with Ecwid Venture plan are limited, including the product pricing on the push generator. You can't edit the pricing for each product variant – the price is set for the product.  
What if I sell my products in a different currency?
No worries! Printful automatically detects your store's currency and converts the retail price to match it. You can also adjust the conversion rate through the settings tab on Ecwid (https://support.ecwid.com/hc/en-us/articles/207807035).
If the product is leaving the United States, Printful is required by law to list the pricing on the package. This means the packing slip will show the price of the product in USD. To do this, Printful will convert your currency to USD based on the exchange rate from public-facing APIs.
If an order is being sent within the United States, no pricing will be shown on the packing slip.
Support
Made by Printful
Contact developer at support@printful.com
Back to top