Sometimes you need to edit the information in the orders that were placed or create an order manually.
There is the Order Editor feature that allows merchants to edit existing orders in their Ecwid stores. You can:
add new order positions and delete existing ones;
change product SKU number, product name, the quantity of products and product price;
edit customer's address, name, and email;
add and delete discounts;
edit the names of payment and shipping methods;
change the tax and shipping cost.
In this article:
How to use Order Editor
This video shows how to edit placed orders in your Ecwid store. More tutorials on our YouTube channel: Ecwid Team
You can edit your orders in your Ecwid Control panel → My Sales → Edit Orders.
You can choose the necessary order or search your sales by order ID, email, item names or customer names.
Select the order and you will be able to:
Add new items to an order;
Remove items;
Edit existing items: product name, SKU, options, quantity;
Edit customer's address, name, and email;
Add or remove a discount;
Edit names of payment options and shipping methods;
Edit the tax fee and shipping cost.
Just click Edit next to the block you'd like to change.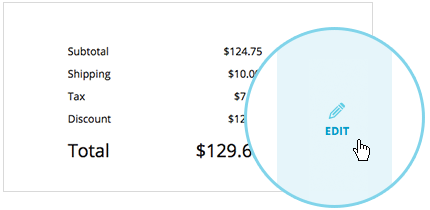 Remember to save the changes and they will be applied immediately.
How to create an order
If you sell not only in your online store but also process sales offline, via phone or email, you still can record these orders in your Ecwid control panel and keep track of them.
In Ecwid it is possible to create orders manually for accounting purposes to have full orders history in your control panel even for orders that were processed via phone or offline.
To create an order go to Ecwid Control panel → My Sales → Edit Orders and click Create Order at  the top right of the page:

Fill in the order information and click Place order. The order will appear in your sales list.
If the order total is changed after edition, will Ecwid charge my customers the deficient money or refund the extra sum back to their card?
Therefore, in order to charge your customer the additional cost if the order total has changed, you need to contact your customer directly and agree upon the way they can transfer the money to you.
As for returning the extra money, payment processors always allow making refunds in their backend. Please contact your payment gateway's customer service, if you're not sure, how to do this exactly.
Back to top