To have good sales in your store, you should take care of your customers. Attracting new customers is as important as turning them into loyal and repeated customers.
How to manage customers
Managing customers and communicating with them is crucial for running business. Every time a new customer places an order in your Ecwid store, they appear on your customer list.
You can see and manage all your customers in your Ecwid admin, go to My Sales → Customers:

For all of your customers who place an order, Ecwid creates an account with your store. It allows your customers to view their order history and see the statuses of their current orders.
When customers place an order or create an account in your store by clicking the "Sign in" link, they appear on this list.
You can manage your customers in the following ways:
For more options to manage your customer base, consider using a CRM system — you can integrate your Ecwid store with
Capsule CRM
and
Teamleader CRM
by using the respective apps from Ecwid app market.
How customers can use their accounts
In their accounts in your store the customers can:
See all their orders with current payment and fulfilment statuses.
Specify VAT ID. If a customer enters their VAT ID, it will auto-fill on checkout.
How to add customers to the store
Sometimes when you start a store you may already have a list of customers or you may want to add new customers in bulk to your existing store. You can import them to Ecwid with the help of the Import customers app.
The process is simple: upload a CSV file with customers via this app. This CSV file must have comma (",") as a delimiter and it must start with a header ("name","email","password"). You can import customer's name, email address, and password (optional).
How customers can log into the account
Previously, we used the traditional way for customers to create an account or log in to it. Customers needed to enter a login and a password. Now we've come up with a new up-to-date method for login using a link.
Here is how it works: customers click the Sign in link, enter their email address and get the link for signing in to their inbox. When they click the link, they are taken back to the storefront and they are logged in. Here is the form the customer will see:

Logging in by a link has a number of advantages:
Customers don't need to remember passwords.
After an order is placed, the customer's account is created automatically for the email address used.
You can see all the customers who placed orders in your store, you can see them in

your Ecwid admin, go to

My sales → Customers page.
A customer can see all the orders placed with their email address in their account.
This is a more secure way of login than using a login/password. Since the login link is sent to the email address, only the owner of the email address is able to log into the account.
Social Login
Your customers can also login with their favorite social platform: Facebook, Twitter, Google, LinkedIn and Amazon.
This is achieved with the Social Login application for Ecwid: https://www.ecwid.com/apps/tools/hexgator-social-login
The app adds buttons to your storefront so that customers can click on them and log in to their account easily and quickly: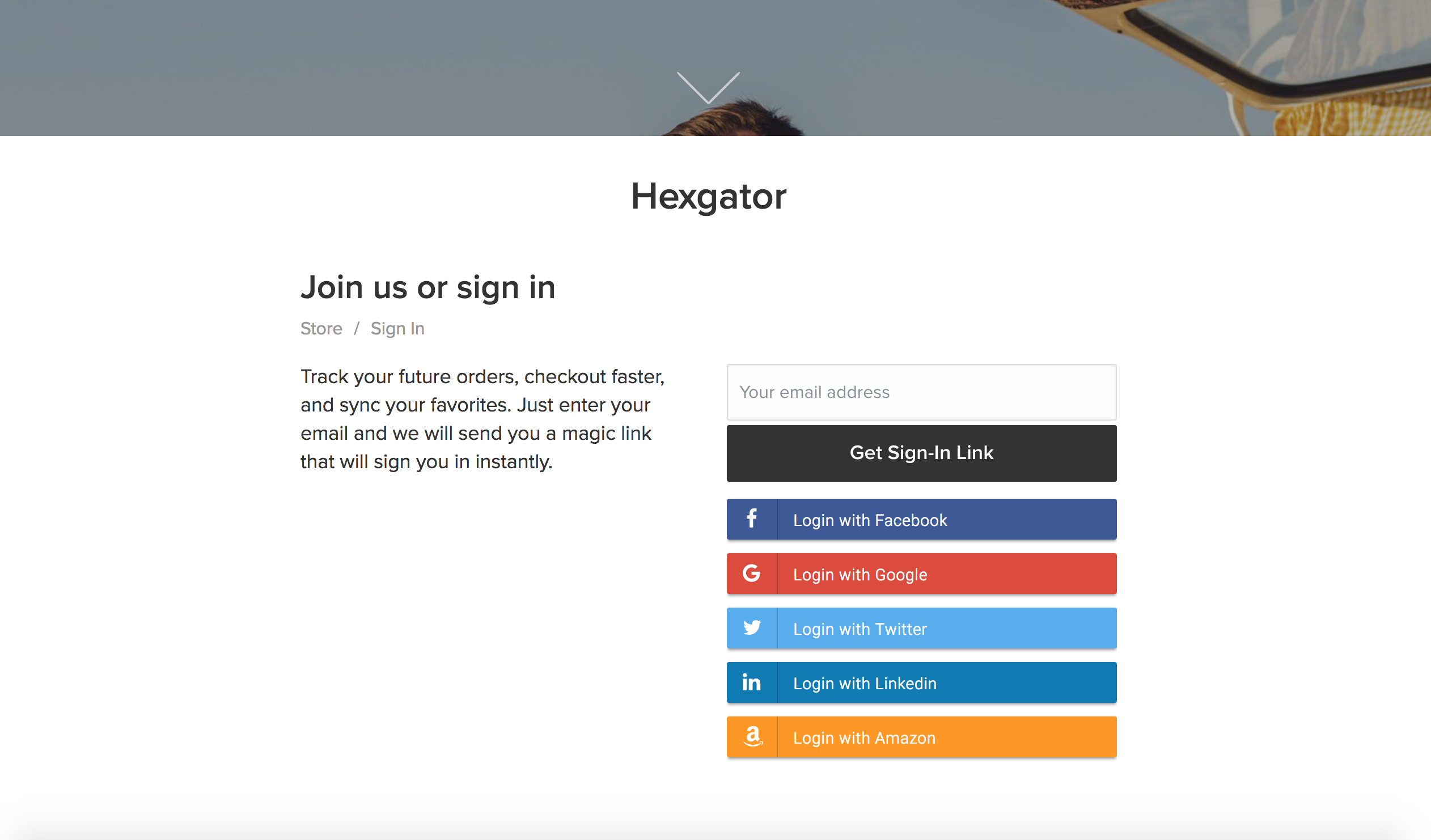 Articles on the topic:
Customer groups
Discounts for customer groups
Importing and exporting customers