Connecting Ecwid with FreshBooks
FreshBooks Integration allows you to send new Ecwid orders as invoices to the FreshBooks accounting system. Every new customer becomes a "client", giving you the ability to send invoices/receipts via email and track expenses.
The latter will create invoices with your company logo and other order details and, if you choose this option, email invoices to customers who just ordered.
From each new order sent by Ecwid the app will also create customers in FreshBooks or if a customer already exists, it will assign respective orders to this customer.
What makes FreshBooks great for e-commerce is its friendly user interface. The service does a good job of hiding away complex features and giving you quick updates through the dashboard.
Key features
Online invoicing and payments (create invoices based on paid or awaiting payment orders)
Create clients based on orders and if the client exists assign orders to the client
Send invoices through email (optional)
Currency for invoices can be chosen (multiple currencies not supported for now)
Ecwid Order number can be used as invoice number in FreshBooks (optional). (Supported only for the numeric order number. Order number with text prefixes will not work. i.e. ORD123 etc)
In-depth accounting reports and automatic tax calculation
Tax-friendly expense tracking.
Getting started with Ecwid and FreshBooks
To get started, install the FreshBooks application.
This application works with the Classic version of FreshBooks. If you are new to FreshBooks, please register your account here: https://www.freshbooks.com/start
Enter the following details:
Domain (Your FreshBooks domain i.e https://yourdomain.freshbooks.com/)
API Token (Find the token under FreshBooks → My Account → FreshBooks API → Authentication Token. If you refresh the token make sure you update it here.)

You can choose the Currency and enable/disable the Sync Order numbers option (FreshBooks invoice number will be replaced with Ecwid order numbers).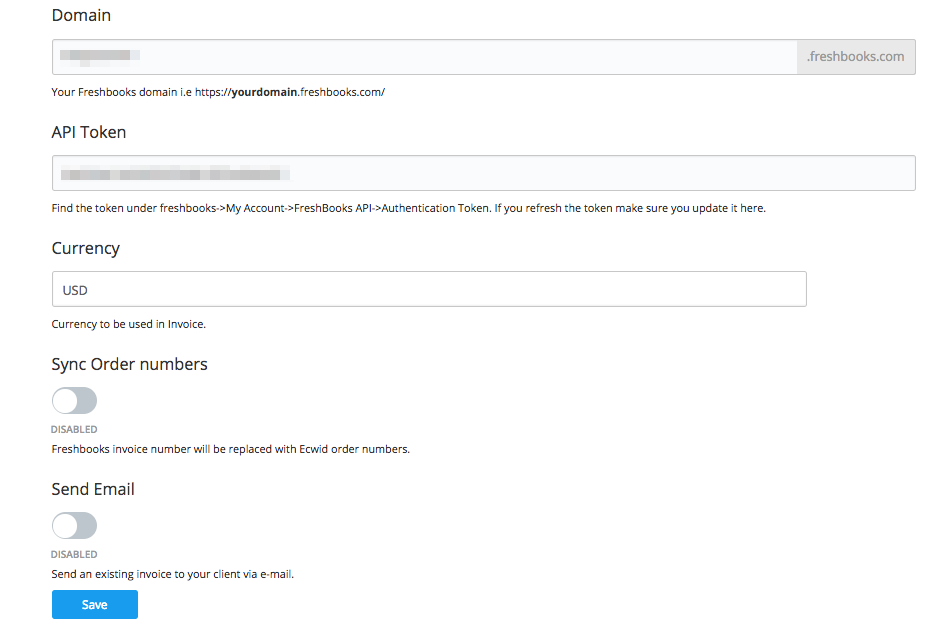 You'll be able to manage your Invoices in your FreshBooks account at https://yourdomain.freshbooks.com/home (replace yourdomain with your real domain).
Q: Can I use more than one Ecwid store with one FreshBooks account?
Yes. However, you should differentiate orders from different stores using custom prefixes for each one.
How the integration works
Once an order is placed in your Ecwid Store you'll be able to find the invoice with the order details in your FreshBooks Account → Invoices :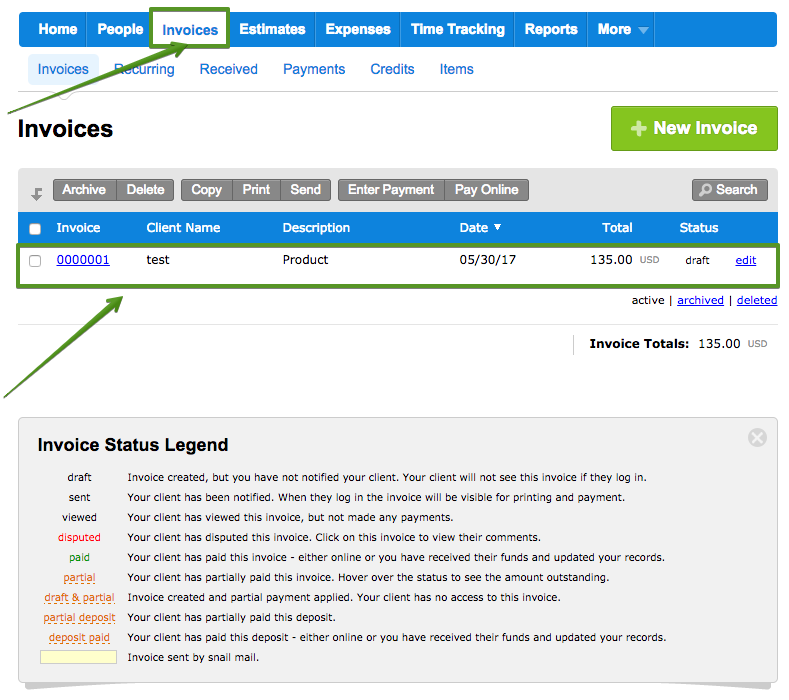 The current FreshBooks app doesn't provide the option to pull your old orders into FreshBooks.
When an offline payment is used
The invoice gets a Draft status in FreshBooks if the order was placed via the offline payment method in your Ecwid Store.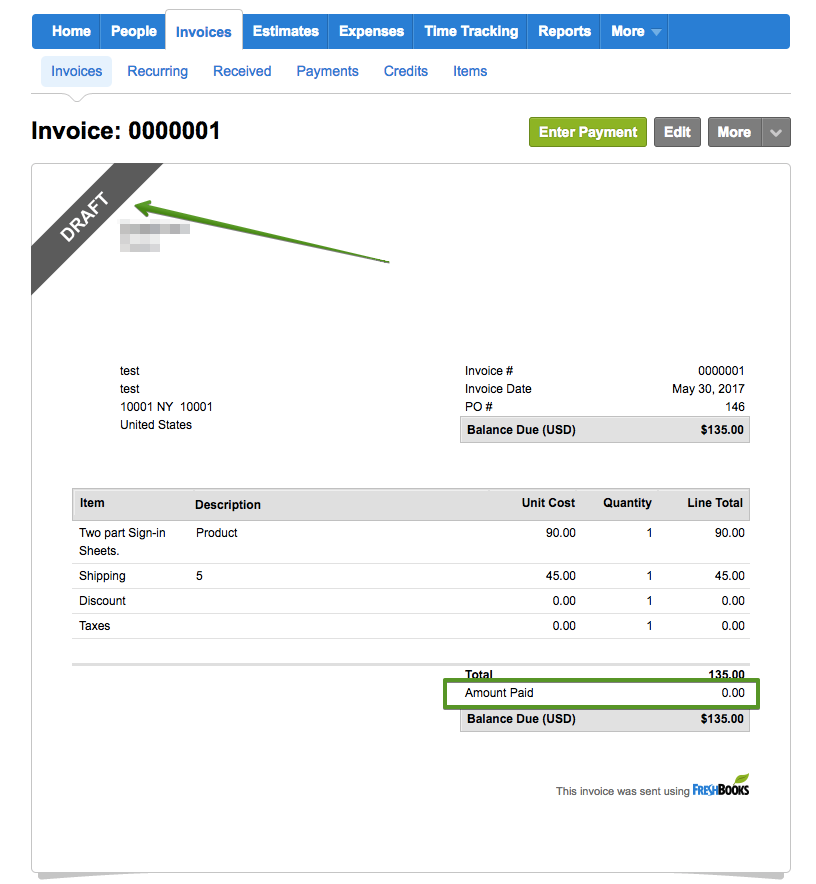 When you receive the payment for such order you need to manually update the status of the order to Paid in your Ecwid Control panel → My Sales → Orders . Please, check our article about Order statuses — https://support.ecwid.com/hc/en-us/articles/207806235-Orders#Orderstatuses
Then you need to manually update the status of the Invoice in your FreshBooks account → Invoices → choose the right Invoice → click Edit button → Enter a New Payment . Specify the amount and click Save .
When an online payment is used
The invoice gets a Paid status in FreshBooks if the order was placed via the online payment method in your Ecwid Store.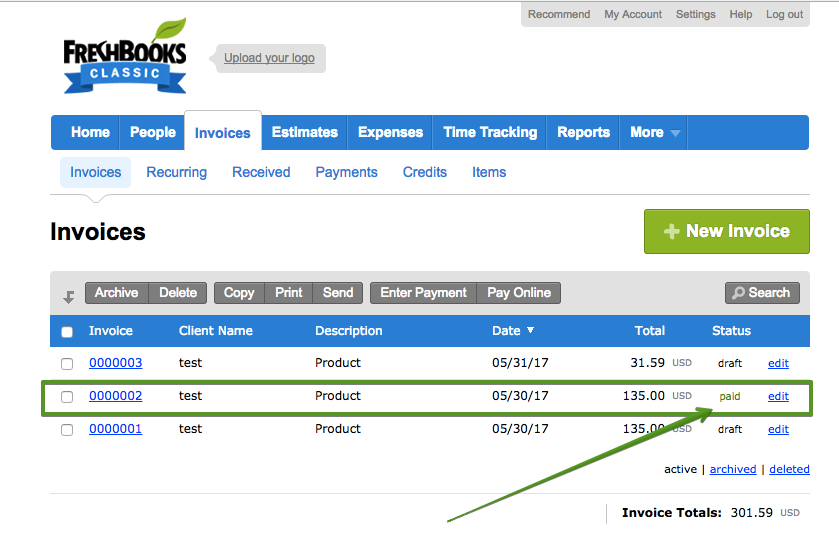 You'll be notified when the payment was made toward your invoice:

How to send the invoice
Open the Invoices section, choose the Invoice you'd like to send and click Edit button.
You have 3 options:
Save as Draft (your client will not be able to view this invoice until it is sent).
Send by Email (your client receives an email with the link to the invoice, s/he will be able to view it or to save a pdf; you can view the FreshBooks tracks the Invoice Autobiography, a precise moment an invoice has been viewed by your client is recorded).
Send by Snail Mail (send a hard copy of the invoice to your client via the snail mail ).
Reports
FreshBooks has some pretty awesome tool for getting different reports. You can find a list of available reports in your FreshBooks account → Reports: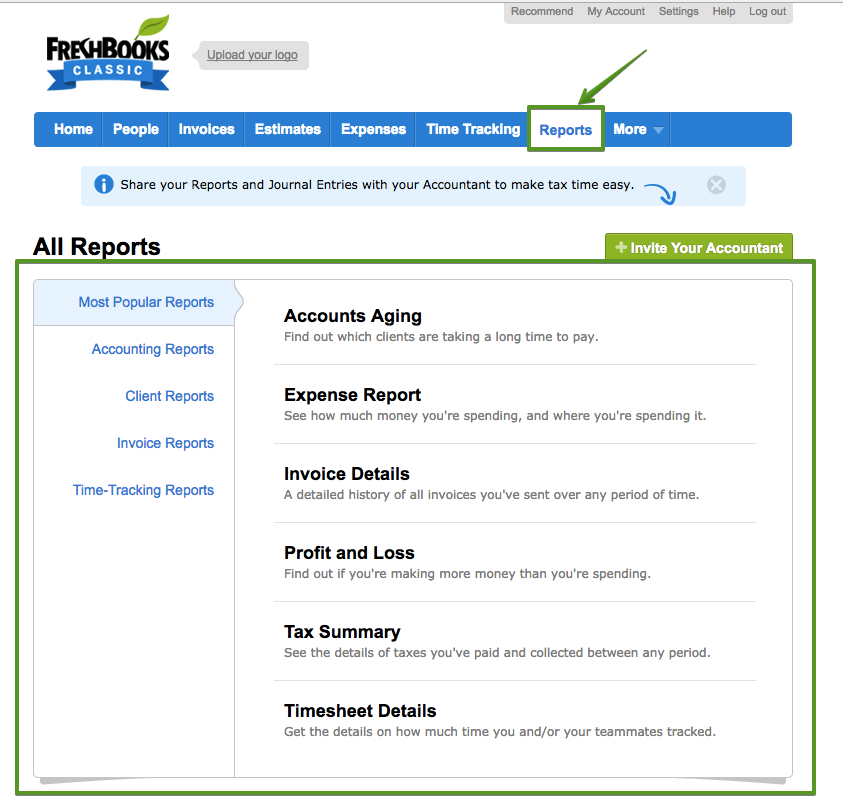 You'll be able to generate the following reports:
Accounting Reports (Balance Sheet, Expense Report, Payments Collected, Profit and Loss, Tax Summary).
Client Reports (Accounts Aging, Revenue by Client, Time to Pay, Customer Reviews).
Invoice Reports (Invoice Details, Item Sales, Revenue by Client, etc.).
Time-tracking Reports.
You can also share your Reports and Journal Entries with your Accountant to make tax time easy: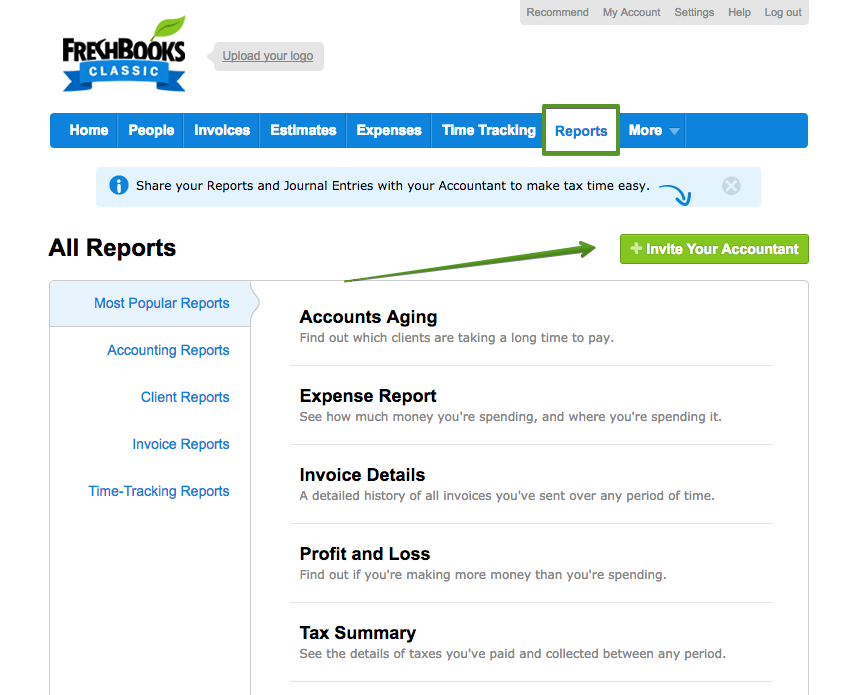 Price
$4.99/month
Available for paid Ecwid subscribers
Support
Made by Coralwebdesigns.com
If you want to contact developer, fill in the contact form at the bottom of this page https://coralwebdesigns.com/ecwid/freshbooks/
For more information about the FreshBooks service, please, visit FreshBooks Help Center — https://www.freshbooks.com/support
10