Ads campaign on Facebook
An audience of 1.49 billion monthly active users, flexible, easy-to-use advertising options, and affordable pricing make Facebook an important channel for small and medium-sized businesses to market and advertise their products and services.
You can launch your Facebook Ad campaign right from your Ecwid admin with the help of Kliken, or from your Facebook Ads Manager.
Creating ads with Kliken
You can create your ads on Facebook through Kliken — a marketing tool that generates banner ads for your business and shows them to current and new customers.
Kliken is the best choice for anyone inexperienced with Facebook Ads since the ad creation and setup is drastically simplified compared to direct setup on Facebook. The campaigns are automatically configured to help focus on an audience of shoppers who viewed products, added items to the cart, or purchased from you. This can be complex to configure and set up with the Facebook pixel. Kliken also helps diagnose or fix any product issues where possible.
For the hands-off approach of creating ads, managing, and supporting as many campaigns as you'd like, Kliken charges you with the automation fee of $20 per month.
To create your ad campaign:
From your Ecwid admin, go to Marketing → Google ads.
Click Enable to enable the built-in Google Smart Shopping app. The app is powered by Kliken, so you can run your ads with Kliken on several platforms, including Facebook. If you already installed the Google Smart Shopping app, click Manage.
In the top menu, select the Facebook Ads tab.
Click Get started:


Click Connect your Facebook account. You will be redirected to your Facebook page to give Kliken permission to your account.
Once you connect your personal page to Kliken, you will be redirected back to Ecwid store where you can choose a business page you would like to connect. Select the page from the list and click Continue to Targeting.
Choose where you want to target your marketing efforts. This can be done on a country, region, or radius level. For instance, you want to target your ad in Oregon. Select the Region/State/Province targeting and type Oregon in the field:


By default, the ads will be targeted to people who have selected English as their browser's language. You can change the language preferences by clicking the English drop-down and selecting another language.
Click Continue to Categories.
Select the category your Facebook page is registered under and the condition of the product that you're selling. Click Continue.
Select categories in your store you would like to advertise. Click Continue to Store Review.
Your products will be checked by Kliken. You will see if any of your products have errors that need to be fixed:


Change the products according to the suggestions, then click I fixed this, refresh my store. Once you fix all issues, click Continue to Preview.
Check how your ad will look. You can change the category and targeting under the Campaign Summary of this page:


Once you've checked everything, click Purchase Campaign.
Select a package for your campaign: Basic ($150 per month, good for small businesses), Essential ($300 per month, good for small and medium-sized businesses), or Premium ($500 per month, best for larger businesses). Enter your credit card details and click Purchase Now.


Kliken takes a credit card fee to cover the cost of processing your credit card payment for a campaign. You will also be charged with the automation fee for managing and supporting as many campaigns as you'd like.
That's it. Now your ads will begin to be generated. Before ads show up on Facebook, Kliken submits them for review to Facebook to make sure they meet their Advertising Policies. Typically most ads are reviewed within 2-3 business days, although in some cases it may take longer.
You can learn more about advertising on Facebook with Kliken in the Kliken Help Center.
After your ad campaign has ended, you can start retargeting. Check out
Facebook & Google Retargeting app
for Ecwid that allows you to launch a retargeting campaign in just a few minutes.
Creating ads with Facebook Ads Manager
You can create your campaign directly on Facebook, in the Facebook Ads Manager. It has more setup steps and the process is a little more complicated than via Kliken, but it allows you to customize your banner looks and be more specific about your target audience. Facebook Ads manager suits anyone experienced with creating ads on Facebook.
Step 1: Add a catalog
When you decide to run an ad, you'll always start with what you want it to achieve. The campaign level is where you set your main advertising objective.
While Facebook offers a variety of ads for different business goals, we will focus on setting up an ad campaign aimed at driving sales for your products or services.
To launch a new ad campaign for promoting your products:
In your Facebook Ads manager, click Create Ad.
Select Catalog sales as your campaign objective.
Select the product catalog that you are going to promote and click Continue: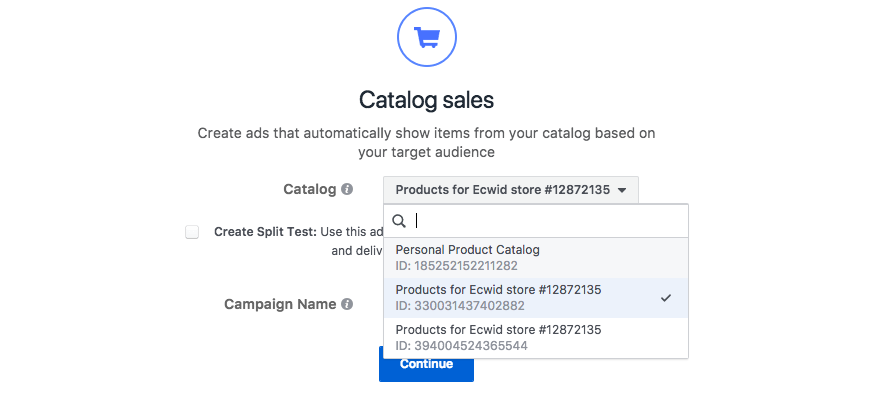 If you create a Facebook ad campaign for the first time, you will be asked to open an Ad account and specify your country, currency and time zone.
After choosing your campaign objective and selecting your product catalog, you proceed to creating your ad set where you build your target audience, schedule your ads and set your budget.
Step 2: Create an ad set
At the ad set level, you define how you want your ads to run and what people will see them.
With the help of Facebook's targeting options, you can build an audience filtered by location, gender, age and more. You also create a budget and set a schedule for your ads and choose their placements.
One Facebook Ad campaign can include multiple ad sets, each with different targeting, scheduling and budgeting options selected.
To configure an ad set:
Enter a name for your ad set:

Choose the products you want to promote from the Product Set drop-down list:

If your products are grouped into categories, Facebook will automatically create a product set (or collection) for each category.
To better control what products appear in your ads, you can create custom sets of products filtered by price, brand, gender or condition. Click

icon to configure a set of products matching your own criteria.
Enable the Offer option, if you want to create a discount that your customers can save and get reminders about.
Click Associate your Pixel with your Catalog if you haven't connected them yet:

Identify your target audience by selecting one of the following options:

Use info from your pixel or app to create a retargeting audience, if you want to display your ads to the people who already visited your store, left products in cart or purchased similar items – a classic retargeting strategy;
Define a broad audience and let Facebook optimize who sees your products, if you want to allow Facebook find people in different locations, of certain age or gender, with particular interests that are most likely to make a purchase in your store – a broad audience targeting strategy.
Choose where you want to show your ads (ad placements) by selecting one of the following:

Automatic Placements (recommended), if you want to let Facebook choose multiple placements based on where they're likely to perform best;
Edit Placements, if you want to choose your ad placements manually.
Configure your budget and schedule and click Continue.
Now that you have set up your campaign's objective, target audience, budget and schedule, you will proceed to designing your ads.
Step 3: Decide on the ad looks
At this level you will be working on the look and content of your ads:
Enter a name for your ad that you will see in Facebook reports and notifications:

Choose your Identity – a Facebook page or an Instagram account (if connected with your Facebook profile) that will represent your business in the ad:

Select how your ad will look in the Format block:
The
Carousel
format will work great for multiple products in one ad. The
Collection
is ideal for displaying your products in an ad that expands into an instant catalog page.
Choose if you want to display individual items or their categories: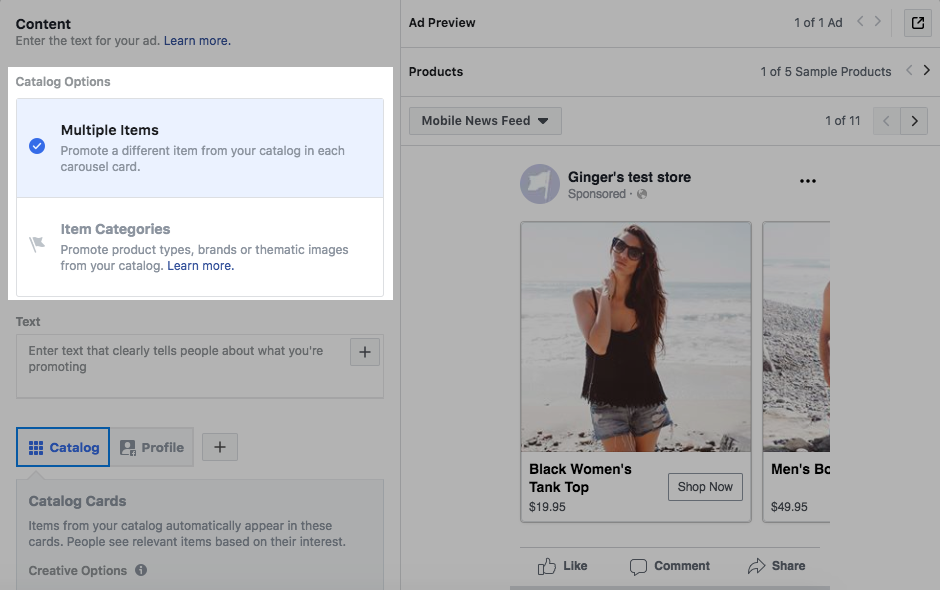 By choosing to display item categories, you can show people different types of items you sell in a single ad unit. This is useful if you want to reach people who are getting to know what you sell.
Enter a brief text that clearly explains what you are promoting: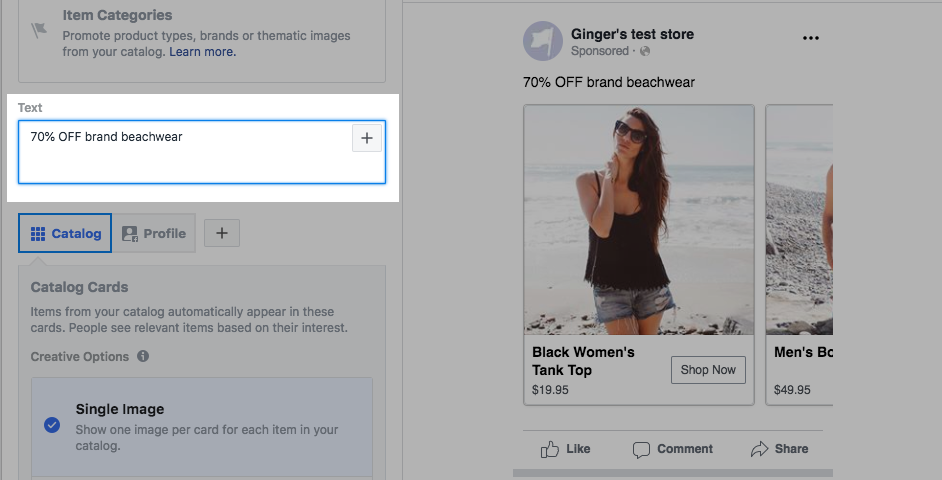 Design the look of your catalog cards: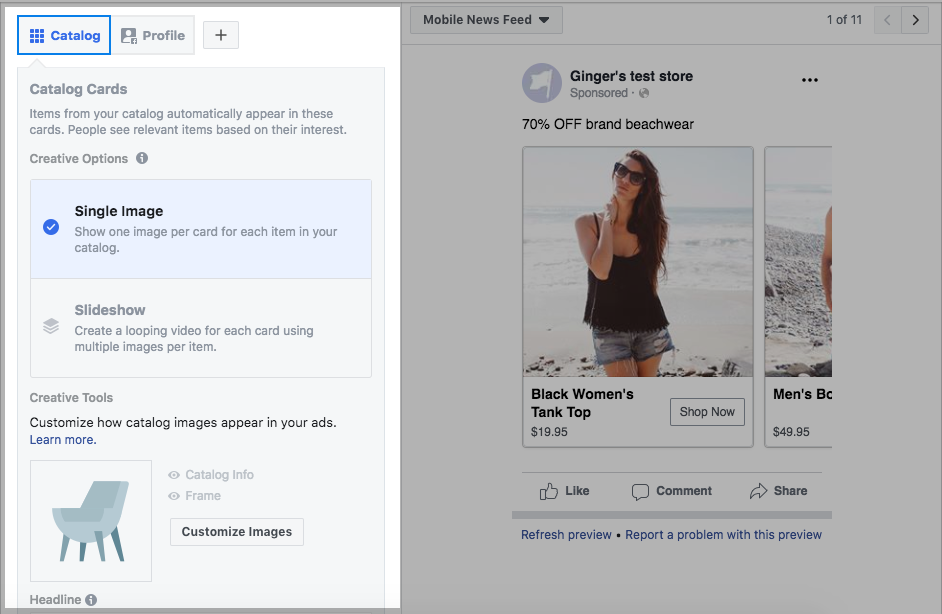 Enter a link to your store to the field See more: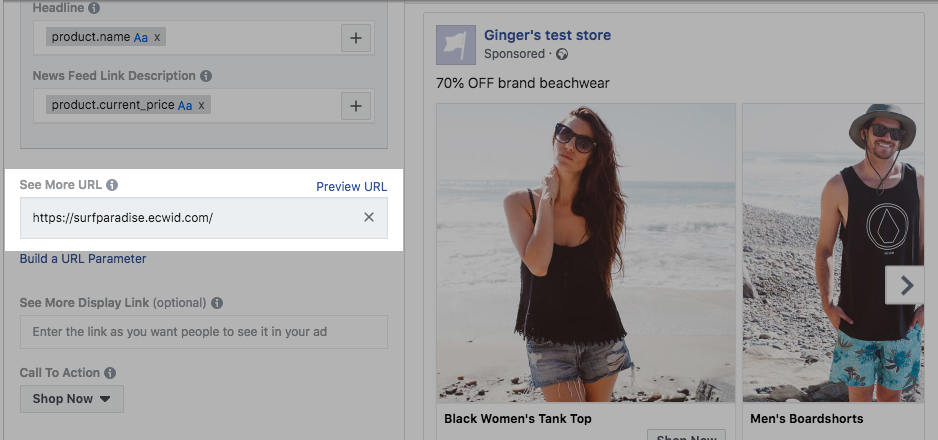 Choose your Call to Action button: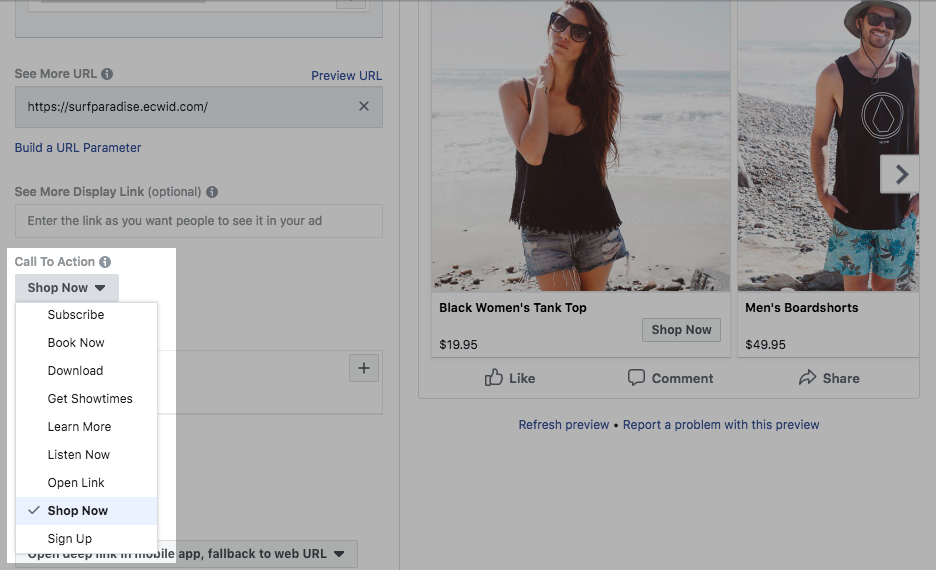 Click Review to double-check your campaign details.
Click Confirm send your campaign to Facebook for review.
You may be asked to provide a payment method for your ad account, if you haven't added one yet. When the billing is sorted out, Facebook will review your ads and they will be live. Congratulations on setting up your first Facebook Ads campaign!
After your ad campaign has ended, you can start retargeting. Check out Facebook & Google Retargeting app for Ecwid that allows you to launch a retargeting campaign in just a few minutes.
Canceling Facebook ads
You can cancel your Facebook ad campaign at any time.
To stop your Facebook ads campaign:
As long as your campaign is active, Kliken will rebill you every 30 days for your selected package amount to keep your ads online and showing to your potential customers. You can cancel your campaign at any time before your next bill date to avoid further billing.
To cancel your campaign:
From your Ecwid admin, go to Marketing → Google ads.
Click Manage.
Click on the trash icon next to the campaign you want to delete.
Go to your Facebook Ads Manager.
Click Campaigns, Ad Sets or Ads to find the campaign, ad set or ad you want to stop.
Click to check the box next to the campaign, ad set or ad you want to delete.
Select the trash icon from the action bar.
If you do not see the trash icon in your action bar, select More and choose Delete from the dropdown menu.
You can learn more in the Facebook Help Center.
10