Ecwid Starter Site is a free landing page with your store. It is available by default on all Ecwid plans and you can use it to start selling online right away.
If you don't have a website for your online store yet, the Starter Site is a great starting point for creating the online presence for your business. It's free to use and combines everything you need to start selling online.
If you have your own website, you can add your Ecwid store there and use Starter Site as well. For example, it can act as your mobile-friendly storefront in case your website doesn't have a mobile version.
In case you do not have a website, but have a domain name, you can connect it to your Starter Site. This will help customers find your online store and shop there.
In this article:
What is Starter Site?
Starter SIte is a free one-page website with your store. It has everything you need to start selling online:
intuitive editor for creating a unique website with no coding skills required,
professional responsive design that makes your site look great on any device,
SEO features,
free hosting and full maintenance by Ecwid,
online store built into the website.
Starter Site consists of several editable sections that you can combine to publish the information about your company, share your business story with your customers, post their feedbacks, show the location of your offline stores and demonstrate your products in a remarkable way.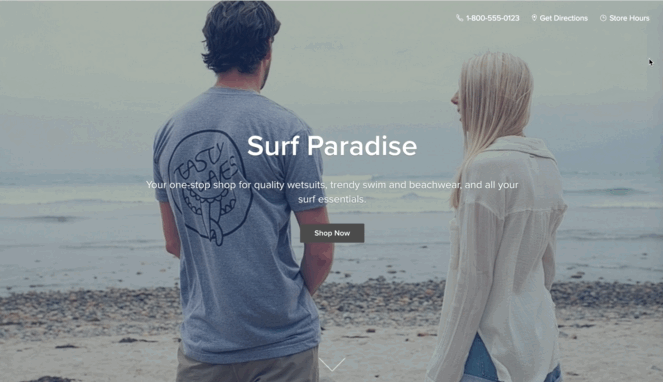 If you are looking for a fast and feature-rich solution to help you stand out online, with Ecwid Starter Site you will create a personalized page for your business that is professionally designed according to the latest ecommerce trends and can be easily adjusted for every business purpose.
Ways of using Starter Site
Start selling point
If you don't have a website yet, your Starter Site is an excellent way for the start (and we name it like that). You can already be selling while still working on your main site.
Mobile store version
Ecwid stores have a fully responsive layout. Storefronts automatically adapt to any screen size. Check out Ecwid demo store.
If your website does not have a mobile view, you can use your Starter Site as the mobile storefront. You can connect your Starter Site to a subdomain similar to https://mobile.mysuperstore.com and add a link to it to the homepage of your main website. The link can read something like "Mobile version".
Main storefront
Starter Site is a fully-featured online shop that has all Ecwid features and selling tools. Feel free to use it as your main selling channel.
Landing page
You can use your Starter Site as a landing page, where you showcase your products in a page with information about your store. You can customize the look of it so that it works best for your business.
Online catalog
Your Starter Site can be your online catalog where your products are displayed. You can remove the blocks with general information and leave just your products to show.
Design and templates
You can personalize your Starter Site to reflect your brand and present your business to customers from the best angle using the customizable content blocks and cover images. You can use all the sections provided, or combine those that work for you and hide the others.
If adding your images and hiding the block you don't need is not enough, you can change the design. Ecwid Starter Site is professionally designed according to the latest ecommerce trends. You can use its responsive template just out of the box – your store will look great. Still Ecwid Starter Site's look is very flexible and you can easily change it to reflect your brand image.
If you are a non-tech savvy person, you can choose from the preset appearance options, or use a ready-made theme from a third-party vendor. Proficient users with coding skills can dive into CSS modifications to create a unique look of the store.
If you need some inspiration, check out some beautiful Starter Site examples.
Promoting your Starter Site
When you have your products showing on your Starter Site, you need to get your customers to see them. For this you will need to promote your store in different ways.
Improve SEO
All Ecwid Starter Sites are indexed by search engines by default. You can just go with Ecwid default settings. However SEO is a thing that you can always improve:
The better is you store indexed, the more customers find it and the more sales you get. Learn more about making your store indexed.
Promote on social media
You can share your products and links to your store in Facebook, Instagram, Twitter and other social media and to turn your followers into your customers. You can just add links to posts, or use Ecwid Share buttons.
Run ads
You can run paid ads about your store. You can create Facebook ads campaigns and upload your products to Google Shopping.
To find out more about making your store famous, read our Guide to marketing.
More to read
Editing Starter Site content
Editing Starter Site design
Starter Site SEO settings
Connecting your domain to Ecwid Starter Site
Back to top