Guide to Ecwid Instant Site
Instant Site is a free website with built-in e-commerce that is included in every Ecwid account. It enables you to instantly create your own website for free and start selling online at any time.
Instant Site benefits:
Forever free: Instant Site is included in any Ecwid plan. It essentially means a free site, free hosting for it, and its full maintenance by Ecwid.
Mobile friendly: Instant Site has adaptive design and works well across different devices — mobiles, tablets, and widescreens.
Search engine friendly: Instant Site is naturally indexed by Google, and there are ways to further optimize Instant Site for search engines.
Business-tailored: With the help of ready-made themes and templates, you can fully personalize your Instant Site to express your brand style and tell your brand story.
To view and change your Instant Site settings, go to Website or to Overview → Instant Site → Manage Instant Site in your Ecwid admin.
Instant Site versions
We're constantly evolving to provide you with the best tools for your online business. That's why, currently, there are two different versions of Instant Site in use: the original version and the New-Gen one.
The original version consists of customizable blocks that allow you to easily build an attractive and functional website that looks great on desktop, tablet, and mobile. You can apply design themes for your store cover image as well as edit the chosen theme: upload your own cover image, change the typography, etc.
New-Gen Instant Site is not just an upgrade to our Instant Site, it has a completely independent site builder interface. In addition to all the benefits of the original Instant Site version, New-Gen allows applying ready-made templates, adding a wide variety of content blocks like covers or special offers from the library, creating a navigation menu, localizing in different languages, and more. Learn about New-Gen Instant Site features →
The best way to find out which version of Instant Site you're using is to take a look at the site editor. For that, click Edit Site in Website (or in Overview → Instant Site → Manage Instant Site). You will be redirected to the site editor page, where you can judge by its look: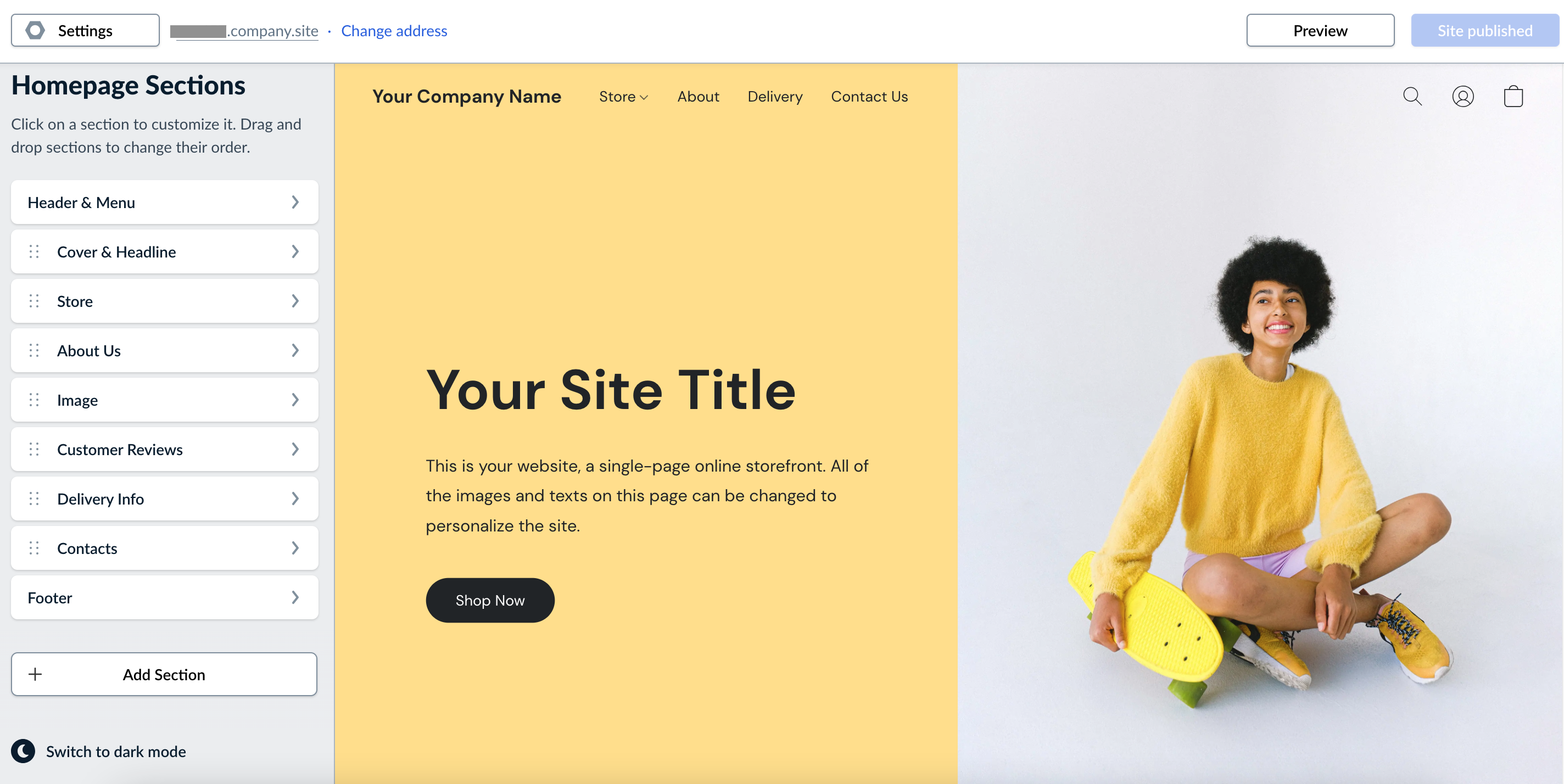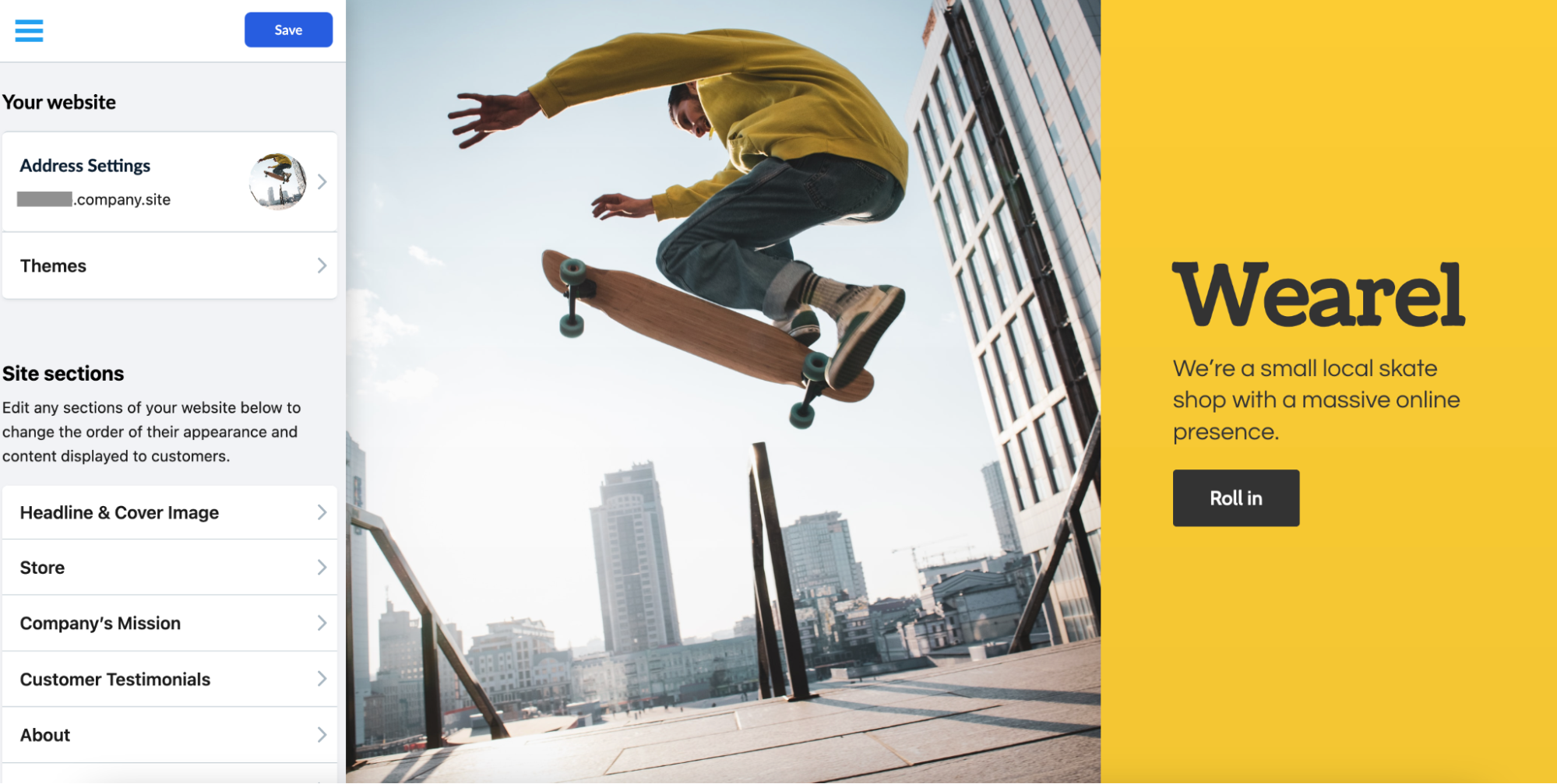 As you can see, the original Instant Site's editor is slightly different. For example, the editor menu on the left that starts with a dedicated "Your website" section.
Create your design
No coding skills are required to craft a website — Instant Site has an intuitive editor with lots of design options that help you make the site your own.
Choose the theme/template, layout, typography, colors, images and more to personalize your site and reflect your business style.
You can also further tweak and tinker your site & store design by adding CSS codes.
Learn how you can configure the design of your New-Gen Instant Site →
Learn how you can configure the design of your Instant Site →
Add your brand story
Instant Site consists of several blocks that help you present your company and explain to your customers who you are, what you offer, and what sets you apart. These blocks are:
Header
Cover
Featured Products
Customer Testimonial
About Us
Contact Us
Footer
and others, depending on the template you choose
Cover
Store
Company's Mission
About
Testimonials
Location
Contact Information
In New-Gen Instant Site, you can also add blocks like Special Offers, Delivery & Payment, Company Info, etc., if you need them. You can choose which blocks to show and how to arrange them in Instant Site to better tell your business story.
Learn more about how you can add and edit the content of your New-Gen Instant Site →
Learn more about how you can add and edit the content of your Instant Site →
Use built-in e-commerce
Instant Site has a special block where your Ecwid store appears.
You can set up your store — add your products, configure payment and shipping methods, etc. — and start selling online on your Instant Site right away.
Learn more about getting started with Ecwid →
Connect your own domain
Initially, Ecwid Instant Site is available on a free subdomain like https://12345.company.site where 12345 is your store ID.
You can replace your store ID with your store name or connect your own domain to Instant Site if you have one (custom domains can be used on paid Ecwid plans).
You will get a free SSL certificate for your site address in both cases.
Learn more about connecting your own domain to Ecwid Instant Site or changing a free subdomain name on Instant Site.
Translate site into other languages
With Instant Site, it's possible to display your site in several languages and let visitors choose their preferred language.
To make your site multilingual, you need to add more than one language to your store, and then manually add translations. You can translate cover text, navigation menu, customer reviews, and basically all content from blocks your Instant Site consists of SEO title and description are also available for localization.
Learn more about making your site multilingual →
Ways to use Instant Site
Here are some ideas on how you can use your Instant Site. It can be:
A website with an online store. Your Ecwid store is pre-added in your Instant Site. Feel free to use it as your main selling channel.
A website without e-commerce. If you are still working on your store setup or running a seasonal business, you can hide the block with the store via one button click (or temporarily remove it, if you are using New-Gen Instant Site) and use Instant Site as a plain site. While you are working on the store setup, your brand is exposed and the site is getting indexed. When you are ready to start selling, you can easily display the block with your store again.
Landing page. You can use your Instant site as a landing page if you sell and promote a few products and need a streamlined converting site design.
Online catalog. Your Instant site can be your online catalog where your products are displayed but not offered for purchase. For this, you can disable checkout.
Best practices for site design
Here are some tips on how to craft a website and fill it with content:
Break content into chunks. If you have large sections of content such as the "About Us" section or your company info, break them down into small chunks to help the customers digest.
Use high-quality photos. Effective photography helps to explain the brand message and showcase the catalog. Upload hi-res pictures for your site cover and product images. Learn more about photographing your products.
Add customer reviews. Ask your customers for feedback about purchased products and pepper up your site with their reviews to show how your products have helped them. You can add the most appealing testimonials to your Instant Site.
If you choose to use another site platform at some point (for example, you need a content-heavy blog), you can keep the progress you made and add your existing Ecwid store to your new site in a few button clicks. Learn more about
adding Ecwid to any site
.
10