"Starter Site" is a single-page website for your Ecwid store. The starter site is fully functional to allow you to launch your online store and start selling right away no matter whether you added your shop somewhere else (e.g. to a Facebook page or your website) or not. 
​How to use Starter Site
Start selling point
If you don't have a website yet, your Starter Site is an excellent way for the start (and we name it like that). You can already be selling while still working on your main site. 
Mobile store version
Ecwid has fully responsive layout. Ecwid storefront can automatically adapt to any screen size. Check out our demo store.
If your website does not have a mobile view, you can use your Starter Site as the mobile storefront.
Main storefront
Starter Site is a fully-featured online shop including all Ecwid features and selling tools. Feel free to use it as your main selling channel. 
If you want to make major changes in your store design or add more pages to it, we recommend creating your own website using any web presence platform you like and add your Ecwid store there.
Examples
Here are the examples of Ecwid Starter Sites:
https://therapybathbody.ecwid.com
​How can I brand my Starter Site?
Your Starter Site looks great as soon as you create an Ecwid account and add a few products to your store. Still, you may want to customize your Starter Site's look and feel to make it more representative of your business. You can update the Starter Site settings in your Ecwid Control Panel at Settings → General → Starter Site.
Edit Starter Site content

You can personalize your Starter site by adding information about your company, your selling locations and operation hours. Let the customers know what is great about your store and what are the advantages of purchasing from you. Add the links to your social networks to your site for your customers to be able to find your anywhere and subscribe to the updates.
You are free to upload a cover image that represents your business. Cover images need to be more than 1000 x 667 px in size. The image can be changed anytime to keep your site fresh, promote sales and events or showcase new products.
Change Starter Site logo
Upload your logo to the Starter site to make your brand more recognizable. We recommend using images of 240x100 px size.
​Customize Starter Site URL
Change the name of your URL to match your brand. You can check your Starter Site link in your Ecwid control panel → Settings → General → Starter Site. The default link is https://store[store id].ecwid.com/
You can change it to your own link on our domain ecwid.com (e.g., http://mystore.ecwid.com), or make your Starter Site available under your domain or subdomain.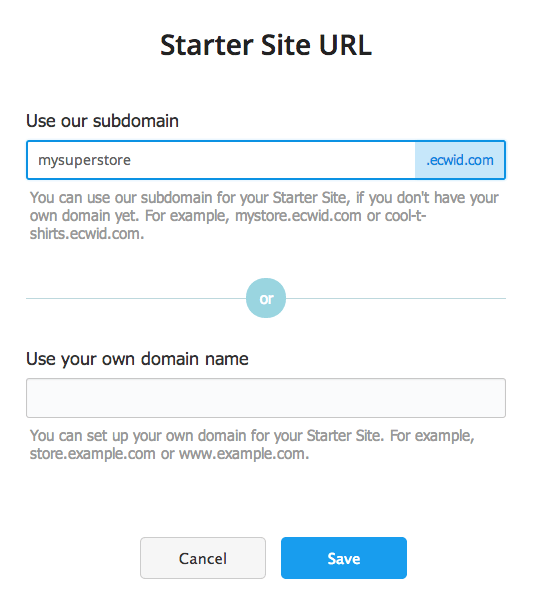 Subdomain on ecwid.com
Log into your Ecwid Control Panel
Go to the Settings → General → Starter Site page
Click Change Starter Site URL button.
Enter a name into field "Use our subdomain"
Click "Save" 
Connect your own domain
If you have your own domain, you can connect your Starter Site to it. Your Starter Site will appear under your website link and it will be running on HTTPS, i.e. it will be protected with a security certificate, SSL.
You can set up your own domain for your Starter Site, like example.com, please see the steps below:
1. Log in to your domain registrar's control panel. You do not know who your domain registrar is? Here is an article on how to find out).
2. Create an A-record for your [example.com] domain and point it to our IP-address: 34.193.83.23
3. To make your Starter Site available at [www.example.com] as well, create a CNAME record for your domain[example.com] and specify www as a name/alias for it. You will need to add the following to DNS record:
www IN CNAME @ or www IN CNAME example.com
If you are not sure how to make these changes, please contact your domain registrar support.
4. Go to Ecwid Control Panel → Settings → General → Starter Site, the [Change Your Starter Site Address] section and click on [Change URL]: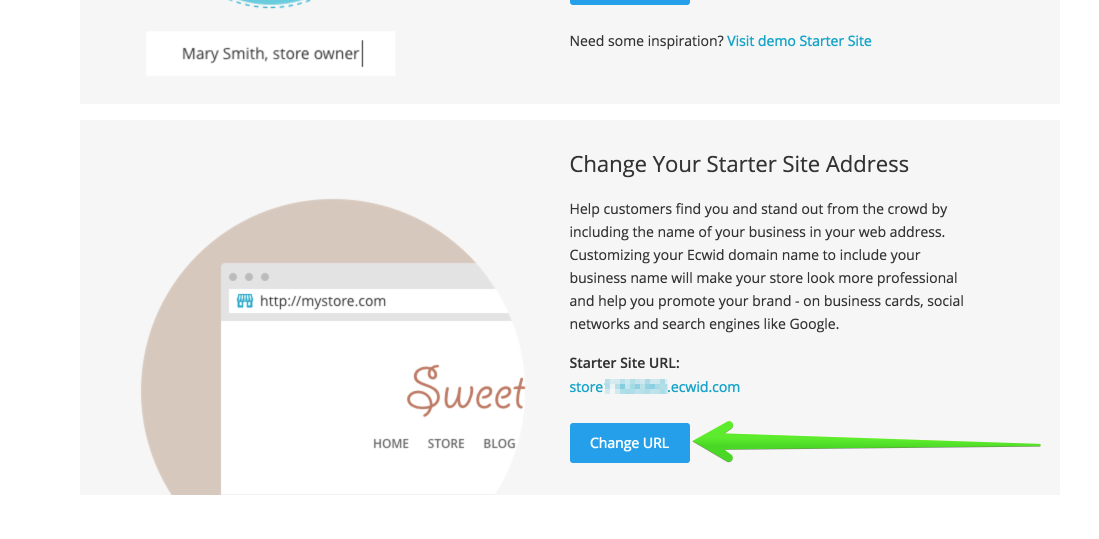 5. Enter the domain under "Use your own domain name":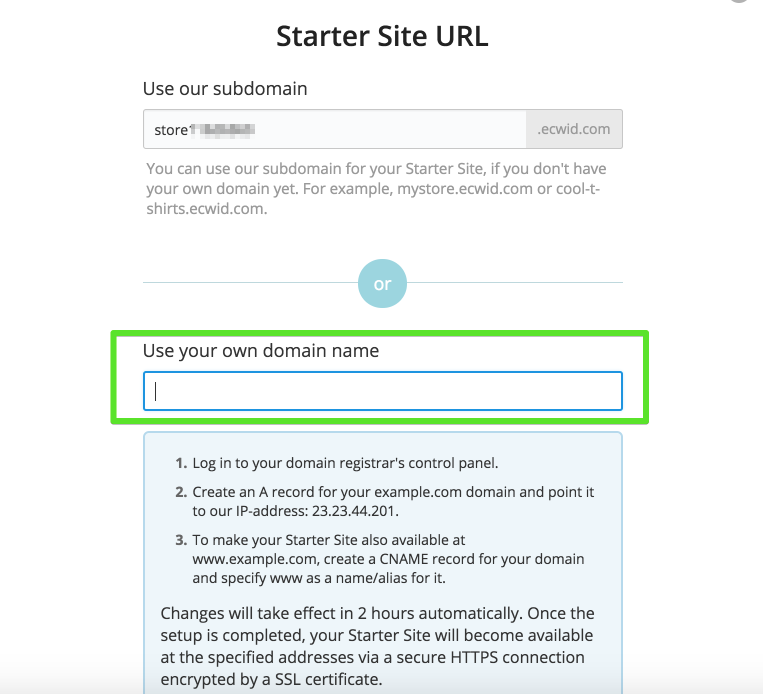 Changes will take effect in 2 hours automatically. Once the setup is completed, your Starter Site will become available at the specified addresses via a secure HTTPS connection encrypted by an SSL certificate.
​Advanced design modifications of the Starter Site
As any Ecwid storefront, your Starter Site is super flexible when it comes to design customization. You can change styles of any text, buttons and other blocks of your storefront by means of CSS modifications. Find more details on the matter in our Help Center.
If you need a unique custom design for your store or need multiple style changes, we can help. Please fill in this form:
Custom design for Ecwid store
. We will be glad to help you with designing your Ecwid store.
​I want to add more features to my Starter Site: more pages, a contact form, a blog, etc. What should I do?
Starter Site was designed to provide a quick way to start selling for those who don't have a web site yet. A merchant can register an Ecwid account and start selling online in minutes — that's why it's so easy-to-use and lightning fast.

To extend and personalize your web presence, you may want to add extra features or content (e.g. a blog,  or custom menu). At this point, you should consider using one of the sitebuilders or CMS systems widely available on the web (e.g. Wix, WordPress, Joomla or others). That would be an easy switch for you since Ecwid is compatible with any sitebuilder. You'll get access to the new site building features while keeping all of your store products and settings intact. Just add your existing Ecwid store to your new site and continue selling with no downtime.
Back to top