Ecwid provides PCI-DSS Level 1 validated, easy-to-use and powerful ecommerce plugins for both WordPress versions, WordPress.ORG and WordPress.COM.
WordPress.ORG is fully-customizable software that you can download and install to your web hosting. Started as just a blogging system, WordPress has evolved to be a full content management system with thousands of plugins, widgets and themes.
WordPress.COM is an online service which lets you get started with a new and free WordPress-based blog in seconds, but is a bit less flexible than the WordPress.ORG you download and install yourself.
If you need help choosing the right platform for your website, you can read more about the pros and cons of each variant in
WordPress Help
or in their
blog
.
No matter which one you use, Ecwid will integrate beautifully into both.
In this article:
Check a video on how to add your store to a Wordpress site:
Adding the store to WordPress.org
If you run your website or blog on the self-hosted WordPress.org platform, you can easily add Ecwid to it by installing Ecwid Shopping Cart plugin.
Start by opening your WordPress Admin area and navigate to Plugins → Add New.
Type "ecwid" in the search field. Find Ecwid Shopping Cart that comes as a result: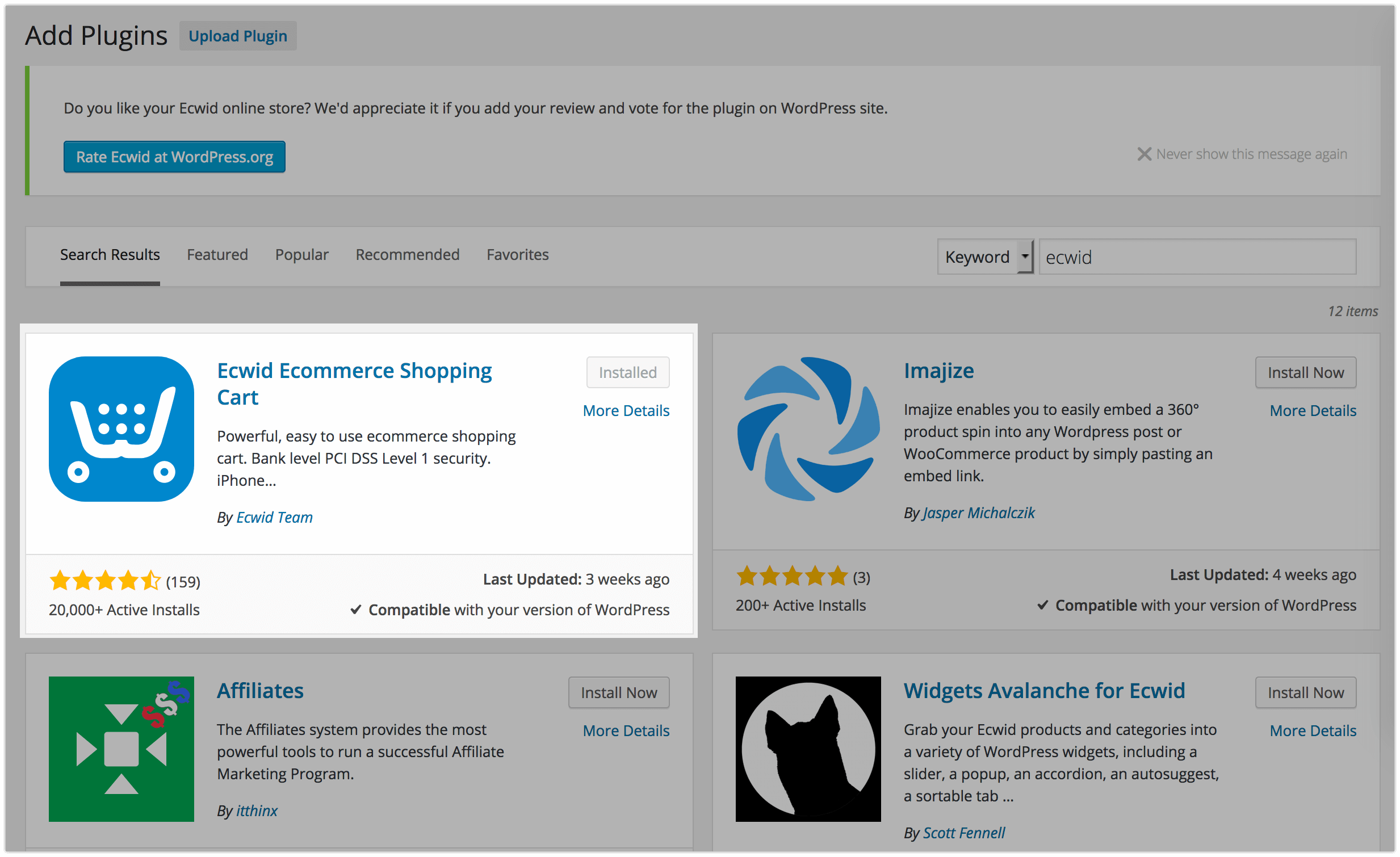 Click Install now.
When installed, click Activate. After that the Ecwid Store link will appear in the side menu.
 Now you can connect your Ecwid profile with the plugin.
In the side menu navigate to Ecwid Store → Setup.
If you have an active store, click Connect:

It will direct you to your Ecwid account.
In case you do not have an account yet, click the "Create account" link below and complete the registration.
Grant permissions to the Ecwid app.
Now there is a new Store page on your website, where your Ecwid online store resides.
Adding the store to WordPress.com
If you run a blog at WordPress.com, you can open Ecwid online store right inside it with a few clicks.
You need to have WordPress.com Business plan to install third-party plugins to your blog. In Ecwid you can be subscribed to any plan, including the Free option. Visit the
WordPress.com site
 to learn more and sign up.
Sign in to your WordPress profile at https://wordpress.com/ and select Plugins from the side menu:
Click on the search icon at the top right and type in "ecwid" to the search field. Choose the Ecwid Ecommerce Shopping Cart plugin that comes as a result:
Ecwid plugin page will open where you need to find the Install button and follow the further steps:
When Ecwid is installed successfully, you will see the following screen. Set the activation toggler to Active. Also we recommend to enable Autoupdates not to miss any improvements that we make:
That's it! Check the Store page to view your newly created online store.
Back to top