Ecwid provides PCI-DSS Level 1 validated, easy-to-use and powerful ecommerce plugins for both WordPress versions, WordPress.ORG and WordPress.COM.
WordPress.ORG is fully-customizable software that you can download and install to your web hosting. Started as just a blogging system, WordPress has evolved to be a full content management system with thousands of plugins, widgets and themes.
WordPress.COM is an online service which lets you get started with a new and free WordPress-based blog in seconds, but is a bit less flexible than the WordPress.ORG you download and install yourself.
If you need help choosing the right platform for your website, you can read more about the pros and cons of each variant in WordPress Help or in the blog.

No matter which one you use, Ecwid will integrate beautifully into both.
Adding the store to WordPress.org
If you run your website or blog on the self-hosted WordPress.org platform, you can easily add Ecwid to it by installing Ecwid Shopping Cart plugin.
Start by opening your WordPress Admin area and navigate to Plugins → Add New.
Type 'ecwid' in the search field. Find "Ecwid Shopping Cart" that comes as a result and click "Install now".
When installed, click "Activate". After that the "Ecwid Store" link will appear in the side menu.
Now you can connect your Ecwid profile with the plugin.
In the side menu navigate to Ecwid Store → Setup.
If you have an active store, click "Connect". It will direct you to your Ecwid account where you can provide the required permissions. In case you do not have an account yet, click the "Create account" link below and complete the registration.
Now there is a new "Store" page on your website, where your Ecwid online store resides.
Adding the store to WordPress.com
If you run a blog at WordPress.com, you can open Ecwid online store right inside it with a few clicks.
You need to have WordPress.com Business plan to install third-party plugins to your blog. In Ecwid you can be subscribed to any plan, including the Free option. Visit WordPress.com site page to learn more and sign up.
Sign in to your WordPress profile at https://wordpress.com/ and select "Plugins" from the side menu.
Click on the search icon at the top right and type in "ecwid" to the search field. Choose the "Ecwid Ecommerce Shopping Cart" plugin that comes as a result.
Ecwid plugin page will open where you need to find the "Install" button and follow the further steps.
When Ecwid is installed successfully, you will see the following screen. Set the activation toggler to "Active" state. Also we recommend to enable "Autoupdates" not to miss any improvements that we make.
If you need to edit Ecwid plugin, click on the "WP Admin" button.
That's it! Check the "Store" page to view your newly created online store.
Adding the store to several pages
When you have installed Ecwid plugin, you can easily embed your Ecwid store to other pages of your blog.
In your WordPress Admin panel navigate to the page where you want the store to appear.
Click the "Add store" button above the text editor area.
Select the widgets you want to display on the page: search bar, minicart, categories. The main product browser widget will be displayed by default. Click "Insert into page".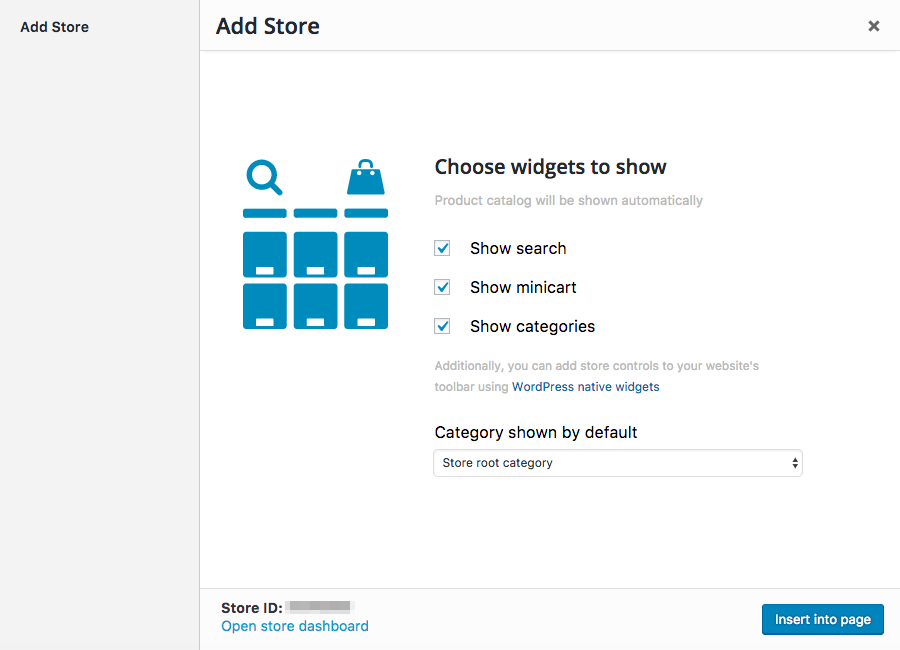 4. In Text area you will see a so-called shortcode that will render the store, when the page is published.
[ecwid widgets="productbrowser search categories minicart" default_category_id="0" 
minicart_layout="MiniAttachToProductBrowser"]

7. Additionally you can control the layout of the shopping bag widget by changing 'minicart_layout' parameter in the shortcode. Supported values are:
'attachToCategories' will display the shopping bag attached to the horizontal menu,
'floating' will display the shopping bag floating over the page,
'Mini' will display the shopping bag in compact view,
'MiniAttachToProductBrowser' will display the shopping bag in compact view attached to products.
Setting up the store 
When Ecwid Shopping Cart is installed to your WordPress backend, it automatically creates a Store page and adds the store to it with default settings. You can easily change the store layout and display settings, if needed.
Store elements and appearance
Start by opening "Pages" in the side menu and clicking the "Edit" link below the "Store" page.
Click the "Edit store" button.
Under "Store elements" you can select which widgets you want to display on the page: search bar, minicart and categories. The main product browser widget is displayed by default. You can also select the category that you want to show when the store loads on the page.
You can change the look of your storefront on the "Design" tab in your Ecwid Control Panel. In WordPress Dashboard go to Ecwid → Dashboard → Settings → Design. Here you can select the size and layout of your product images displayed in the catalog, enable the Color Adaptive mode and easily hide some storefront elements. Check out the guide on changing store design for more details about altering the look of your store.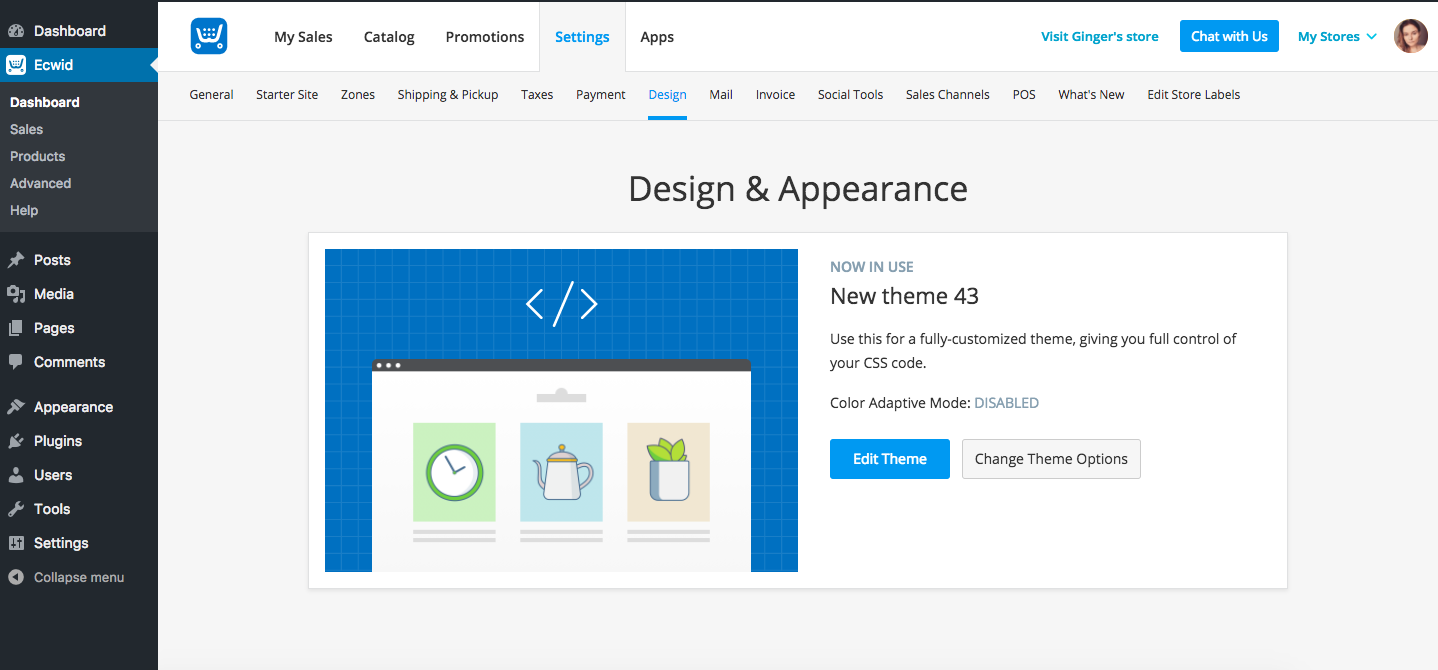 Sidebar widgets
Ecwid Shopping Cart plugin allows you to add the store elements to the sidebar area of your WordPress website to make the store more visible and easy to access.

To manage the sidebar widgets, navigate to Appearance → Widgets in WordPress Dashboard. There you can activate the following widgets:
Shopping cart
Shopping cart (mini)
Shopping cart (floating)
Product search
Store root categories
Store page link
Recently viewed products
Latest added products
Random product
Store menu
With the Ecwid Shopping Cart plugin you can add links to the store elements to the main menu of your WordPress website, so that your customers could easily navigate to the store and category pages, access their store profile and open the shopping bag.
To add the store menu go to Appearance → Menus in your WordPress Dashboard. Click "Store" to expand the drop-down list. There you can select:
Cart: adds a link to the Shopping bag,
Product Search: adds a link to the page with the search results,
My Account: adds a link to customer profile page,
Store: adds a link to the main store page,
Store with Categories Menu: adds a drop-down with the store root categories.
Advanced settings
 Single Sign-On
Single Sign-On (SSO) allows your customers to have a single login for your WordPress website and your Ecwid store. When someone logs in to your site, they will automatically be logged in to their customer profile in the store without entering their email and password again.

To enable the SSO feature navigate to Ecwid Store → Advanced in WordPress Dashboard and check the corresponding option.
Integration with site search (beta)
Ecwid stores the product data in a secure cloud storage. The product pages are displayed on the fly when a customer browses your store. Basically, the products are not stored on the website, that's why the website search can not find product pages while searching through the site pages and blog posts.

This option enables a local storage mode. So, the products will be stored both in the cloud storage and on your website. The website search results will list product pages as well as the regular pages and posts of your site.

To enable the local storage mode for products go to Ecwid Store → Advanced in WordPress Dashboard and check the corresponding option.

Next, click the "Synchronize products" link and allow a few minutes to complete the sync. Please note that this functionality is in beta. If you have any problems with it, please let us know.
Adding one product to the page
If you have one or just a few products in your store, you can add them to the blog pages individually instead of installing the whole product catalog.
Make sure, you have installed Ecwid plugin for WordPress.
In your WordPress Admin panel navigate to the page where you want the product to appear.
Click the "Add product" button above the text editor area.
Select the product you want to display on the page from the list or search it by title or SKU number.
5. Switch to the "Customize Widget" tab in the side menu. Here you can select the product properties that you want to display: product image, title, price, the list of product options, the quantity field and the "Add to bag" button.
6. Additionally you can choose to display the price on the "Buy Now" button, to show a border around the product entry and to center align the entry on the page.
7. When you have chosen all the options you want, click "Insert" to add this item to the blog page. In the Text area you will see a special shortcode, similar to:
[ecwid_product id="5002" display="picture title price options qty addtobag" version="2" 
show_border="1" show_price_on_button="1" center_align="1"]

The shortcode will render the product when the page is published. 
Managing the store
The Ecwid Shopping Cart plugin allows to manage your store inside WordPress Admin Panel.
You can access the full store backend, if you navigate to Ecwid Store → Dashboard.
To view and manage the orders, switch to Ecwid Store → Sales.
Under Ecwid Store → Products you can work with your catalog.
Alternatively, you can open Ecwid Control Panel directly via https://my.ecwid.com or inside mobile applications for iOS and Android.
Useful extensions for WordPress
There is a number of great third-party plugins for WordPress that will help you enhance the design and functionalities of your Ecwid store. Here is a list that we can share:
FAQ
Is Ecwid Shopping Cart plugin secure?
We pay maximum attention to the security in Ecwid. Keeping the sensitive data of our merchants and customers safe is our highest priority.

Ecwid is PCI DSS validated Level 1 Service Provider which is the gold standard for e-commerce solutions worldwide.

The Payment Card Industry Data Security Standard (PCI DSS) is a set of security standards developed by Visa, MasterCard, American Express, Discover and JCB credit card brands. The standards aim at protecting all card holders and impose on all organizations (be it online or offline) who anyhow deal with credit cards. Usually these are companies like payment processors (e.g., PayPal, Stripe, Authorize.net, etc), banks, e-commerce solutions which process credit cards.

If you sell or buy with Ecwid, you can be sure that all sensitive information is completely safe and secure.
You can check Ecwid Attestation of PCI DSS Compliance here. If necessary, you can provide PCI DSS compliance reports to your customers, the acquiring banks and card brands you do business with.

For more details, please visit Customers' data security in Ecwid.
Can I add my store to Facebook?
Surely, yes. It will take you 5 minutes to publish the store on Facebook and start selling to millions of Facebook users.
1. Start by opening Ecwid Control Panel in your WordPress Admin. For that go to Ecwid Store → Dashboard.
2. Then navigate to Promotions → Sell on Facebook.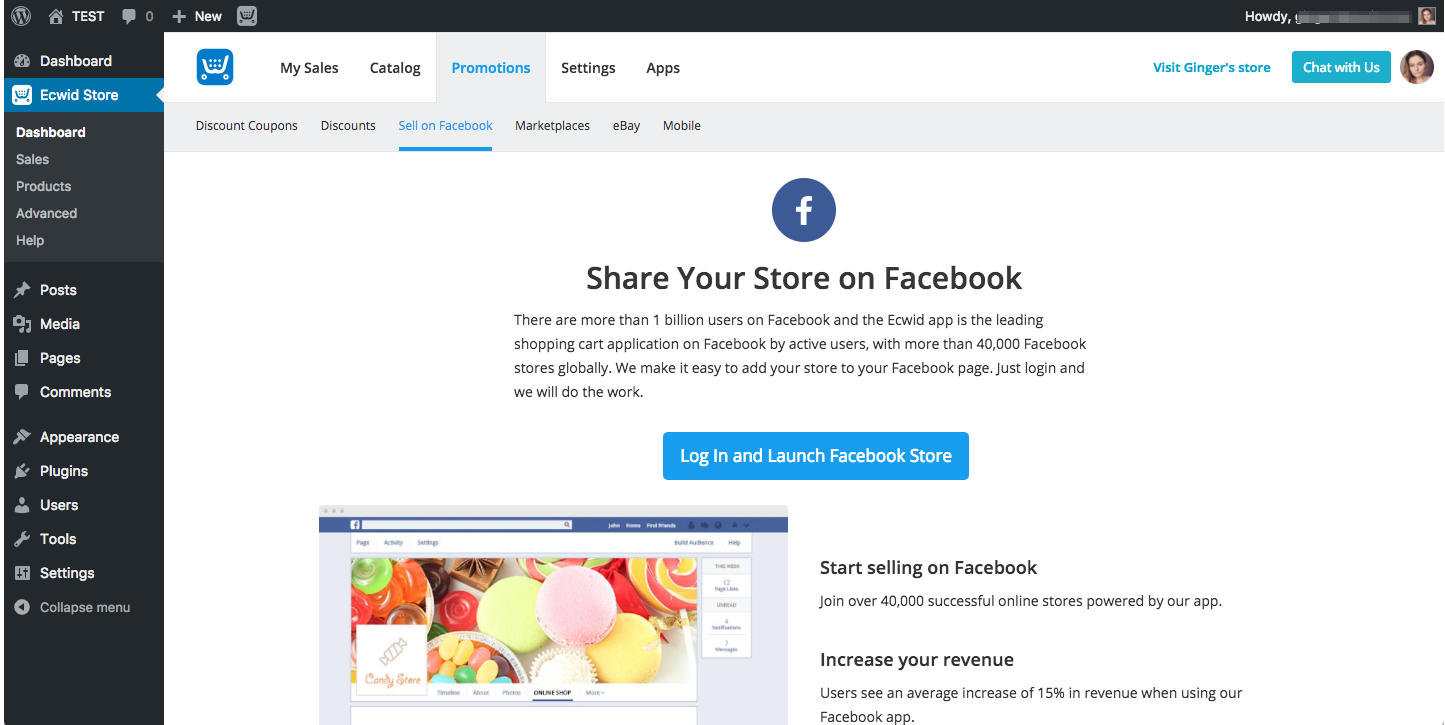 3. Click "Login and Launch Facebook store". You will be asked for a few Facebook permissions to get a list of Facebook pages where you are the admin.
4. Complete the setup and your store is live on Facebook. Congratulations!
How to show different store categories on different pages?
You may want to create your own navigation in the store so that each of your product categories resides on a separate page of your site. Ecwid Shopping Cart plugin supports such a setup. Here is how you can achieve it.
1. Create a new page for each product category or select an existing one in WordPress Admin panel → Pages.
2. Open the page for editing and click the "Add store" button.

3. In the popup under the "Store elements" tab select the widgets you want to show on the page. You can also select the product category that will be displayed when the page loads from "Category shown by default" drop-down. Click "Insert into page".
5. Repeat steps 1-3 for each category page you want to show.
How to display the store on the site homepage?
You may want your customers to see the online store and start shopping right when they open your website. This is how you can display your store on the front page of your WordPress site.
In your WordPress Admin panel navigate to Settings → Reading.
Check the option "Static page" for "Front page displays" setting.
Select the online store page that should be displayed as a home page in the drop-down below and save the changes.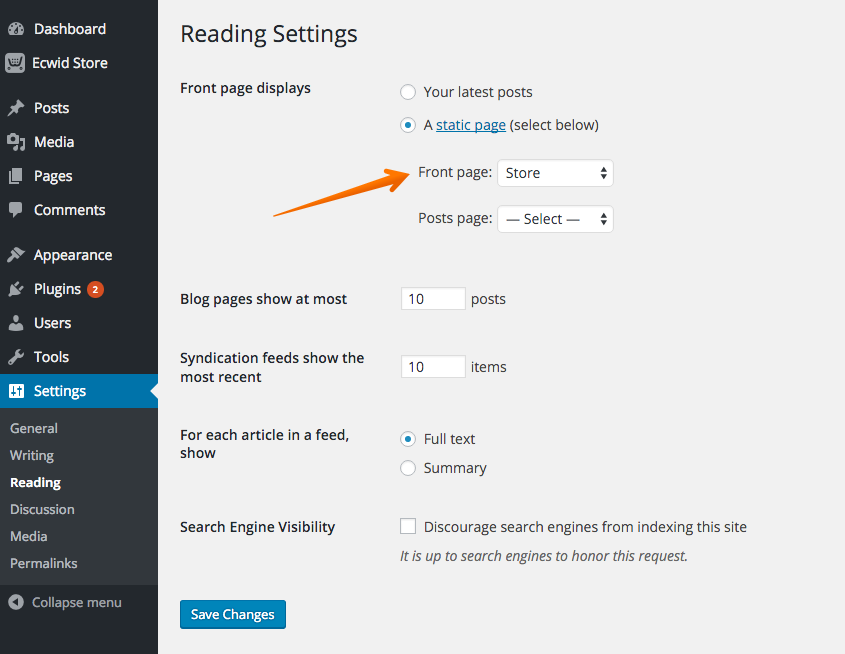 Now your online store will be displayed on the main page of your site.
How to add products to the sitemap?
A sitemap helps search engines like Google, Bing, Yahoo to better index your site, as it allows the crawlers to get the complete structure of your site much faster.

If you want to create a sitemap for your Wordpress site, we can suggest using special plugins like Google XML Sitemaps or Yoast Wordpress SEO. These plugins are fully compatible with Ecwid and will add the links to the product and category pages of your store to the generated sitemap.
What design themes for WordPress.org do you recommend?
Ecwid is compatible with any Wordpress theme. Be it a free theme from WordPress catalog, a premium theme by a third-party vendor or a custom-made theme, your Ecwid store will work good with it.

Ecwid Shopping Cart plugin has a built-in Chameleon skin tool that makes Ecwid match the overall look of your Wordpress theme. Whatever theme you use, Chameleon detects the predominant colors of the website (like colors of text, links, background and buttons) and automatically uses them in the store design.

If you haven't picked the theme for your WordPress.org site yet, we can share a few themes that were specially adapted for Ecwid:
Can I restrict access to my Ecwid account to certain users?
Yes, you can. You can restrict access to your Ecwid store backend in WordPress with the help of the User Role Editor plugin. Here's what you need to do. 
1. Install the plugin to your WordPress Admin area.
2. Go to the "Users" menu and find the user, for whom you want to deny access to the Ecwid Control Panel. Click the "Capabilities" link.

3. Use the "Quick filter" field and find the "manage_options" capability. Disable it, update the changes and this person will not be able to access your Ecwid store backend when they are using your WordPress Dashboard.