WordPress.org is a very popular and world-wide used content management system (CMS) that provides the simplest way to start a blog or website. Ecwid is an easy and fast way for you to open an online store right on your Wordpress site.
Installation
If you run your site or blog on self-hosted WordPress platform, you can quickly and easily add Ecwid store on any page of your site. Just install this plugin: http://wordpress.org/plugins/ecwid-shopping-cart/ as a usual plugin via your site administration panel. Please, follow these steps install Ecwid plugin:
In your WordPress admin backend, navigate to Plugins → Add New.
Under Search, type in Ecwid and click Search.
In the search results find the Ecwid Shopping Cart plugin and click Install now to install it.
When plugin is installed click Activate Plugin link.
Navigate to Ecwid Store → General page in your WordPress admin backend and follow the instruction provided there.
You can also take a look at this video to observe steps to install Ecwid on a Wordpress site:


Setup
Once you install the plugin you will be able to add your store to your WordPress site or create a new Ecwid account. So you can create a new store, or connect your existing Ecwid store to the site. The plugin will create a page called Store on your site.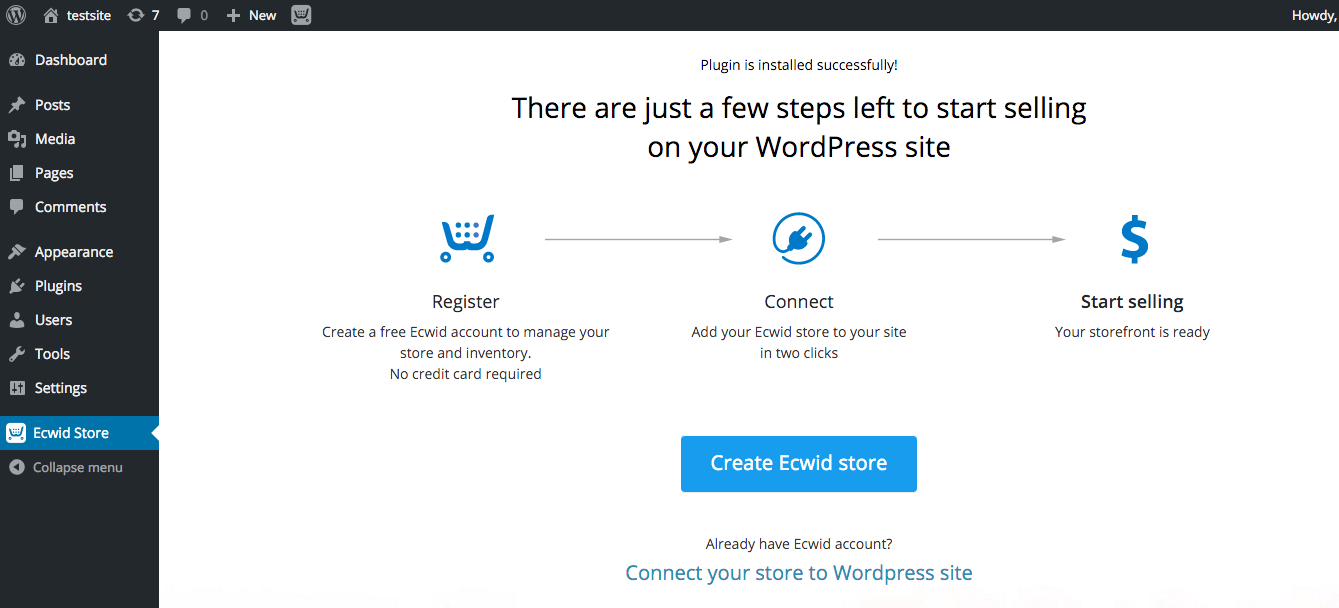 On the next step you can proceed to your store configuration.
Store layout
In the Store setting popup you can choose the widgets that you want to show on your store page. Navigate to the Appearance tab to set the product browser layout:
Set the number of products per page for each of the product browser views
Choose the category that you want to open by default
Set the number of categories per row
Choose the default view mode on product pages
Choose the default view mode on search results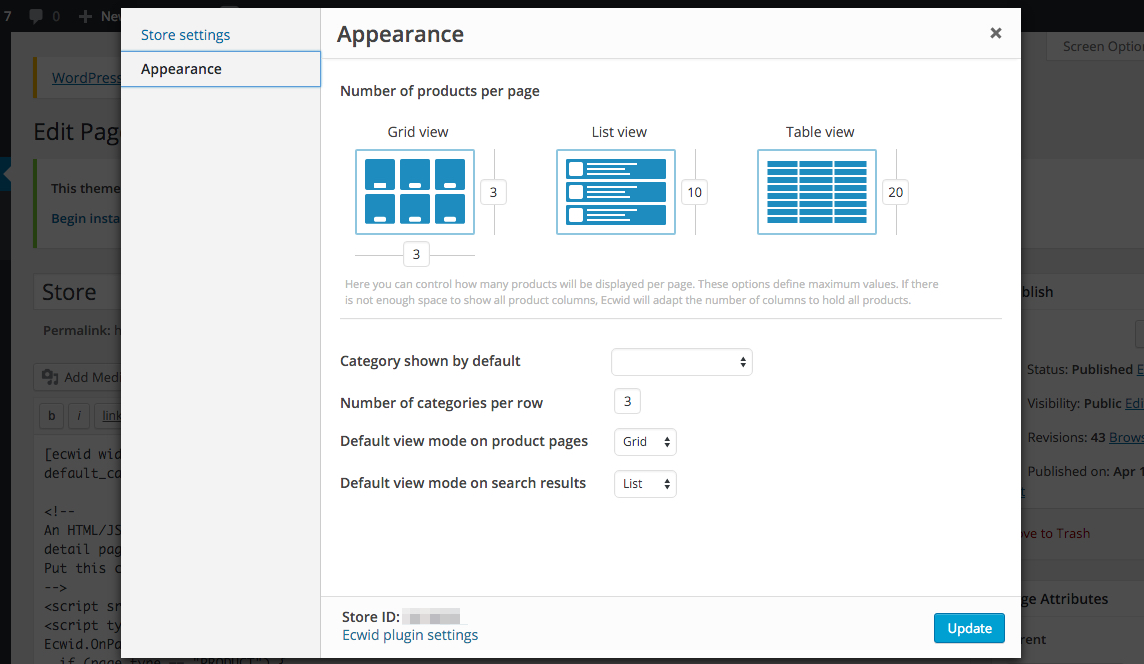 Sidebar widgets
On Appearance -> Widgets page you can activate the built-in sidebar widgets provided by the plugin:
Minicart widget allows you to place a shopping bag icon into your sidebar
Search widget allows you to create a search box in the sidebar and let your customers look for the products they want on every page of the site
Vertical categories widget is useful when you have a wide sidebar and want to list your store categories there
Store page link is a simple link to your store page, which can be very useful when you don't have a pages navigation menu and want to provide your customers with a simple way to open the store page
Recently viewed products is a sidebar widget allowing your customers to see what products they visited on your site and return to those product pages. This is a great tool to increase visibility of the store products and generate more sales, because the sidebar is in most cases displayed on every page of the site and thus always visible for the customers. The links and images in the sidebar are updated automatically as the customer browses the store. So the customer can anytime return to the product they previously opened, and probably decide to buy it. 
Drop-down Categories Menu
You can add the store categories menu right to your site menu for your customers to easily get to the category of products they are interested in right from the site menu. Just open "Appearance -> Menus" in your WordPress control panel and add the "Store with Categories Menu" item to your site menu. A drop-down menu containing your store categories will automatically appear on your site.
Manage your store
To add products and categories to the store, setup shipping methods, payment options and manage your orders you need to access your Ecwid Dashboard. In your WordPress admin area go to Ecwid store tab -> Dashboard. On this page you have full access to the store backend.

Alternatively you access your Ecwid control panel via this link: https://my.ecwid.com

You can also manage your store using our mobile apps for iOS and Android. You can download them:
- from the App Store
- from Google Play
Advanced setup
Design
Chameleon skin
Ecwid is designed to automatically adapt to any site structure and screen size to make your store looks good anywhere you add it. However, every site has its own design, especially when it comes to Wordpress with a ton of great themes available. Chameleon skin makes Ecwid match the design of your Wordpress theme. Whatever theme you use, Chameleon detects predominant colors and font and automatically uses them in your product catalog.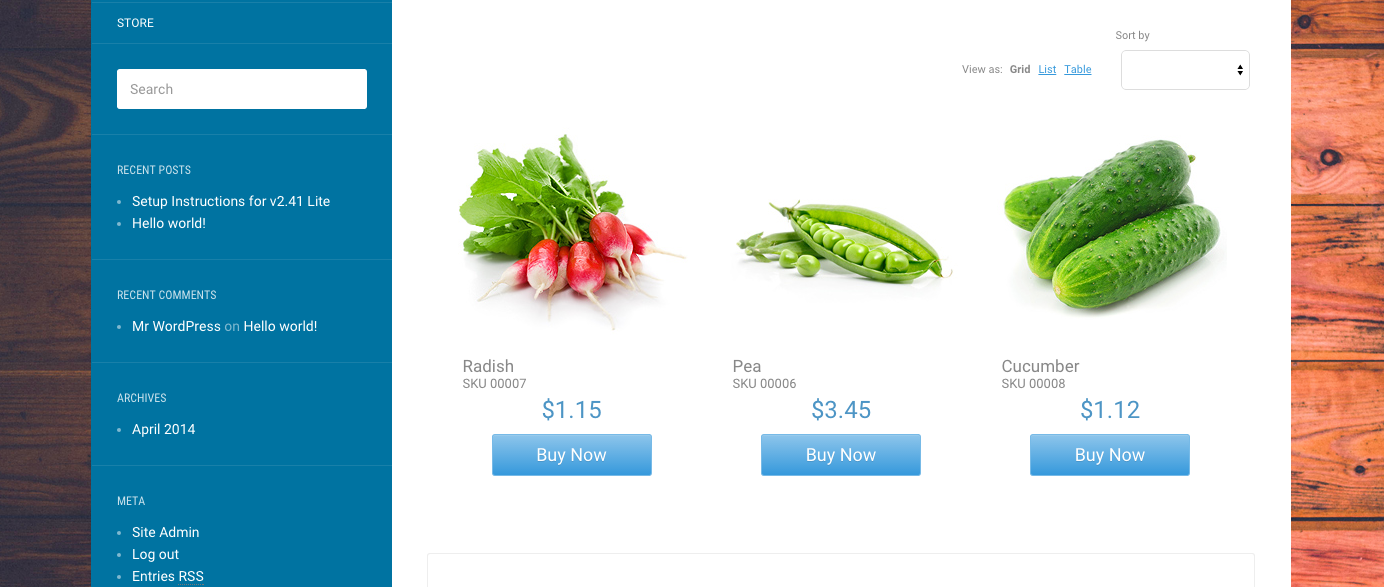 You can enable Chameleon on the "Advanced" tab in the Ecwid plugin settings in your Wordpress backend.
Chameleon is designed to make Ecwid stores on Wordpress adaptive to the site design from the beginning. However, if you already customized your Ecwid CSS theme to make your store look like your site, you probably don't need this new feature. Anyway – feel free to enable it to test the results. If that doesn't work well with your custom design, just untick the Chameleon cheсkbox – you will get no side effects.
Custom design
If you want to create your own unique look for you store, it is totally possible as Ecwid allows you to create your own design theme with the help of CSS. Please refer to this article for details: How to change Ecwid design
Single Sign-On
Automatic login to your store using the "Single Sign-On" tool allows your customers to shop on your site without having to sign in to Ecwid (i.e. if a customer is logged in to your site, he/she is logged in to your store automatically, even if he/she didn't have an account in your store before).

This feature is available for paid users only.
Extensions
You can enhance your store capabilities with the help of extensions:
Themes
Ecwid is compatible with any Wordpress theme. Be it a free theme from the WordPress theme catalog, a premium 3d party or a custom-made theme, your Ecwid store should work good with it.
If you're looking for the best theme for your site, we have some themes to recommend.
Recommended themes.
There are Wordpress themes that were adapted for Ecwid:
FAQ
How secure is this plugin?
When you sell online, security is a major question. E-commerce sites are the points where people, both buyers and sellers, leave their most sensitive information such as their names, addresses, and payment details. That is why it is so important to be sure that all the data associated with the store are processed securely and cannot be accessed by violators

We in Ecwid made sure all the merchants' and buyers' data are protected. We pay maximum attention to security in Ecwid, keeping data of the merchants and buyers safe is our highest priority. 

1) Ecwid is PCI DSS validated.
The Payment Card Industry Data Security Standard (PCI DSS) is a set of security standards developed by Visa, MasterCard, American Express, Discover and JCB credit card brands. The standards aim at protecting all card holders and impose on all organizations (be it online or offline) who anyhow deal with credit cards. Usually these are companies like payment processors (e.g., PayPal, Stripe, Authorize.net, etc), banks, e-commerce solutions which process credit cards. 

Ecwid is PCI DSS validated Level 1 Service Provider which is the gold standard for e-commerce solutions worldwide. So all Ecwid customers' payment information is completely safe. This also means that when selling online with Ecwid, you can provide PCI DSS compliance reports to your customers, the acquiring bank and card brands you do business with. You can check Ecwid Attestaion of PCI DSS Compliance here: http://static.ecwid.com/wp-content/themes/ecwid/docs/Ecwid-2015-PCI-DSS-Attestation-of-Compliance.pdf

Ecwid is integrated with 45+ trusted payment gateways which are also PCI DSS compliant so all the payments are processed securely. 

More details: Customers' data security in Ecwid

2) Store data is secured.
Ecwid is a hosted SaaS shopping cart, which means all stores data (products, categories, images, orders, etc.) are hosted on our servers and delivered to the customers in background by means of AJAX. We rely on secure Amazon Web Services (particularly, Amazon EC2) to store Ecwid data and applications. As a result of such an approach, you entrust your store data to Ecwid and not to anybody else, regardless of where your store is installed. We take care of backups as well as of your store security, software updates, server maintenance and many other routine tasks. 

We have an inhouse team of engineers who work on maintaining and improving the system, plus automatic monitoring of server activities 24/7. So all the technical work is done totally by us, you don't have to think about it. More details in this article: Backups

This means that in case your site or hosting is down for some reason, the store is up and running. Even if your site or hosting is vulnerable to malware or hacker attacks, your store (storefront and backend) is not, it is totally safe on our servers.

You might as well move to a different site, you will be be able to put the store on a new platform in no time.
How to add my store to Facebook?
It is totally possible to add your store to your Facebook business page and sell right there. All the orders placed via Facebook storefront will be managed in the same Ecwid Dashboard. If you do not have an Ecwid account yet, you can create it on Ecwid site and then add the store to your Facebook page following the instructions on our app page here: http://apps.facebook.com/ecwid-shop/ Likewise you can add your existing store to to Facebook page and manage both storefronts from the single control panel. 

Please check the detailed instruction on adding your store to Facebook in our Help Center here: Facebook
How to show different store categories on different Wordpress pages?
You may want to create your own store navigation on your Wordpress site so that each of your store categories will reside on a separate Wordpress page. Ecwid plugin supports such a setup. Here is how you can do that:
Create a separate Wordpress page for each category (WP admin backend -> Pages).
Click "Add store" button.

In the popup specify the widgets you want to show on the page.
Use the "Appearance" tab to specify the default category and the categories and products layout.
How to add a single product on a page or post of my site?
In addition to embedding a whole product catalog on your Wordpress site, you can also feature a single product on a separate page or blog post of your site and allow your customers to purchase the product right from that page. You will need to use a special shortcode for this.
To get the code:
Go to your Ecwid Dashboard page
Open the needed product page
Navigate to Embed product tab
Grab the code under "Copy the following code to your Wordpress site to embed the product":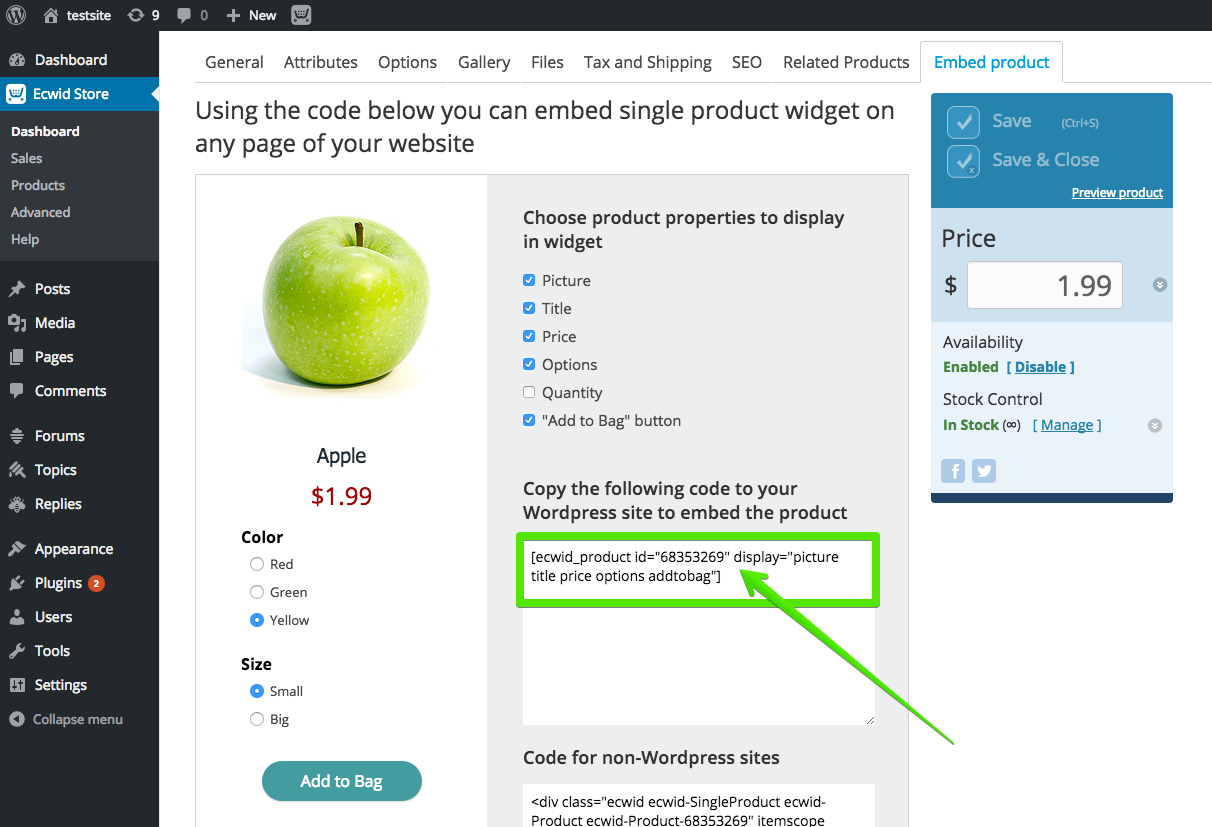 If you do not have this code in your Dashboard, it is easy to generate the [ecwid_product] shortcode yourself.
To embed a product on a page or post
Open the page or post in the editor in your Wordpress site backend ("Pages" or "Posts" section correspondingly)
Add the following code to any place of the page code: [ecwid_product id="

12345

"]
Do not forget to replace 12345 with the actual product ID. See also: How to get ID of your product
Save the changes
That's all, the product widget should appear on your site. 
In addition, the [ecwid_product] shortcode supports several parameters that you can use to customize the look of product on your site. Here are them:
1. 'display' defines which elements to show in the product widget and the order in which the elements appear. The following elements are supported:
picture
title
price
options
qty
addtobag
'link' defines whether the picture and title of resulting widget should be linked to the product details page inside the main Store page on your site. Supported values:
Examples:
[ecwid_product id="12345"]
[ecwid_product id="12345" display="picture title price"]
[ecwid_product id="12345" display="title picture"]
[ecwid_product id="12345" display="picture title addtobag" link="no"]

How to display the store on the site homepage?
To display the products on the homepage of your site, please, follow these steps:
Open your Wordpress site admin backend
 Navigate to "Settings -> Reading"
Enable the "Static page" mode under the "Front page displays" option
Choose your store page in the drop-down list as the one that should be displayed on the main page
Save the changes and go check your site.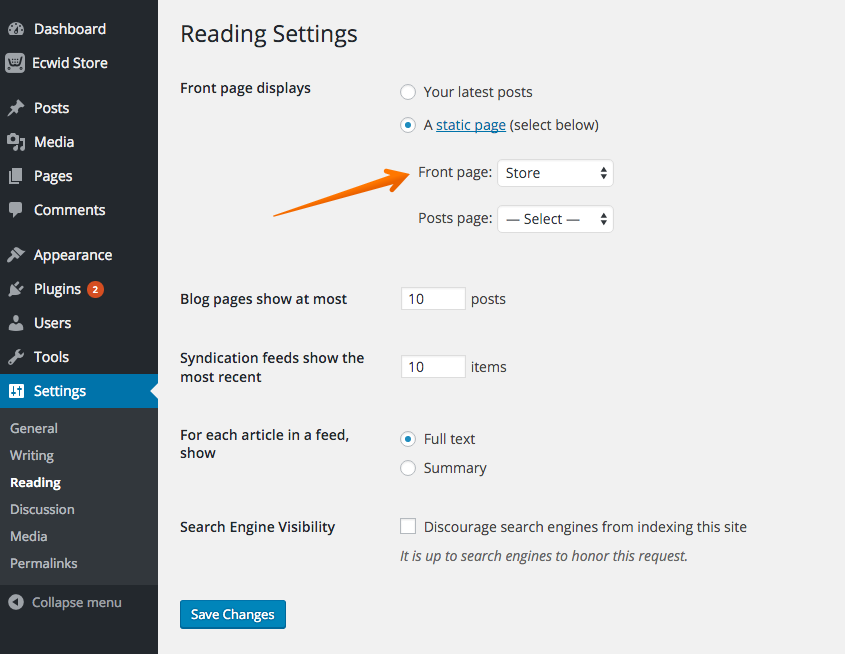 How to add store products to the sitemap?
Sitemap helps search engines to better index your site. Sitemap allows the crawlers to see the complete structure of your site and retrieve it more efficiently. To create sitemap for your Wordpress site we suggest using Google XML Sitemaps or Yoast Wordpress SEO plugins. These plugins are fully compatible with Ecwid and allow to generate a sitemap that will contain links to categories and product pages, so the store pages will get indexed faster. 

Please note that this option is available to paid Ecwid user.
I want to apply HTML/Javascript modification to my Ecwid store in Wordpress. Where should I put the modification code?
The custom code of a HTML/JS modification (e.g. custom translation or any other modification) should be placed in the HTML code of Wordpress page where your Ecwid store is installed. When you use our ready Wordpress plugin, it creates a special page for the store. In your WP Admin → Pages it can be usually found as a page entitled 'Store'. You need to go editing the store page, switch your editor to HTML mode (a gray tab on the top right of editable area) and paste the code in there (after Ecwid integration code). Then you need to apply the changes by pressing Update button on the right column.