Ecwid has some affiliate features that can transform your store into an affiliate tool.
A lot of merchants use affiliate systems and advertising tools (such as Google AdWords) as an additional channel to boost their website traffic and sales. Indeed, they can be very effective. Ecwid has some affiliate features that can transform your store into an affiliate tool. Basically, there are three ways to use them. Please find the details below.
Provide your affiliates with special links/banners to your store and track clicks/sales on your site
This is quite a classic way. The mentioned affiliate links or banners, which lead visitors to your site, contain special affiliate IDs that help to identify where a customer comes from. If a user follows an affiliate link and purchased something in your store, they are tracked as "referral" of that affiliate. Affiliates then get the referral commission from such sales. Here is how to set it up.
In order to automate clicks and sales tracking and calculating commissions, you will need to use a 3d-party affiliate system. Register in such a system and follow the instruction given by it in order to configure your account.
Almost all systems ask to add some specific conversion/affiliate tracking code to your conversion page, also known as "Thank you for your order" page, i.e. the last checkout page a customer sees when he placed an order successfully.That code, being placed on your site, tracks referrals and sync sales data with the affiliate system's servers. Ecwid has an easy way to add such codes. Just open the Settings → General → Cart & Checkout page, find Checkout Settings section and enter the code there.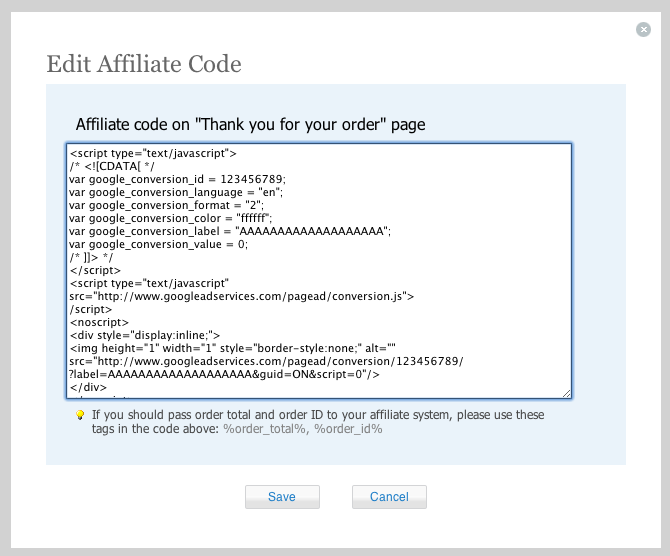 Ask your partners to register as your affiliates at the affiliate system's backend. They will be able to get the affiliate links or banners there. In order to find out the exact way of configuring the affiliates backend and getting the links, refer to the affiliate software documentation or their support service.
It's all. With such a setup, you and your affiliates will use their own control panels in the 3d-party affiliate system you are registered at. There, you and they can track clicks and sales, calculate partner commissions, generate reports and so on - all what a 3d-party affiliate software allows.
Place your whole store on the partner sites and track sales there.
Since an Ecwid store can be very easily installed at several locations at the same time, unique affiliate marketing opportunities are available in Ecwid: you can sale directly on partners' sites! Just provide your affiliates with your Ecwid integration code so that they place it somewhere on their sites - Ecwid widgets with your full-functioning store will appear there. Then you will need to track sales that come from an affiliate's site. This way, no affiliate links or banners will be needed.
In a nutshell, this method works in this way:
You give your affiliate your Ecwid integration code.
The affiliate places the code on his site, so your store will be displayed there.
A 3d-party affiliate system tracks all orders placed through that site.
Like the previous one, this way is based on integration your Ecwid store with a 3d-party affiliate sysytem. But, since no affiliate link will be used this way, you'll need to identify where a sale comes from somehow. In this case, affiliate IDs are usually hardcoded somewhere near the store integration code on the partner's site. For example, when using the Post Affiliate Pro, a special code line is added before the tracking code:
var AffiliateID = 'current affiliate id';
So the tracking functions get an affiliate ID directly from the code instead of looking for it in URL or browser cookies. You can find the exact way of forcing affiliate IDs on partner sites in the documentation of the corresponding affiliate system.
Mark all orders in the store with special IDs that help to identify where an order comes from.
This way, you place your store on a partner's site too. The main difference between this method and the abovementioned (#2) is the fact that orders coming from the partner sites are marked with special affiliate IDs inside Ecwid. Those IDs are stored in Ecwid along with the other order data so you can use them to track affiliate sales as well. Also, the IDs appear in a CSV file with exported orders and, moreover, they can be obtained by means of our API. So you can either track affiliate sales manually in Ecwid control panel or create a custom tool that will use Ecwid Order API for further processing of affiliate data (counting sales, paying commissions, generating reports and so on).
Please refer to this article for the details on this feature: How do I know which storefront an order came from?
Applications from the Ecwid App Market
The Ecwid App Market features several applications that can help you with the affiliate tracking.
LeadDyno
LeadDyno allows you to setup and easily integrate their affiliate software with/into your existing website in just minutes via the use of built-in and front-end templates.
Post Affiliate Pro
Post Affiliate Pro will automate your entire affiliate program. It is a great tool to recruit and manage your affiliates. Each affiliate will be given a selection of marketing and promotional tools to promote your business. Also, it will track your affiliate's referrals, commissions, record payouts, and much more.
How did you find us?
How did you find us? app adds a drop down question at the checkout of your Ecwids store.

You are able to customize it in the way you want: set the question title, subtitle, make the question required or optional. You can also modify the default list of options to better reflect your business model.
As a result, your customers will be able to tell you in a simple form how they found your store and this information will be displayed in the order details.
Affiliatly
Affiliatly is a powerful affiliate system for your Ecwid store.

Affiliatly tracks both mobile and desktop visitors and offers a wide range of functions and tracking methods at an affordable price. You are able to track your affiliate's sales via link, coupon code, QR code, client's email, product SKU, or a combination of those.