Promoting on Facebook
Once you've connected your Ecwid store to your Facebook page, you need to help your customers find your store. There are many ways, both free and paid, that you can market your Facebook Shop products to followers and larger audiences.
Sharing products to your Facebook page timeline
Facebook Timeline is a special section on your Facebook Profile or Business page where you can share your photos, videos... and products.
When you share your Facebook Shop's products on your Business page's Timeline or your personal Timeline, you can reach out to people who are already following you and encourage them to visit your Shop and browse your products.
To share a product from your Facebook Shop:
Go to your Facebook Business page.
On the Pages section, click on your store page and navigate to the Shop section.
Click Share in the bottom of the product image: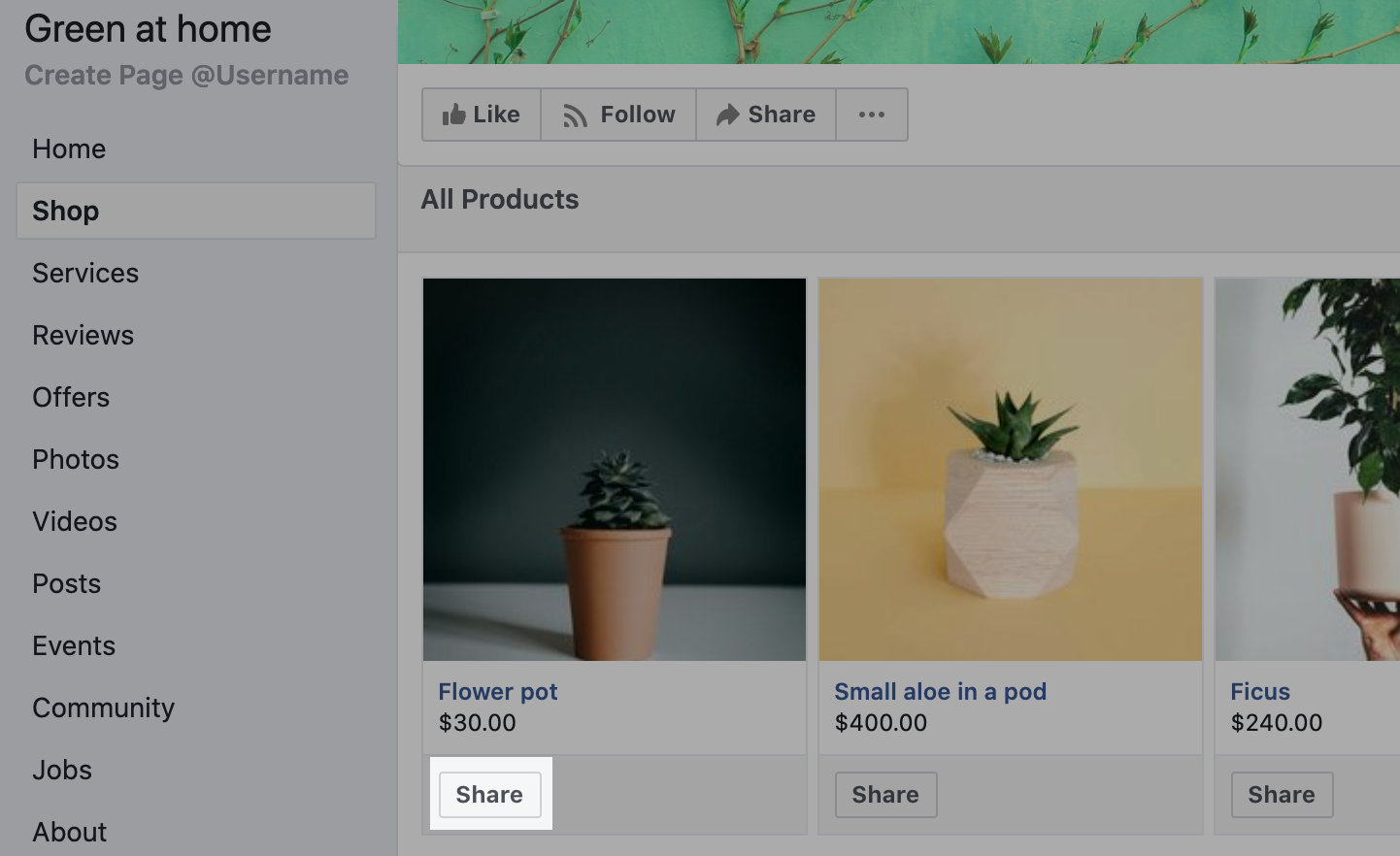 Select where you want to share the product from the following options: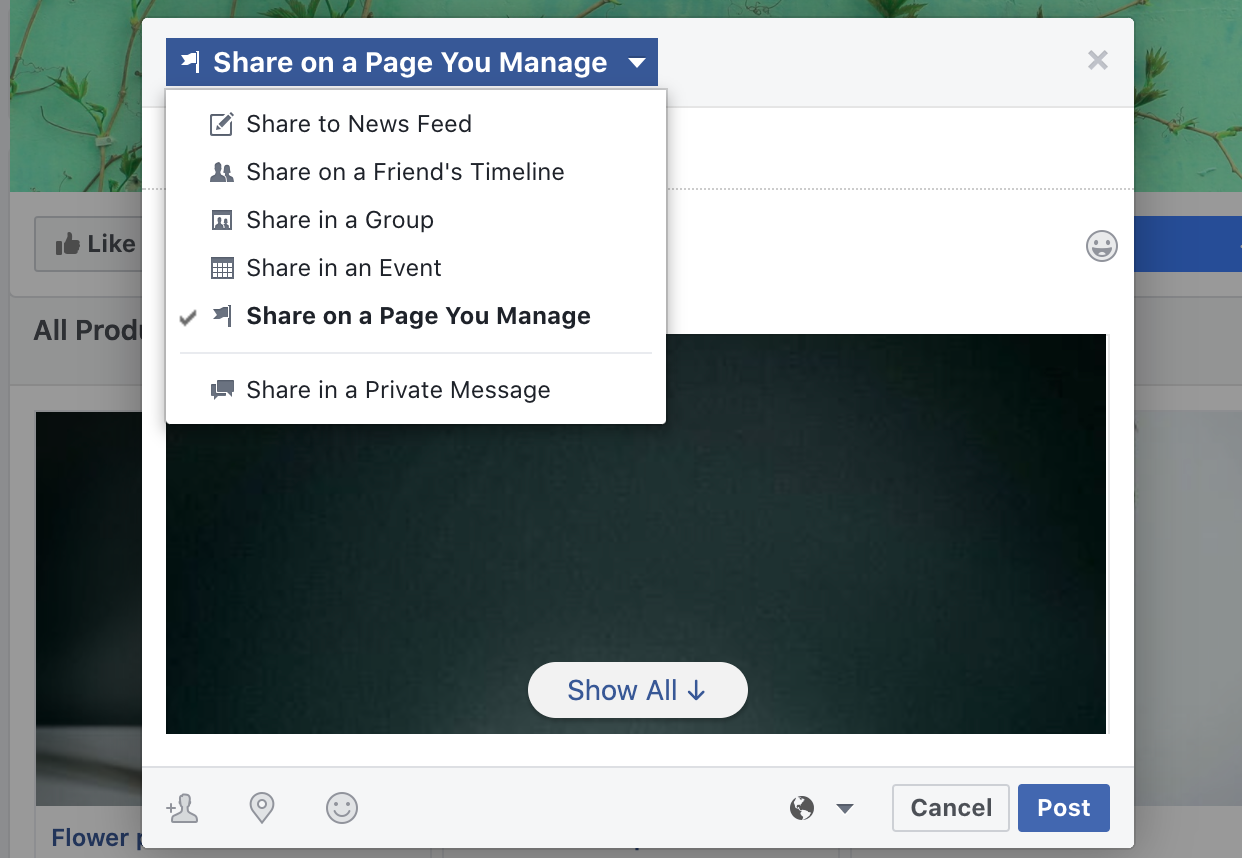 Add a message to encourage people to buy your product. For example, you can describe the benefits of your product or share some seasonal promo information. It can also be a new or the best-selling item in your catalog that you have put on sale, etc: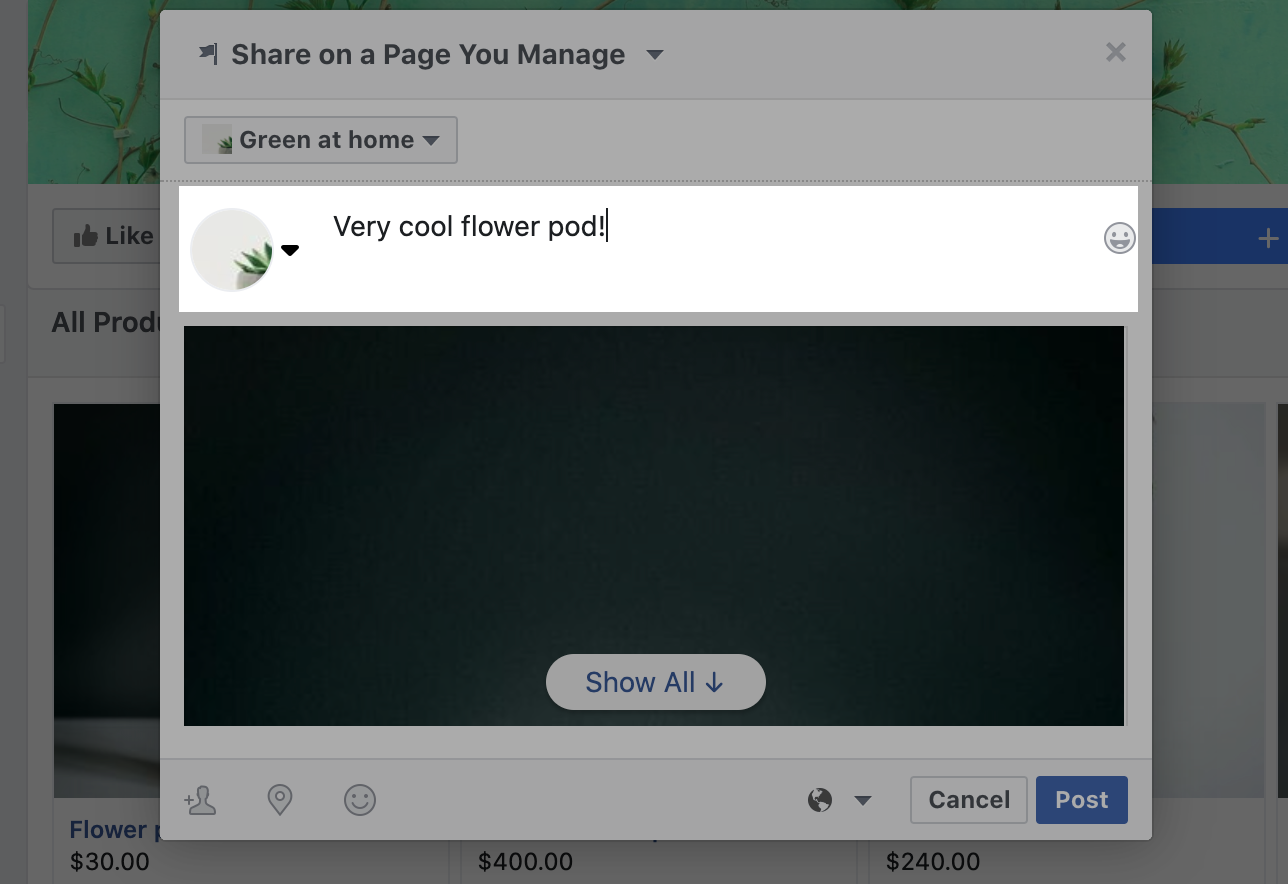 Click Post.
Once posted, your followers will be able to buy a shared product by clicking the "Buy" button.
Setting up Shop Now button
You can set up "Shop Now" call-to-action button on your Facebook business page and link it to your website or Shop section on Facebook. This makes easy for your followers to find your products and make purchases online.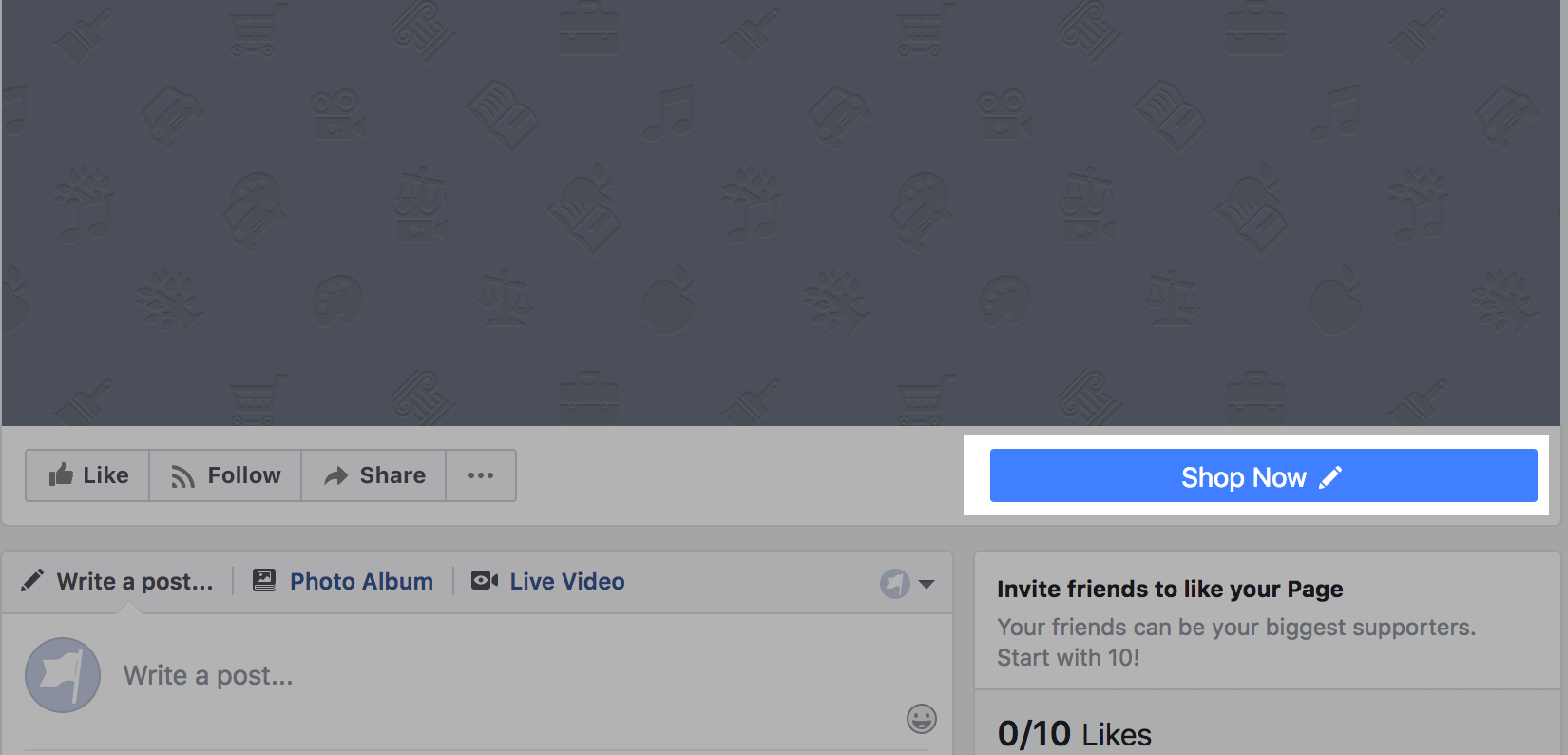 To add the Shop Now button to your Facebook Page:
Click +Add a Button under your cover image.
Select Shop with you → Shop Now and click Next.
Select where you want to send your visitors to and click Finish.
Tagging products from your Facebook shop
You can tag products from your shop in your photos and videos so that your potential customers can click those tags to shop your products. You can tag up to 30 products from your shop section in your Page posts.
To tag a product in a photo or a video:
Go to your Facebook Business page.
On the Pages section, click on your store page and navigate to the Home section.
Scroll down to Create a Post section and click Tag Products. You can write something in a text field first:
Add photos or a video to start tagging products.
Click on the item on the photo to tag it and select the product name or ID from your catalog.
Click Save.
Preview your post. You can add more text in the text field and click Share Now to publish the post in your timeline.
When your visitors click on the tag, they will see the page of the product you tagged. They can then quickly navigate to your website for purchase.
Tagging your products on Instagram
You can tag posts on Instagram with products from your Facebook shop catalog and provide more information when your customer taps on the tag. This feature helps you share product details, pricing, and a direct link to your store where customers can complete their purchase.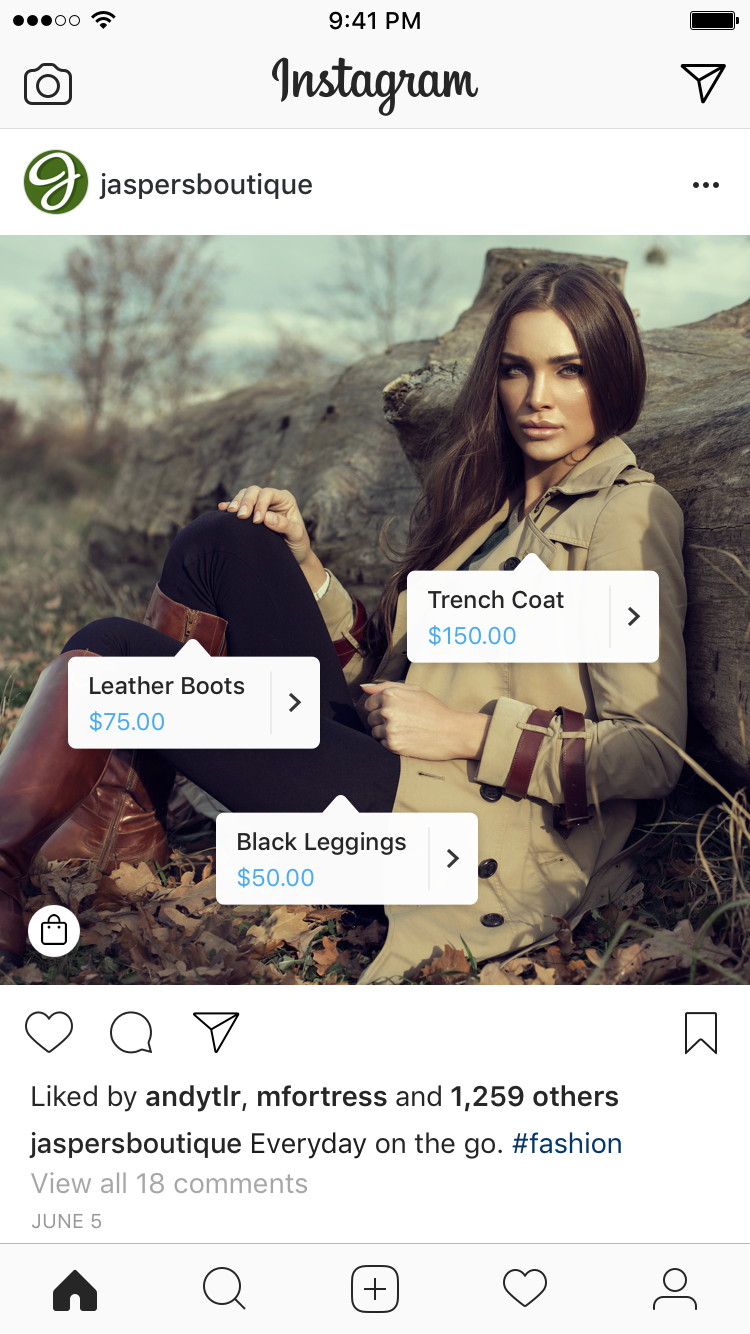 To use the feature, you need to connect your Instagram business account with your Facebook business page. Once complete, Instagram will review your account before granting access to the feature.
See our step-by-step instructions on how to sell your products on Instagram.
Promoting products via Facebook Dynamic Ads
Facebook ads exist in many different forms, but Dynamic ads are one of the most useful ad formats available today for e-commerce merchants. Facebook dynamic ads automatically show your product catalog to the most relevant audience across Facebook, Instagram, Audience Network and Messenger.
If you use Ecwid as your e-commerce store then you can set up dynamic ads without much work. All you need is to:
Install Facebook pixel.
Set up your ad campaign using the Conversions objective to attract new shoppers to your store. You can create audiences that look similar to people who have taken actions you care about (like making a purchase) and find new potential customers.
Once the campaign is created, it will continue working for you for as long as you want – finding the correct people for each product and always using up-to-date pricing and availability.
From the Ecwid blog:
Facebook Pixel Strategies to Help You Run More Targeted Ads →
Intro to Advertising: Where to Begin When You're a Beginner→
Using Facebook Retargeting Ads
Another effective way to grow your sales is to retarget customers who viewed your products or added items to cart but left without making a purchase. You can recall those customers to your store with personalized ads on other websites they visit.
For those who don't have experience with setting up digital ads, there's an app for Ecwid called ROI Hunter Easy that launches retargeting campaigns whether on Facebook, Instagram, the Google Display Network, or both, and optimizes them automatically for you.
To get started:
Install ROI Hunter in Ecwid admin → Apps.
Connect your Facebook Business page to Ecwid.
Write a copy for your ads.
Preview how the ads look in the different formats (on mobile and desktop).
Select targeted countries from the list.
Set up the daily budget.
Sweet! Hit Launch campaign and you are done.
Related articles
Selling on Facebook with Ecwid
Understanding Facebook ads performance (The Facebook Help Center)
Adding the Facebook pixel to your store
Advertising on Facebook
Selling on Instagram
ROI Hunter app (App Market)
Using Google and Facebook retargeting
10