Marketing on Instagram
If you're selling anything online, you have to be on Instagram.
With over a billion users, it is one of the largest social media platforms in the world. It also boasts a highly engaged audience - nearly 60% of Instagram users log in daily and spend an average of 28 minutes on the platform.
More important than these engagement numbers is the nature of the engagement. Unlike Facebook, Twitter, or LinkedIn, Instagram is largely visual-driven. This has helped create a distinct lifestyle-focused culture where discovery - of posts, products, and people - takes priority over discussion.
In other words, Instagram's users are more likely to buy your products than, say, Twitter's users.
Given the importance of Instagram for your E-commerce success, we'll do a deep dive into Instagram marketing in this guide. You'll learn how to create content that gets you engagement organically, and how to use paid marketing to accelerate your results.
Getting Organic Engagement on Instagram
In the context of marketing, "organic" is anything that happens by itself.
A customer who finds your brand through a Google search is an "organic" customer. Apart from creating content, you did not have to spend any money directly to acquire this customer. Sure, you might have paid for the content, but the customer came to you by himself, not through any paid campaign.
On Instagram, organic engagement is when a follower interacts with your content outside of your ad campaigns. These interactions can take several forms, such as:
Watching your Instagram story after it was shared by someone they follow
Liking your content after finding it through a hashtag search
Discovering your content on the 'Explore' tab
The only thing common to these interactions is that the follower found your content by himself; it wasn't pushed to him via a paid ad campaign.
Why Organic Engagement Matters
As you can imagine, organic engagement is the holy grail of Instagram marketing. Strong organic engagement means that your content is good and that people are responding to your brand.
It's also cost-effective - organic engagement costs nothing besides the time and money spent in creating content.
However, there is a downside - organic engagement is slow. You have to build up a substantial audience for your content to go "viral". You also have to create enough content that people can discover your brand.
For this reason, maximizing organic engagement should be an ongoing process. Don't approach it as a campaign. Rather, do it as something you organically do.
How to Get Organic Engagement
All social media marketing - including Instagram marketing - boils down to a two-step process:
Create great content, and
Share it with the right people.
It doesn't matter what network you're targeting, the basic principles remain the same.
In the sections to follow, we'll cover both these steps in detail. You'll learn how to create great content, and more importantly, how to get it in front of the right people.
Creating Great Content for Instagram
The first thing you should know is that there is no right content for Instagram. Everything will depend on your audience, brand, and content itself. What works for a billion-dollar corporation won't necessarily work for a small store.
Having said that, there are certain patterns most successful Instagram brands tend to follow. Adopt these patterns and you'll find it much easier to create content that wins you organic engagement.
Let's start at the beginning by understanding your audience better.
Understanding Your Instagram Audience
You most likely have some understanding of your general audience. You probably know their demographics, interests, favorite brands, and tastes.
On Instagram, this audience behavior is a little different. They don't use Instagram to find specific solutions - as they would on a search engine. Rather, they use it to discover new products, people, and content.
In other words, on Instagram, people look to fulfill their "wants", not their "needs".
Essentially, it boils down to intent. A customer who searches for "luxury handbags" on Google has clear intent to find luxury handbags.
On Instagram, however, a user might be browsing through a lifestyle page when they discover a luxury handbag they like. They did not intend to find this handbag - they just happened to stumble upon it.
This has profound implications on your content creation. Unlike search, where you might optimize your content for certain keywords, your Instagram content strategy has to focus on pulling in users through carefully crafted visuals and words. You have to propagate a certain lifestyle, align yourself with certain issues, and create an aesthetic that is appealing to Instagram's users.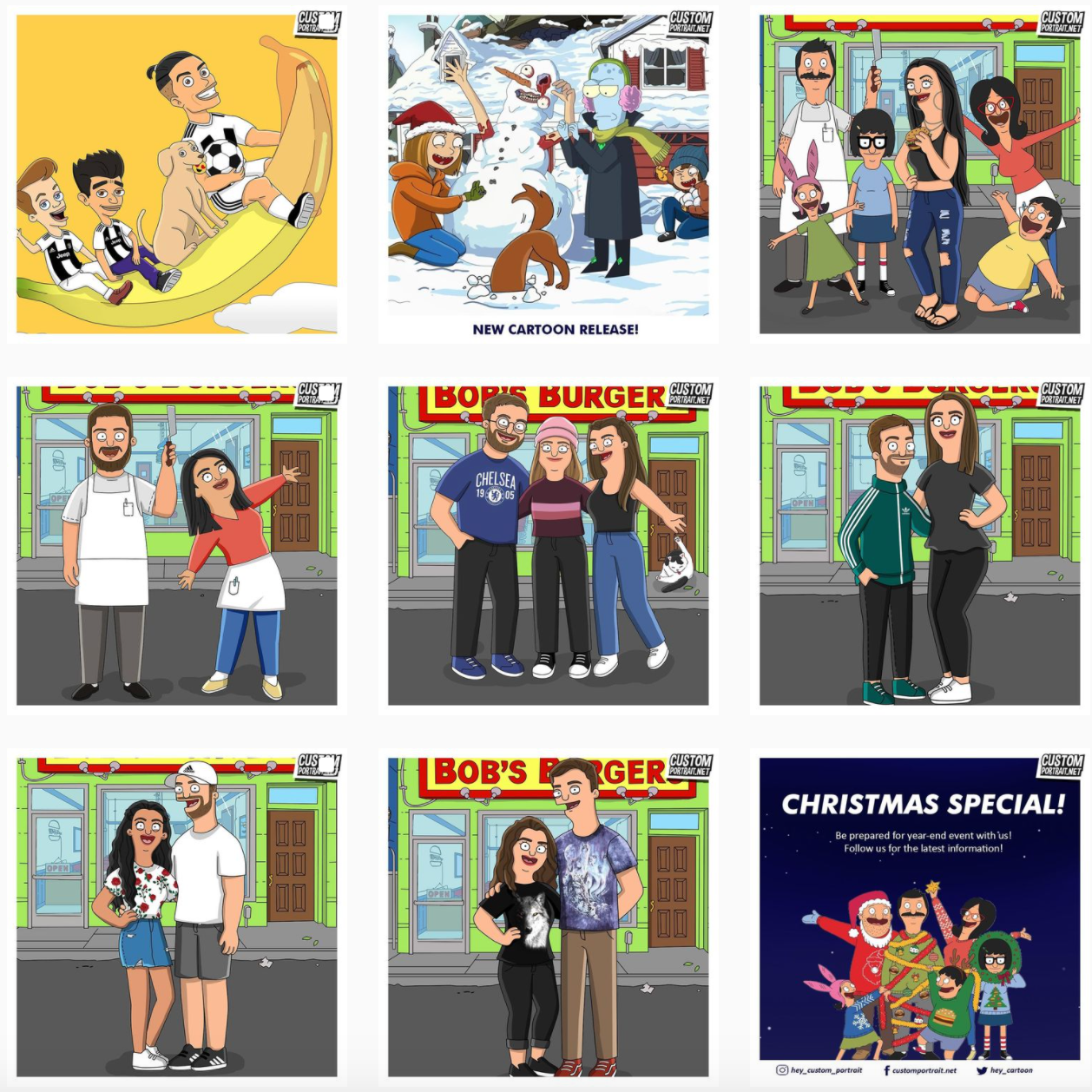 @hey_custom_portrait shows his works, so any new follower will know exactly what it's all about
Your goal is to send the right signals with your content - that your brand understands the audience, its concerns, and speaks its language in terms of aesthetics and values.
Understand this and you'll be halfway through to making great Instagram content.
Showcase Lifestyle, Not Just Your Products
While products are certainly important, Instagram is first and foremost a lifestyle-focused social channel. You should feature your product's features and benefits, but always complement them with lifestyle-focused visuals.
Some examples of lifestyle-focused visuals include:
Shots/videos of the product in a real-world setting
Non-product imagery that showcases your brand's values and ideals
Behind the scenes shots of your brand
Think in terms of your target audience. What sort of lifestyle do they aspire to? Echo that in your content.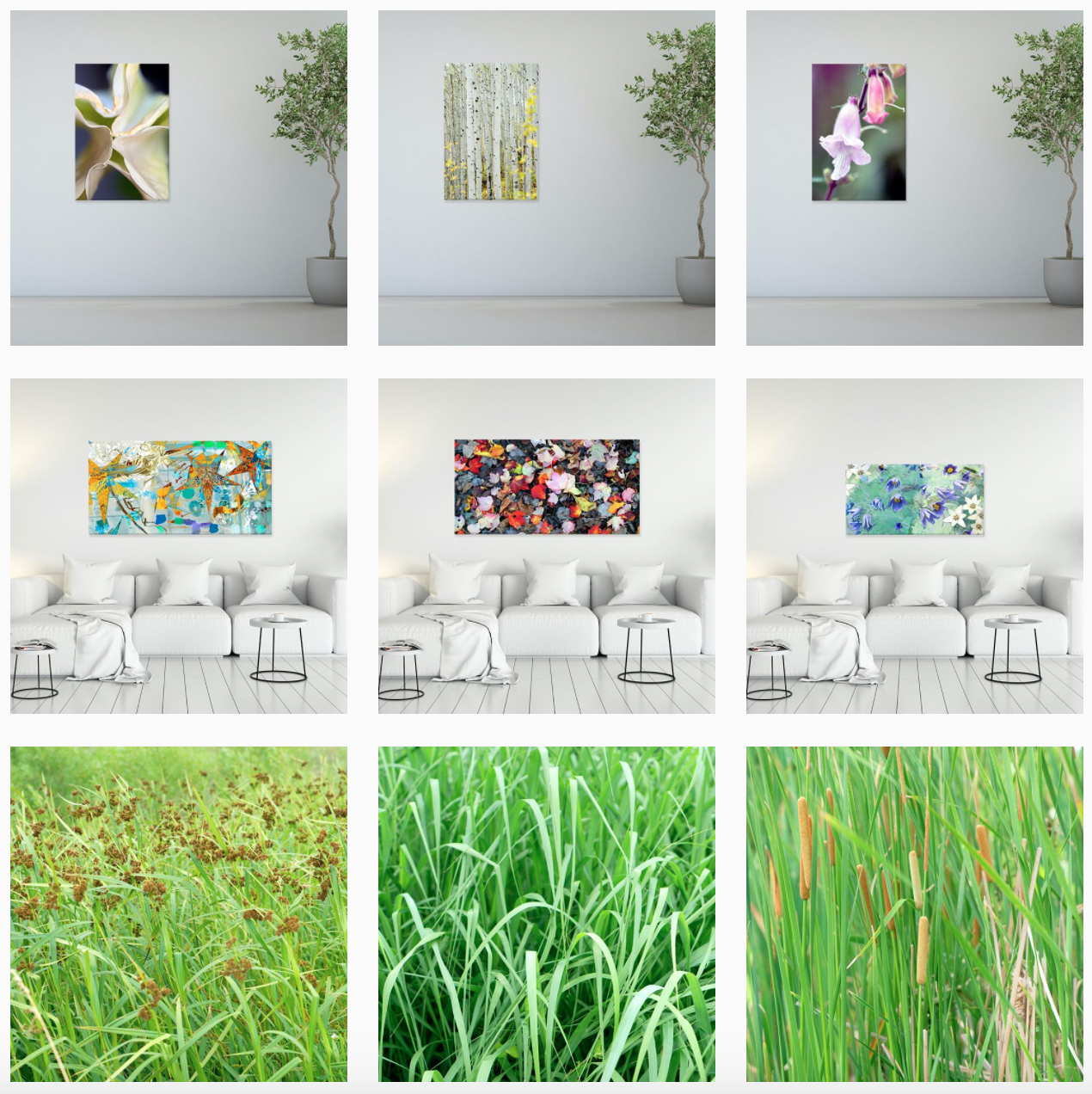 @lynnelart2form art shop combines photos of their paintings and nature that inspires them. Therefore they create a lifestyle-focused Instagram relevant to their audience's aesthetic
Balance Polished vs Raw Content
Since the launch of Stories, Instagram's content has effectively been divided into two categories:
Main timeline feed where you share your professionally shot "polished" content
Stories feed where you share "raw", unedited videos and pictures shot directly with your phone camera
Your main timeline should house all your best content. This is the first thing a user would see before he/she starts following your brand. Think of this as your "professional" face.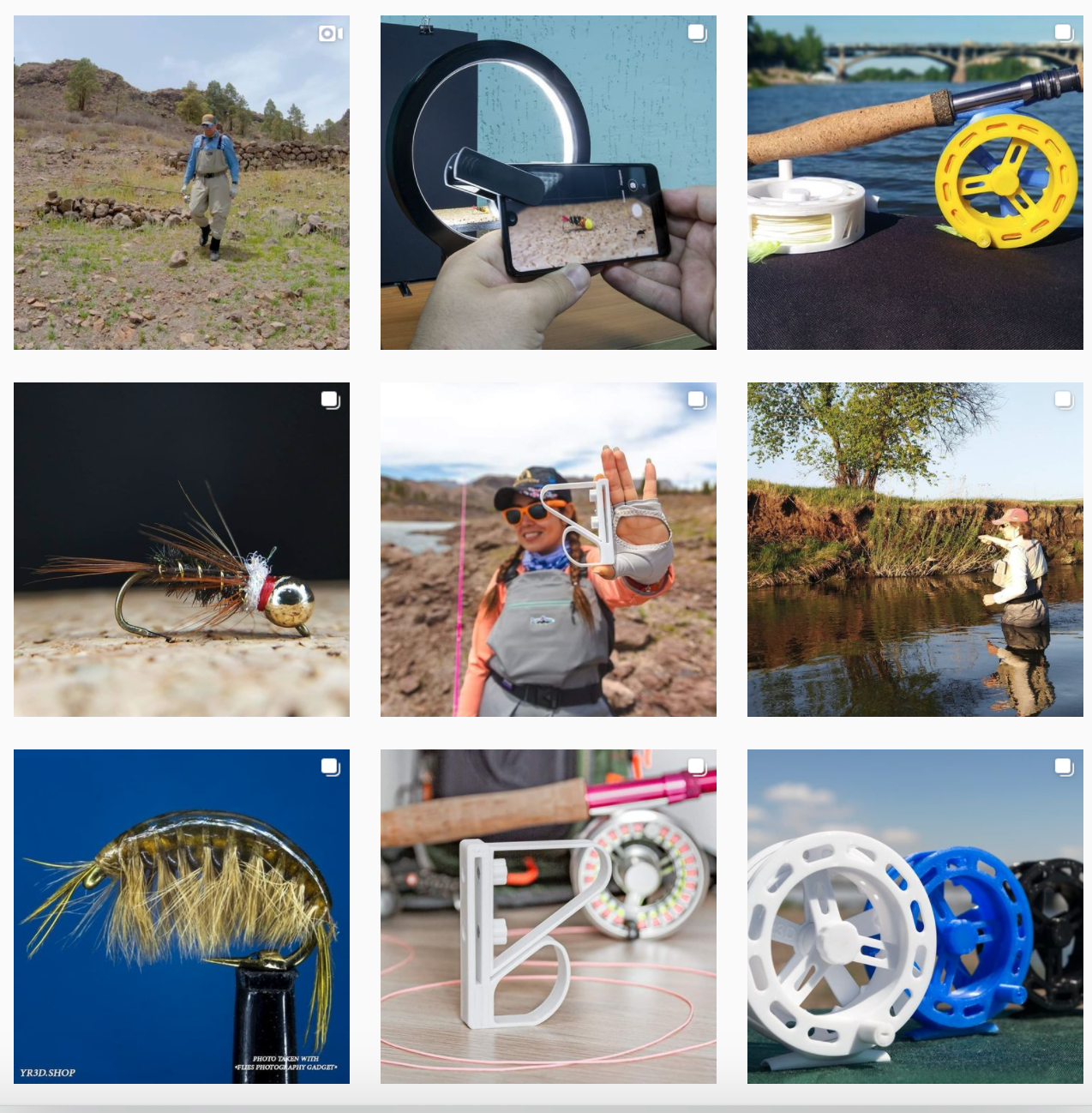 You can make your Instagram look pretty even if you think your business is not a visually attractive type. This is how @yamramil page looks like. Pretty impressive for a fishing gadget shop, huh?
Your Stories content, however, has a 24 hours shelf life. This content, thus, can be way more playful and raw. Share casual behind the scenes videos, unedited product shots, and anything else that might resonate with your audience.
Try to strike a balance between the two. You want to have visibility on both the Stories feed and the main timeline.
Share Different Types of Content
Make your Instagram content more interesting by organizing it into different themes like this:
| | | |
| --- | --- | --- |
| Content Type/Theme | Goal | Examples |
| Educational | Teach audience a new skill that's directly or tangentially related to your product | How to's, tips and tricks, recipes, instructional videos, etc. |
| Inspirational | Demonstrate a positive value (courage, optimism, etc.) that can be associated with your brand | Quotes, inspirational imagery, life stories, etc. |
| Sales | Tell people about current/upcoming promotions and drive sales | Discount coupons, sales announcements, sales-focused contests, etc. |
| Visual Appeal and Branding | Build your brand image by sharing visually appealing content | Lifestyle action shots, inspirational imagery, etc. |
| User Generated | Build up social proof and showcase positive customer stories | Customer testimonials, customer product images, reviews, etc. |
| Behind the Scenes | Build rapport with customers by showing your "human" side - the people behind the business | Production creation shots, factory tours, casual in-office pictures and videos, etc. |
Mix it all up to create an Instagram feed that offers something for everyone.
📖  Read more about How to create a content plan for Instagram
Showcase Your Followers
User-generated content (UGC) is your superweapon when it comes to promoting your store. UGC does several things at once:
It builds social proof by showing future customers that your products are popular and well-liked
It generates loyalty by making current customers feel special and loved
It adds authenticity to your marketing by showing your products as they are actually used by real customers
It reduces content creation costs - a single UGC campaign can generate enough content to last for weeks
UGC works particularly well on Instagram since you can collect this content via hashtags. You can then reuse this content in your stories and feed.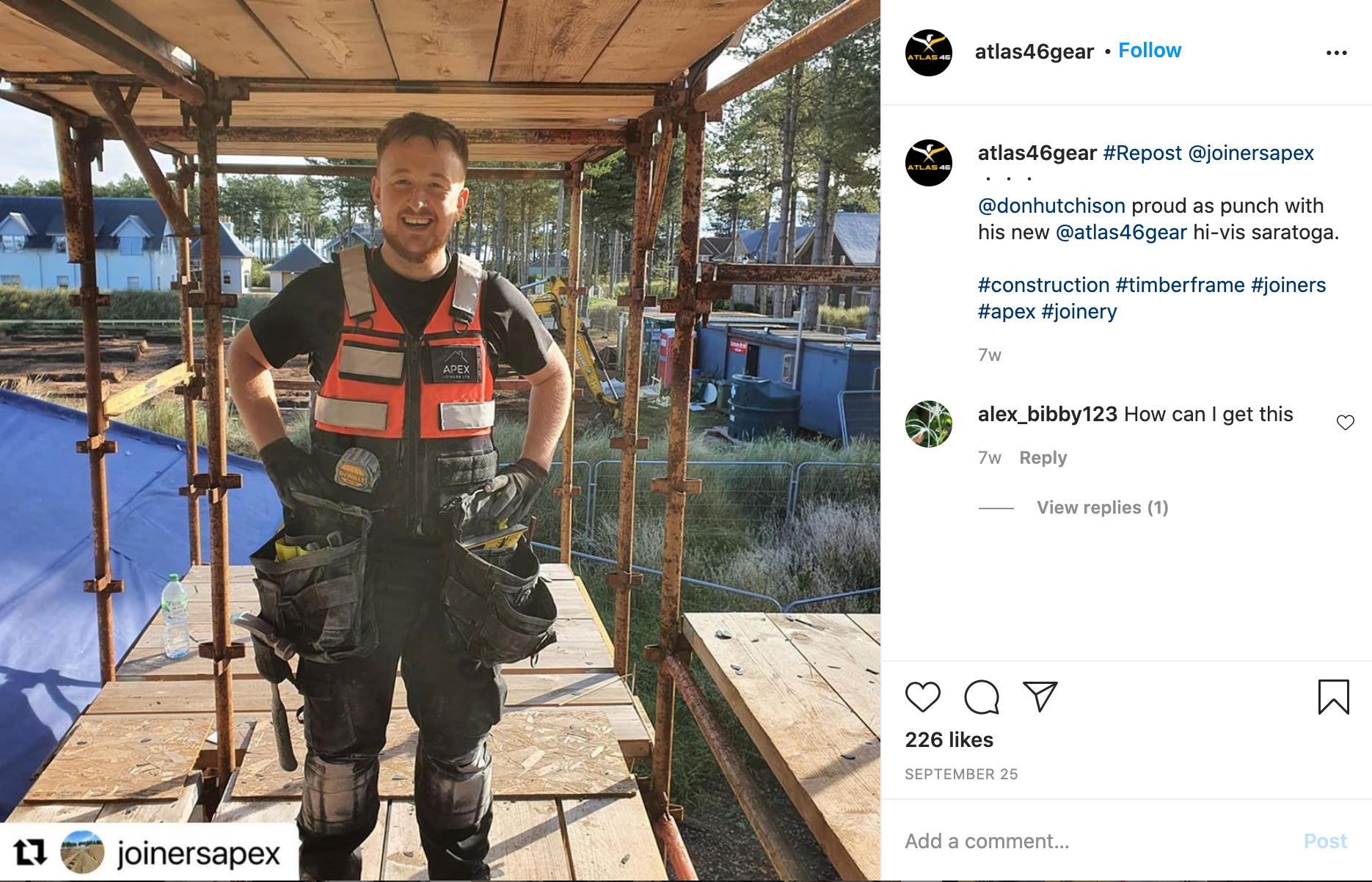 @atlas46gear that is the top seller of American made gear and clothing shares their buyers photos in their equipment
An easy way to collect UGC is by running a contest. Use apps like SocialBoost to create contests that spur engagement.
Further reading:
Don't Forget the Captions
It's true - Instagram is a visual-heavy platform. But that doesn't mean no one reads the image captions.
A good image caption helps your audience understand the image/video. At the same time, it leaves just the right amount of mystery to get people to read more.
A good caption usually has:
A call to action
A brief explanation of the image - if necessary
Copy that aligns with your brand's voice
Relevant hashtags
Plenty of whitespace to make the content stand out from the hashtags
📖 Learn more about writing better Instagram captions in our guide
Creating great content isn't enough - you also need to promote it to the right audience.
That's where the next part of our organic engagement strategy comes in.
Promoting Your Content on Instagram
If you have content people love, you're already 80% of the way to winning organic traffic.
But even the best content needs some push to get discovered.
On Instagram, organic engagement usually stems from three sources:
Accidental discovery: Someone finds your content in the 'Explore' tab. Since this is largely decided algorithmically, you have no direct control over it
Intentional discovery: Someone finds your content after following a hashtag, a search query, etc. Since this user had clear intent, you can use the right tags and keywords to reach this audience
Social discovery: A user finds your content after it was recommended or mentioned by someone they follow
Keep in mind that you don't always have a lot of control over this discovery process. The Explore tab, for instance, is personalized and algorithmically decided. The algorithm is Instagram's own secret and takes into account everything from current engagement to content relevance. Apart from creating popular, high-quality content, you can do little to game the algorithm.
That leaves us with intentional and social discovery.
Here are some tactics to spur this discovery process.
Run a Contest
For a new brand, one of the fastest ways to get followers and visibility is by running a contest. The bigger the prize, the more engagement you can expect to receive.
A contest works particularly well for the following reasons:
You can earn mentions and shares from accounts that aggregate contests/deals
You can run a social contest that incentivizes participants to share your page. This can rapidly earn you tons of engagement
Lots of rapid engagement can trigger the algorithm and earn you a spot in the Explore tab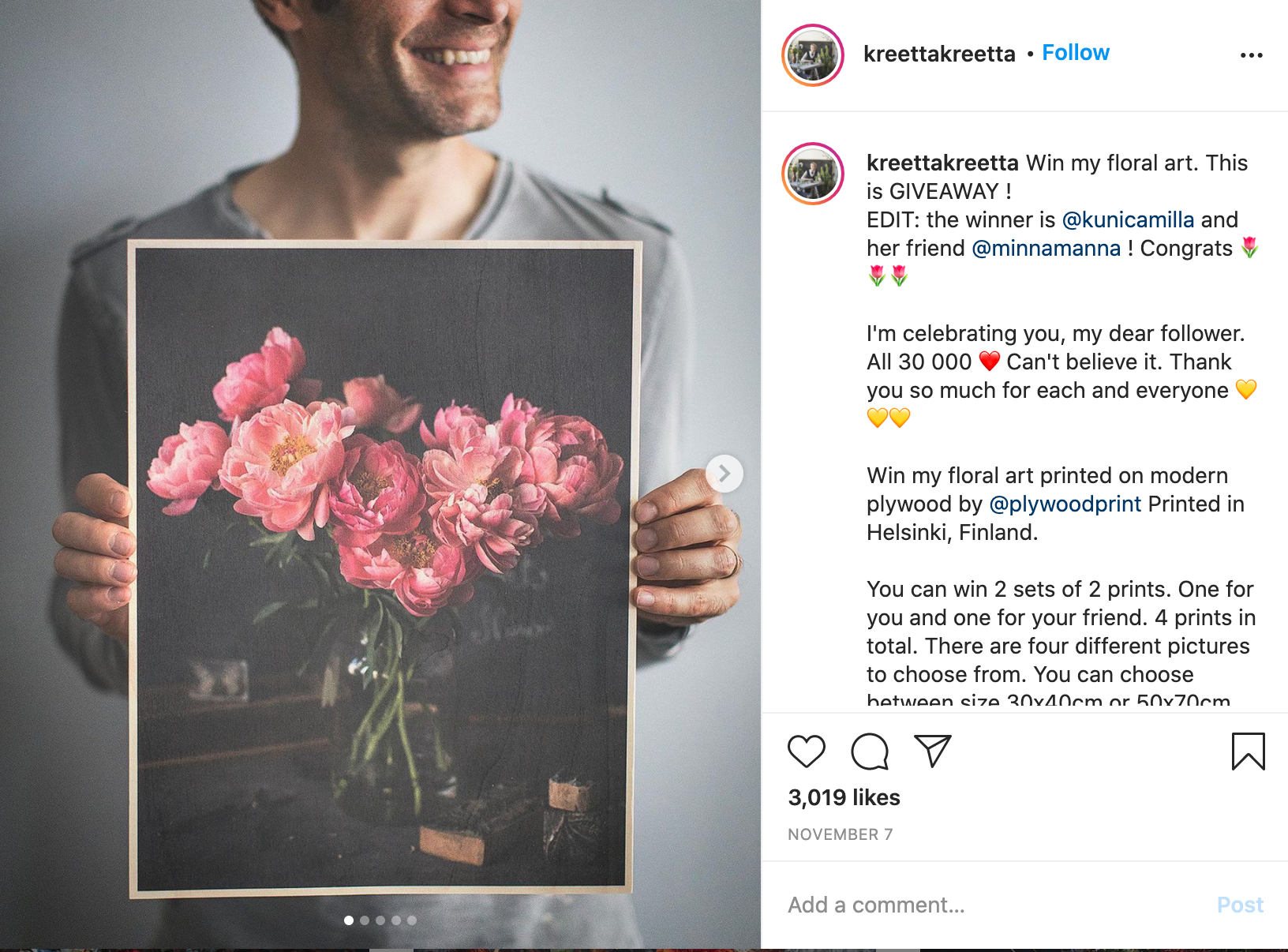 A giveaway runned by artist and photographer @kreettakreetta brought to her more than 3000 likes and more than 1000 comments
You can use the SocialBoost app in the Ecwid App Market to create highly viral social contests.
For contest ideas, refer to this list on the Ecwid blog.
Use the Right Hashtags
Adding relevant hashtags is the number one way to trigger intentional discovery. Anyone searching for a hashtag has clear intent to find more content related to it. If you're tapping a #luxuryhandbags hashtag, you're clearly interested in finding more luxury handbags.
This makes hashtag traffic highly targeted. Your conversion rates for hashtag traffic will likely be higher.
There is no secret trick to winning hashtag traffic. Just make sure to use the right hashtags in your posts. Use apps like Outfy to discover the right tags and create your own "hashtag cloud".
Ideally, you should use three types of hashtags in each post:
Broad: Tags that cover large categories such as "#Fashion" "#WomensWear", etc.
Narrow: Tags that cover specific product or content categories, such as "#WomensSummerSwimsuits2020"
Brand: Branded hashtags that cover ideas or categories unrelated to the post but related to your brand. For example, a nature-inspired brand can share pictures with the "#PhotoOfTheDay" tag or add the "#OutdoorLife" tag.
Cross-Promote With Other Similar Brands
One way to double your results is to partner with brands that are similar to yours and cross-promote their posts. Ideally, these brands should share your values and aesthetics, but operate in a different market category.
It's best if you target brands that have nearly the same audience size as yours - they're more likely to collaborate with you.
If you do find some brands, work with them to:
Create co-branded campaigns where you promote each other's products
Collaborate on content, using each other's content creation expertise
Tag and mention each other posts and Stories
This is an underrated tactic that can earn both your brands followers quickly.
Get Featured
There are plenty of Instagram pages that feature new and exciting brands and content. While some of these are paid, a great many are free - you just need the right brand.
Finding such accounts can be a little tricky, but using hashtags like "#NewProductLaunch" is a good place to start.
Once you find an account in your niche, work with them to get featured. Some might ask for free samples. Others might ask you to share their page with your audience. Strike a deal and you can easily earn a ton of visibility before a relevant audience.
Organic engagement depends greatly on your content. While the above tactics can help, it's great content - and the community you foster around it - that will win you organic traffic.
📖  For more ideas, read our guide to get followers for free on Instagram.
Much of your Instagram marketing will depend on paid traffic. We'll tackle that in the section below.
How to Get Paid Engagement on Instagram
Any campaign that involves a direct payment - to an influencer or to Facebook/Instagram - for engagement comes under 'paid' marketing.
Paid acquisition will be the cornerstone of your Instagram marketing. While organic engagement should be the long-term goal, paid campaigns will help you get instant visibility and targeted traffic.
Paid campaigns also give you much more control over your marketing. You can set the budget, choose your audience, and even track users for remarketing.
If you want to succeed with Instagram, it helps to get really, really good at paid campaigns.
While there is no silver bullet to winning with paid engagement, following these tips and tools can help:
Use Different Ad Formats and CTAs
Instagram supports multiple ad formats - carousels, images, videos, and Stories placements. What format you use will depend on what stage of the buyer's journey your customers are in and how well they know your product and brand.
Generally speaking, here's how you'll want to use different ad formats:
Video ads: Ideal for products that need to be demonstrated (such as a tech product). Video ads are great for introducing first-time buyers to your product and its features.
Carousel ads: A carousel of images/videos works best when you're targeting customers who have already seen your product in action and need to be reminded about its features. Carousels are also great highlighting all the features/benefits of the product.
Stories: Ads in Instagram Stories help reinforce the engagement you've already had with the customer. They're particularly great for later stages of the funnel.
Image ads: A static image ad works best when you want to close the deal by offering a final discount. Use them once you've already established your product's value in the customer's eyes and want to offer a final offer to get them to shop.
Make sure to pair the ad with the right call to action (CTA). If you're showing off the product's features to a first-time audience, use CTAs like "Learn More". If you're offering a final discount to close the deal, use "Shop Now" as your CTA.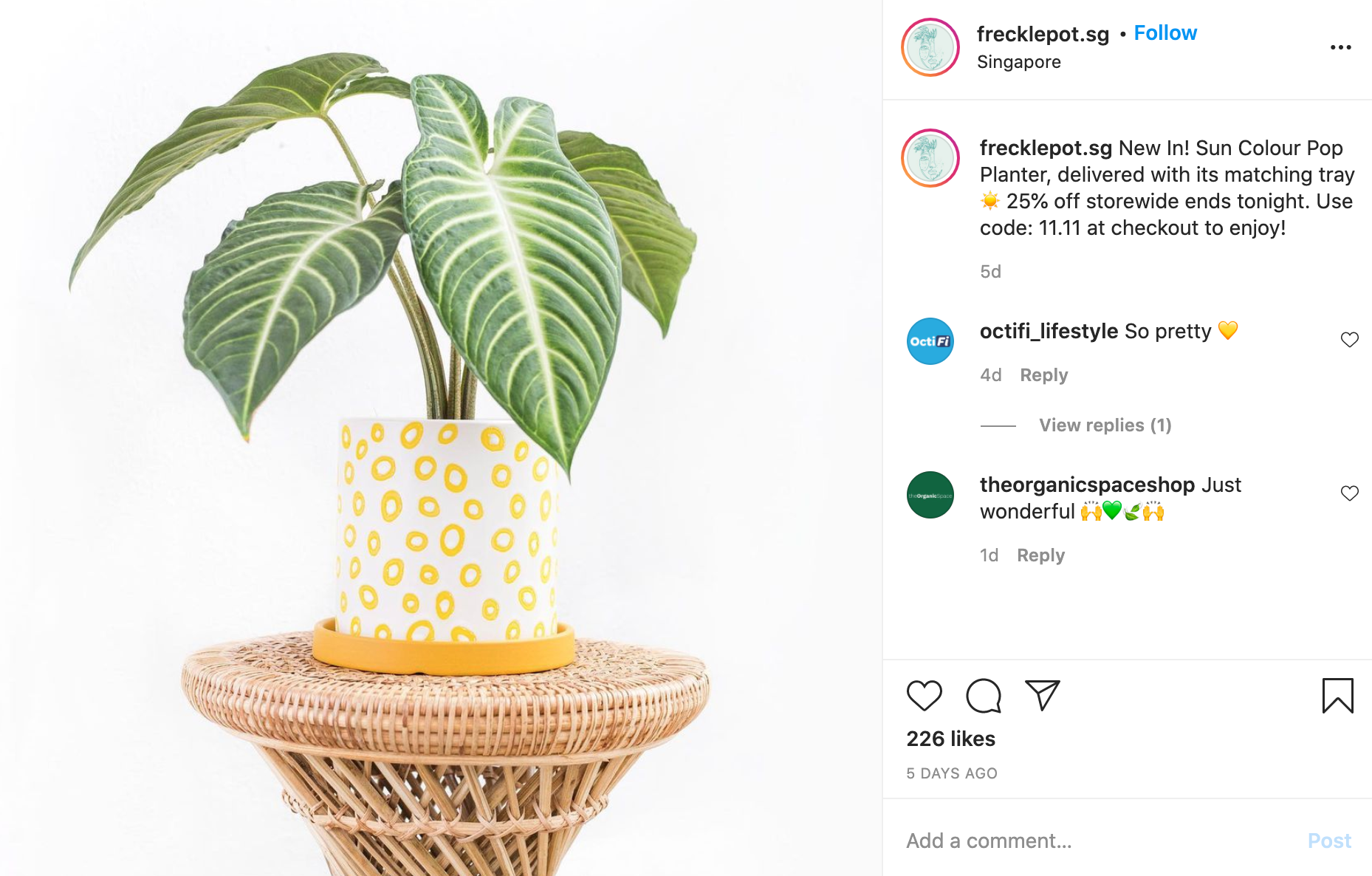 @frecklepot.sg offers a discount and uses the code for discount as CTA to make their followers visit their website
Create Your Funnel
Paid marketing on Instagram can get very expensive very quickly. You have to make the most of the traffic you acquire. If you're simply sending the traffic to a landing page, you're not really maximizing your profits.
Before you start advertising, make sure that you have a complete funnel in place.
A "funnel" is essentially a series of steps that help convert raw traffic into customers. At each stage of the funnel, your audience learns a bit more about you, and you, about them.
For example, you might have a four-step funnel as follows:
A follower watches a video ad on Instagram and clicks the "Learn More" CTA to land on an informational page.
You use remarketing to show the same follower a carousel ad highlighting your features. The follower clicks through and lands on a page where he shares his email for a discount.
You send the follower a discount coupon over email and share reviews from happy customers.
You use an Instagram static image ad to share a final discount and close the deal.
Each of these steps in the funnel requires different assets to be successful, including:
Landing pages with appropriate CTAs
Effective tracking
Emails and ad copy
Visual assets
Before you start creating your ad, make sure that you have all the landing pages, assets, and copy necessary to close the deal.
📖  Read more about how to create, test, and promote powerful landing pages
App store highlights:
Invest in Remarketing
In B2B sales, there's a saying that you need to make seven touches with a customer on average to close a deal.
E-commerce is different, of course, but you still need to get in touch with the customer several times to make a sale.
Remarketing (also called 'retargeting') is the tactic that makes multiple touches possible.
With remarketing, you track visitors who interact with your ads. These visitors are then shown offers and ads as they browse the web or use different apps (including Instagram). The nature of ads can change depending on the type of interaction. A visitor who abandons a shopping cart, for instance, can be shown ads with discounted prices to close the deal.
When done right, remarketing can dramatically improve your conversion rates. Unfortunately, this is a vast topic that's beyond the scope of this article.
📖  Here's a couple of useful tips about remarketing and how to use it in your Instagram marketing:
Keep in mind that since Instagram ads are run through Facebook, Facebook retargeting covers Instagram retargeting as well.
App store highlights
Hit Up Influencers
Instagram ads coupled with remarketing should form the bulk of your paid engagement campaigns. But you can sometimes score great engagement and deals by targeting influencers directly.
Here's how this works:
Find influencers who share your audience, values, and content aesthetics
Ask them for a sponsored post where they mention your product, preferably with some images/videos. Use branded hashtags for better results
Direct all traffic to a landing page
Use remarketing to target these visitors in the future
Influencer marketing works well if you're just starting out and have highly engaged influencers in your niche. It can be more cost-effective than Instagram ads since you're dealing directly with influencers.
Further, a positive testimonial from a popular influencer can serve as social proof. You can use it in your marketing in the future to get more customers.
📖 One way to maximize your returns from influencer marketing is to use micro-influencers. Read about it in our guide to learn how to use micro-influencers to boost sales.
Make Instagram Shopping Easy
Lastly, if you're going to advertise, it helps to make shopping on Instagram as easy as possible.
Use Ecwid's product tagging feature to make Instagram shopping completely frictionless. Instead of going to another landing page, this feature gives customers the option to buy the product without even leaving the app.
If you have a targeted audience, or if you've used remarketing to generate demand, Ecwid's Instagram-ready stores can greatly increase your conversions.
📖 Use this guide to learn more about Instagram product tagging
Over to You
With over a billion users, Instagram is a goldmine of opportunities. Making the most of it requires a deep understanding of content and clever use of paid and organic promotion.
Use this guide and different Ecwid store apps to maximize returns from your Instagram marketing campaigns.
10