How to run your first ad on TikTok
TikTok is a social media platform for short videos. It has a unique user-valued recommendation system that quickly learns your content tastes and suggests relevant videos. That works for ads, too. That being said, why not try creating an ad to hit the right audience and get more sales?
You can connect your Ecwid store to your TikTok account and set up an ad campaign with your products. Plus, you will get a TikTok Pixel installed in your store automatically. If you haven't yet created ads on TikTok, read this step-by-step guide to learn the basics of running campaigns.
From this guide, you will learn:
What businesses can benefit from TikTok
What types of ads can you run on TikTok
How to create an ad
Why TikTok may suspend an ad
Where to find inspiration to fuel your creativity
What businesses can benefit from TikTok
TikTok continues to snowball as the most popular app, with nearly 80 million daily active users in the US. About 35 percent of TikTok demographics are 19-29 years old. Females make up more than half of the TikTok audience—59 percent.
Based on demographics, the following businesses are most likely to rule on TikTok:
Apparel. Shoes, underwear, accessories, etc.
Beauty products. Home-made cosmetics, beauty SPA, etc.
Health products and services. Home gym products, fitness trainer or nutritionist services, etc.
Gadgets and mobile accessories. Products for gamers and cheap gadgets are the best options for the TikTok audience.
Tip: don't make ads; make tiktoks. That means that the more your ad video will look like a regular tiktok, the more attention you can get from the audience. Subscribe to popular accounts and watch recommended feed to better understand what's trending now. That will help you to catch the wave with video creation.
TikTok ad formats
TikTok has several different ad formats. After you connect your Ecwid store to TikTok, you will be able to choose any specific one. In-feed ads will appear in between user videos in the feed.
Spark Ads: This format lets you publish ads using your TikTok posts or posts made by other creators with their authorization. You can add CTA buttons for customers to tap. Shoppers will be redirected to the product page, where they can proceed to checkout. Customers can also tap anywhere on the video to be redirected to your TikTok profile.
Lead Generation: Allows you to capture high-quality leads with contact forms. When someone taps the CTA button in your in-feed video ad, they will see a popup form to populate.
Collection Ads: In-feed video ad that leads your customers to an Instant Gallery Page, where they can browse a curated collection of your products without leaving the app. You can either handpick the products to feature in your Instant Gallery Page or let TikTok display the most relevant products for each visitor.
Catalog Sales Objective Ads: This is a type of campaign that allows you to show ads featuring specific products to people who have expressed interest in them on your app or website. This is a great solution if you have many products and want to deliver personalized ads to prospective customers.
Now let's dive into creating TikTok ads from scratch.
Creating ads on TikTok
Step 1. Get a TikTok For Business account
To start an ad campaign, you need to create a TikTok For Business account and connect your Ecwid catalog. TikTok For Business is a centralized platform that has different tools to create ads and manage your catalog, including Business Center, Ad Account, Store Manager. TikTok For Business is not the same as the TikTok app. You can post your videos in the app, while in TikTok For Business, you can manage your ad campaigns and catalog that appear after you connect Ecwid to TikTok For Business.
Once you sign up for a TikTok For Business account, set up your Ad Account by filling in information about your business and deciding on the budget. Please read the TikTok Advertising Policies.
Step 2. Connect Ecwid store to TikTok
Syncing your Ecwid store with TikTok allows you to quickly launch ads, add TikTok pixel to your store, upload your Ecwid catalog to your TikTok For Business account, and even start selling on TikTok.
To sync your Ecwid store with TikTok, go to the TikTok page in Ecwid admin. Click + Connect TikTok Account and follow the wizard.
Tip
: once you collect data about 1000 users with a TikTok pixel, you can
create custom audiences
for remarketing. That means you could show ads to people who have already visited your store.
Step 3. Choose advertising objective
Advertising objectives depend on your goals. You can choose from the following objectives:
Reach. Helps you to show your ad to the maximum number of people.
Traffic. Helps you send more people to your website.
Video Views. Helps get more people to view your video content.
Lead Generation. Lets you collect leads for your business or brand.
Conversions. Helps you drive valuable actions on your website.
In this guide, we will create an ad with the traffic advertising objective. That will help us to increase store visits.
Tip
: if your goal is conversion, you can choose
the beginners option
to quickly create an ad from your Ecwid admin.
Step 4. Set up campaign
There are two ways to start your ad campaign right from Ecwid admin—for beginners and for pros. We will go with the pro way 😎
On the TikTok page in your Ecwid admin, click Go to Ad Account to open TikTok Ads Manager:

On the TikTok Ads Manager page, click Campaign in the top menu, then click Create. Choose Traffic as your advertising objective and click Continue.
Promotion type
Choose Web-site and check the TikTok Pixel checkbox to collect data on how visitors interact with your online store. Enabling pixel allows you to create custom audiences for retargeting. As a Optimization Event, we chose View content:

Placements
Automatic Placement will deliver your ads across the TikTok apps family that includes TikTok, News Feed Apps (TopBuzz, BuzzVideo, News Republic, etc.), and Pangle (TikTok Audience Network). Eventually, placing an ad via multiple platforms may cost a little more. The cost you'll see is the best choice provided by the system. It takes active users, a competition environment, your own bid, and budget upon delivery into consideration.
Another option is to choose Select Placement to manually select the apps you wish to deliver your ads on.
We recommend turning on comments since they help to increase reach and achieve more conversions.
Creative type
We didn't turn on the Automated creative optimization needed to run AB tests. If you need to run a lot of ads at once, you can turn it on to decide what content is best for your audience.
Targeting
Let's create an audience based on demographics, interests, and behaviors.
Skip the Audience section if you don't have a custom audience yet.
In the Demographics, choose your country, then state/province and city. Choose the gender and age of your target audience and their language. Say you sell gaming headphones. In that case, your best audience will be males 18-24, 25-34 years old, and women 25-34, 35-44 years old (yes, a woman in her 30s is the average gamer, google it).
In the Interests & Behaviors, select what you think your ideal customer persona is interested in. In our example with headphones, it will be "games," "technology," and maybe "anime." You can specify what kind of videos they are interested in, who they follow, and what hashtags they interact with. If you want, you may select the device model to limit showing ads to owners of Android or iOS only.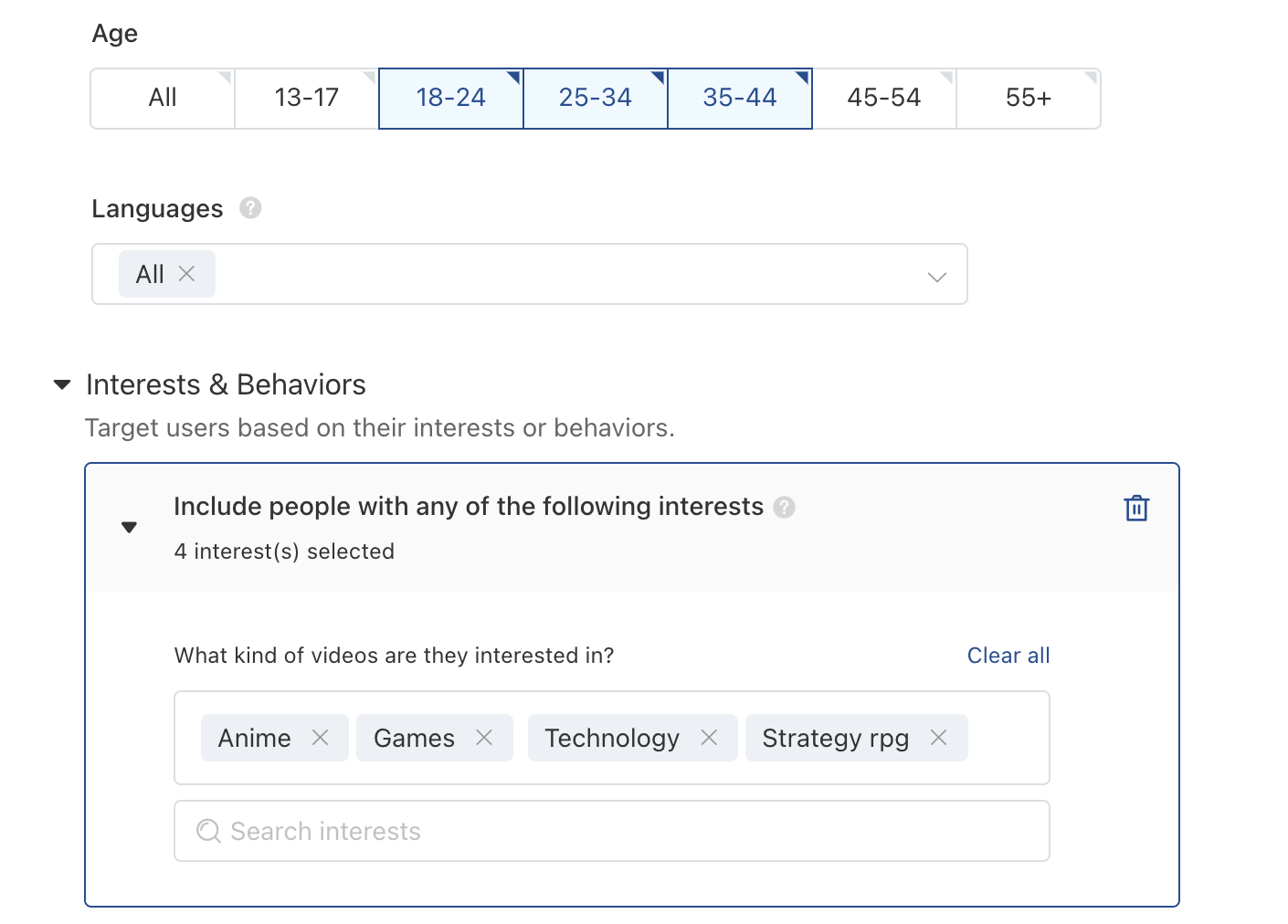 Tip
: Creating a
customer persona
will help you understand your audience and better set up your ads campaign.
Budget & Schedule
TikTok ads start at $10 per CPM (cost per 1000 views). Also, TikTok requires you to spend a minimum of $500 on a campaign. For each campaign, you can choose a daily budget or lifetime budget.
It's also possible to choose to run ads all day or schedule a specific time period to show ads.
Tip
: if you plan to start a massive ad campaign with an impressive budget, begin with AB testing to avoid losing money. Connect
Google Analytics
and create URLs with UTM parameters to get better metrics.
Step 5: Create an ad
Name your ad. If you have a TikTok account, you can show Spark Ads. To do so, enable the Use TikTok account to deliver Spark Ads toggle and click Link account. Alternatively, you can click Set custom identity to deliver your ads with a custom profile image and name.
We will choose the Collection Ads as the Ad format. That will allow your buyers to search through your catalog and select products they like without leaving the app.
To create Collection ads, you need at least 6 items in your catalog.
Click Upload to upload your video. Its dimensions should be 1080×1920. It's best to limit video to 15 seconds to increase the number of users watching it until the end. The text on the video also shouldn't be too long — try to keep within 44 symbols with spaces. For example, you can specify the discount code.
Tip: get to know TikTok trending videos to make your videos look more like them. You can use trending music or take part in a challenge. The more people watch your video until the end, the lower the cost per click.
After uploading a video, the next step is to create a full-screen ad. In the case of Collection Ads, product cards are displayed in the ad and open when a user taps on a product. Click + Create Instant Experience. Tick the checkbox to let TikTok use your ad in TikTok For Business Creative Center. That will allow you to see the ad statistics in your TikTok For Business Center. Choose either to auto-generate a product gallery card or to customize an image card. We will let TikTok auto-generate the product gallery.
In the Product Information, click Select From Catalog. Since you previously connected your Ecwid catalog to TikTok, now you can choose products from your store to display in your TikTok ads. You can choose a specific category from your Ecwid store to promote. To do so, click Product Set and select the category. To set your own sequence in which the products are displayed, drag the product card to the right place. Uncheck the box to show only the products you selected:

In the Product Subtitle Selection, choose what information to show in the description. We chose to hide the price and show the description only.
Open Call-to-Action Button to choose your CTA and the URL for shoppers to be redirected to. We chose the Learn more CTA button and added the store's web address.
Done! Now product mini-cards will pop up in the ad. If a viewer clicks on a card, the full-screen page with all products from the product set you previously selected. By clicking the Learn more button, a person will be redirected to the store.
Why TikTok can prohibit your ad
After you complete the ad creation, it won't be published right away. First, the TikTok algorithm will review it, which may take up to 24 hours. In some cases, TikTok might suspend an ad.
Reasons for suspension
Misleading text. For example, "The best sunscreen" or "#1 flower shop in Canada".
Errors or typos in the text. For example, "Seson sale".
Music or video issue. You should use high-quality music and video. No pixels or stripes on video are allowed.
Inconsistent products. The ad caption, text, description, images, videos, and call-to-action (CTA) must be consistent with the promoted product or service on the landing page. For example, the price in the ad must be the same as in your store.
Slow or non-functional landing page. Check that your site is adapted for mobiles. You need to specify your contacts and legal pages in your store.
Adult content. Sometimes if your model overexposes their body (even if they are not completely naked), TikTok algorithms might think it's sexual content and ban your ad. Also, avoid provoking or shocking content.
What to do if an ad fails review
Change content. You can replace music, video, or text.
Appeal the decision. If you feel the decision made by the TikTok algorithm was wrong, you can ask a TikTok team member for a second review. To do so, in your Ads Manager account, click the ? icon in the top right and select Customer Support. Select Ads Review and apply for the second review.
Get inspired
Make your ad look like a tiktok. Why? Users will see your ad in their feed, so the more natural it looks, the higher chances that a person will like, comment, or share your ad video. Embrace the authenticity, creativity, and joy of the TikTok community to get the audience's attention. Here are some ideas on how to move your TikTok ad campaign to the next level:
Explore TikTok trends. Use the Discover feature inside the TikTok app to see what hashtags and song samples are trending worldwide. Create relevant videos related to those trending topics or sounds so more people will find them. Take advantage of popular hashtags and challenges. For example, the TikTok Made Me Buy It challenge is perfect for showing your products.
Make it short. Unless you create educational videos, try to keep them short — 5 to 15 seconds. Make vertical videos with a high-quality camera.
Test your ideas. If you came up with several breakthrough ideas for an ad, test them to find the best one. When you upload a photo or video in the Ads Manager, TikTok can automatically create a few different posts for you to choose from. You can also run a test campaign on a low budget for different videos to see which one will get you more customers. Once you determine which strategy works best, choose to continue running the winning ad to increase advertising traffic.
Get to know your audience. If you have several customer personas, create a personalized ad for each of them. Say you sell headphones so your buyer persona can be a female gamer in her mid-30s or a male jogger in his 20s.
Retarget for success. As soon as you get 1000 unique visitors to your website with a TikTok pixel on it, you can create a custom audience and start retargeting.
10