Ecwid store setup checklist for Holiday sales
Dive into key features for your store that will help you increase sales and create an effortless fulfillment process during the rush Holiday period. Follow the checklist in this guide to make sure your store is 100% ready for the sale season.
Set up sale prices
Sale prices are the main thing that can seal the deal, enchanting your customers to make a purchase. Start with updating your regular price for each product in the Catalog → Products section in your Ecwid admin (Products tab in the Ecwid mobile app). When you set the sale price, the original product cost is shown struck out and the product gets the "ON SALE" label. You can change the label text and choose to display the price difference as a percentage or as a dollar-amount off.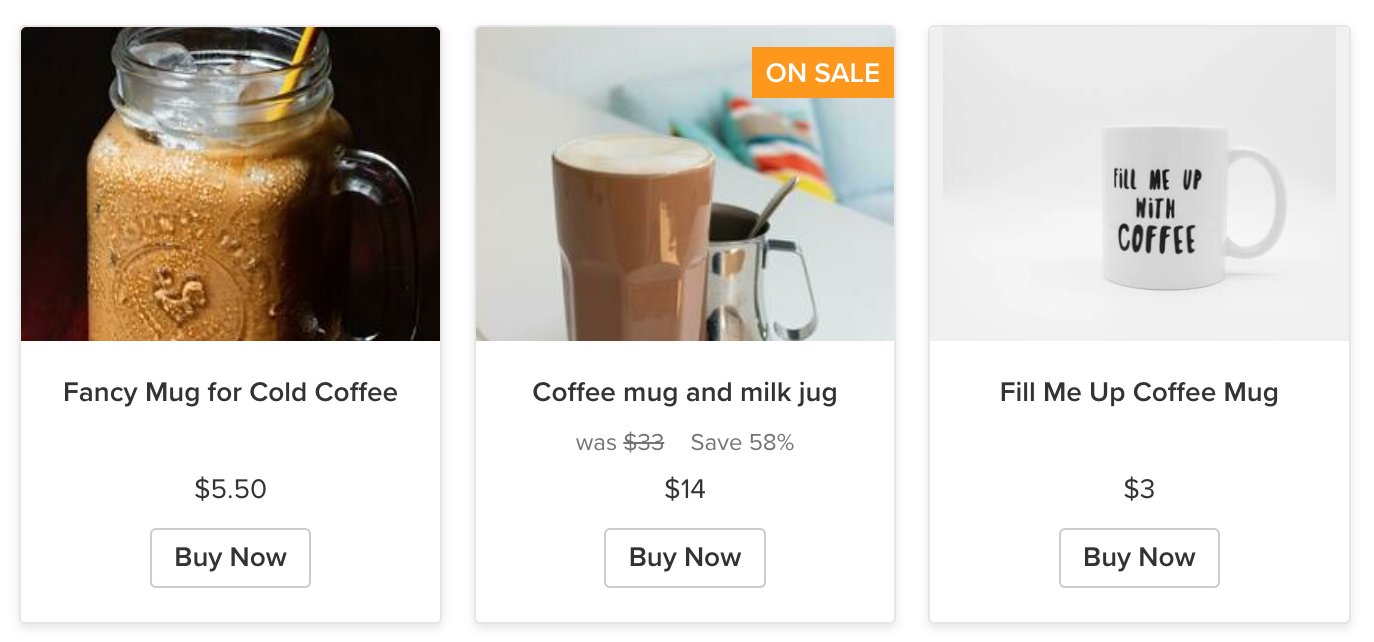 Create discount coupons
Coupons are pretty flexible to set up—you can discount a percentage (10% off), fixed value ($5 off), offer free shipping, or both discount + free shipping on products and categories. What is more, you can specify a certain shipping or delivery method for the "Free shipping" coupons to avoid spending a fortune on distant shipments.
You can set up coupons in Marketing → Discount Coupons on desktop. In the mobile app, tap Discounts.
Highlight special offers with promo bars
Inform your customers about discounts and special offers with promo bars and notes in your store. There are several ways to highlight seasonal deals in your online store:
Promo bars in the New-Gen Instant Site
Announcement on the store home page or a category page
Product ribbons in catalog
The most eloquent way to display special offers is with bright promo bars available in the New-Gen Instant Site. You can even highlight your discount coupons on top of your website.
Add promo bars and announcement notes to your store →

Offer gift cards
Gift cards help uncertain shoppers to solve the What-To-Buy-For-Colleagues-And-Friends dilemma. Gift cards are especially helpful for last-minute shoppers since they will immediately get the card in their email and don't have to wait for a product to be delivered.
You can enable gift cards in Catalog → Gift cards. You choose the card amount yourself. The recipient can use the card amount as payment for multiple orders until the card is fully redeemed.
Add gift cards to your store →
Upsell with extra services at checkout
People tend to buy gifts during the Holiday season, so they need a special wrapping. You can offer a gift wrapping at checkout and add surcharge fees for that service.
All you have to do is create an extra checkout field in the Settings → Custom Checkout Fields, name it "Add gift wrapping", and add a fee.
Pro-tip: you can use custom checkout fields to ask for additional information. E.g., what gift message to include, does they need an invoice inside the parcel, etc.
Create custom checkout fields →
Sell out of stock products with pre-orders
Enable pre-orders to accept orders even when you are sold out during the sale. Especially useful if you run a flash sale.
You can turn on pre-orders for each product individually in the Stock Control block on a product editing page in Catalog → Products. Shoppers will be able to order a product once it reaches "0" in stock.
Learn more tips how to manage your stock during the sale season →
Recover abandoned carts
Sometimes customers add products to the cart but don't finish the purchase. In that case, you can remind buyers about unfinished orders by sending them emails. Each recovery email contains a list of products left in the cart and a button to complete an order.
You can set up cart recovery emails in the in My Sales → Abandoned Carts.
Bring customers back with abandoned cart recovery emails →
Show delivery date right away
Number of shipments increases dramatically during the Holiday season, so there might be delays. Make it more predictable for customers when to expect their purchase by adding an approximate delivery date to a product page.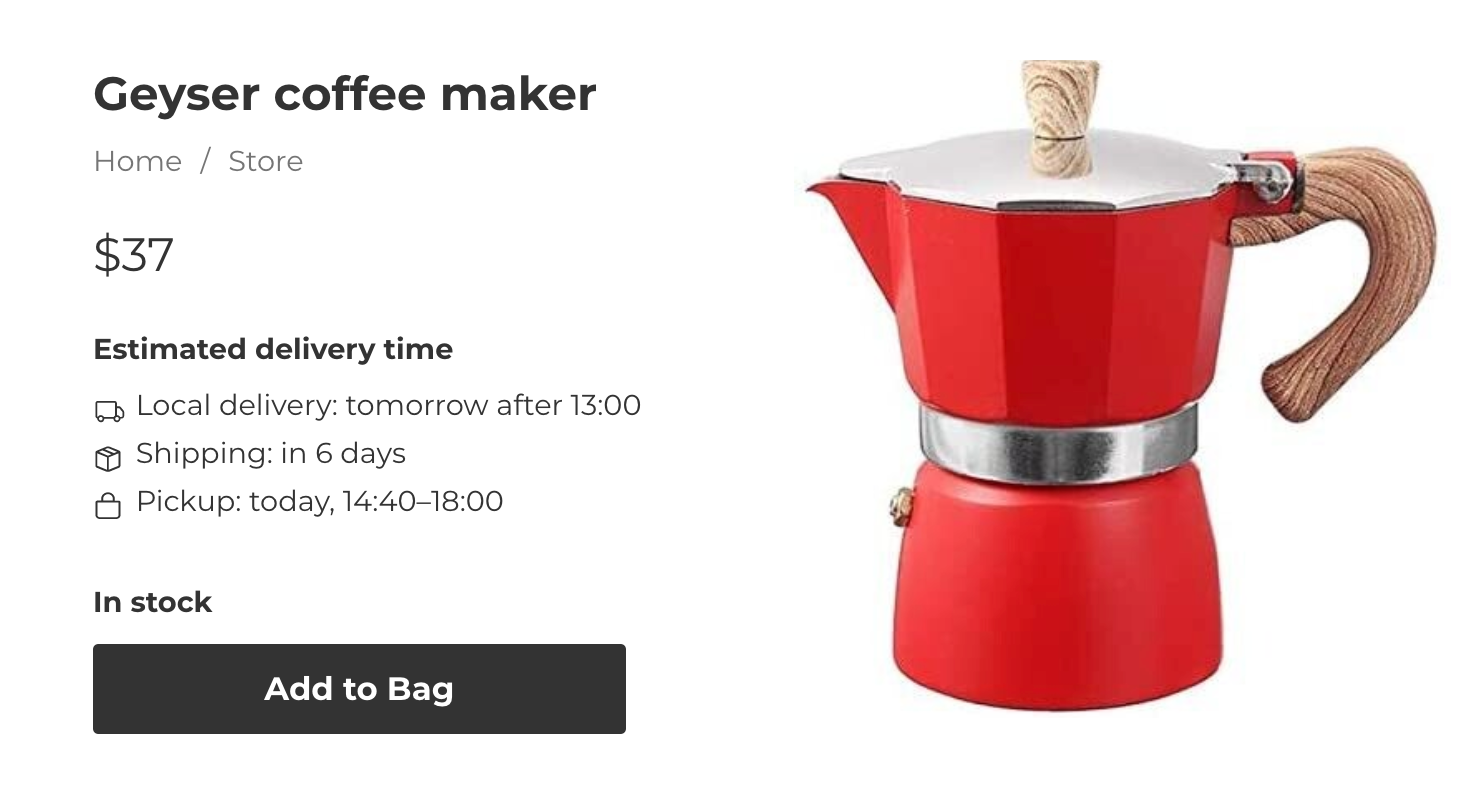 You can turn on displaying an estimated delivery date on a product editing page in Catalog → Products → Shipping & Pickup.
Add an estimated delivery time to product pages →
Inform customers about blackout dates
The Holiday season can be pretty overwhelming especially for local business and local deliveries. You may want to take a day off to manage order fulfillment or simply to take a break. To prevent customers from selecting your day-offs for delivery or pickup, add blackout dates to your store. Customers won't be able to choose blackout dates at checkout as a date to get their order.
Speed up fulfillment with shipping labels
Each package needs a shipping label before it can be shipped. To save your time going to the post office, you can purchase shipping labels from your Ecwid admin. Currently, you can buy labels for USPS only.
You can buy a label by clicking Buy shipping label in the order details on My sales → Orders. In the mobile app, tap Orders → choose an order → tap Buy shipping label.
Learn more about shipping labels →
Pack like a pro
To make sure the package arrives safely, wrap your orders in quality packaging. We recommend Arka, eco-friendly custom packaging service at the best prices, lowest minimums and quickest turnarounds.
In the Arka you'll find insert, poly mailers, stickers, and tissue paper, and boxes of different sizes. To seal the best deal, use the ecwid15 promo code to buy discounted packaging from Arka. To apply promo code, go to arka.com/ecwid, and start your design. You will be able to enter a promo at checkout.
You can also use the Arca app from the Ecwid App Market to customize your packaging.
Choose package for better customer experience →
Handle returns
The more people buy, the more they return. Here's what you can do to prepare your store for returns:
Manage orders on the go
When you are in the warehouse, on your way to the post office, or buying additional duct tape, you can stay in the loop about new orders with the Ecwid mobile app for iSO or Android.
With the app, you will get notifications about new orders, will be able to update catalog, upload new products by scanning SKU, and a lot more.
See feature highlights for the iOS mobile app →
See feature highlights for the Android mobile app →
Add more languages to your store
Add additional languages to your store to engage with more audiences. Default content in your store (buttons, field titles, etc.) is translated automatically, while individual content (products names, descriptions, etc.) you need to translate manually. The New-Gen Instant Site is designed to create a multilingual site along with the store.
Add more languages to your store →
Make your website multilingual →
Promote your store
Drive visitors to your website with ads in Google and on social media. The more visitors you get, the more orders you receive.
Here's what built-in solutions you have to promote your store:
Improve your ranking in search results (SEO)
Along with paid ads, search engine optimization (SEO) is a great free tool to drive traffic to your store. Why? Because people search for what they want to buy, and SEO is the process of improving your site's ranking in the search results.
Your store is optimized for search engines by default, but you can improve search results for your site. It's especially important if your store is new to the market.
Improve search results for your store →
Customize your store for something special
As you can see, there are plenty out-of-box tools to prepare your business for the peak season. Still, if you have something special in mind and want more specific tools for sales, check our customization options:
App Market. Dozens of apps that can add more marketing tools to your store, collect customer emails, integrate payment or shipping methods, and more.
Custom design. Change colors, fonts, expand the discount coupon field, and design your store in any other way with premade CSS codes.
Customization. For any peculiar needs, submit a request to the Ecwid customization team. Stores on Business or Unlimited plans have 2 and 6 hours of free development included in the plan, respectively.
10