Accepting cryptocurrency in your online store
A cryptocurrency or crypto is a digital or virtual form of currency. It uses encryption to verify and secure transactions. Since it can be transferred directly from person to person, the transaction usually takes minutes, and there are no chargebacks. You can accept BitCoin, Ethereum, Dogecoin, or any other cryptocurrencies in your Ecwid store from customers all over the world.
With Ecwid, it's possible to accept crypto along with other world currencies. Once you sign up, you get your online store and can set up payment and shipping methods within a few hours. Ecwid can be added to multiple sites, including Facebook and Instagram, or TikTok.
To accept crypto in your store, you can install one of the following apps:
BitPay (Ecwid plugin on Github)
Crypto.com
Before connecting Crypto.com to your Ecwid store, you need to register a merchant account on Crypto.com.
Open the Crypto.com Pay app and click Install.
In the opened window in Ecwid admin, enter the Publishable Key and Secret Key. You can find these values on your Crypto.com merchant account in the Developers tab on the Dashboard menu bar.
After you fill in the Publisher Key and Secret Key, enter the Signature Secret. To generate a signature, go to your Crypto.com merchant account Dashboard → Developers → Webhooks, click Add Webhook and then input https://<YOUR-STORE-URL>/index.php?route=extension/payment/crypto/callback as the Payload URL. A signature secret for webhook will be generated. Copy it to the Signature Secret field in your Ecwid admin.
Click Advanced settings and uncheck the Enable test mode (no charges) checkbox to start accepting payments.
With the Crypto.com Pay you can accept payment in USD and EUR along with cryptocurrencies.
CoinPayments
Before connecting CoinPayments to your store, you need to sign up for a CoinPayments account if you haven't one.
Open the CoinPayments app and click Get, then Install.
Fill out the Merchant ID field. You can find your Merchant ID in Account → Account Settings → Basic Settings in your CoinPayments account:


Fill out the IPN secret field. You can set your IPN secret value in Account → Account Settings → Merchant Settings in your CoinPayments account:


The IPN secret value you enter in your Ecwid Control Panel must exactly match the IPN secret value in your CoinPayments account.

(optional) Fill out the Replace store currency with crypto coin. This will allow you to convert the order total to the set cryptocurrency at a 1:1 ratio. If the field is empty, the order total will be converted to crypto coins at the current exchange rate.
Click Save settings.
The app automatically updates the statuses for the orders paid through CoinPayments, when the coin payment is verified.
BitPay
If you would like to add a Bitcoin payment method to your online store, you can use the Bitpay Ecwid module. You will find the module along with instructions on how to install it to your Ecwid store on https://github.com/bitpay/ecwid-plugin
Once you connect one of the apps to your Ecwid store, the crypto payment option will be available to your customers at checkout, and you can accept Bitcoin, Ethereum, Litecoin, and other digital currencies: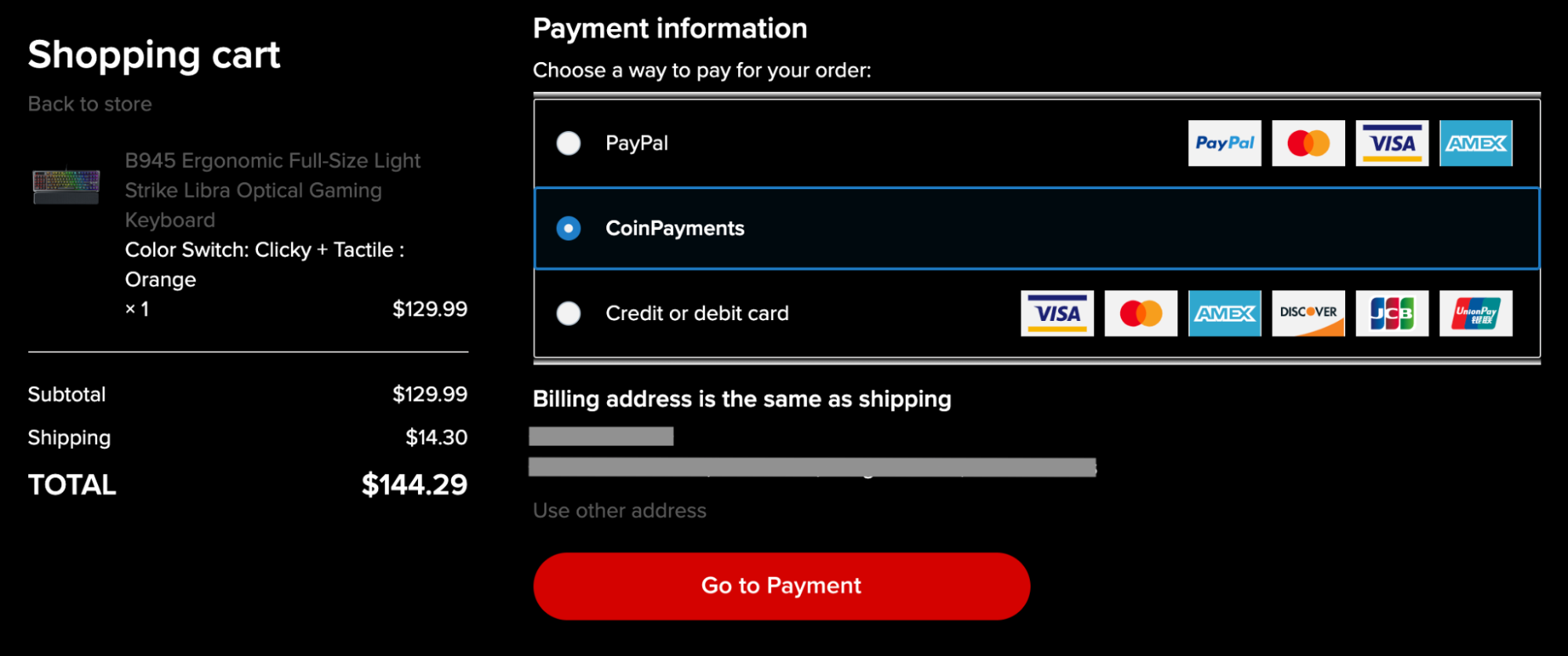 10