Getting reports using Google Analytics
Would you like to know more about your sales and buyers? You can:
get detailed statistics about your site traffic and traffic sources,
track metrics like pageviews and bounce rates,
measure conversions and sales,
see search keywords that your customers use during shopping,
use remarketing to reconnect with people that visited your store.
Connect your Ecwid store to the free and powerful Google Analytics service to have access to lots of stats and get insights into how your existing and potential customers find and use your store.
In this article:
Creating a Google Analytics account
If you already have a Google Analytics account, you can proceed to the next section and connect it to your Ecwid store.
If you don't have a Google Analytics account, follow these steps first to create it:
Click Start for Free in the top right corner.
Sign in to your Google Account or create a new Google/Gmail account
Click Sign Up in the top right corner to start using Google Analytics service.
Fill in your Account Name, Website Name, Website/Instant Site URL, and select an Industry Category and Reporting Time Zone.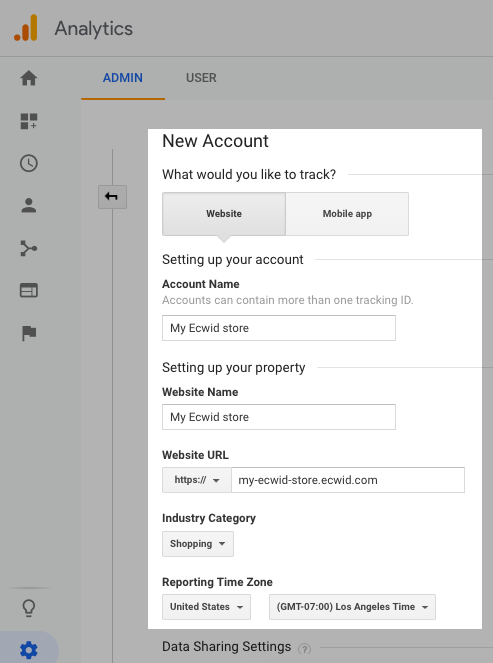 Under Data Sharing Options, check the boxes next to the options that you want.
Click Get Tracking ID.
Agree with the Google Analytics Terms of Service Agreement that opens.
Google Analytics will generate a Tracking ID for you — copy it for later use:
Now you have a Google Analytics tracking ID for your site and can add it to your Ecwid control panel to link both. Read on to learn how.
Connecting your store to Google Analytics
It is really easy to connect your Ecwid store to your Google Analytics account:
Sign in to your Google Analytics account.
Proceed to Account → Property Settings: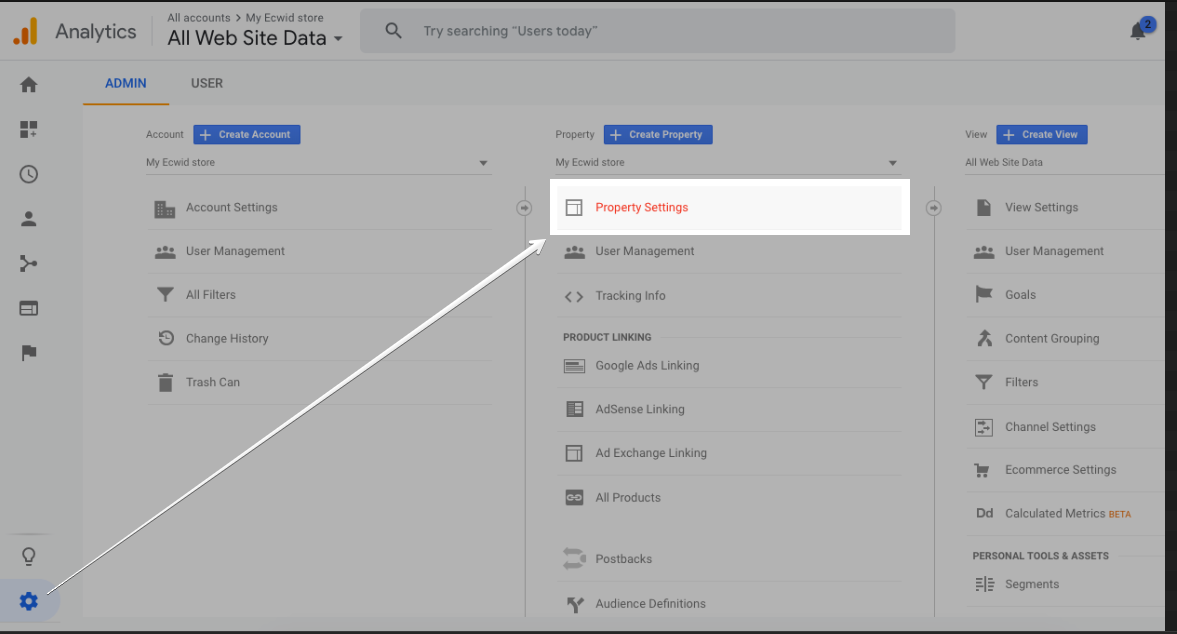 Copy the Tracking ID: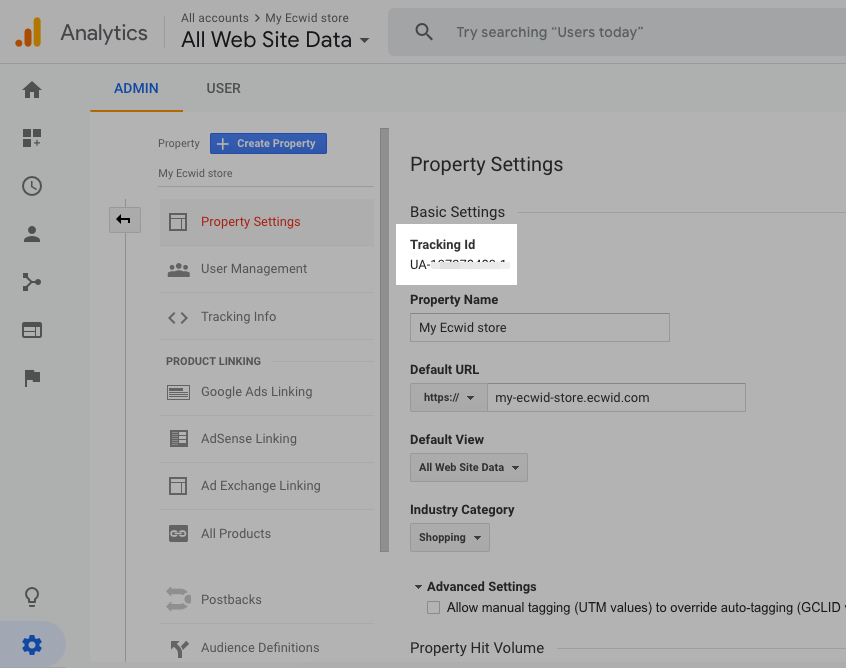 From your Ecwid admin, go to

Settings → General → Tracking & Analytics.
Paste your Tracking ID in the Google Analytics ID field: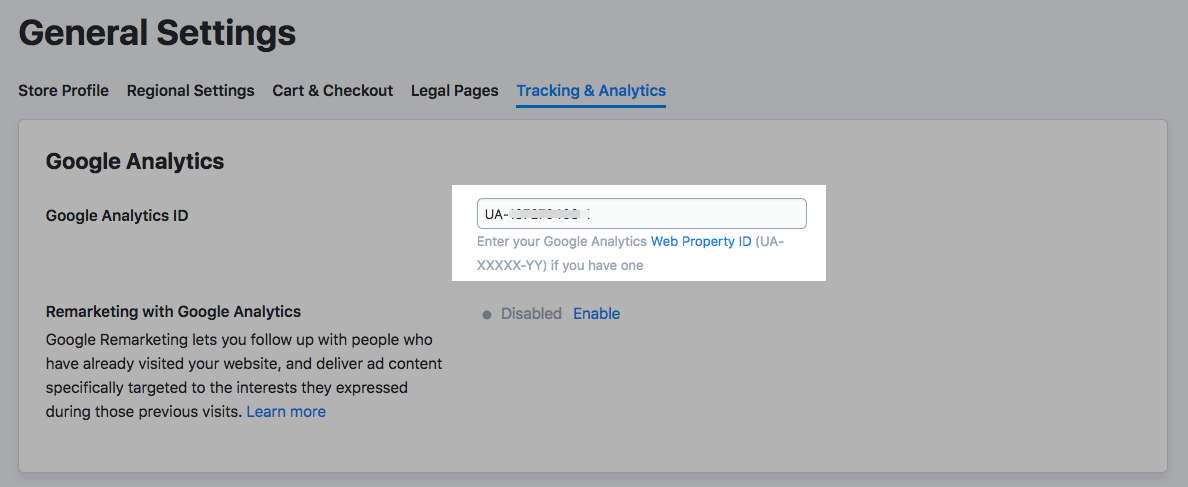 Click Save or press Ctrl + S to save the changes.
Open your Google Analytics account again.
Click Admin.
Click Ecommerce Settings under the View column: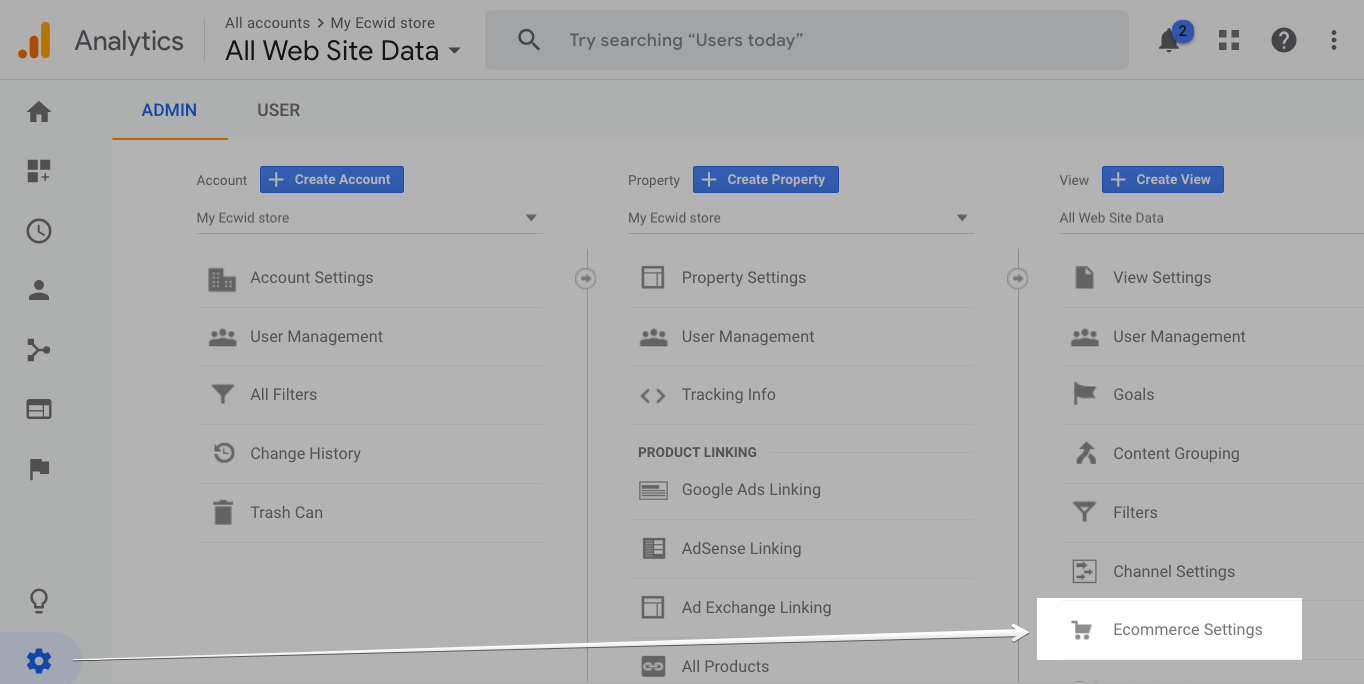 Switch the toggle to ON under Enable Ecommerce and under

Enable Enhanced Ecommerce Reporting

: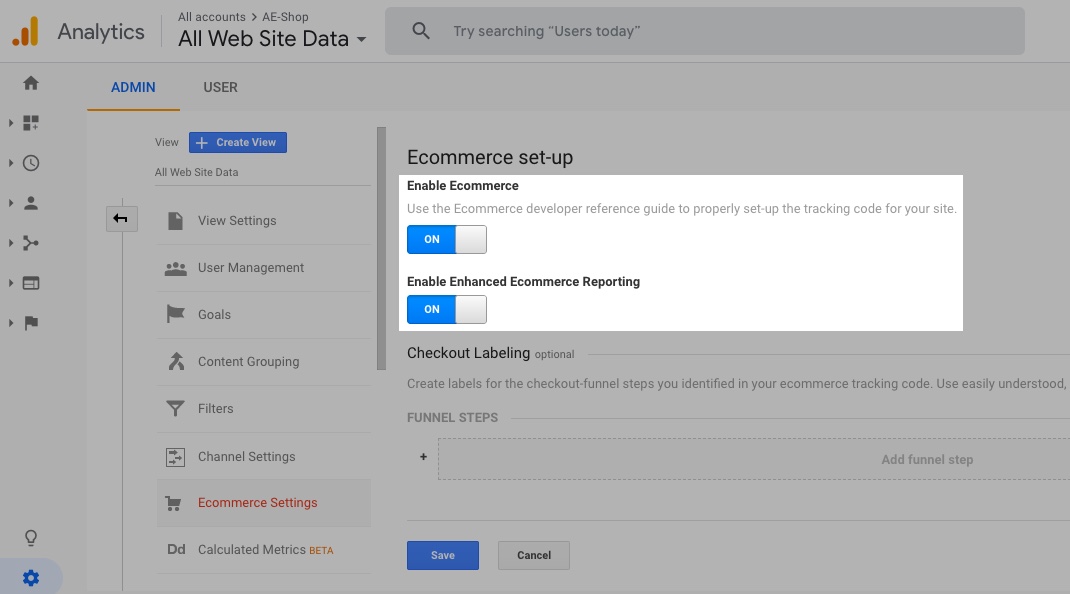 Click Save.
That's it. You've connected your Ecwid store to Google Analytics and enabled the Ecommerce Tracking in your Google Analytics settings and now the following events will be tracked:
Views of any store page
Views of product pages (ID of the product viewed in the store, its name, category and price)
Adding product to shopping cart (IDs of products added to the cart, their names, prices, quantities and categories)
Checkout: a shopper starts checkout
Checkout: a shopper enters shipping address
Checkout: a shopper chooses shipping method
Checkout: a shopper chooses payment method
Purchase (name of the store the purchase came through, the order number, order total, tax amount, shipping cost, coupon code if entered)
Note that the first results in Google Analytics reports will appear in about 24 hours.
Getting reports
You can get useful reports when using free and powerful Google Analytics service with your store, such as:
Real-time reports about where your active store visitors are geographically located, what pages they are viewing, if they are browsing your store via Desktop or a mobile device, the keywords and websites that brought them to your store, etc. You can see top live data in Real-Time → Overview or check each subsection separately using the menu on the left: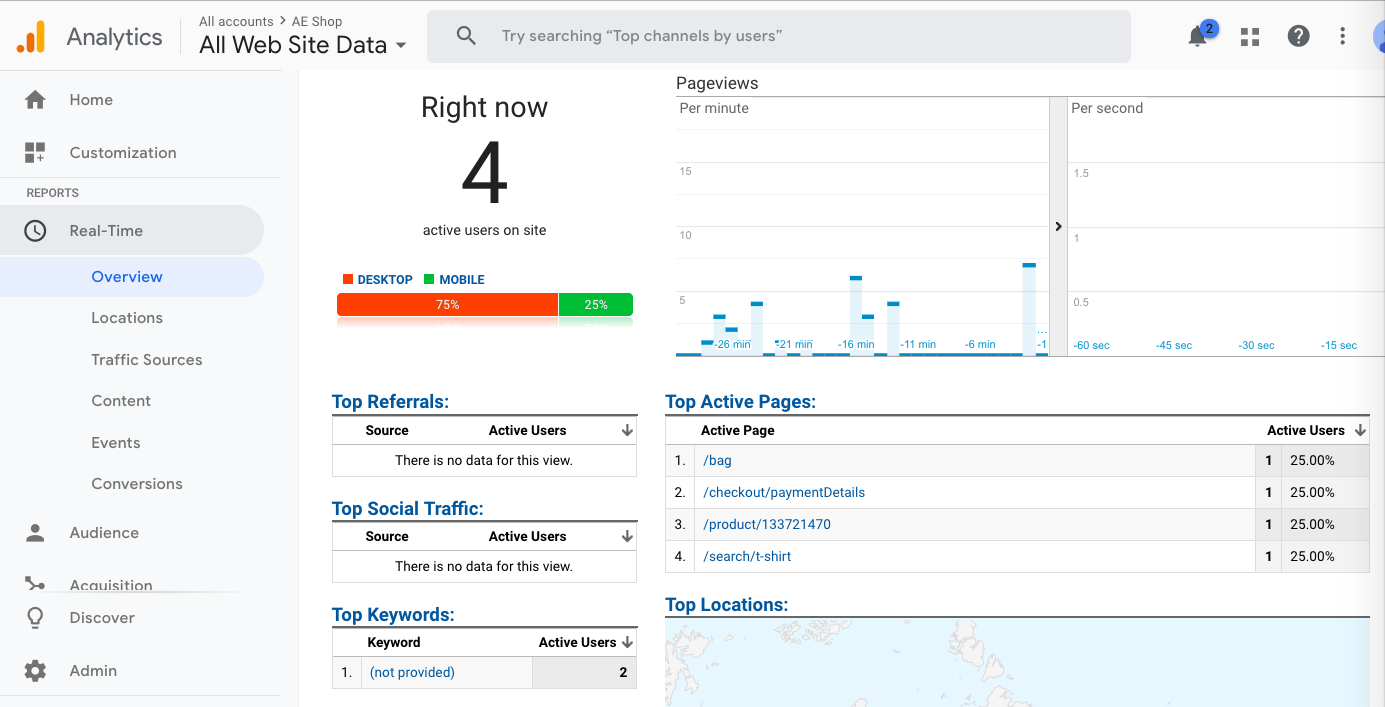 Stats about Audience. You can view detailed information about your store visitors like their city, language, browser, operating system, their engagement if they are new or returning customers. You can segment your store visitors by different criteria and see the reports for each segment: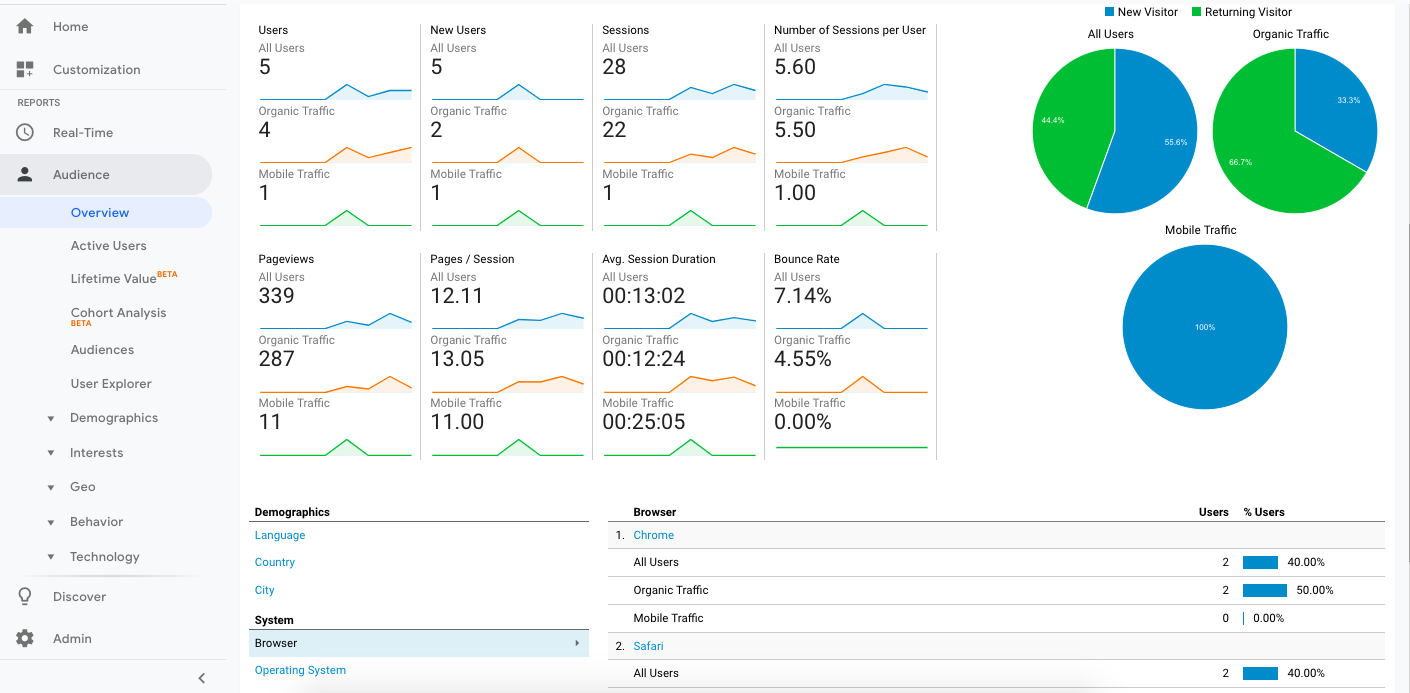 Make sure to choose the necessary date range in the top right corner to see the stats for that period.
Acquisition data. Find out the biggest traffic sources that are sending buyers to your store - whether your store visitors mostly come from Google.com or other search engines, if they visited your store directly (used a bookmark or typed in your store address in their browser) or came to your store by clicking a link on some website or on a social network.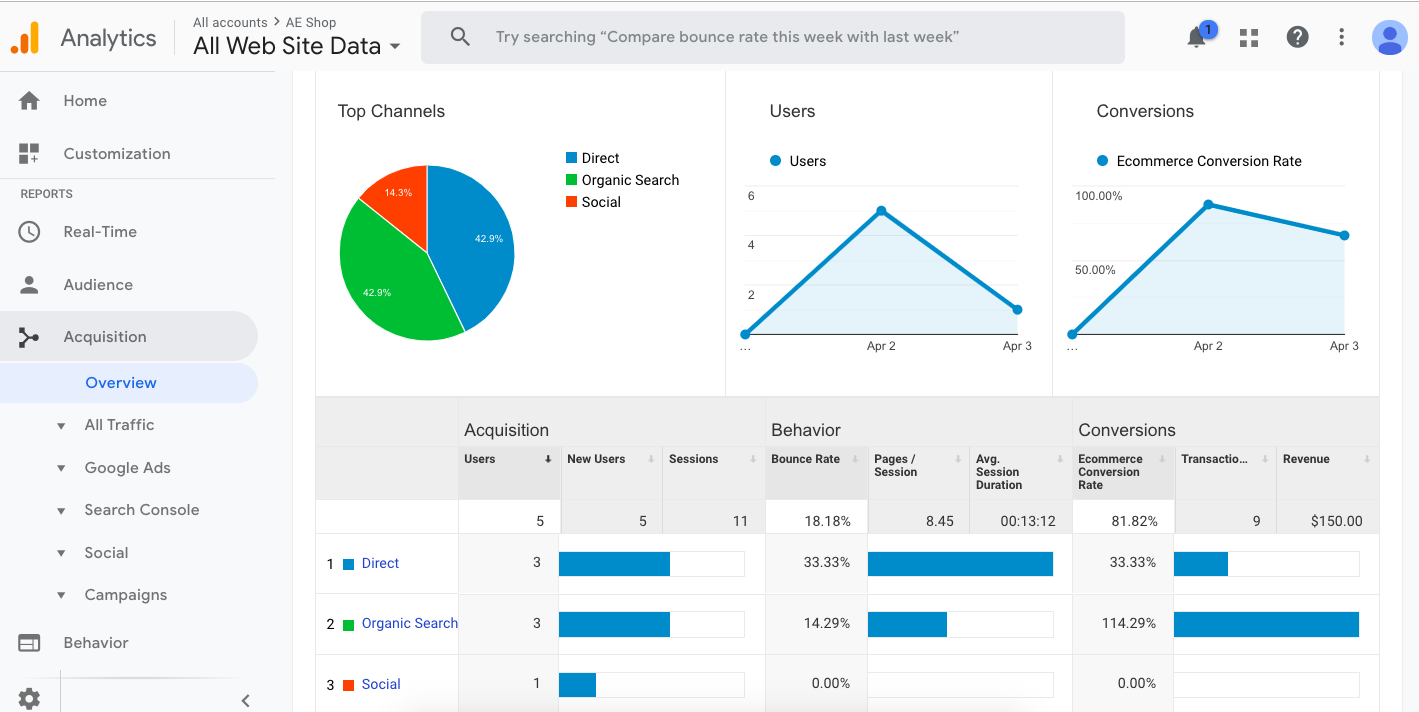 In the Behavior section you can find out how visitors interact with your store: how many times they viewed certain store pages, how long they stayed on these pages on average, the number of times they entered and exited your store via a certain page, etc.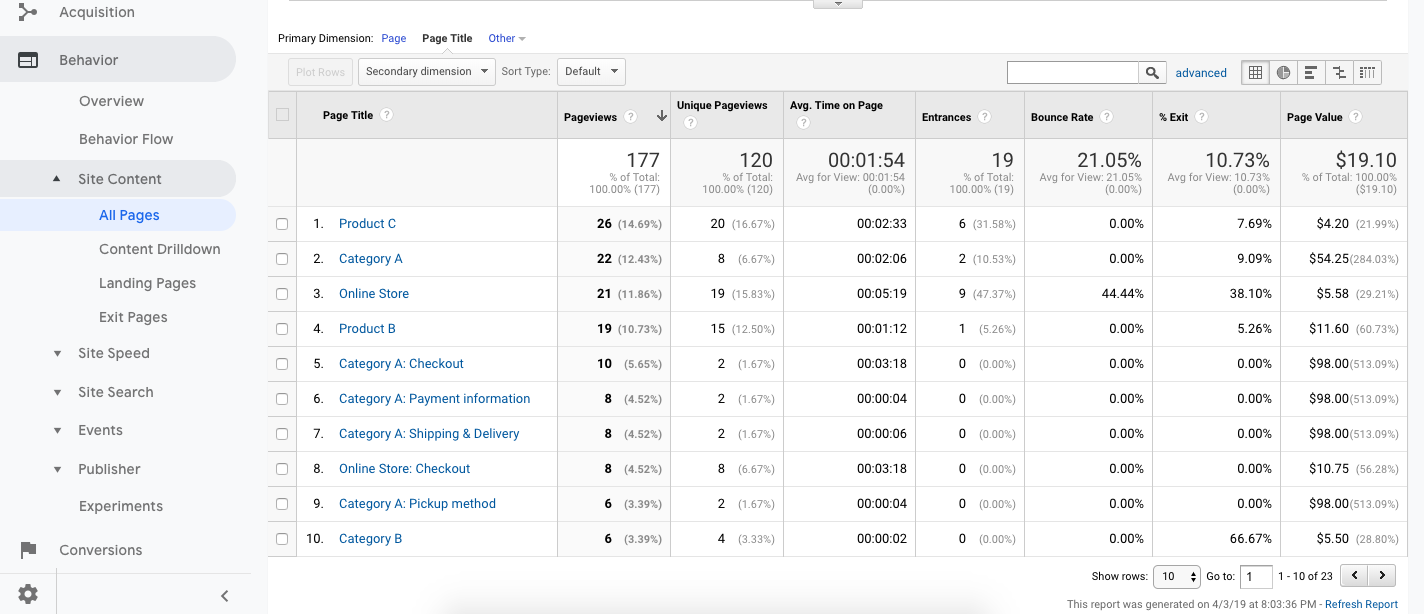 In the Conversions section of your Google Analytics account you can find:
your top selling products/SKUs, revenue from individual product sales, the number of units sold:

your revenue on certain days:

each transaction that occurs in your store (revenue, collected tax and shipping charges, numbers of units sold in a transaction) and the totals of these figures:

You can quickly reach some report by clicking on a ready question in
Insights
section in the top right corner of your Google Analytics: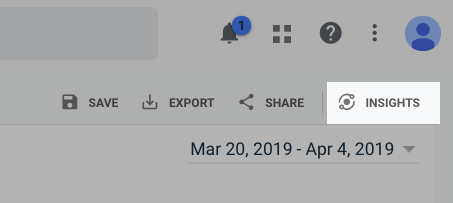 You can also gather necessary reports and quickly check them on a single page as well as get a daily/weekly/monthly report by email via a
custom Dashboard
in your Google Analytics account.
Understanding reports
All Ecwid store pages are dynamic and generated on the fly. A page isn't refreshed when you browse the store — Ecwid updates the HTML code on the page without reloading it. This way new pages load very fast, but to get the exact number of views of your dynamic store pages, Ecwid needs to emulate page loads via Google Analytics API so that clicks through the pages can be tracked. That is why it's necessary to set up Google Analytics in your Ecwid control panel to get the exact stats about the store, even if you've already added GA to your site itself.
Since Ecwid emulates page loading, the "virtual" pages appear in reports in your Google Analytics account. That is why Ecwid pages and links don't redirect to actual pages if you click on them in Google Analytics. But each "virtual" page corresponds to the respective real page in your store.

Here is the list of virtual pages generated by Ecwid:
| | |
| --- | --- |
| Virtual page in Google Analytics | Corresponding page in your Ecwid store |
| "/product/" + productId | Product page. ProductId is a unique ID of an opened product |
| "/category/" + categoryId | Category page. CategoryId is a unique ID of an opened category |
| "/search/" + keywords | Search page in your store |
| "/bag" | Shopping cart page |
| "/checkout/address" | Shipping & Delivery step of checkout |
| "/checkout/delivery" | Shipping/Pickup Method step of checkout |
| "/checkout/paymentDetails" | Payment Information step of checkout |
| "/checkout/orderPlaced" | Order Confirmation page. A buyer sees it after a successful order. |
| "/checkout/orderFailure" | Indicates an issue with order placement |
| "/account/settings" | Settings section in customer account |
| "/account/orders" | Orders section in customer account |
| "/downloadError/" | Failed attempt to download a file |
Here you can see an example of how a product's virtual page looks like in Google Analytics reports: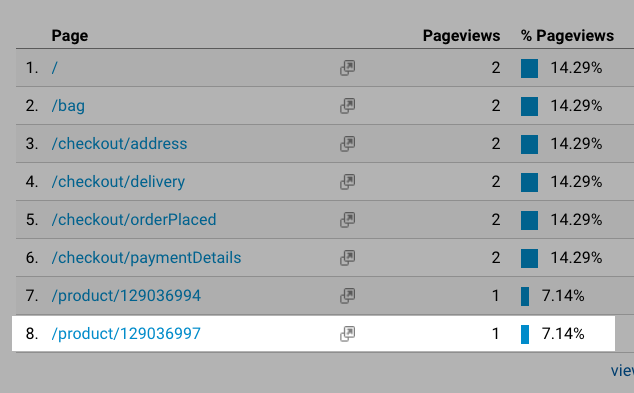 And here is the actual URL of that product page in Ecwid storefront: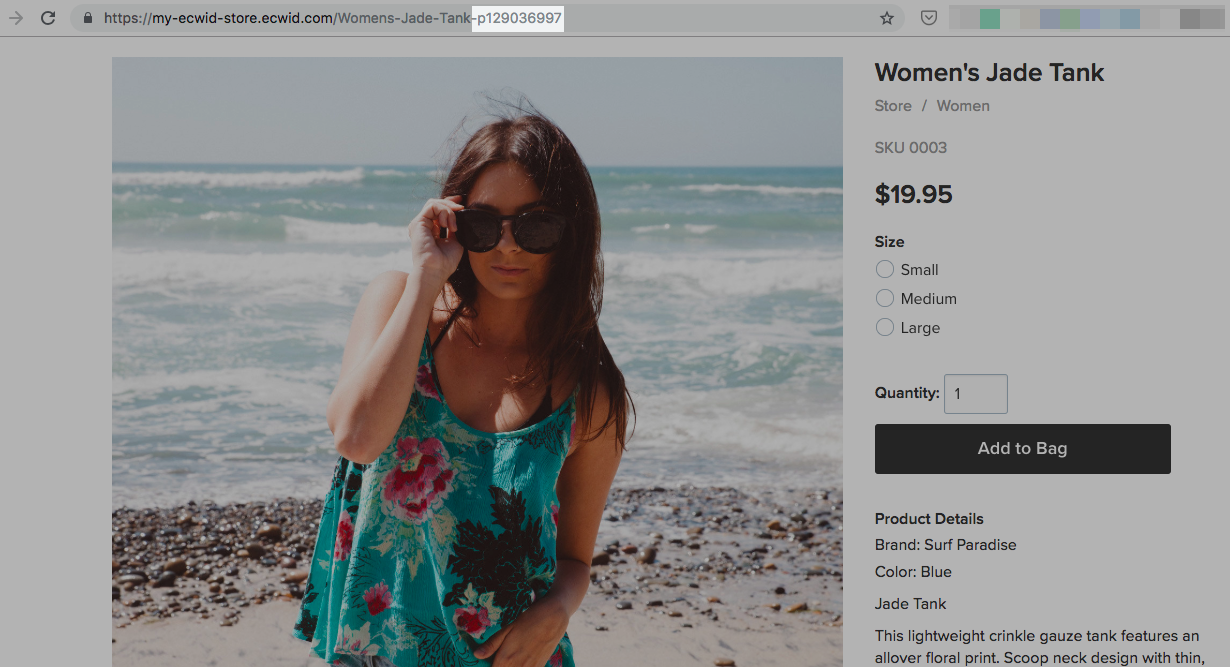 As you can see from the above images, both the URL of the actual product page and its virtual page in Google Analytics have the same product ID. To see what ID belongs to what product, check your storefront or, if you have a large catalog, export information about the products.
In some reports, you can switch from
Page
to
Page Title
to see your product names instead of virtual pages (e.g. in
Behavior → Site Content → All Pages
):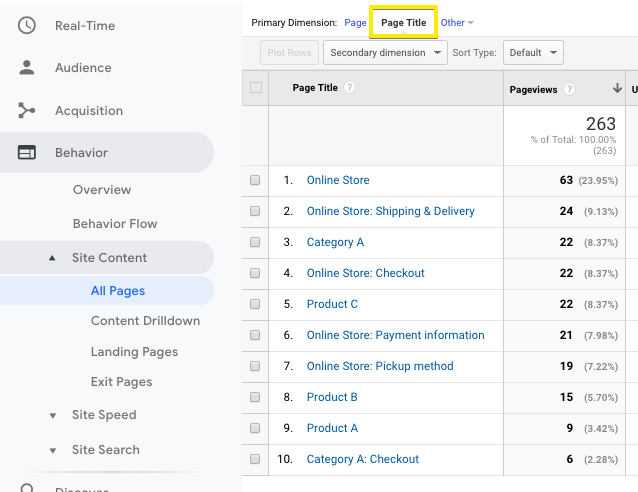 Tracking conversions
You can track conversions by setting up a goal in your Google Analytics account. Thus you will know how many visitors visit your store, how many of them complete the purchase and at what pages the rest of them leaves your store without buying. With this information at hand, you see what pages you should optimize to increase the conversion rate.
Here is how you can create a Converted goal for your store:
Go to your Google Analytics account.
Click Admin in the bottom left corner.
Click Goals under View column: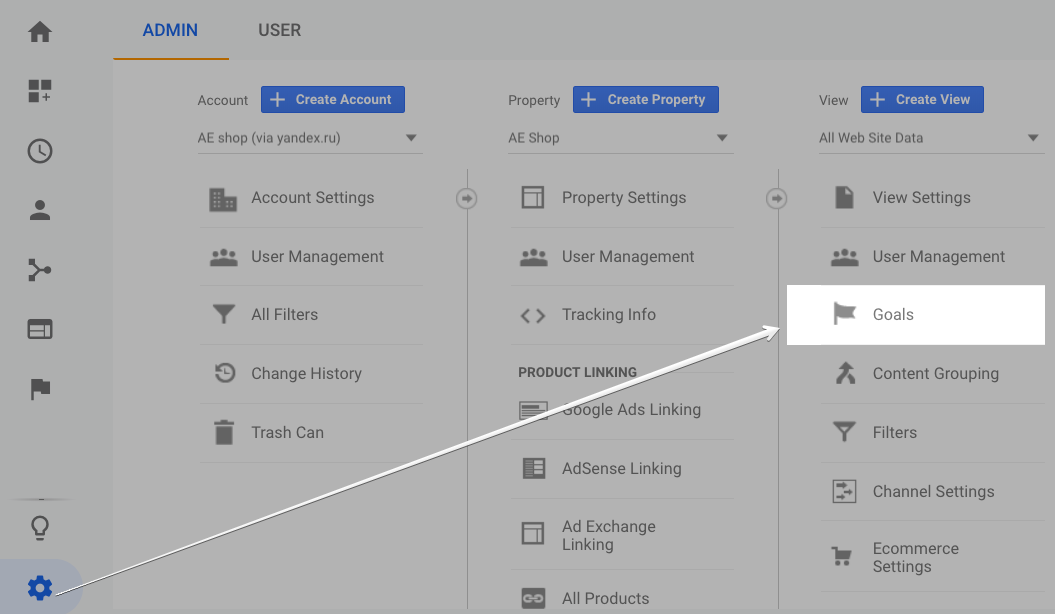 Click +New Goal.
In the Goal Setup that opens choose Custom: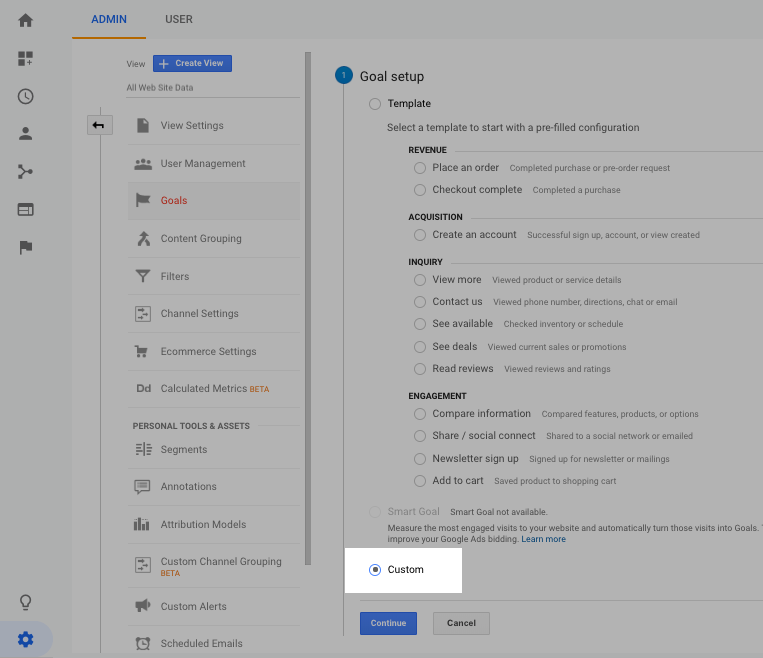 Click Continue.
Enter intuitive Goal Name and choose the Destination as your goal type: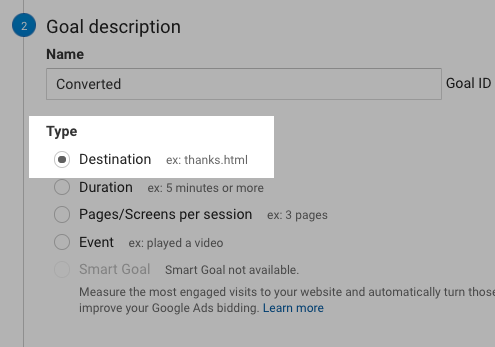 Click Continue.
In the Destination dropdown choose Regular Expression and paste /checkout/orderPlaced in the field next to it:

Switch the toggle for Funnel to ON and add the steps of your goal funnel using the virtual pages from the table: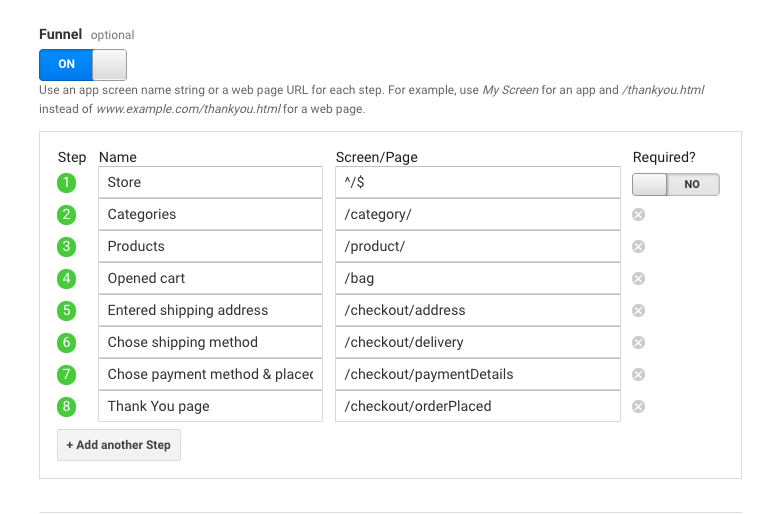 Click Save and wait a few hours for the data to start appearing there (it can take up to 24 hours).
Now you can track conversions in Google Analytics account (Conversions → Goals → Funnel Visualization and Conversions → Goals → Goal Flow sections) to see how customers interact with your store, at what pages they leave it and what is the percentage of those who successfully reached the Converted goal.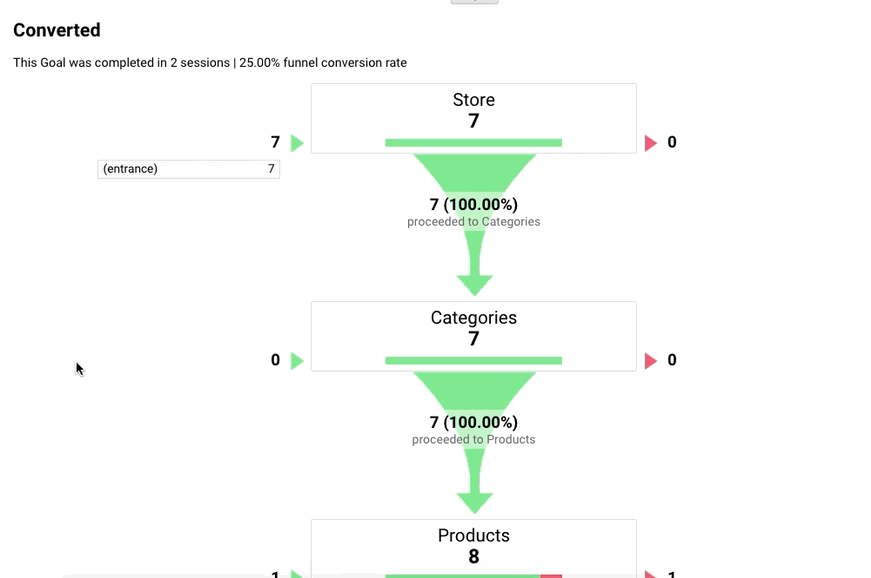 Checking customers' search terms
You can find out what terms your customers typed into the search field within your store when looking for necessary products:
Go to Google Analytics → Behavior → Site Content → All Pages.
Enter /search in the search field.
The results will contain keywords your customers used after the /search part. Example: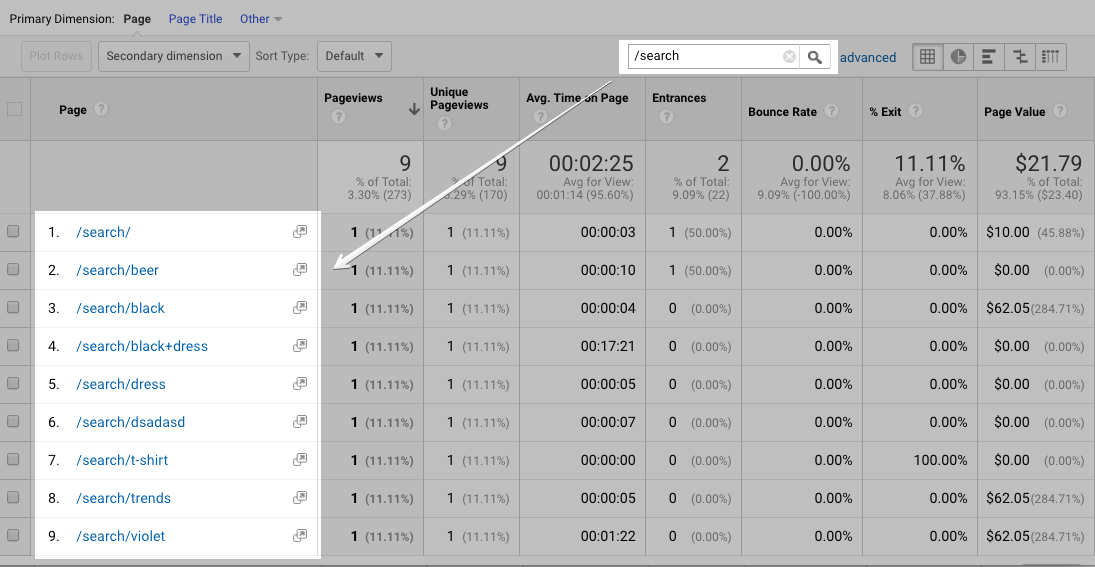 You can also analyze the search behavior of your customers with the help of the
Cloud Search app
.
Related articles
Basic reports and sales stats
Analytics and reporting apps from Ecwid app market
How to set up daily reports in Google Analytics (blog)
The Beginner's Guide to Google Analytics for Ecommerce stores (blog)
Facebook & Google Retargeting: How to turn your visitors into customers (blog)