What makes QuickBooks particularly useful for e-commerce entrepreneurs is its e-commerce specific features. You can:
record your sales from several channels (your own store, Amazon, eBay, etc.);
sync your finances from multiple payment systems (Paypal, Square, etc.);
track your inventory;
keep track of your bills;
capture any expense by taking a picture of the receipt.
In this article:
Connecting Ecwid and Quickbooks via Zapier
In Ecwid you can connect the store with QuickBooks Online to sync the store orders and accounting. This is possible with the help of Zapier, a web automation tool which enables you to automate tasks between online apps.
Zapier connects apps by means of a Zap – a link between two apps. A Zap looks like this: "When I get a new thing in A, do this other thing in B." The first part is the Trigger and the second part is the Action.
Connect Ecwid and Quickbooks
1. Have a Zapier Starter account.
2. Create a QuickBooks Online account if you don't have one yet.
At this point you need to decide how you want Ecwid to interact with Quickbooks. For instance, you want to create customers in Quickbooks once they register in your Ecwid store.
Install Zapier Web Apps Connector. Сlick the Get app button and create an account on zapier.com (you will be redirected there automatically);
Open the app, click the Make a zap! button, and name your zap;
Choose New Customer as a trigger in Ecwid;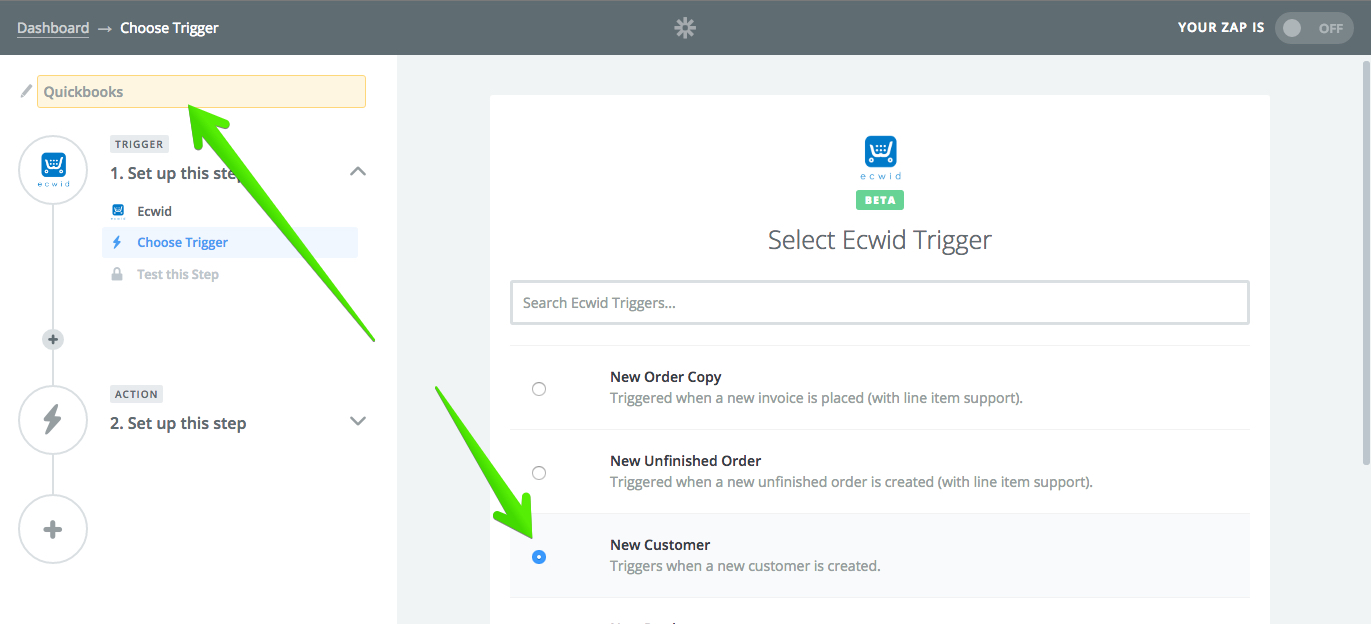 Choose Quickbooks as an Action App
Choose Action Create Customer in Quickbooks, choose the fields to be filled in;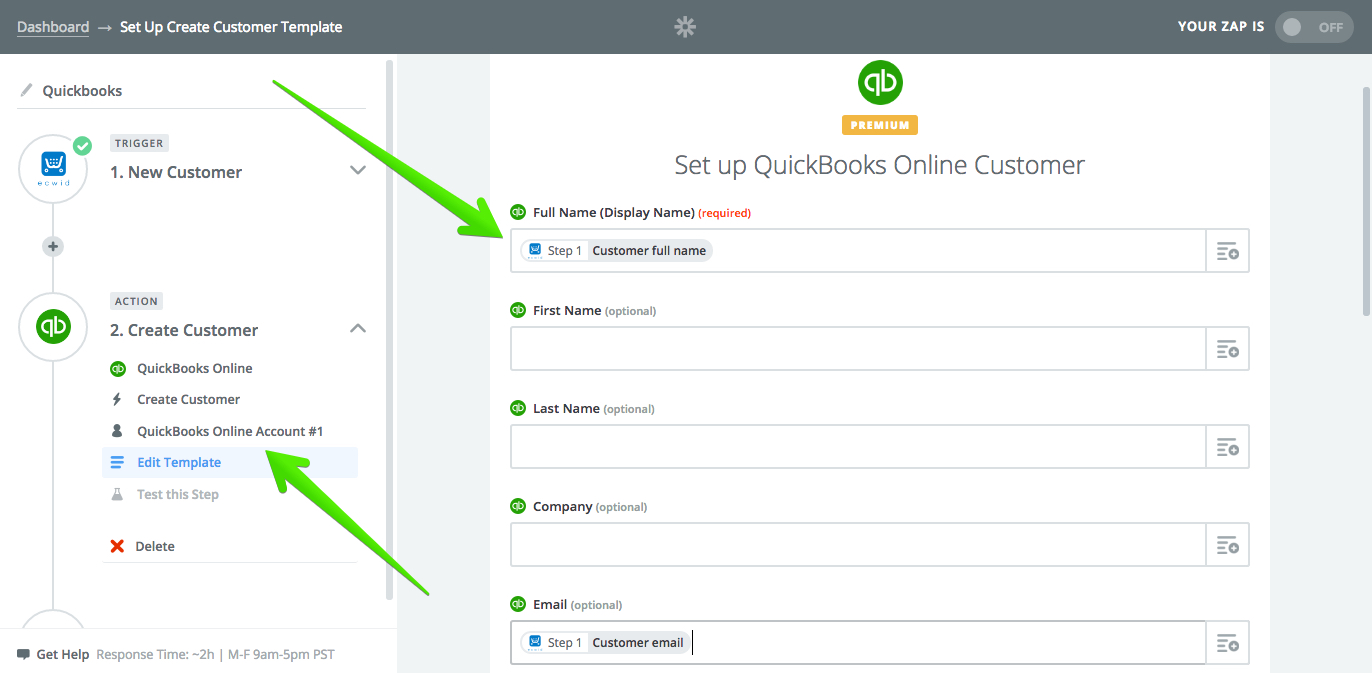 That's it! Now when a new customer is registered in your Ecwid store, this information will be synced to your Quickbooks account.
What can be synchronized
You can add as many steps to this Zap as possible to get the most info synchronized.
At the moment the following triggers and actions are supported:
New order (Ecwid) → Sales receipt (Quickbooks)
New customer (Ecwid) → Create customer (QuickBooks)
New order (Ecwid) → Sales invoice (QuickBooks)
New order (Ecwid) → Create Bill (QuickBooks)
New customer (QuickBooks) → Create Customer (Ecwid)
New Sales Receipt (QuickBooks) → Create order (Ecwid)
New Invoice (QuickBooks) → Create Order (Ecwid)
Once the Zap is created you can import all your orders from Ecwid into QuickBooks Online.
Exporting orders from Ecwid
Open the sales section in your control panel: My Sales → Orders
Click Export All at the bottom of the list or tick the orders you want to export and click Export selected
In the export settings dialog, select delimiter (what is it?) and the columns you want to get in a file and click Download CSV file
Save the CSV file on your computer
After that, you will be able to import this file to Quickbooks.
Related articles
Connect your Ecwid store with FreshBooks Accounting system
Connecting Xero to Ecwid
Accounting, Finance & Legal E-commerce Blueprint (blog)