Adding Cookie Notification to your Ecwid store
According to the EU "Cookie Law", all websites registered in the EU countries are required to inform their visitors about the use of cookies. If you have the Ecwid store and your target customers are from the EU, you should ask your store visitors for their permission to use cookies.
In this article you can find some easy ways how to add a cookie consent notice to your website.
Understanding cookies
Cookies are kind of text files stored in a browser of a website visitor that include information on pages a website visitor opens. Some cookies can collect data from different websites and then display a specific content or adverts for the website visitor.
In order to regulate the use of cookies on websites, the EU "Cookie Law" was designed. The EU "Cookie Law" regulations refer to websites for the EU customers. The law requires such websites to ask their visitors for a permission to use cookies.
Adding cookie notification to your Ecwid store
There are different ways of adding cookie banner to an Ecwid store depending on your country.
For EU merchants
If you are from EU, follow the steps below to enable GDPR cookie consent banner in your Ecwid store:
From your Ecwid admin, go to

Settings → General → Tracking&Analytics.
Scroll down to see "GDPR cookie consent banner" section and click Enable:




Save the changes.
Refresh the storefront page and you will see the GDPR cookie consent banner: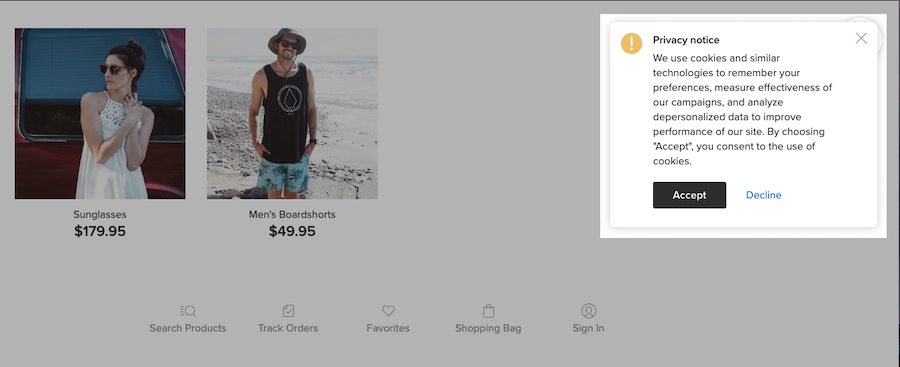 For non-EU merchants
If you are from a non-EU country but you sell to EU customers and thus you want to add a cookie banner to your store, consider using an app from our App market called "Promo Bar".
Promo Bar app offers a fully customizable cookie notification bar. To add it, open the app, scroll down the left panel to the "Extra Tools" section and click EU Cookie Notification.
If your
Ecwid store is added to a website
and you track users' behaviour there as well, you should add a separate cookie banner to the website. If a user disables cookie tracking in the store, it doesn't automatically disable tracking on the website. Thus, you should add a cookie banner both to the store and the website. Here are cookie plugins that you can use for some website builders: