Submitting a sitemap to Google
Sitemap (a.k.a XML sitemap) is a file containing a list of URLs on a site that tells search engines about the structure of its content and when it was last updated. This helps search robots to index and crawl your products faster.
Ecwid automatically generates sitemaps using the .xml format, so you don't need to create one manually. It includes the URLs to your storefront page, categories, and product pages. We automatically update it every week.
Accessing your sitemap on Instant Site
You can check your sitemap by adding /sitemap.xml part to the end of your domain in the browser's address bar. Example:
Sitemap on Instant Site is already submitted to Google internally (via robot.txt file), still, if you wish search engines to find it a bit faster, you may want to submit your sitemap to Google manually via Search Console.
To submit a sitemap via Google Search Console:
Make sure that you've verified the site ownership.
In your Google Search Console, proceed to the Sitemaps section.
Add sitemap.xml part to your Instant Site URL in the Add a New Sitemap section:

Click Submit.
Using sitemap with your own website
If you are using Ecwid with your own website, you can generate a sitemap for your store pages in two ways — by using the free Sitemap Generator app from Ecwid admin, or by using third-party services.
Sitemap Generator app
Sitemap Generator app will work with the medium-sized catalog. If you have a large number of products in your store (1000 or more), it's better to use a
third-party service solution
.
To install the Sitemap Generator app:
Open the Sitemap Generator app and click Get. You'll be redirected to the app page, click Install.
Click Download Sitemap: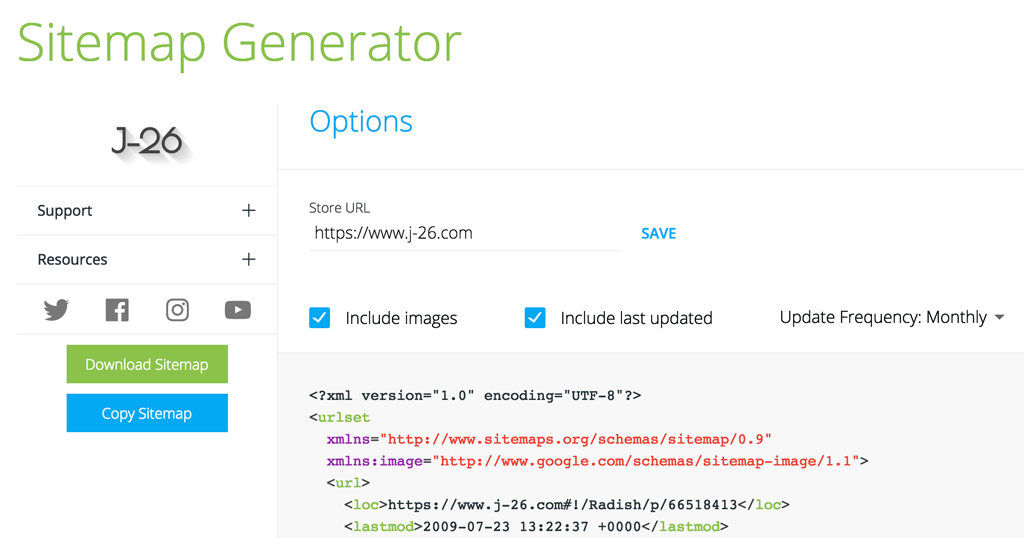 After you download the generated sitemap file, you will need to upload it on the server where your site is hosted and then submit the link for this file to Google, for example, via the Search Console:

Third-party services
To create a sitemap, you can use online services like XML-sitemaps, My Sitemap Generator, and so on.
For WordPress users, if you are using an Ecwid plugin with a WordPress site v.5.5 or higher, a sitemap is automatically generated for your store. For older versions, you can easily create a sitemap using plugins like Google XML Sitemaps or Yoast WordPress SEO — they are fully compatible with Ecwid and will add the links to the product and category pages of your store to the generated sitemap.
For Wix users, every Wix site has a sitemap that updates automatically with your site's most current information. If you connected your site to Google using the Wix SEO Wiz, your sitemap is automatically submitted to Google. Any following changes must be submitted manually. Note that only the site pages like "Store," "About us," and so on are submitted, and not the store pages with your products, categories, etc. You also won't be able to edit a sitemap generated by Wix. Learn more about sitemaps on Wix in the Wix Help Center.
Related articles
Marketing checklist
Using Google Search Console
Checking indexation of your store
Instant Site SEO settings
SEO: ways to improve
10