Submitting sitemap to Google
According to Google, you can benefit from adding a sitemap to your website, especially if you run a large online store, if you have a few external links to it and if you are using rich media content in your site. To keep it simple - sitemap (a.k.a XML sitemap) is a file containing a list of important pages of a website. It tells Google and other search engines about the structure of your site content and when it was last updated, thus helping search robots to index and crawl your products faster.
Accessing your sitemap on Instant Site
Sitemap is automatically generated for Instant Site on all paid Ecwid plans, so if you are a free user you can quickly and easily get a sitemap on your Instant Site by upgrading to a higher tier plan.
The sitemap is automatically updated every week and contains the links to your store front page, categories and product pages.
You can check your sitemap by adding /sitemap.xml part to your Instant Site URL in browser's address bar. Example:
Sitemap on Instant Site is already submitted to Google internally (via robot.txt file), still, if you wish search engines to find it a bit faster, you may want to submit your sitemap to Google manually via Search Console following these steps:
Make sure that you've verified the site ownership.
In your Google Search Console, proceed to the Sitemaps section.
Add sitemap.xml part to your Instant Site URL in the Add a New Sitemap section:

Click Submit.
Using sitemap with your own website
If you are using Ecwid with your own website, you can easily generate a sitemap for your store pages with the help of the free Sitemap Generator app (note that Ecwid app market is available on paid Ecwid plans).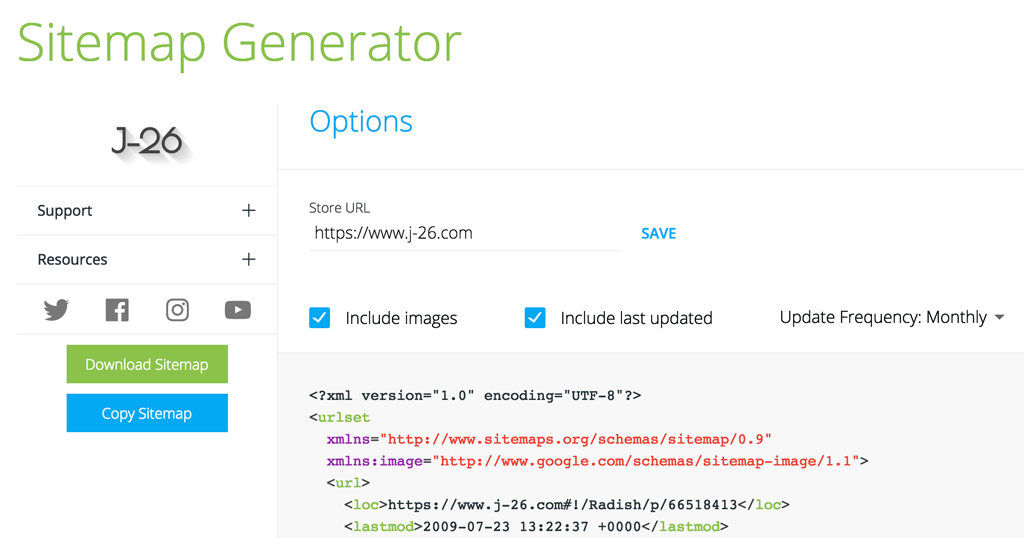 After you download the generated sitemap file, you will need to upload it on the server where your site is hosted and then submit the link for this file to Google, for example, via the Search Console:

In case you are using Ecwid plugin with a Wordpress site, you can easily create a sitemap for it using plugins like Google XML Sitemaps or Yoast Wordpress SEO. They are fully compatible with Ecwid and will add the links to the product and category pages of your store to the generated sitemap.
Related articles
Marketing checklistUsing Google Search Console
Checking indexation of your store
Instant Site SEO settings
SEO: ways to improve
10