Understanding Lightspeed Payments reports
Enabling Lightspeed Payments in your Ecwid store will add the Finance page to your Ecwid admin. On the Finance page, you will see reports about your payments and payouts, current balance, data about monthly fees, and the last payout total. You can view transaction details, payments statuses and download a report for a certain time period. The Finance page contains information regarding Lightspeed Payments only.
Lightspeed Payments is available in Australia, Canada, the UK and US.
Getting an overview of your transactions
On the Finance page, you will find payments processed through Lightspeed Payments, payment details (dates, status, amounts), your balance, and payouts. You can also see the monthly fee statements that provides a breakdown of fees charged by Lightspeed Payments and your card brand. In the Ecwid mobile app for iOS, the Finance page is located in the Store tab.
Balance is the sum of transactions that can be paid out.
Last payout is the value of the sum of transactions last paid out.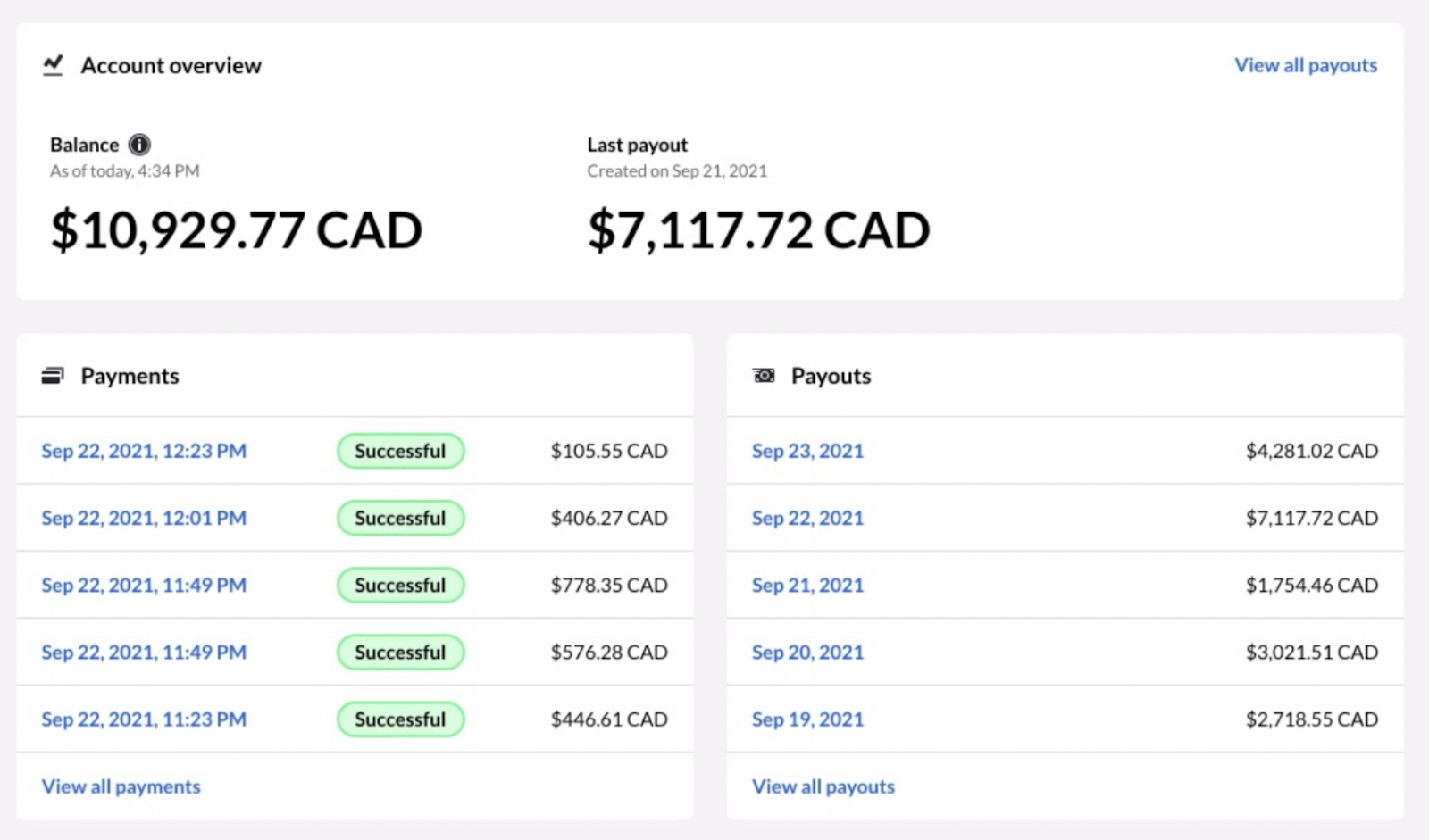 Payments made with Lightspeed Payments will be automatically deposited into your bank account within 2 business days. Processing fees are deducted before the deposit is made.
Learn more about the process of getting paid with Lightspeed Payment →
Understanding statuses
Each payment goes through certain stages before money from your customer's bank account transfers to yours. Payment statuses show on what stage payment is currently on. You can see the current status of payments and payouts in the Payments or Payouts section on the Finance page in your Ecwid admin.
Payments statuses
Authorized: a customer has enough money on their credit or debit card, and now Lightspeed Payments will take steps to deposit the funds from a shopper's card to your account.
Successful: money transaction has completed successfully.
Failed: money transaction hasn't been completed, so an order hasn't been created. The reason for this may be not enough money on a customer's credit card. In that case, a customer will be notified by his bank. If you experience repeated failed payments, please contact Ecwid support so we can help you fix this technical issue.
Refunded or Partially refunded: appears after you made a refund.
Payouts statuses
In progress: this payout is still being processed.
Sent: this payout has been sent to your bank.
Error: there was an error processing this payout. To get more details on the error, please contact your bank.
Viewing payments details
From the Finance page, click the Payments tab or click View all payments. You will see information about transactions made with Lightspeed Payments. You can click on any given day to see a breakdown of that day's transactions with the following details:
The status of the transaction (Successful, Failed, Refunded, etc.)
The date of the transaction
What kind of card was used with the last 4 digits of the card
The amount of the transaction
The transaction fee
The payment ID
The order ID

You can specify the time period or click Filter to organize your transactions by payment method and status.
Viewing payouts details
From the Finance page, click the Payouts tab or View all payouts. You will see information about payouts made with Lightspeed Payments. You can click on any given day to find a list of every transaction and adjustment included in this payout. You will see:
The status of the payout (In progress, Sent, Error)
The transaction ID
The card type and last 4-digits of the card used
The amount charged to the card
What type of transaction it was (sale, refund, adjustment. An adjustment is a dollar amount either deposited or withheld from a payout in order to correct a previous error or to account for a chargeback)
The processing fee for this transaction
The net amount included in the payout (Net = Amount - Fee)
You can select a date range (up to one year) to see payouts to a specific time period or filter your payouts by status.
Usually the money transfer from your customer's account to your bank account takes 2 business days. It begins automatically after an order is placed in your Ecwid store. Consult your bank to learn their processing times and speak with them first if you suspect a payout hasn't been received on time.
Getting monthly fee statements
For accounting and tax purpose, you might need information about per-transaction fees. You can get a monthly report of all transaction fees charged by Lightspeed Payments, including the fee rate by your card brand.
To get the report, go to the Finance page and click the Documents tab. You can download the statement as a PDF document by clicking the Download button near the statement.
Please note that you will be able to download the report for the previous month not on the first day of the next month, but a few days later. This short buffer period is introduced to ensure you have your statement complete and no transaction is missed.
Exporting reports
You can download both payments and payouts reports from your Ecwid admin as a .csv file. Reports help you determine whether or not payment has gone through, confirm the status of a refund, and see at a glance how much money you have received each day. You can select a date range (up to one year) for exporting a report
To download a report:
From your Ecwid admin, go to Finance.
Click View all payments or View all payouts depending on what kind of report you need.
Specify the time period.
Click Export to download the file to your device.
10