Optimizing keywords for SEO in your Ecwid store
Keywords are words and phrases that people use when searching for a product. For example, in a "buy ceramic mug in Portland" query keywords are "ceramic mug" and "Portland". You can use keywords to create content for products and services description in your online store to optimize your site's rank in search results and get in front of more shoppers. The more relevant your store's content is to keywords that customers use, the higher your website appears in Google, Bing, and Yahoo. That means, you should describe products in a way that addresses people's searches to improve your SEO.
Understanding keywords
Keywords are great SEO tool to get more organic traffic to your site. Combining with social media and paid ads, they can guarantee increasing your Return of Investment (ROI) and making your store more popular among target audience.
Keywords help search engines to understand what you sell and index pages of your site. With the right keywords on your pages, you can make it easier for people to find your business online.
Keywords are equally important for visitors of your store since they help customers quickly scan the content and give an understanding of the page.
Keywords can be divided in two types:
Short-tail. Search phrases that consist only of one or two words. For example, "cup" or "coffee cup". Search queries with short-tail keywords are most likely made by someone in the research phase who is not yet ready to buy. That means, short-tail keywords can generate traffic to your store, but the conversion rate will be low.
Long-tail. More specific ling search phrases. "12 oz ceramic coffee mug" is an example of long-tail keywords. Long-tail keywords get less organic traffic, but can result in higher conversion value. A person who is specific in their search is usually willing to buy a certain product.
In your Ecwid store, you can incorporate both short and long keywords to:
Product names and description
Categories names and description
Meta tags on product pages
Meta tags on Instant Site pages
ALT-tags for images. Ecwid creates ALT-tags automatically with the same text as the product title. That way, search engine robots can "read" images and show results according to the query just like it is usually done with the text.
Learn more about what Ecwid does for SEO →
Generating keywords for your store
Adding random keywords that relate somehow to your business will get you nowhere. For a solid SEO strategy, you need to add high buyer intent keywords to your store. To do so, you have to start with keyword research. That will help you gain insights about your ideal buyer persona and come up with the keywords that they are more likely to use.
You can start by drafting a list of keywords that people might use to find the type of products you sell. Then narrow the list to the most relevant words and phrases. Try to pick specific, long-tail keywords that also relate to your site. The more specific your keywords are, the higher conversion of your site visitors will be.
You can turn short-tail keywords into long-tail by adding descriptive adjectives or adverbs. For example, you can turn a "coffee mug" into a "stain-resistant mug for cold coffee in Portland".
Below are steps you can take for keyword optimization in your Ecwid store.
Create a buyer persona
Try to look at your business from a customers' point of view and create a buyer persona. Think about what problems people try to solve by buying your products. That will give you an understanding about what keywords people will most likely use in their searches.
For a better result, ask your friends or family members about what they would enter in search engines if they were looking for the kind of products you sell.
Search niche forums, Reddit, or Quora to see how your potential buyers are talking about your type of products.
Describe your products
You know your business inside out, so write down a short description for each of your products. Specify the color, size, material of an item. You can also add who will use it and in what situation. For example, "outdoor coffee tumbler for women".
Be specific: think about what makes your products stand out. For example, a coffee mug can be vacuum, travel, portable, reusable, leakproof, and so on. These adjectives will make useful long-tail keywords later on.
Use Google tools
Google Trends. Use Google Trends to get more synonyms for words and phrases that are related to your business. You can also see what is trending in your location right now and use this information to adjust your keyword strategy.
Google suggestions. While you type in Google search box, the system offers you automatic completion suggestions. You can get some insights based on what people tend to search: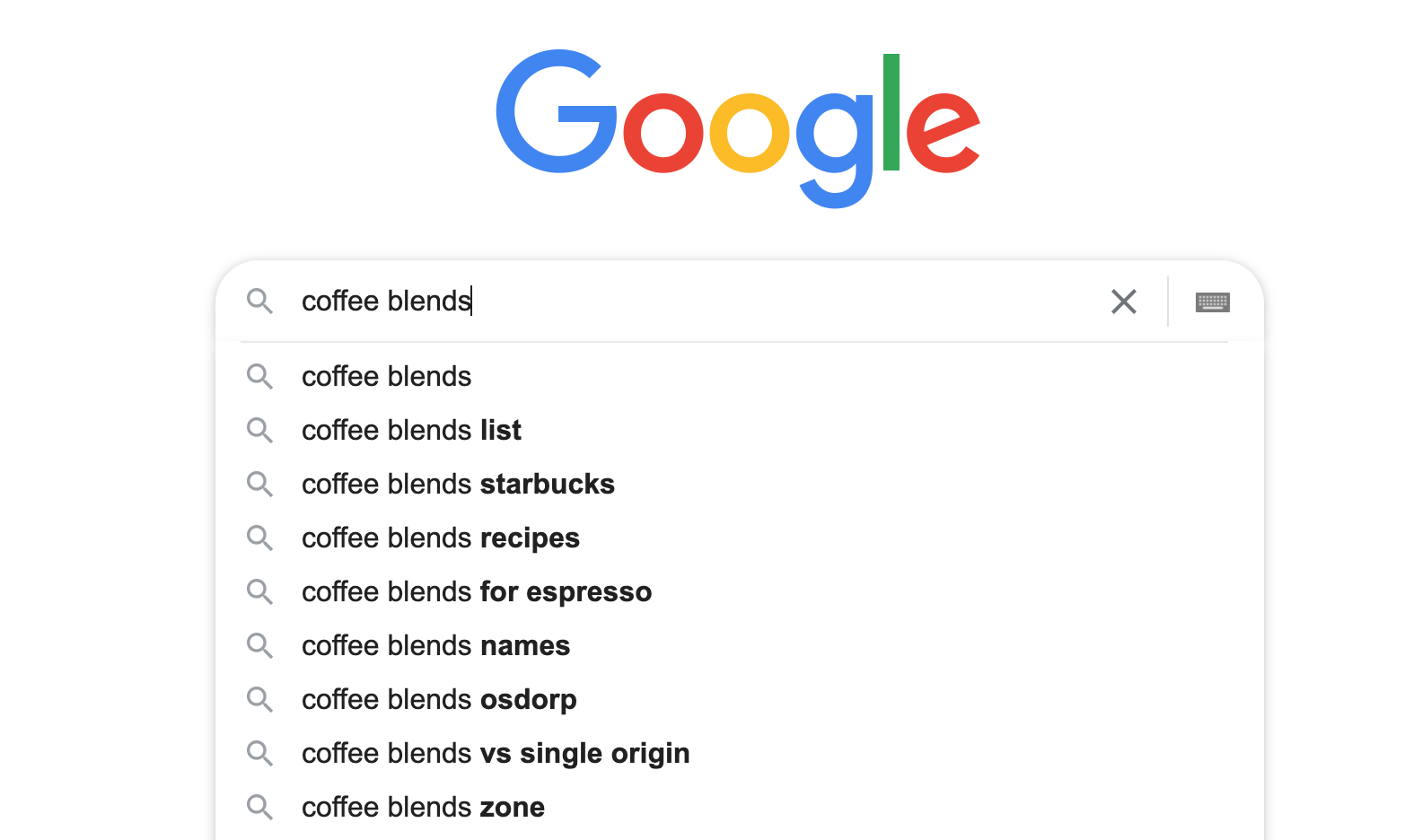 You can use Amazon autofill search suggestions for keywords ideas.
You can also check related terms that appear at the bottom of Google search result pages:

Google Keyword Planner. You can discover new keywords by entering products or services related to your business in the searching field. For example, if you run a coffee shop, enter phrases like "coffee", "gluten free cookies", "African coffee blend", and so on. Learn more about best practices of using the Google Keyword Planner →
Google Search Console. If you have been running your online store for some time now, you can check search queries in Google Search Console to collect keywords that people used to find your website. Google Search Console will show you the most popular keywords your page ranks for in the Queries tab. You can compare these keywords with the words you use in title tag, product description, meta tags, and so on. If some of the popular keywords are missing on your site, you can incorporate them to raise the ranking for these phrases and increase traffic.
To use the full power of Google Search Console, you first need to verify your site. Learn more about verifying your site with Google Search Console →
Check out competitors
Think of the most popular businesses in your niche. For example, if you sell coffee, you can visit a couple of world-known coffee shops sites and read product descriptions to get an idea of what words they use. You can also check your local coffee shops, so that you will know what words they use and how to distinguish your brand from competitors.
Narrow your focus
Once you've created a list of phrases, it's time to pick the most relevant keywords for your store. If you have a wide range of products, make sure to assign specific keywords to each product page. Here are some tips for choosing keywords:
Choose mildly difficult keywords. Each keyword has a difficulty score from 0 to 100. Difficulty level is a combination of how broad it is, how often people search for it, and how many other websites are trying to rank for it. The best strategy is to choose keywords that have 30 to 70 difficulty scores. You can measure the difficulty score for each keyword using the Keyword Overview Tool.
Be specific. Using broad keywords is fine, but it's better to focus on specific long-tail keywords since they convert better. You can create long-tail keywords by adding your product descriptions to trending short-tail keywords Google Trends offers in your area. For example, if "coffee tumbler" is a trading search query in your area, turn it into "12 oz rainbow coffee tumbler with straw".
Mix different keywords in descriptions. That way, you can create natural sentences that are easy to read. For example, if you compose a product description for coffee beans, you can go with "Best Kenya coffee blends in Portland. Mild tasting coffee beans with typical Kenyan acidity, suitable for all day drinking."

Avoid robotic language that looks like a random set of keywords. Shoppers tend to avoid links that look unnatural. Search engines can also ignore sites that use keywords stuffing.

Use Google Keyword Planner. You can predict how many clicks and impressions you'll get from the keywords using Google Keyword Planner. Enter keywords using Get search volume and forecast tool in Google Keyword Planner and see the number of clicks and impressions you might get for each keyword. To dive deeper into using the tool, see the detailed instructions about Google Keyword Planner →
Avoid repeating the same keywords on different pages. As an online store, you might deal with a large number of product and category pages. Create a unique content for each product or category page to avoid keyword cannibalization. When you have the same keywords on multiple pages, a search engine is forced to choose which page is the most relevant for a search query. Eventually, it will pick only one of them to show in the results.
Adding keywords to your store
With a list of relevant keywords at hand, you can start adding them to your product names and descriptions.
Do's and Don'ts
Keep in mind the basic do's and don'ts:
Do's
Combine different keywords to form natural readable sentences.
Prioritize keywords with difficulty scores from 30 to 70.
Focus on long-tail keywords.
Prioritize specific phrases over broad phrases.
Include your main keywords in product names and early in the description while using keyword variations throughout:

Don'ts
Robotic sentences. Write for humans, not bots.
Keyword stuffing. Avoid using the same keyword in every sentence or page:

Products names and descriptions
To add keywords to a product description or title:
From your Ecwid admin, go to Catalog → Products.
Open a product you want to edit or create a new one.
In the Name field, enter the name for the products. For example, "Coffee tumbler with straw".
In the Description field, enter the description with keywords.
Categories names and descriptions
To add keywords to a category description or title:
From your Ecwid admin, go to Catalog → Categories.
Open a category you want to edit or create a new one.
In the Name field, enter the name for the products. For example, "Handmade coffee mugs".
In the Description field, enter the description with keywords.
Page title and meta tags on product pages
Meta tags are usually a few phrases or words that describe the content of a page to search engines within its source code. Meta tags will be displayed to a person who searches for products.
To add custom meta tags for your products:
From your Ecwid admin, go to Catalog → Products.
Click Edit Product to view its details.
Switch to the SEO tab.
In the Page Title and Meta Description fields, write phrases that will be displayed to customers in the search results. Title should include the main keywords. Keep the description under 155 characters, so it's not cut off on the Google results page.
Click Save.
Meta tags on Instant Site pages
If you are using Ecwid Instant Site, Ecwid automatically adds meta tags to your site from the SEO settings in the Instant Site editor.
To edit Instant Site SEO settings:
From your Ecwid admin, go to Website, then click Edit Site.
In the left bottom side of the page, click Settings → SEO.
Select where you want to make changes and add necessary content.
Click Save & Publish.
Learn more about meta tags on Instant Site →
Alt text in images
ALT tags "ALT" is a tag used to explain images to search engine robots. Ecwid creates ALT-tags for images automatically with the same text as the product title.
10