What Ecwid does for SEO
SEO (or Search engine optimization) is the process of improving your site's ranking in search results in engines like Google, Bing, and Yahoo to generate free traffic to your online store. While some things can be manual, Ecwid has the technical side covered for you –– all stores are optimized for search engines by default. See a detailed description of what we do to make SEO a priority in Ecwid.
SSL certificate
First things first, your customer's private data (their name, email, credit card details, etc.) has to be secured from hackers, scammers, and data thieves with HTTPS protocol and an SSL certificate. Not only can those tools improve security and increase your trustworthiness, but they can also help your store rank better in search engines. Ecwid provides an SSL certificate and HTTPS protocol for every account for free.
Note: If you add the Ecwid store to an existing website like WordPress, you keep our free SSL certificate for your store pages. Although the rest of the website is a separate matter. You need to purchase an SSL certificate to protect sensitive information. Sites that aren't SSL-secured may be penalized in search engine rankings.
Sitemap for Instant Sites
Ecwid automatically generates a sitemap.xml file that contains a list of the site pages. This file is used by search engines like Google to crawl and index your products so that your store's pages appear in search results. New pages – and new products – are indexed faster with sitemaps since search engines check sitemaps every day. You still need to submit a sitemap to Google manually.
Here is how to submit a sitemap to Google →
Structured data
Structured data is a set of tags on the site code that help search engines understand information presented on your website. Thanks to this data, products and categories are indexed better. Also, the highlighted information can appear in rich snippets in search results and catch the eye of potential customers: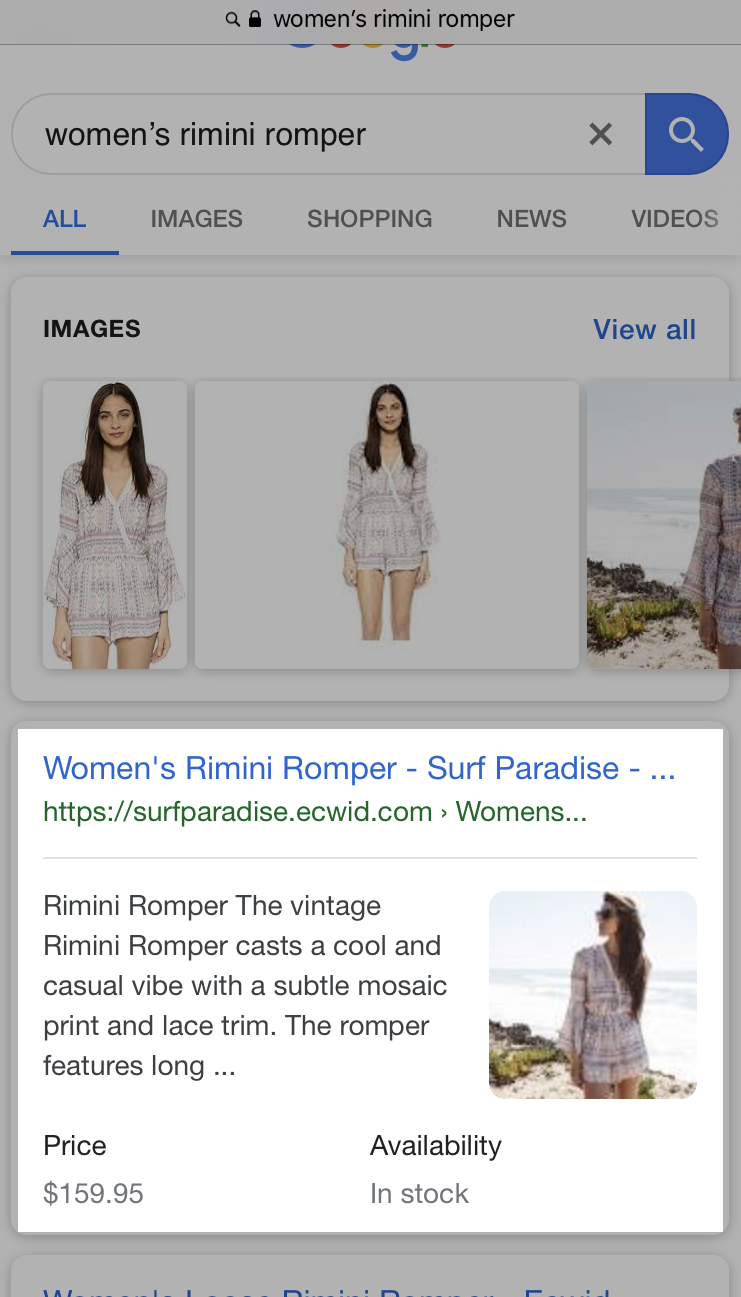 Ecwid uses Schema.org vocabulary to annotate product information and adds structured data to all store pages automatically. For Ecwid Instant Site and stores on WordPress sites, structured data is generated using JSON-LD and Microdata markup. For all the other websites, only the Microdata format is used. As of now, it's impossible to edit or remove the structured data.
You can check what structured data is available for your webpage using the
Rich Results Test
tool by Google.
Custom meta tags for products and categories
By default, Ecwid generates product and category metadata (page title and meta description) automatically, based on their names and descriptions. You can control how exactly Google displays your product and category pages in the search snippets with custom meta titles and descriptions so they are sweet and short for Google users.
To learn more, visit Adding custom meta tags to product pages and Adding custom meta tags to category pages →
Clean URLs
Simple, descriptive, and clean URLs are a basic SEO technique. Ecwid automatically generates SEO-friendly URLs for products and categories (from their titles) as well as cart and checkout pages. They are easily indexed and read by search engines. Here is an example of a product page with a clean URL: https://surfparadise.ecwid.com/Blue-Flannel-p69981208. Such URLs are short, meaningful and clean from hashes ("#") and other parameters like "?", "&" and "=", so people and algorithms can easily read them.
Automatic ALT-tags for images
"ALT" is a tag used to explain images to search engine robots. Ecwid creates ALT-tags for images automatically with the same text as the product title.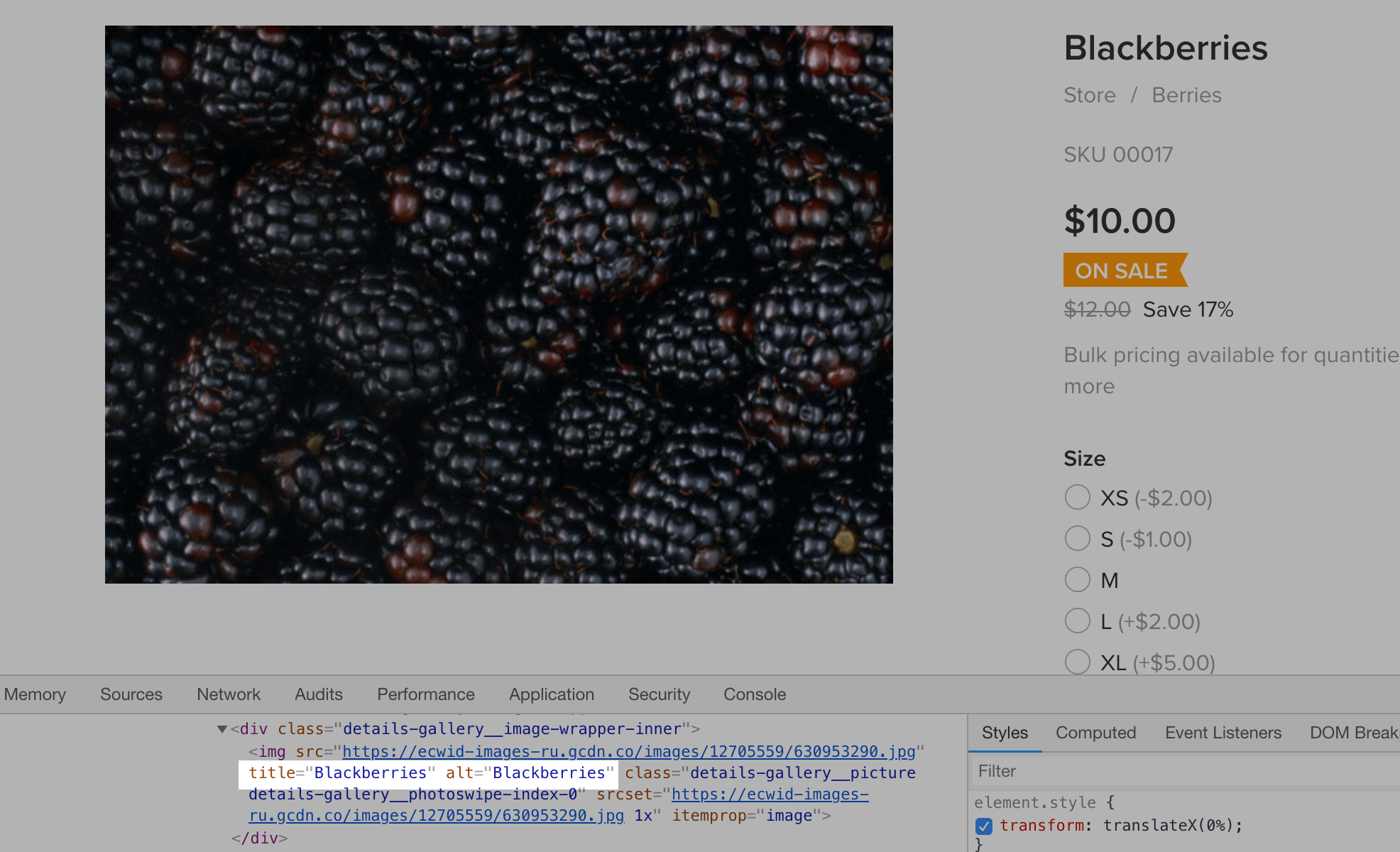 Built-in mobile optimization
Ecwid stores have a mobile-optimized layout that automatically adapts to the size of a visitor's screen. It is important: not only it makes your website appear more aesthetically pleasing from all screens but has a higher priority in Google search results.
Static copies of pages
Search engines do not always index dynamic websites well. To ensure they index Ecwid stores, we use special technology. If you sell with Ecwid Instant site or use WordPress or Wix plugin, Ecwid creates a static HTML copy for every product and category page in your store, then gives this copy to a search engine. This helps Google and other search engines index your store as if it were a static HTML site.
Robots.txt for Instant Sites
Robots.txt is a text file that shows search engines what pages can be indexed. Search engines can index all the product and category pages on Ecwid Instant Sites, but they will not see the cart page or search results. These pages should not be indexed as their content is different for every visitor.
Rich social snippets for product pages
This one doesn't impact SEO directly, but it makes links shared on social media and messengers more compelling to your potential customers. Ecwid generates open graph meta tags for social media sites, so when you share links on Google, Facebook, Twitter (and more) you get a beautiful preview with a title, image, and description for your site.
For Ecwid Instant site users: you can customize the image that is displayed as a preview when someone shares a link to your site on social media. From your Ecwid admin, go to
Website → Edit Site
. In the editor on the left bottom click
Settings → SEO → Site image
, then add your custom image.
Managing indexation of different storefronts
Ecwid Instant Site gets indexed automatically, but if you've added Ecwid E-Commerce to another website (on WordPress, Wix, or another platform) and you don't want your Instant Site to duplicate its content, you can hide it from search engines by disabling its indexation in your Ecwid admin, Website → SEO or Overview → Instant Site.
Next steps
There are 189 million active websites on the internet, so yours won't get to the top of Google naturally. You have to enter the race for the sweet spot by working on your website SEO: collect keywords that customers use to find your products, include them in your product titles and descriptions, use only original and unique website content, advertise it, and make others want to link to it on their resources.
That's quite a bunch of work, so we prepared a detailed SEO checklist for you to follow: Improving SEO for Ecwid store →
10