Product ribbons
Sometimes you need to highlight certain products on your storefront. There could be plenty of reasons for that:
Some of your products have less success amongst customers, and you want to change that.
You have brand new products for sale, and you want to promote them.
Your website gets many hits, but the sales could be better.
You want to draw attention to some opportunities that are available for a particular product, e. g. free shipping.
Some products are out of stock now, and you want to inform your customers about the date when the supply will be refilled.
Highlighting your products on the storefront visually would attend to all those reasons. In Ecwid, you can use a special tool for that – product ribbons:

Ribbons are colored labels that are displayed in your catalog «above» product images. These tags contain text; for example, «Bestseller», «20% Off», «New», «Christmas deal» or «Free Shipping».
Setting up product ribbons
Customers will be more likely to notice and buy your product, if it is marked with a ribbon. But there should not be too many labels on one page: ribbons look better when it feels like they are tagging something unique.
To add a ribbon to your product:
From your Ecwid admin, go to Catalog → Products.
Click Add New Product or choose a product from the list.
Scroll down to the Add or edit ribbon field and click on it.
Fill out the Ribbon text field.
Choose the Ribbon color (by default labels are orange).
Click Save.
Once you set up a ribbon, it is always shown in the product grid in your store. Ribbons are also displayed on the product details page – you can find them under the price field – and on the images of your related products (if these products have ribbons).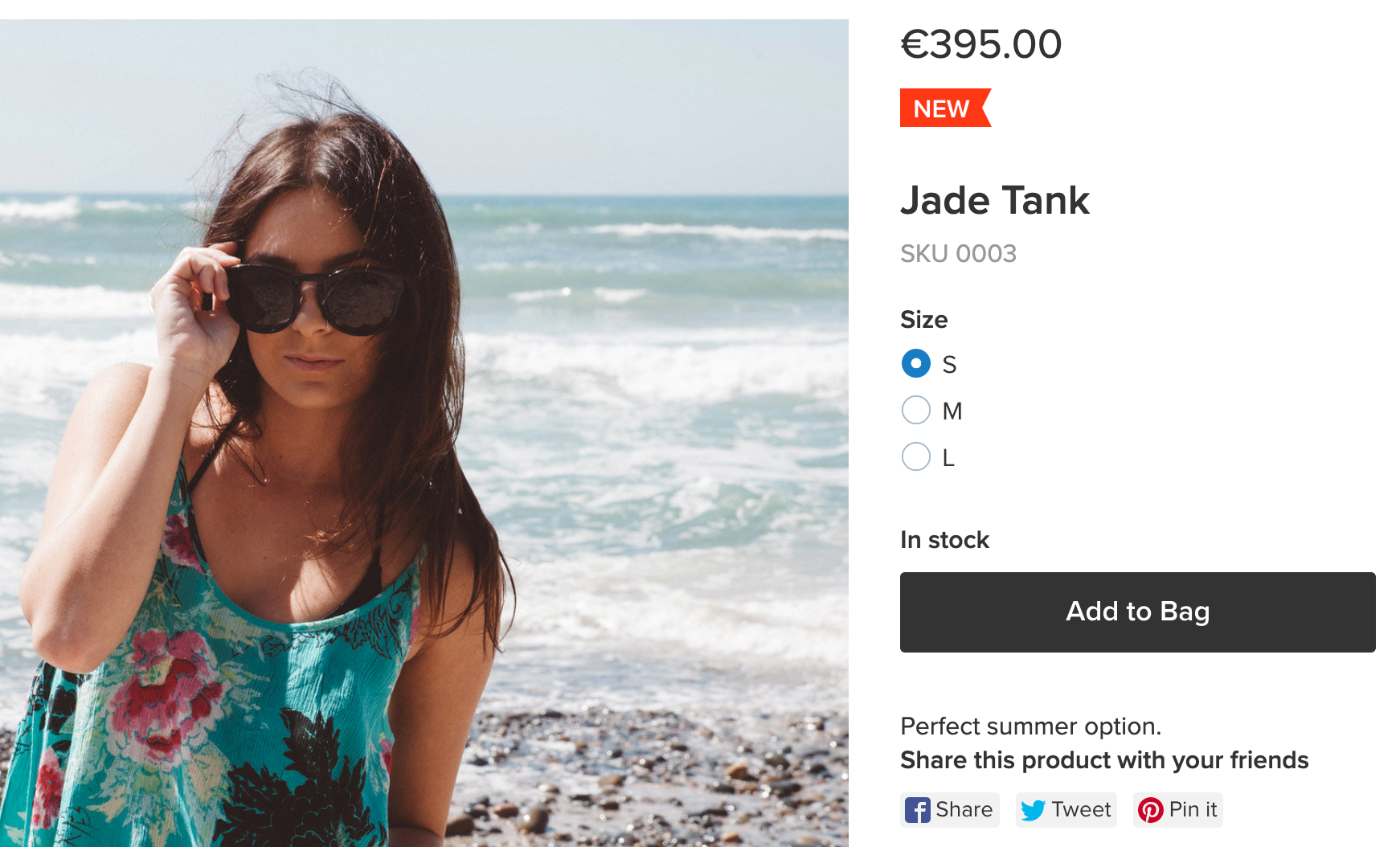 To delete the ribbon – if, for example, it can no longer be useful – press Remove this ribbon on the product details page in your Ecwid admin and click Save.
In case you were using the
"Compare to" price
feature, you already had some "On sale" tags in your catalog. If you set up ribbons for these products, the ribbons will replace them. But if later you decide to remove ribbons, the "On sale" tags will be displayed again.
Customizing the text of ribbons
A pitchy and easily readable label is meant to catch your customer's attention. That's why the Ribbon text field cannot contain more than 30 symbols.
The texts of your ribbons are "searchable". So, even if you come up with some really creative ones, your customers will be able to find the products on the search page of your store. They can also look for all the products that have the same ribbon text there.
You can provide ribbons in different languages, if you use additional storefront languages. The translation field(s) will appear right under the Ribbon text field. If you leave them empty, the texts of your ribbons will be shown in your store's default language.
Customizing the color of ribbons
You can choose the color of your ribbons from several predefined options, or you can set up your own color – e. g. a color that fits into the concept of your store. To customize label color to your liking, press the "#" button and then click on the eyedropper to use the color chooser tool: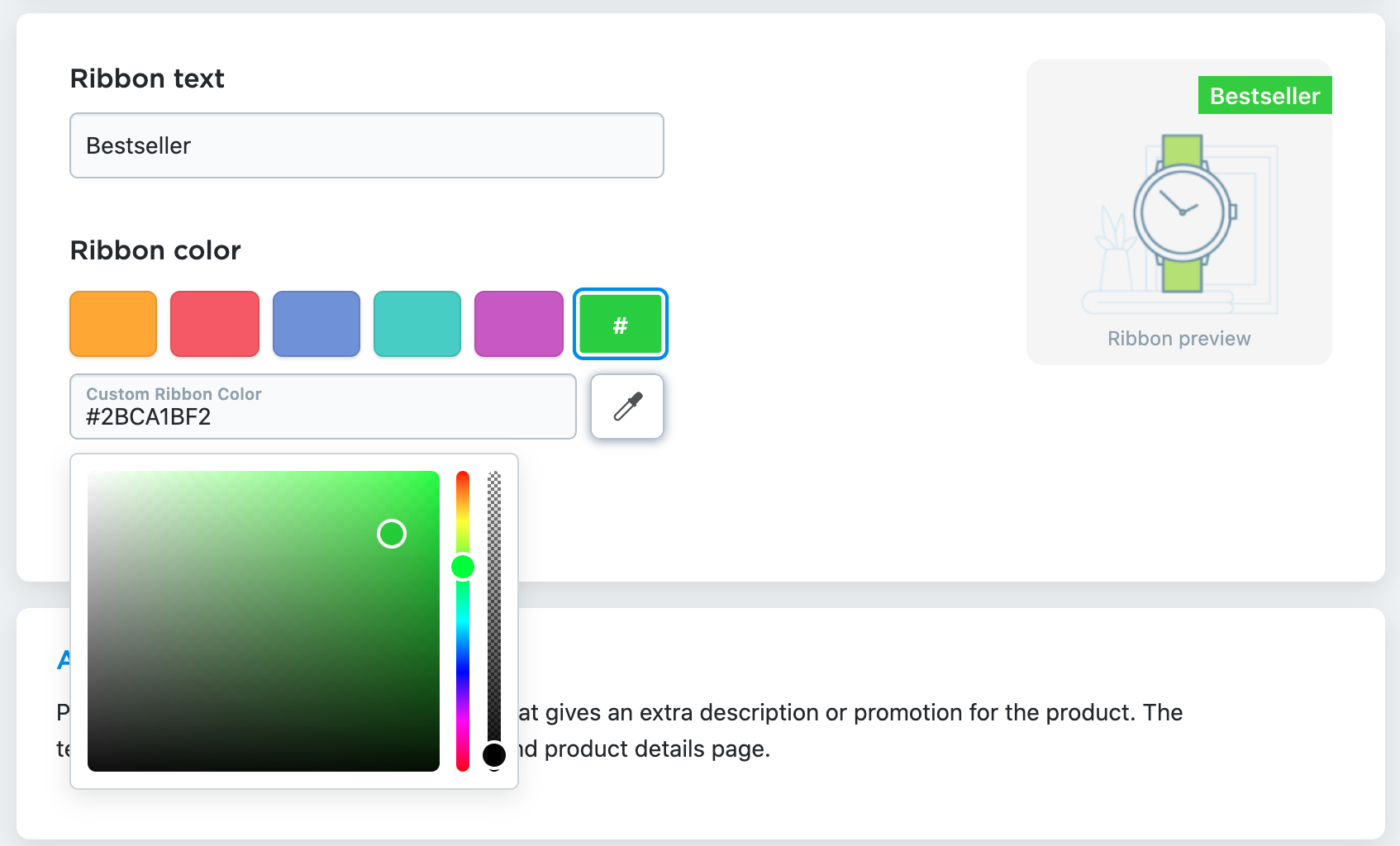 You'll see a palette and two bars: the color bar and the opacity bar. You can move the pointers on these bars to create a perfect ribbon for your Ecwid store. The resulting color code will be displayed in the Custom Ribbon Color field.
You can enter an existing color code into the Custom Ribbon Color field – if you already know it – and just set the opacity level.
In case Ecwid ribbon options are not enough for you and you want to create labels with customized shape, size and position (or put several labels on one product), you can use the
Product Labels App
. It cannot edit your Ecwid ribbons, but could help you design some additional label variations for your store.
Adding and updating product ribbons in bulk
If you have a large catalog that is difficult to update or you want to have products with the same ribbons in several Ecwid stores, you can use CSV export and import to add or update your product ribbons in bulk.
You can also export/import ribbons if you want to "save" their settings: for example, the promotion in your store is over for now but you know that you might run it again in the future. In this case you can export the data, keep the downloaded file and import it back when you need it.
To add or edit product ribbons in bulk:
From your Ecwid admin, go to Catalog → Products.
If you want to edit ribbons for all products, click Export All below your product list:


If you need to manage ribbons for particular products, you can select them in the list and then click Export Selected.
Select the following columns for export – Product name, SKU, Ribbon and Ribbon color (you can choose other columns as well if you need them):


Click Download CSV file.


The file will be exported with the semicolon delimiter unless you pick another delimiter (comma or tab) in the export dialog.

Open the file in a plain text editor or in a spreadsheet (with the same delimiter that you've used for export).

Here is, for example, how the data looks in TextEdit editor:


And this is how the same data should look in Google Sheets:


Add or edit the texts of your ribbons for each product in the ribbon column.
Add or edit the colors (color codes) of your ribbons for each product in the ribbonColor column.
Save the file.
Return to Catalog → Products and click Import Products.


Upload your file, paying attention to the type of delimiter and the order of columns. They should be the same as in your file:

After the import is complete, texts and colors of your ribbons will be updated automatically.