Sometimes you need to highlight certain products on your storefront. There could be plenty of reasons for that:
Some of your products have less success amongst customers, and you want to change that.
You have brand new products for sale, and you want to promote them.
Your website gets many hits, but the sales could be better.
You want to improve the navigation in your store. 
Highlighting your products on the storefront visually would attend to all those reasons. Let's browse through some tools, that you can use in this case.
Product Labels App
How to add labels
The primary method of highlighting specific products in your store is the Product Labels App. With this app you can put any number of labels on the products on your storefront easily. Labels can be issued manually or automatically.
You can add labels to your products automatically depending on the following conditions:
the cost of the item
the categories of products
the availability of products in the store or keywords in the product description
the time it appeared in the catalog or last modified time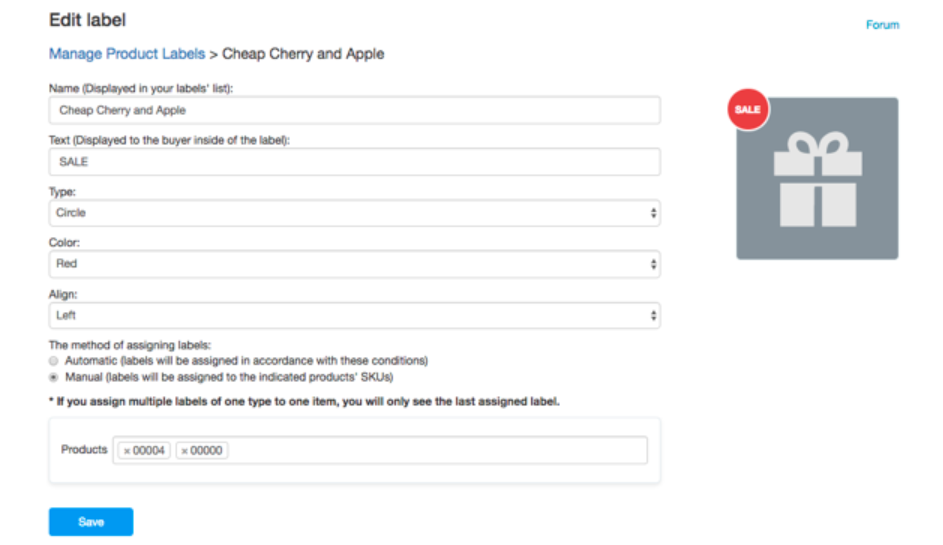 Manual mode allows you to select individual items.
It's a great way to make your store gain a vivid, handsome and professional look!
Get the app
How to Customise Labels
The process of adding labels is flexible and simple, but it is also a very individual thing. Some store owners will benefit from the automatic labels, others may choose the manual mode of adding labels.
This application provides thought-through customization of the labels. Moreover, there is a starter pack of labels, designed for you to get started quickly: "New", "Best", "Hot", "Sale", "15% Off" and others.
In this video we provide an example of how you can create a label in this application, and how it looks on your storefront:
Support
App was built by Simcase developers group. If you need to contact the developer, please, email him at contact@simcase.ru.
The app price is $7.95 / month with free trial.
Other Solutions
Product Labels is an optimal and the most effective solution to highlighting your products on the storefront, there are a couple of other options.
CSS codes
Ecwid design can be changed with the help of CSS codes, and you can highlight your products with it. This way to play around with design is, for sure, a bit more profound and advanced. Although, we do have a ready-made solution for highlighting your products, which are on sale! Look into the article about sale price for detailed instructions.
Customization Service
Ecwid also has a customization team, that builds unique features for merchants on a paid basis. They can work wonders with Ecwid design, and will be attentive to your desires. If you want to build a unique look for your store, be able to highlight some of your products, you can contact them for help.
All you need to do is to fill out this form and customisation team member will contact you with a quote: Customisation service