PayUbiz
PayUbiz is India's payment gateway offering online payments with credit cards, debit cards, and net banking. The company serves merchants from all over the globe. If you are running your Ecwid store on Indian market or want to sell worldwide, PayUbiz is an excellent solution to receive payments from your customers.
How to set up
PayUbiz requires an account in their system, so first you should register on their site. Once you get an account, please follow these steps to configure this payment method for your Ecwid store.
Steps in your PayUbiz account:
Log in to the PayUbiz web interface using your username and password.
Click the Settings tab on Dashboard menu bar.
Select Change Alias & View Salt.
Copy the values in fields Alias and Current Salt. You will need these values in the next step.
Steps in your Ecwid account:
Go to your Ecwid Control Panel → Payment.
Click the See complete list button.
Select Credit Card:PayUbiz, you will see this popup: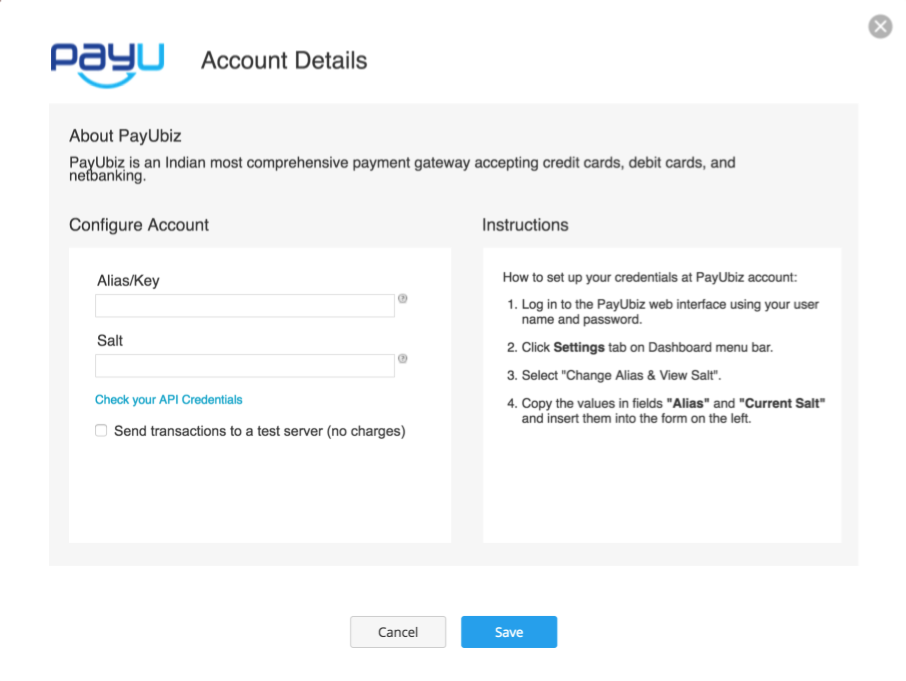 Insert the Alias value into Alias/Key.
Insert the Current Salt value into field Salt.
Click Save.
If you want to test the payment first, you should obtain test values for Alias/Key and Salt (not production) and enable setting Send transactions to test server (no charges).
10