eWAY Rapid
If you want to accept credit card payments from buyers in Australia and New Zealand, you can connect your Ecwid store with eWAY Rapid.
In this article:
Setting up
To enable and use eWAY Rapid as a payment option in your Ecwid store, follow the steps below:
Create a new eWAY Rapid merchant account on eWay site.
Log in to the MYeWAY Dashboard.
Navigate to My Account → API Key.
Copy the values for your API Key and API Password:

Open Ecwid Control Panel → Payment in a new browser tab.
Scroll to Other ways to get paid.
Click Choose Payment Processor.
Find eWay Rapid: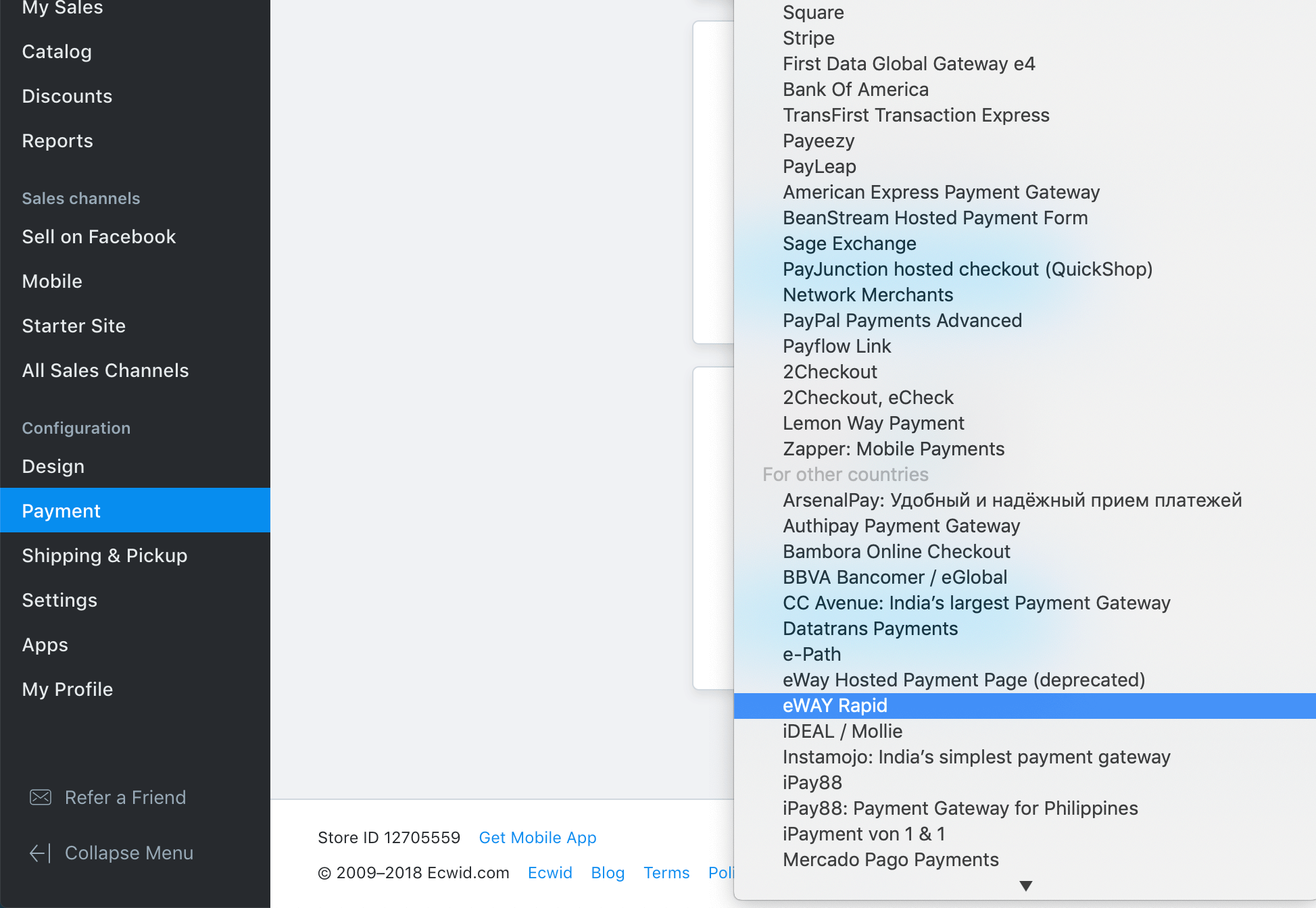 Paste your eWay Rapid API key and API Password:

Click Save.
Return to your eWay account and navigate to Settings → Shared Page.
Scroll down to Redirect After Payment Processing.
Place a checkmark next to the Redirect to merchant website option:

Click Save Settings.
Make sure that you've followed the 11-14 steps from the setup instruction. If you leave the
Redirect to merchant website
option unticked, some paid orders may appear as unfinished orders in
Ecwid control panel → My Sales → Abandoned Carts
. This can happen if buyers don't click "Finalise Transaction" after payment (this button redirects payers back to online store and prompts eWay to notify your store about paid finalised orders). To prevent it from happening, make sure to tick the
Redirect to merchant website
option.
eWAY Rapid and your currency
Please make sure that your Store currency is the same as the currency in the eWAY merchant account. Otherwise, your customers may get errors when trying to pay via eWAY Rapid.
How can I make a test payment?
To test how eWAY works, you can place a test order in your own store as a customer. Use one of the test credit card numbers listed here: Test Credit Card Numbers.
10