Clover payment gateway
Clover is a payment gateway that allows you to securely accept credit card payments from your customers in your Ecwid store. When it's enabled, customers can fill out the secure credit card form right in your store's checkout page to safely pay for their order.
You can use Clover payment gateway if your store is based in the United States or Canada and is configured with USD or CAD currency.
Connecting Clover payment gateway to Ecwid store
To set up Clover payment in Ecwid:
From your Ecwid admin, go to Payment.
In the More options to accept online payments, click on the Choose Payment Method dropdown and choose Clover.
You will be redirected to the Clover account details page. Click the Connect Clover button.
If you created your Ecwid account via the Sell Online app from the Clover app market, your store will be automatically connected to your Clover account that you use for Clover POS integration in your Ecwid store. In this case, jump to step 5 of this instruction.
Otherwise, after clicking the Connect Clover button, you will be asked to log in to your Clover account. Once logged in, you will see the Ecwid app's description page. Click Connect in the right:


In the popup window, click Accept to agree with Ecwid terms of service and privacy policy and install the Ecwid Connector:


After that, you will be automatically redirected to the Clover page in your Ecwid admin, where you can sync your store with your Clover POS if needed.
The next step is to finish the setup of the Clover payment. Go to the Payment page and click on the Clover payment method.
Enter the name of this payment method. Customers will see it at the checkout, and you will see it in the order details:


Click the Enable this payment at checkout toggle, so your customers will be able to pay with it.
Click Set payment instructions at checkout‍ and add details for customers about Clover, if needed. For example, you can describe how to pay with Clover or how the order will be processed. Save the changes.

That's it. You can now accept credit card payments in your Ecwid store via Clover gateway. Customers can choose this payment method at the checkout: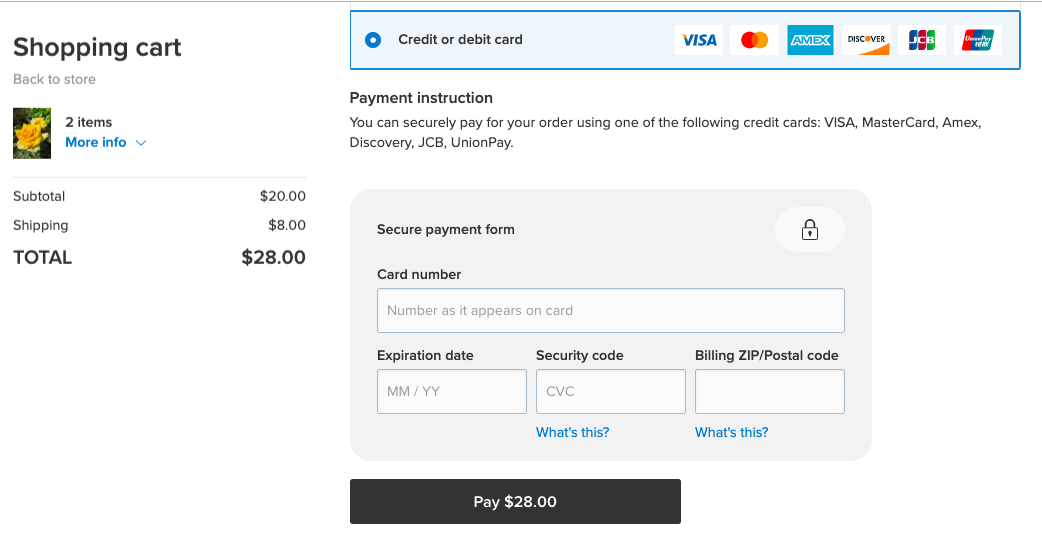 FAQ
What fees should I pay for using Clover payment gateway?
Ecwid does not have any transaction fees, but usually, payment gateways charge a fee for their credit card processing service. You can find out the transaction fees of Clover at www.clover.com.
How can I connect my store to a different Clover account?
If you need to connect another Clover account to your Ecwid store:
Disconnect your store from Clover in 

your Ecwid admin, go to

Other Channels → Clover:


Then remove Clover as a payment method in 

your Ecwid admin, go to

Payment.
Connect your store to another Clover account while setting up Clover payment gateway.
If you do not see the Disconnect Clover option, most likely your Ecwid account has been created via the Sell Online app by Ecwid Inc in Clover and a disconnect can be done manually. Contact Ecwid support team if you want to connect your store to a different Clover account.
Can I sell CBD with Clover?
No, you can't. Still, you can sell CBD products with Ecwid using other payment methods.
10