Stripe
Stripe allows you to accept credit and debit card payments, set up recurring subscriptions, and use the Buy Now Pay Later business model with Klarna. Stripe also supports Apple and Google Pay, so customers can checkout with one tap in your store.
Stripe is available in 46 countries including the USA, Canada, UK, Australia, Japan, and others. You can add various payment options popular in the EU to your store, such as giropay, SEPA, iDEAL, Klarna, Alipay.
Stripe charges a processing fee for each transaction through their system. It's 2.9% + 30¢ fee for a transaction in the US. Different countries have different fees that you will find listed below.
Stripe processing fees
Stripe charges a fee for each transaction that happens in your store. The fee depends on the country where your Stripe account is located and where the card was issued.
In some countries Stripe has a fixed fee. For example, in the United States and Canada the single fee is 2.9% + 30¢ per transaction.
In other countries Stripe has domestic and international rates that are applied to domestic and international cards accordingly. Please note that if currency conversion is required, an additional 2% fee will apply.
In the EU, Stripe also has so-called UK rates that are applied specifically for the cards issued in the United Kingdom.
Here's a detailed overview of rates by countries:
Stripe transaction fees in North and South America
| | |
| --- | --- |
| Country | Fixed rates |
| Brazil | 3.99% + R$0.39 |
| Canada | 2.9% + C$0.30 |
| Mexico | 3.6% + MXN$3 |
| United States | 2.9% + 30¢ |
Stripe transaction fees in Europe
Stripe transaction fees in Asia-Pacific and the United Arab Emirates
| | | | |
| --- | --- | --- | --- |
| Country | Fixed rate | Domestic cards | International cards |
| Australia |   | 1.75% + A$0.30 | 2.9% + A$0.30 |
| Japan | 3.6% |   |   |
| Hong Kong | 3.4% + HK$2.35 |   |   |
| India |   | 2% for cards issued in India | 3% for cards issued outside India |
| Malaysia | 3% + RM1.00 |   |   |
| New Zealand |   | 1.75% + A$0.30 | 2.9% + A$0.30 |
| Singapore | 3.4% + $0.50 |   |   |
| Thailand | 3.65% + ฿10 |   |   |
| United Arab Emirates | 2.9% + AED1 |   |   |
Setting up Stripe
To set up Stripe in your store:
From your Ecwid admin, go to the Payment page.
Click Connect with Stripe. You'll be taken to the Stripe website.
Sign in to your Stripe account if you already have one.
Or fill in the details and create a new Stripe account.
Follow the instructions on the Stripe site to complete the setup. After that, you will be taken back to your Ecwid admin.
Once finished, your Stripe account will be connected to your Ecwid store. Customers will see the Credit or debit card field and will be able to pay with their card to you: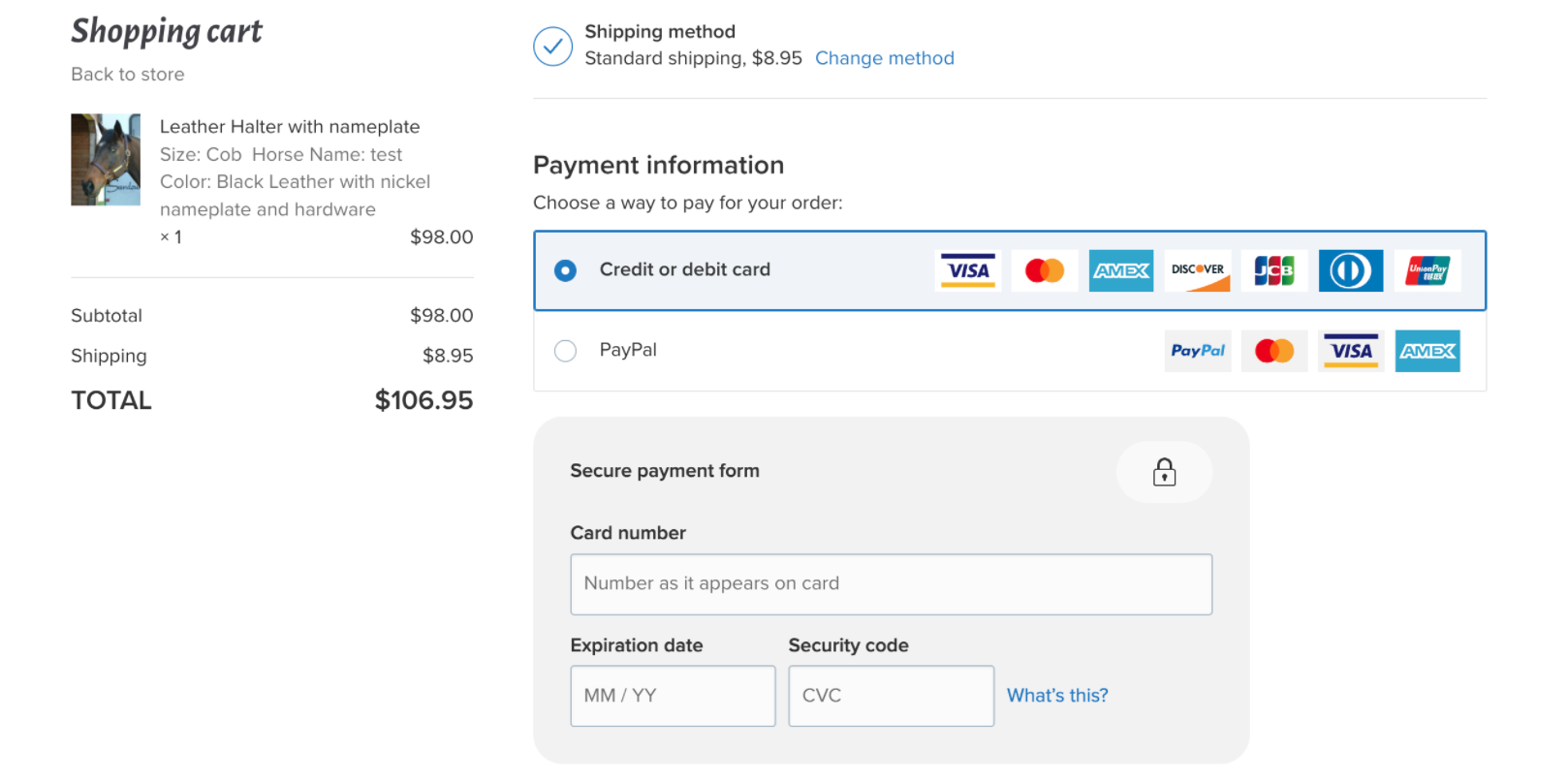 If Stripe isn't supported in your country, set up another payment option to accept card payments in your store. Learn more about
online payment gateways in Ecwid
.
FAQ
I have an issue with my transactions. What should I do?
Ecwid does not process any transactions itself or participate in money transfer, so we don't have any access to transaction details on our side and have no access to your Stripe payments. If you experience any issues with money receiving, please contact Stripe support.
Where do I find information on my transactions and transfers?
When a customer pays for an order using Stripe, the money goes to your Stripe account. You can see the transaction ID in the order details in your Ecwid admin, My sales → Orders. Click on the transaction link to view more details in your Stripe account.
Can I save the customer card details and charge it later?
Yes, you can do it with Stripe on a paid Ecwid plan. To enable this option, go to your Ecwid admin → Payment → Stripe and click the toggle next to the "Save credit card details for later" option.
After that, when a customer places an order in your store with Stripe, they will be saved in your Stripe dashboard where you can charge them anytime later using the "+ Create Payment" link.
When will I receive my payouts?
In Stripe, you receive payouts according to your payout schedule. Typically the first payout for a new account happens with a 7-day delay (after the first successful payment), though the waiting period may vary. Read more about payouts on Stripe's website.
Can I sell CBD with Stripe?
No, you can't. Still, you can sell CBD products with Ecwid.
10