You can quickly start accepting regular credit and debit card payments in your Ecwid online store by using Stripe as a payment option. You can also increase conversions by offering Apple Pay to your customers for an ultrafast checkout — Apple Pay allows shoppers to pay with one tap and skip entering shipping address and credit card details manually when using Safari on iPhone, iPad, and Mac.
Stripe is available to merchants in the USA, Canada, UK, Australia, Japan, Ireland, and other countries. See the full list.
How to connect your Ecwid store to Stripe
You can enable the Stripe payment option in your Ecwid store in a quick and easy way:
From your Ecwid admin, go to Payment.
Scroll down to the Stripe block and click Connect with Stripe:

Choose what applies to you:

If you're new to Stripe, fill in the registration form that opens in a new window, enable the required two-step authentication and click on the "Authorize access to this account" button to allow your Ecwid store to connect to your Stripe account.
If you already have an account with Stripe, click Sign In in the top right corner, then click "Connect by Stripe account" to grant permissions to your Ecwid store to connect with your Stripe account.

You will be returned to your Ecwid admin where you can enable Apple Pay if you want to offer this fast payment option to your customers in addition to credit/debit cards (this will also automatically enable Google Pay for customers using the Chrome browser on Android mobile devices):

If you use Ecwid Instant Site or have added Ecwid to a Wordpress site, Apple Pay will be automatically enabled in your store.

If you use Ecwid on other sites, to offer Apple Pay as a payment option there, click Set up Apple Pay and follow the prompts to add your site domain and verify domain ownership with Stripe:




The verification file has to be uploaded with its initial name to the .well-known/ folder. You should create a folder with this name inside the root folder on the hosting server where your website resides. Usually, file uploading can be done by FTP or via a file/media manager.

Once uploaded, the file should be accessible in browser by the https://www.example.com/.well-known/apple-developer-merchantid-domain-association link (it will be your domain name in the link instead of the www.example.com part).

If you use Wix or another sitebuilder that doesn't allow uploading the verification file, Apple Pay is not supported there, unfortunately. Please contact your sitebuilder support for help on this.
Enter the name of this payment method. Customers will see it at checkout.
Keep the Enable this payment method at checkout toggle as enabled if you are ready to start offering the Stripe payment option to your customers at checkout.
Add payment instructions, if needed. They will appear at checkout once your customers select to pay with Stripe.
Save the changes.
That's it! Your Stripe account is connected to your Ecwid store. Now, all of your customers can choose to pay with their credit or debit card at checkout: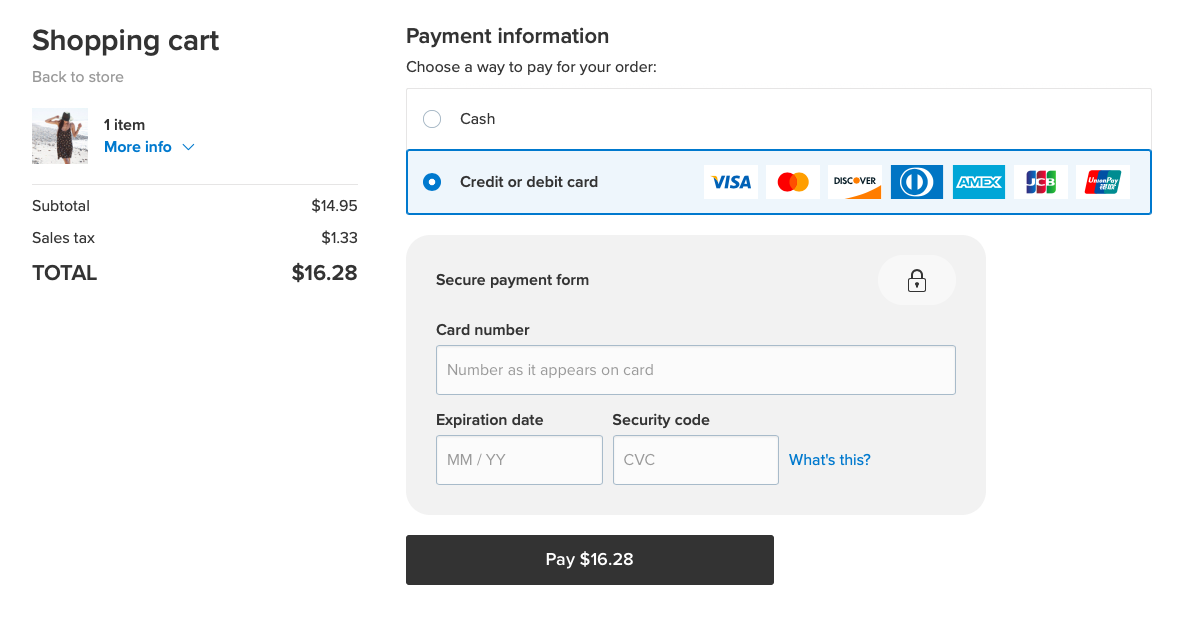 If your customers are using Safari on iPhone, iPad, and Mac they also have the option to purchase products with one tap right in the shopping cart, if you've enabled Apple Pay. The information about buyers' shipping address and credit card will be taken from their Wallet: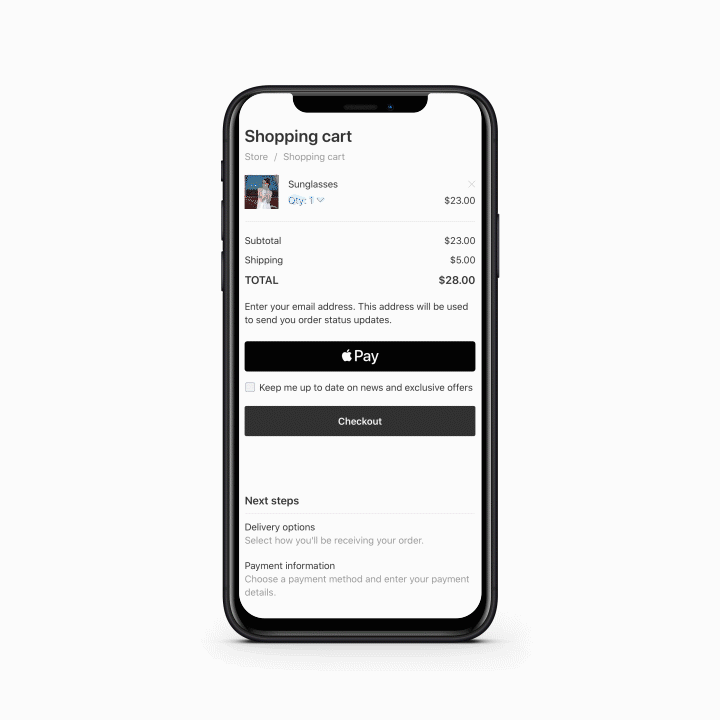 FAQ and Troubleshooting
What do I need to do to start running real transactions?
It takes just a few minutes to activate your account by providing Stripe with some basic information about you and your business. Once you've activated your account you are ready to accept credit card payments.
Why there is no Apple Pay option at my store checkout?
To use Apple Pay in your store, make sure that:
How to connect another Stripe account to my Ecwid store?
If you want to connect your Ecwid store to another Stripe account, you should go to Ecwid admin → Payments → Stripe Settings, click on "Disconnect Stripe" and connect Stripe with your Ecwid store anew.
I get the Connection attempt error
You may see this error in the popup settings page for Stripe in your Ecwid control panel:
Connection attempt error
Please grant all permissions to our app to complete the Stripe setup and start accepting payments online.
This error indicates that you did not allow your Stripe account to connect with Ecwid. To get rid of this error you should complete all setup steps described in this article.
I see the "Live charge disabled" message in my Ecwid admin
If you didn't activate your account you will be unable to receive real payments and the "Stripe - Settings" page will show that live charges are disabled. You can activate your Stripe account by submitting information on your business in your Stripe account or by contacting Stripe support.
I have changed my API Key. How do I reflect this in Ecwid?
Your Stripe API Key is displayed and can be managed only in your Stripe account. Once you've connected your Ecwid store to Stripe the key is automatically passed from Stripe to Ecwid through encrypted connection. If you generated a new Key in your Stripe account you should activate it in your Ecwid store:
From your Ecwid admin, go to Payment, click "Stripe - Settings"
Click on "Disconnect Stripe"
Click on "Connect with Stripe" and follow the setup steps from this article.
Where do I find information on my transactions and transfers?
The money is collected in your Stripe account where you can manage the transfers. Stripe has a comprehensive knowledge base that will help you with questions related to transactions, payouts, accounting, etc.
Can I save a customer's card and charge it later?
It is possible to store card details in Stripe and charge your customers later after they have placed an order and used Stripe as the payment method. To use this feature you need to enable it in your Ecwid admin → Payment → Stripe Settings.
When this is done, your customers who have placed an order paid via Stripe, will automatically appear in your Stripe dashboard and their profile will be shown there. This will allow you to return and charge the card at a later date using the "+ Create Payment" link.
You can also see the customer in the order details in your Ecwid admin → My Sales → Order Details, and view their profile in Stripe by clicking on their Customer ID.