Understanding shipping in Ecwid
There are three ways to deliver physical products to your customers: shipping, local delivery, or self-pickup. In Ecwid, you can use any particular method or combine all three of them depending on what you sell. For example, local delivery works best for food and flowers, while global shipping is good for apparel or beauty products.
If you wondering, does Ecwid ship orders for its sellers, the answer is: Ecwid does not ship your packages for you. Instead, Ecwid is integrated with different carriers and postal services. All you need to do is to connect your store with a shipping service, and your customers will be able to choose it at checkout. You can use live rates or manually add rates of any specific carrier. For each carrier or local delivery, you can specify the area where it's available (destination zones).
After setting up a shipping method in your Ecwid store, you will need to drop off packages to carriers yourself or schedule a pickup from your location. You can also buy and print shipping labels from your Ecwid admin, use the fulfillment apps from Ecwid App Market to help you process orders, or try dropshipping if you want to leave product storage and shipping to a third-party service.
Shipping regions overview
A shipping region, or a delivery zone, is a geographical area where you ship to. In Ecwid, a shipping zone can be a block, a city, a state or province, a country, or the whole world. When you create a shipping zone, you limit possible order destinations to the certain area, so only customers who live within that area can buy from you.
It's up to you what to offer your customers:
In-store pickup. If you have a brick-and-mortar store, offer in-store pickup for local customers.
Local delivery. Accept orders from local customers only by offering delivery to the nearest blocks or throughout the city. You can deliver yourself or hire a local delivery service.
Domestic shipping. Ship to specific cities, states or throughout your country.
International shipping. Ship to a particular country, to several neighboring countries, or worldwide.
It's possible to set up several shipping regions within one shipping or delivery method. For example, you can ship with USPS to Oregon and Idaho.
Learn how to set up shipping zones →
Shipping carriers overview
Ecwid is integrated with the most popular carriers all over the world. It's possible to connect any carrier or delivery service, including your own delivery, to your Ecwid store. The number of available shipping carriers depends on your business location. Here are examples of carriers available for different countries:
US: USPS, FedEx, UPS.
Canada: Canada Post, UPS, FedEx.
UK: Royal Mail, GLS, DHL.
India: India Post, Delhivery.
Australia and New Zealand: Australia Post, Sendle, New Zealand Post.
See the full list of shipping carriers in Ecwid →
If you do not see a specific shipping company in the list of integrated carriers (either natively or via an app), you can add its rates manually when setting up a shipping method or integrate it with the
Ecwid's Add Shipping Method API
.
Shipping rates overview
Shipping options and their accompanying costs, sometimes referred to as shipping rates or shipping quotes, are displayed to the shopper in the cart and at checkout. Shipping rates are what you charge your customers for shipping or delivery in addition to the cost of products in the order.
You can choose a variety of shipping rates and methods to appear as options for your customers, or provide a single option. For example, you can set up free local delivery, domestic shipping with USPS with automated rates, and worldwide DHL shipping for $15. Customers will see shipping options based on their location: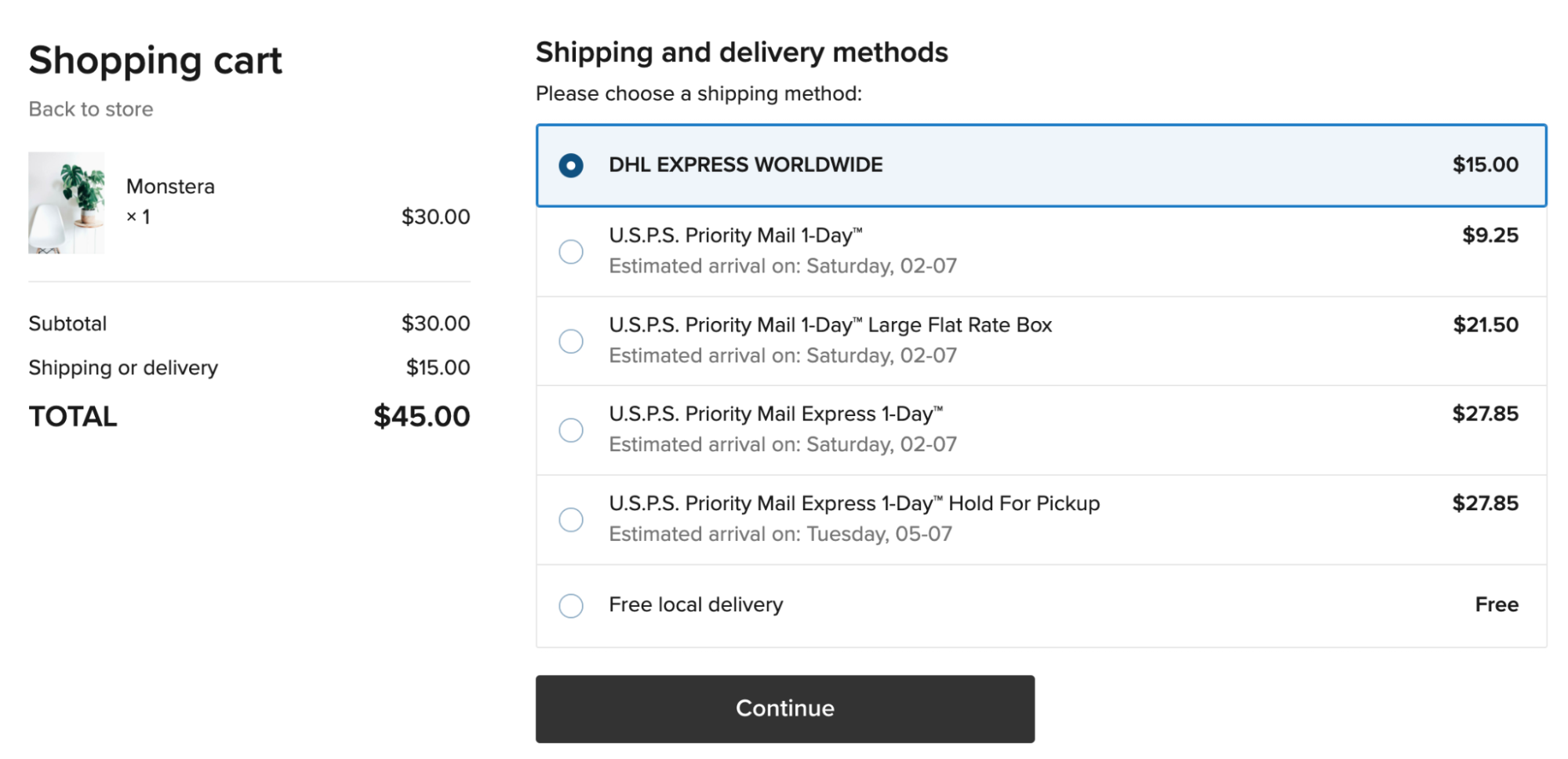 Here is the list of shipping rates options in Ecwid:
Real-time rates. Calculated automatically by a shipping carrier based on distance, weight, and size of the order. Customers will see real-time rates at checkout and pay the exact shipping cost. Check a list of real-time rates carriers integrated with Ecwid.
Flat rates. Flat rates remain the same for all orders in your store, disregarding item quantity, weight, size, or how you ship them. Use flat rates if your carrier doesn't provide automated rates with Ecwid or if you deliver yourself and know your delivery expenses.
Free rates. All shipping costs will be covered by you, not your customers. You can offer free shipping for all orders or encourage shoppers to buy more by creating a minimum order total for free shipping. For example, offer free shipping on orders over $100.
Custom rates. You can set up rates based on price or weight. Use custom rates if your carrier doesn't provide automated rates with Ecwid, or if you want to be very specific about how much to charge customers for different items in your store.
Shipping labels overview
To ship an order, you need to buy and print a shipping label—a small piece of paper that is attached to a packaging. Shipping labels differ depending on the carrier you use, but they all display information for shipping companies: origin/return address, customer's address, package weight and dimensions, shipping class, and a barcode to track the shipment's progress.
If you ship from the US, Belgium, or the Netherlands, you can buy and print shipping labels right from the Ecwid admin. If you ship from any other country, you can use apps from Ecwid App Market to buy shipping labels. After purchasing, you have to print the label (you can do it at home) and attach the label to your shipment's packaging before giving a shipment to a carrier.
Next steps
To decide what shipping rates to choose, read the Choosing shipping strategy article with a detailed explanation.
If you are already aware of your average shipping costs and how much to charge customers, proceed with the initial shipping setup.
To learn more about the fulfillment process in Ecwid, read the guide to processing orders.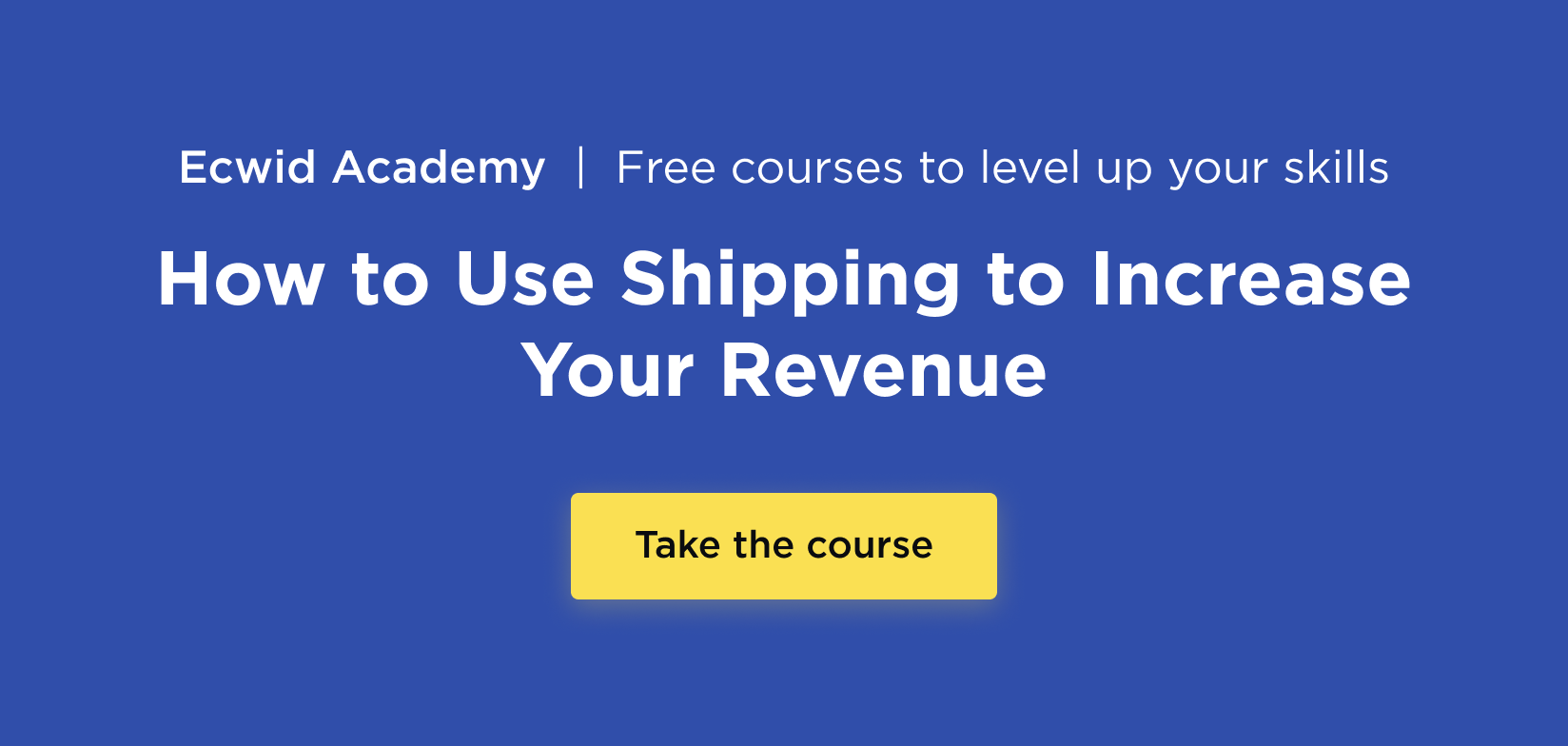 10