A direct link is a link (URL or web address) that takes a person directly to a product or category page. You can share a direct link to a category in your social network to attract more attention to it. Or you can send a direct product link to a customer who's asking you about this particular product they are interested in.
How to get a direct link to product or category
To get a direct link to a product or category:
Open your Ecwid storefront.
Open the product or category that you want to get a link to.
Copy the URL from the address bar of your browser.
Here is a screenshot from our demo store:

The link to this product is like this: https://my-ecwid-store.ecwid.com/Black-Shoes-p144300009
To get a direct link to a product variation, follow the
detailed instruction
in our API documentation.
How to get a link to a hidden product or category
If you are using hidden products and categories in your store, you may want to get links to their pages in your storefront, for example, to check how they look or to send a direct link to a customer.
A hidden product link
To get a link to a hidden product page, from your Ecwid admin go to Catalog → Products, click on a product and click Open in the storefront. Clicking this link won't open the hidden product page to the public, it's just a way for you to quickly access the product page in the storefront: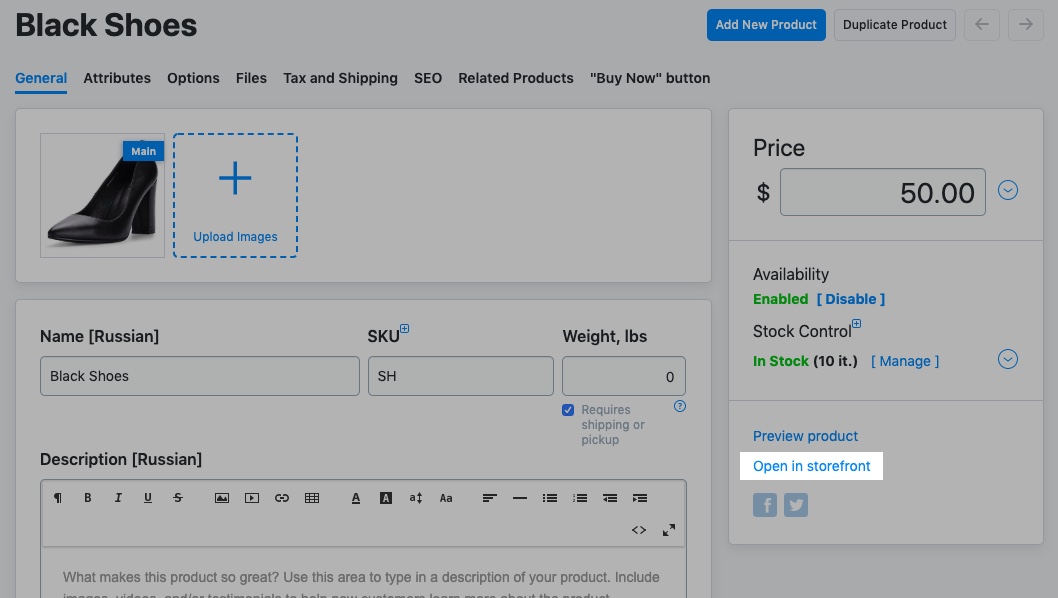 A hidden category link
To get a link to a hidden category, you can temporarily enable it in your storefront, copy the URL from the browser address bar and disable it back.
Alternatively, you can form a link for a hidden category by using the URL of your store page and internal ID of that category:
From your Ecwid admin, go to

Catalog → Categories;
In the category tree on the left click on the name of your hidden category to open its editing page;
When staying at the category editing page, copy ID of the category in your browser address bar.
Example:


Add the category ID to your store URL in this format:

www.example.com/-c

ID

.
Here is an example of how to open the Surfboard category in our demo by forming such a short URL: https://www.ecwid.com/demo/-c20671017
Related articles